FeastHome – The warmth and relaxing ambiance of a beach is definitely mesmerizing. No wonder people like spending their holiday on a beach. Now, you can bring it to your home by implementing these coastal kitchen style ideas.
House and Tech is reader-supported. When you buy through links on our site we may earn an affiliate commission. Learn More.
White Tropical Kitchen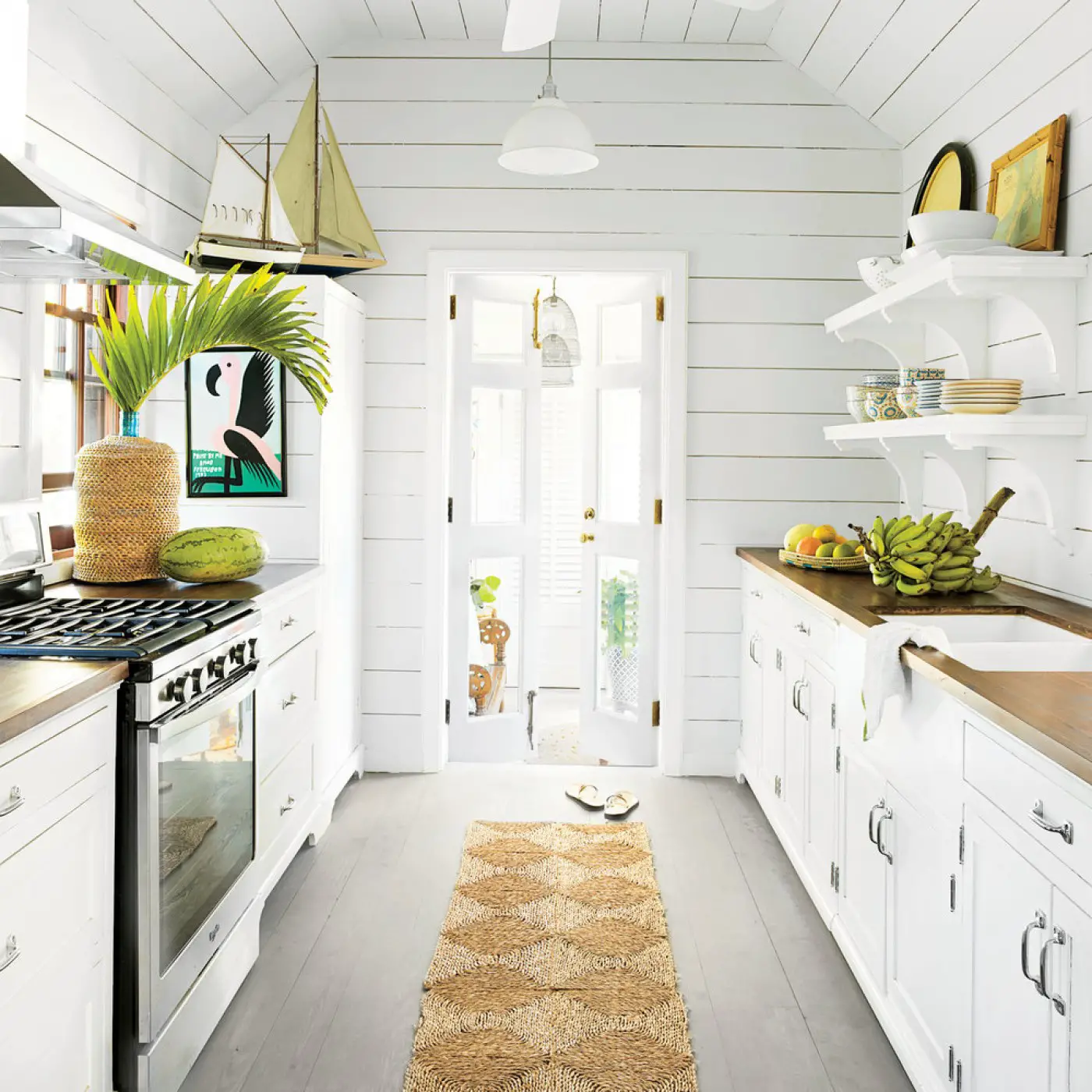 If you have a tunnel-like kitchen, don't be upset! It is a blessing in disguise because it can make a perfect nautical-themed kitchen.
Add the touch of tropical elements like a palm tree and some bananas to bring the ambiance of a beach. Other tropical elements that add warmth to this kitchen are the rug and DIY woven planter. A boat miniature at the corner perfects the look.
Perk It Up with Pendant Lights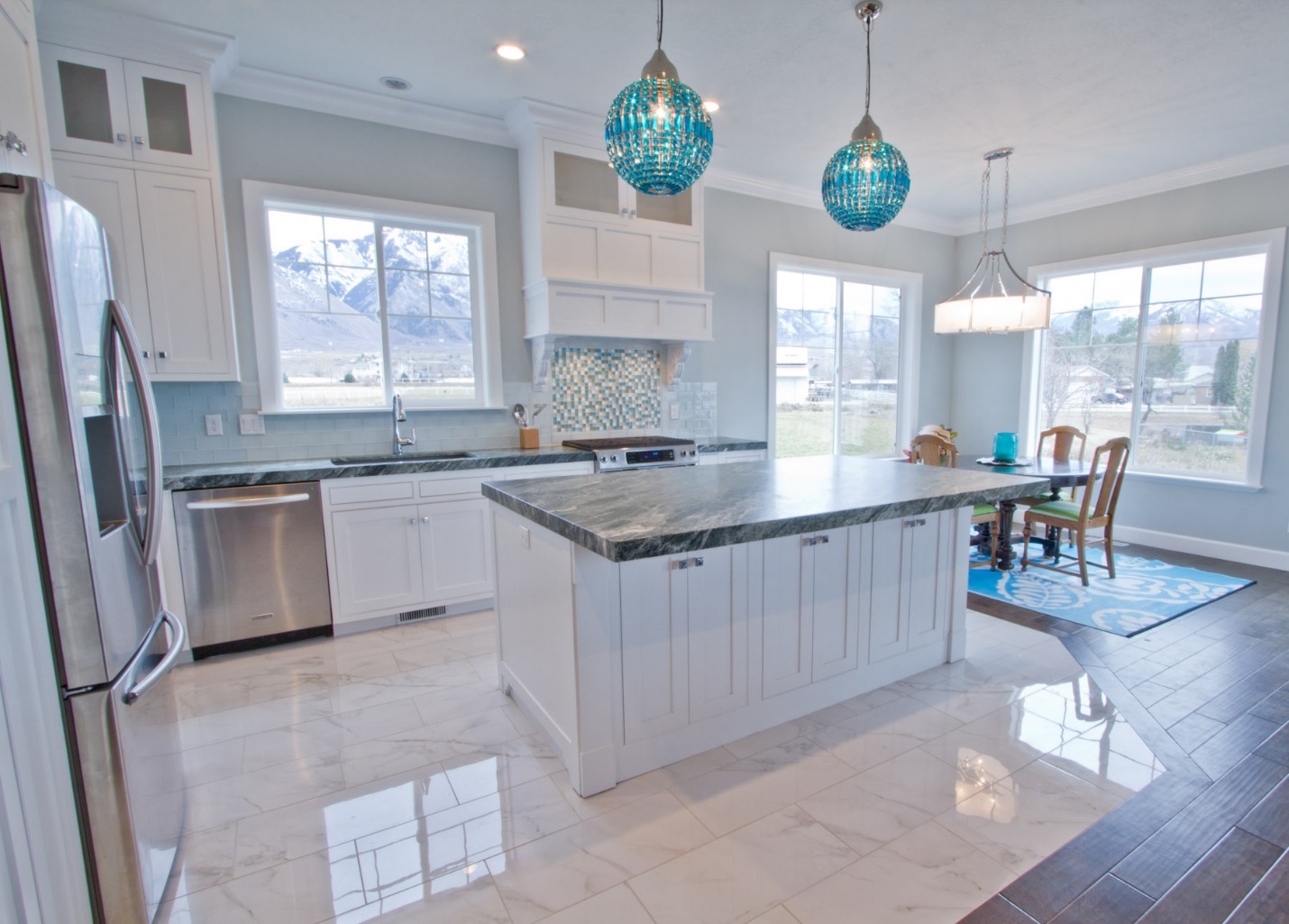 One of the most common elements to make a coastal kitchen style is the use of white and blue color hues. And this kitchen combines the color hues nicely.
The crisp white cabinets provide a clean and hygienic look to the kitchen as well as making it look more spacious. The gray marble countertop adds the touch of an upscale kitchen. To perk it up, two blue globe pendant lights hang over the kitchen island.
Frosted Glass Kitchen Island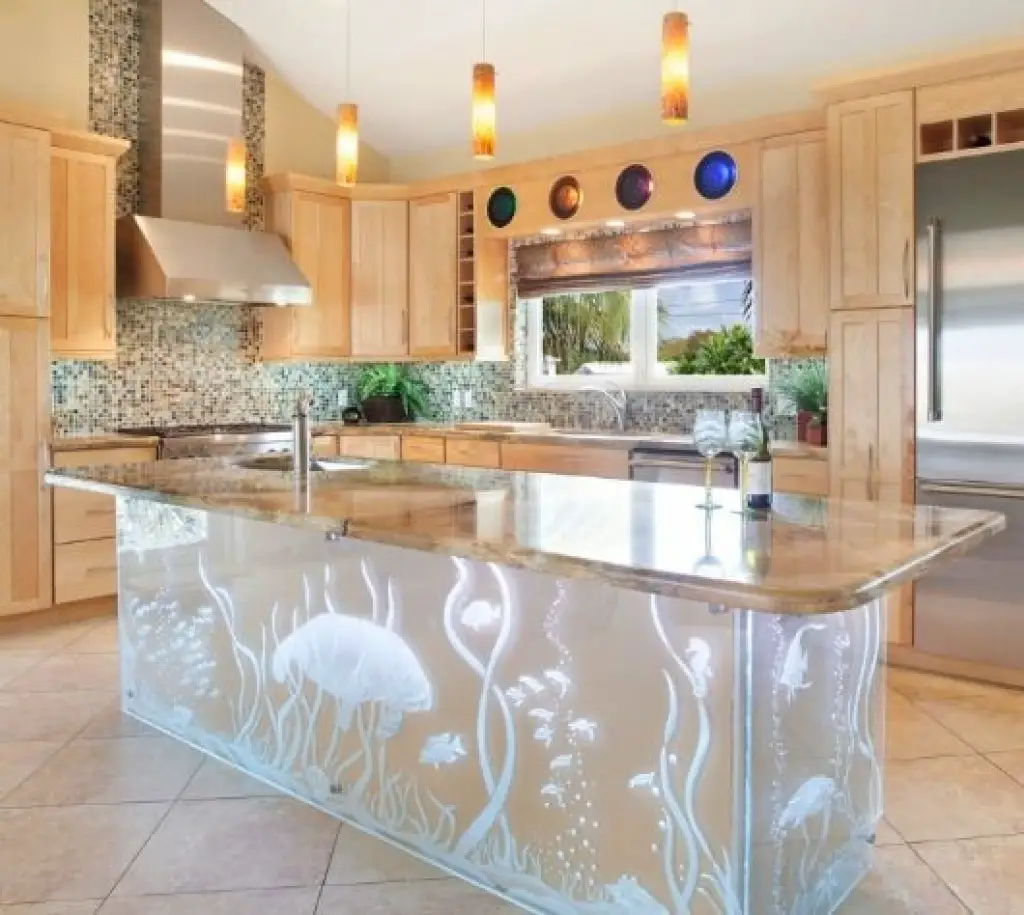 The realm of marine life is definitely stunning. Bring that wondrous thing to your kitchen with this frosted glass kitchen island.
The kitchen island features frosted glass with some pictures of sea animals which add a lively lift to your kitchen. Now salving over a hot stove is not merely a chore anymore. In fact, cooking is something that you will always look forward to.
DIY Mason Jar Backsplash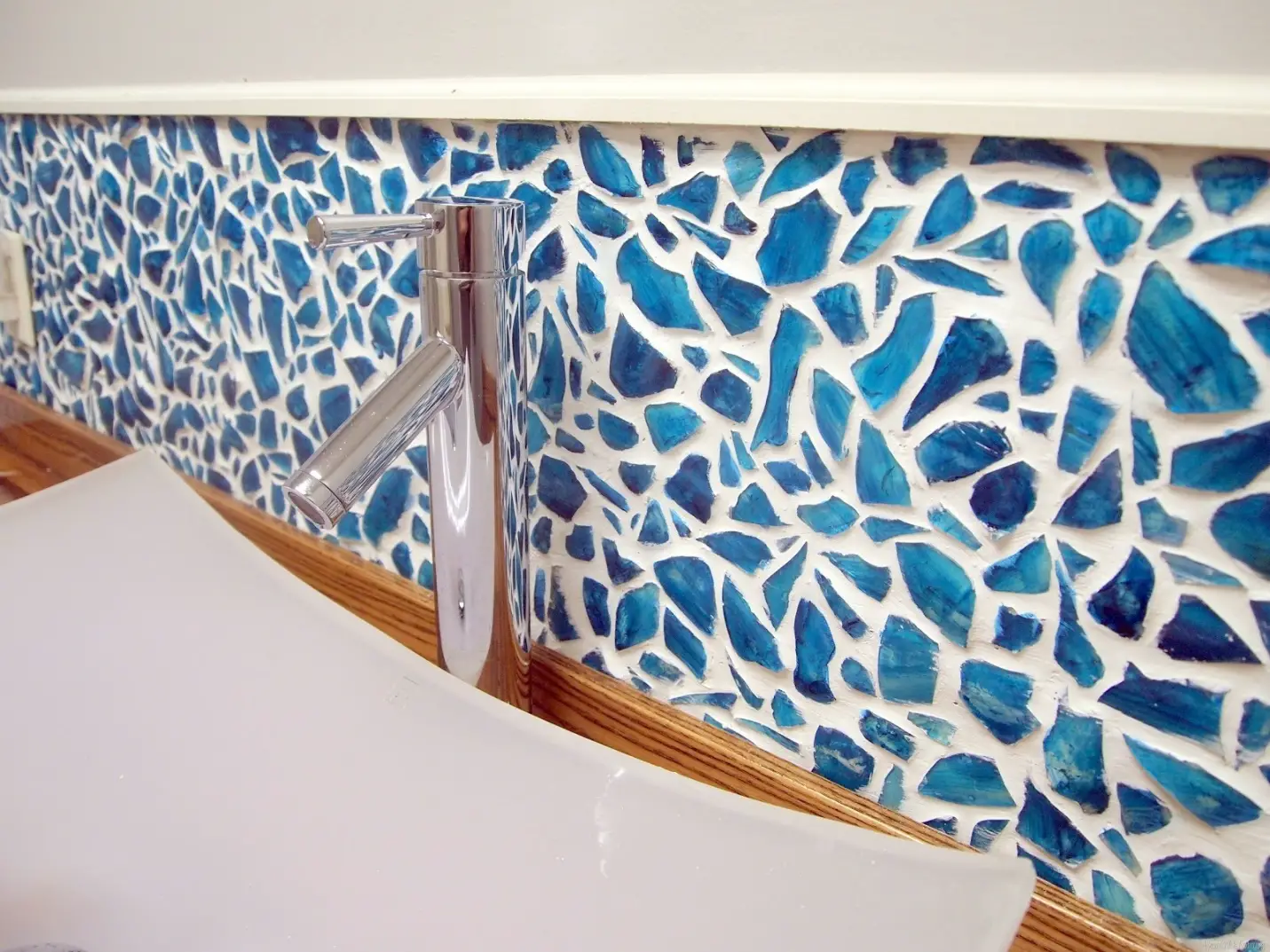 You do not need to burn a hole in your pocket to get a wonderful coastal kitchen style. By using your creativity and a little bit of elbow grease, you can make a luxurious kitchen on the cheap.
To make this backsplash, you need to paint the inside of some mason jars before breaking them down into smaller pieces. Then, attach the pieces and apply white grout to conceal the flaws.
Starfish on The Table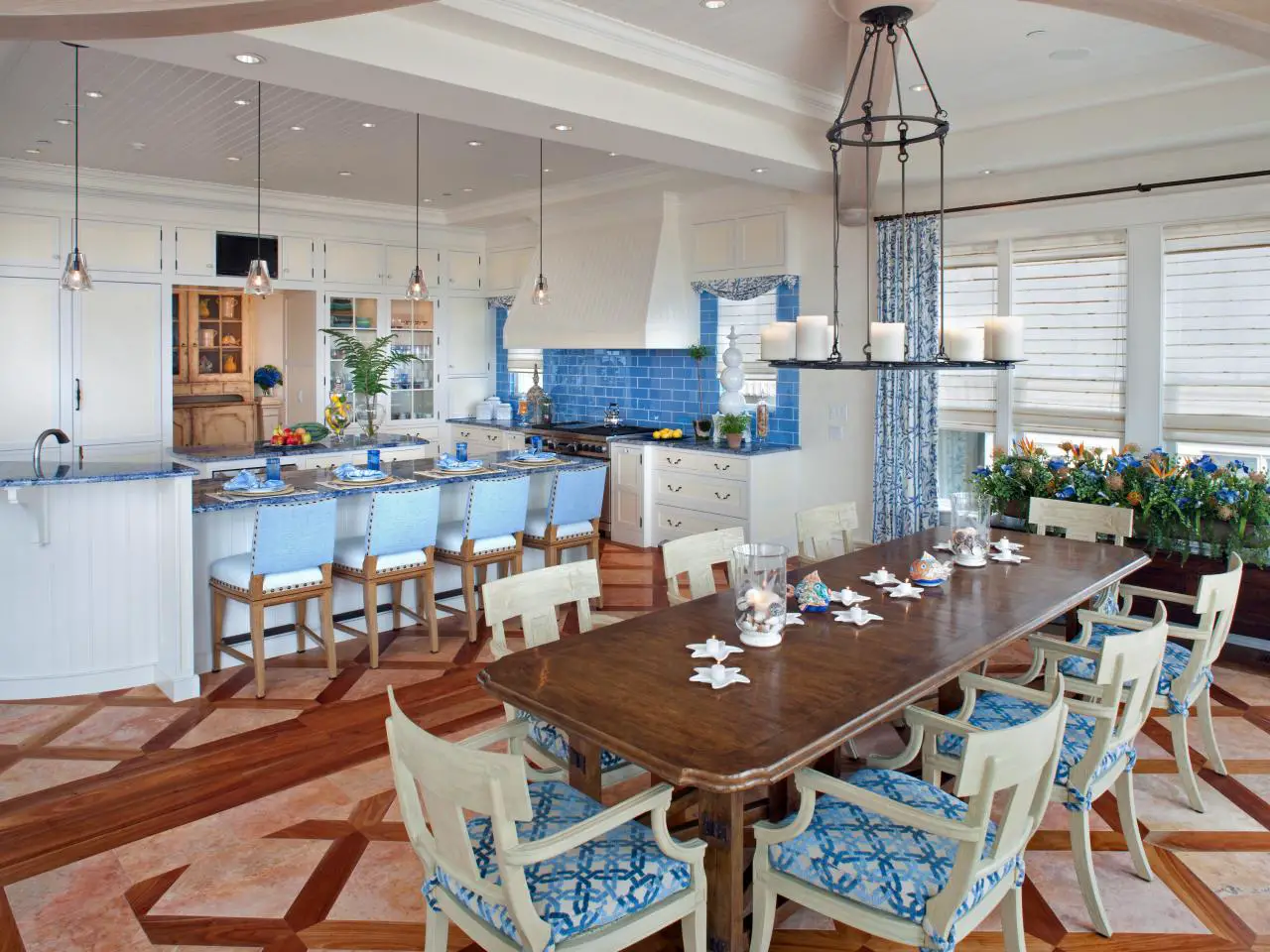 The most convenient way to create a nautical-themed kitchen is by investing in some sea-creature ornaments. Even better, you can make them yourself so you can save more bucks.
This dining table looks great with plenty of starfish chandeliers. Instead of two vases with flowers, the table is adorned by two jars with some shells and pebbles in it. Two colored fish swim among the chandeliers.
Add Woven Furniture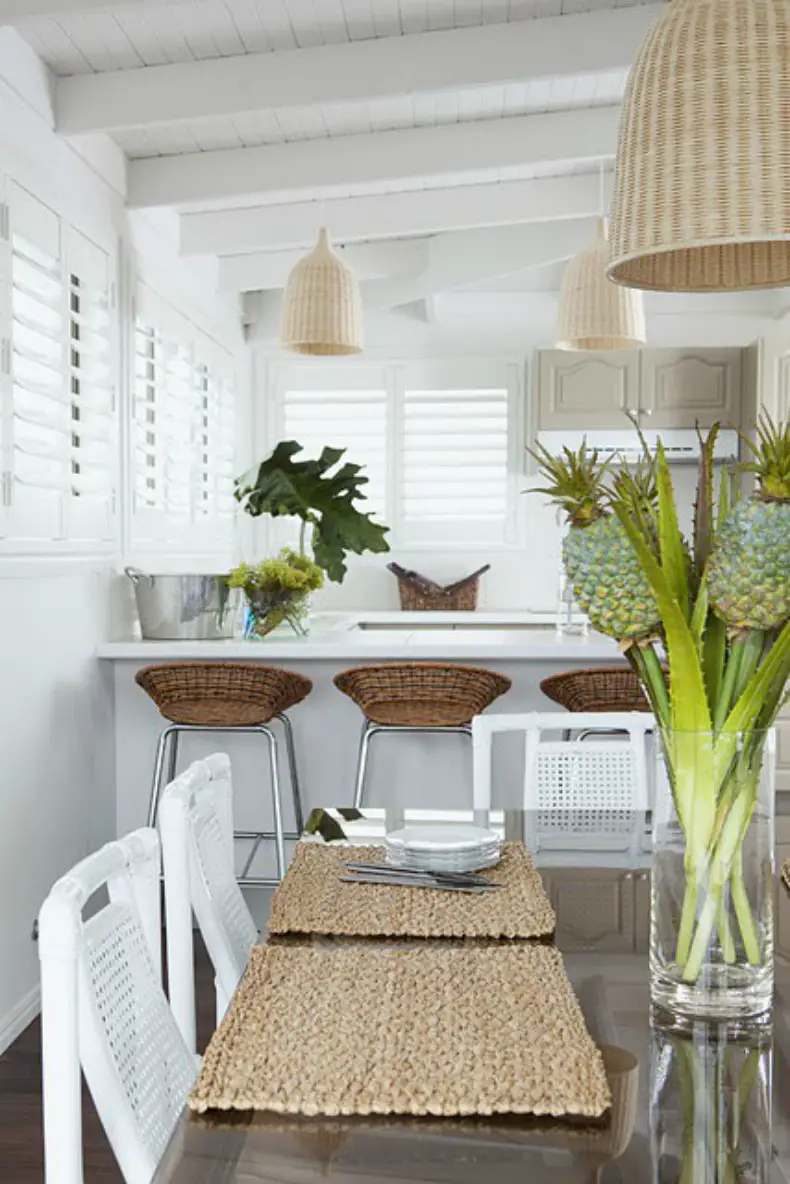 Woven furniture like wicker baskets, sisal rugs, and table mats can add warmth and the ambiance of a beach to your kitchen in a jiffy, just like what you can see here.
This kitchen conjures up the relaxing moment that you had when spending your holiday in a beach thanks to the sisal table mats and the woven rattan stools. On the dining table is a glass with a pineapple tree that enhances the tropical style well.
Cave-Like Kitchen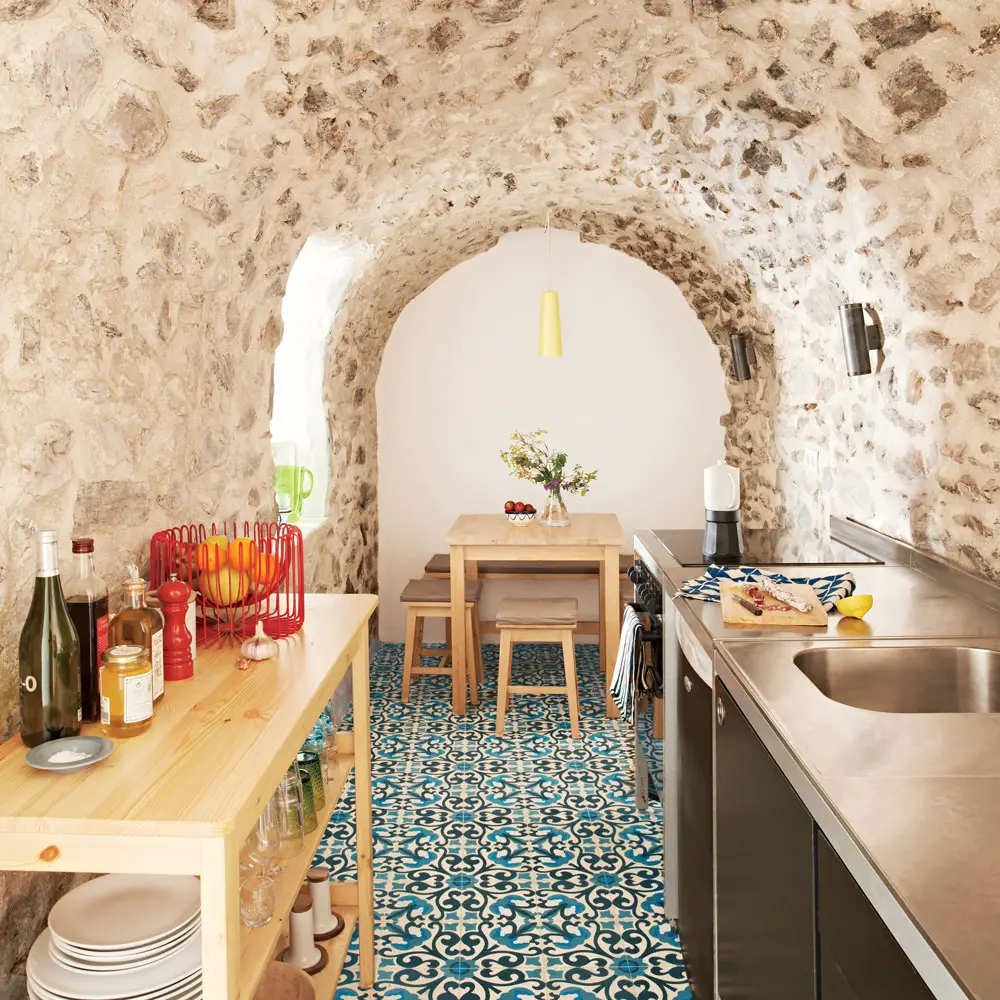 This cave-like kitchen will create unforgettable cooking experiences and amaze people with its spectacular design. You will feel as if you were exploring a beautiful cave by the sea rather than working in the kitchen.
The wall and ceiling are covered with natural stone and grout, providing textural elements when you touch it. The tunnel-like design makes it look authentic which is good to add a dramatic look to your kitchen.
Coral and Seaweed Shade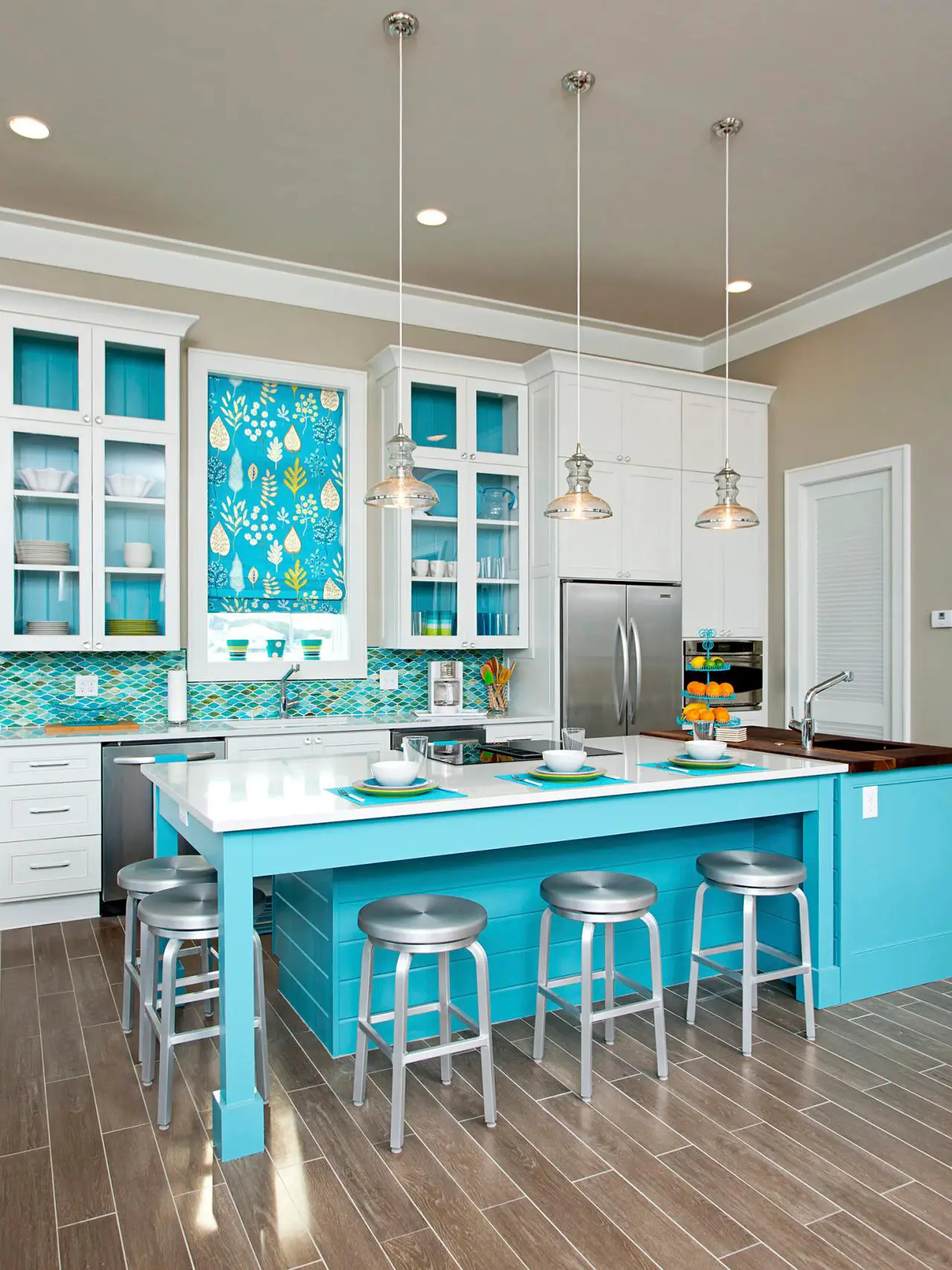 Blue kitchen island with white countertop and cabinets are all the things that you can see here. Basically, this color combination has denoted the beach life. However, one crucial element is added to jazz this kitchen up. It is the shade.
This blue shade covers the window perfectly when you need a little bit of privacy or alleviate the glare of the sun. When you pull the shade, you can see the patterns of beautiful seaweed and corals on it, which complement the turquoise backsplash.
Decorate the Table with Bottles and Monkey Fists
As the place where your family and guests gather to enjoy scrumptious food, your dining table needs decorating. Since you are going to bring the beach to your kitchen, nautical accessories will be your safe bet.
Try rolling out some sisal table mats, to begin with. Then get some blue and green bottles which you can use as vases for your flowers or just leave them that way. Display a few shell and starfish accessories on the table and anchor them with monkey's fists.
Seahorses Accent Wall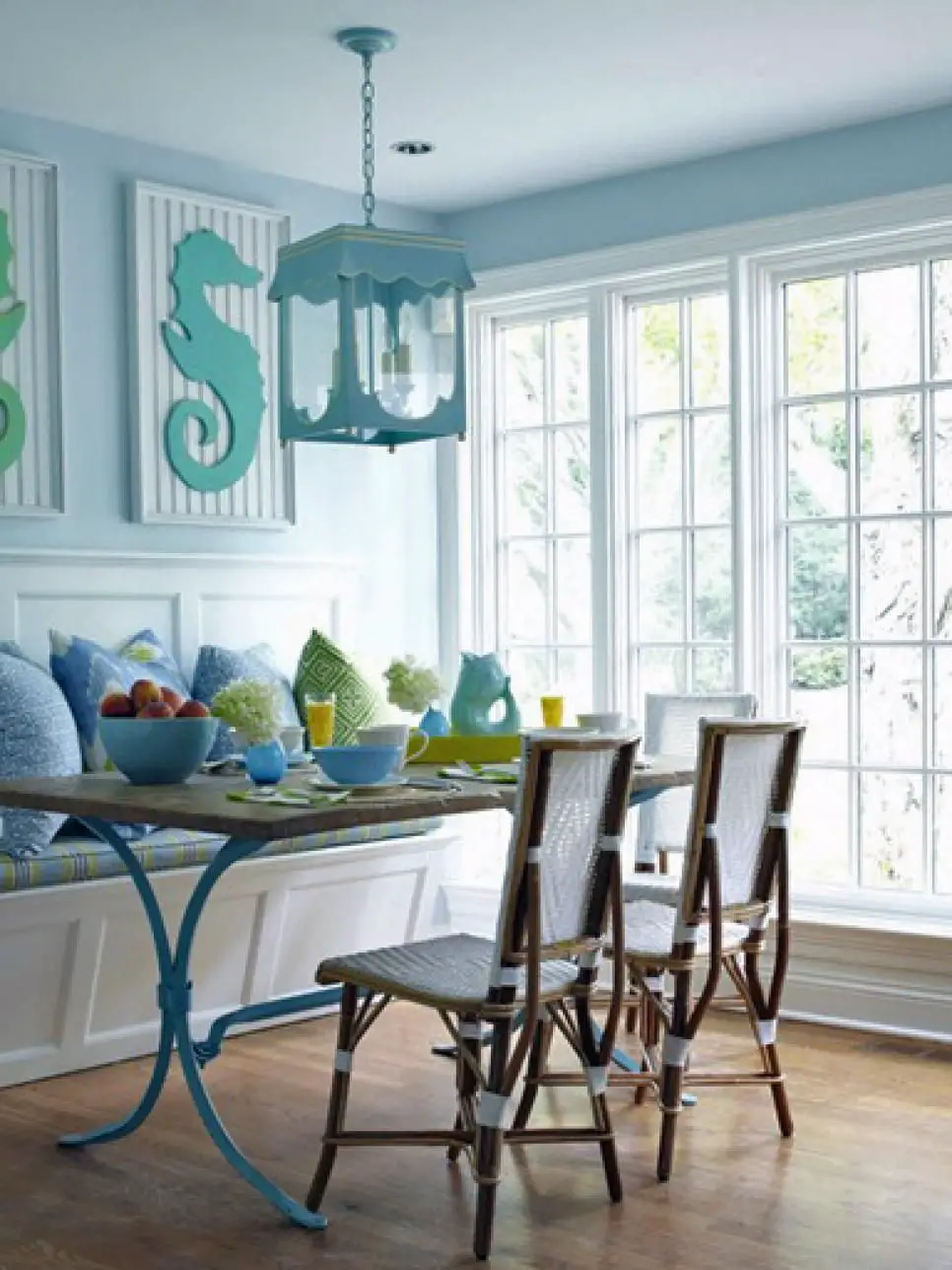 Seahorses are the iconic creatures of marine life. Therefore, bring them to your kitchen if you want to make a great coastal kitchen style. It does not mean you have to get the real seahorses, though.
These seahorses make a great accent wall in this kitchen. They come in different hues to complement the pendant light and cushions. What makes them better is they can be made through a DIY project. Get your beadboard paneling, boards, paints, and glue!
Display Your Collections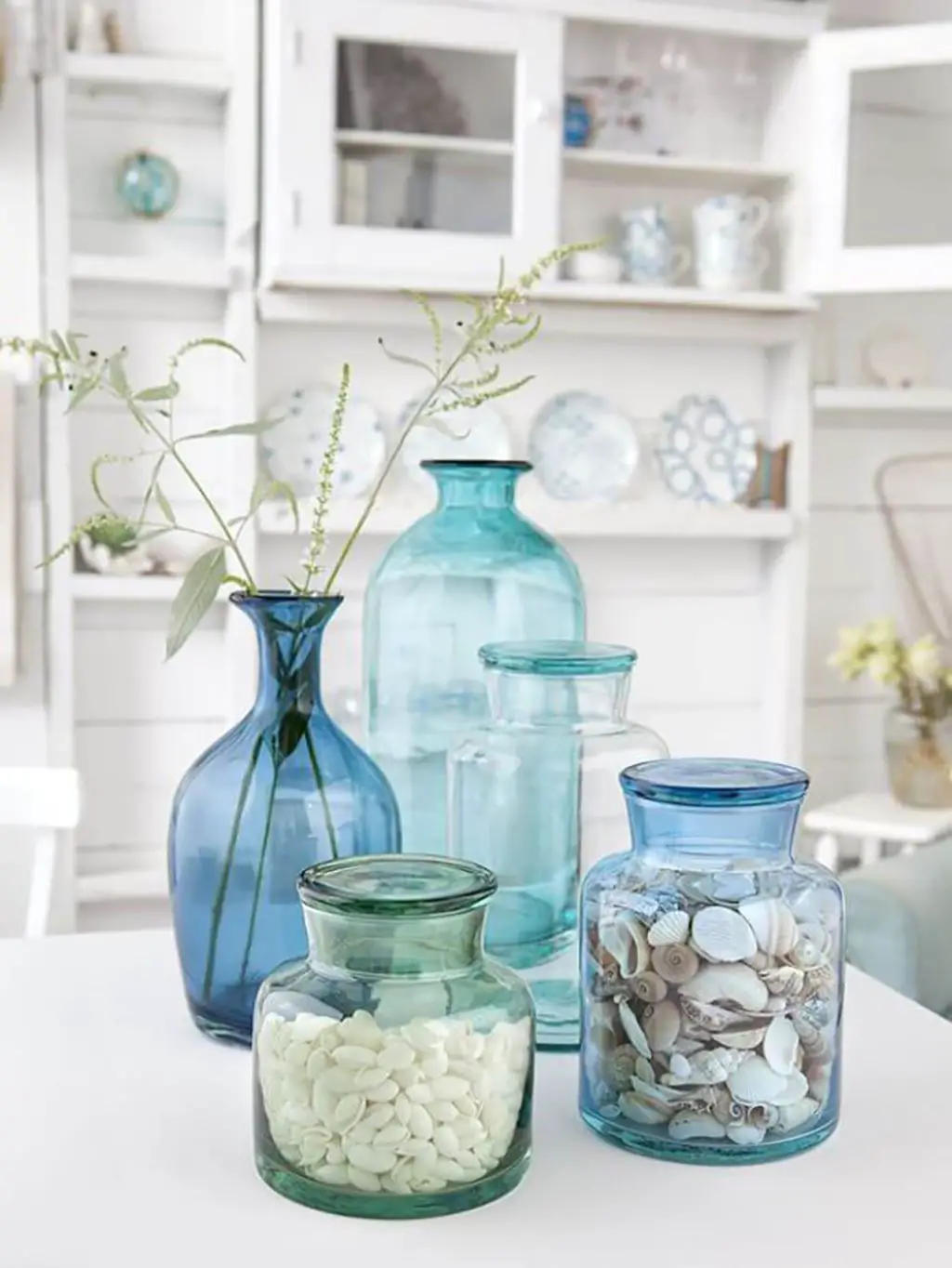 Collecting shells and pebbles when you are on a beach is a thrilling activity that you can do with your kids. Don't let those exquisite shells stay in a covered container without being adored by anybody.
These shells and pebbles look gorgeous in clear glass jars. Place them on the kitchen island, windowsill, or dining table so people can notice them easily.
Grow Palm Tree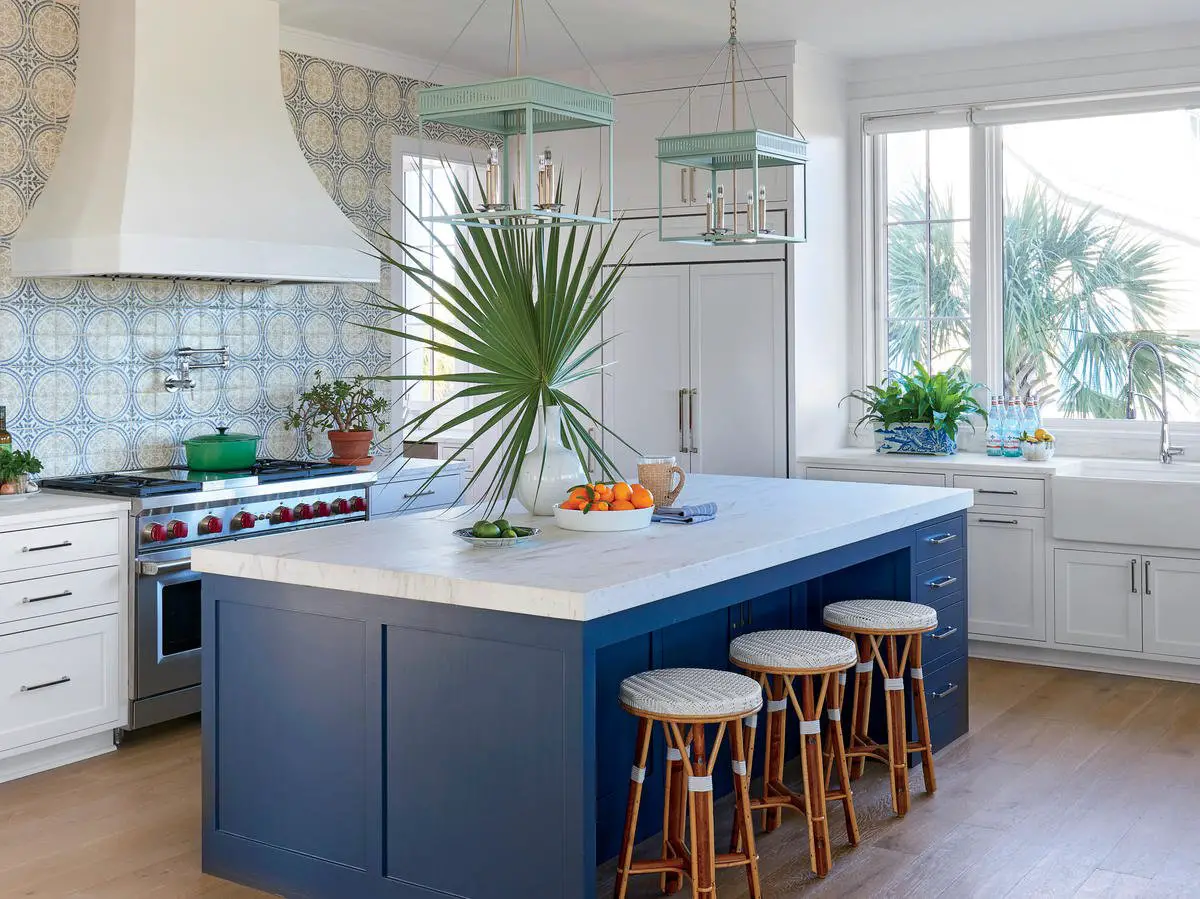 A palm tree is often associated with the beach. That is why if you want to have a coastal kitchen, growing a small palm tree in a planter and put it at the corner of your kitchen would be great.
But if you think it is too much trouble, opt for a vase with a stem of a palm tree. It will do in a pinch. Then, put it on the countertop or dining table so it can be noticecable.
Incorporate the Natural Beauty
If you are blessed with a house by the beach, congratulations! It means you can bring the coastal style to your kitchen without breaking a sweat.
You just need to leave your windows uncovered so the natural beauty of the waves can be seen through them like a beautiful painting.
---
Coastal kitchen style can conjure up the joy of having a vacation on a beach. Therefore, you should try to apply one of these ideas to provide a relaxing ambiance so you can be more relaxed when working in the kitchen especially in the busy mornings.