House and Tech is reader-supported. When you buy through links on our site we may earn an affiliate commission. Learn More.
– Are you looking for a creative rolling kitchen island to make a statement in your kitchen? Well, you are in for a treat. In designing your kitchen, you should think beyond ready-made kitchen islands. A rolling kitchen island has proved to be very useful.
Having a freestanding kitchen island would be something worth considering. It would be very useful for any size of kitchen or layout. A kitchen island on wheels offers a moveable versatility and sustainability to your kitchen flow.
1. Rolling Kitchen Island with Workshop Base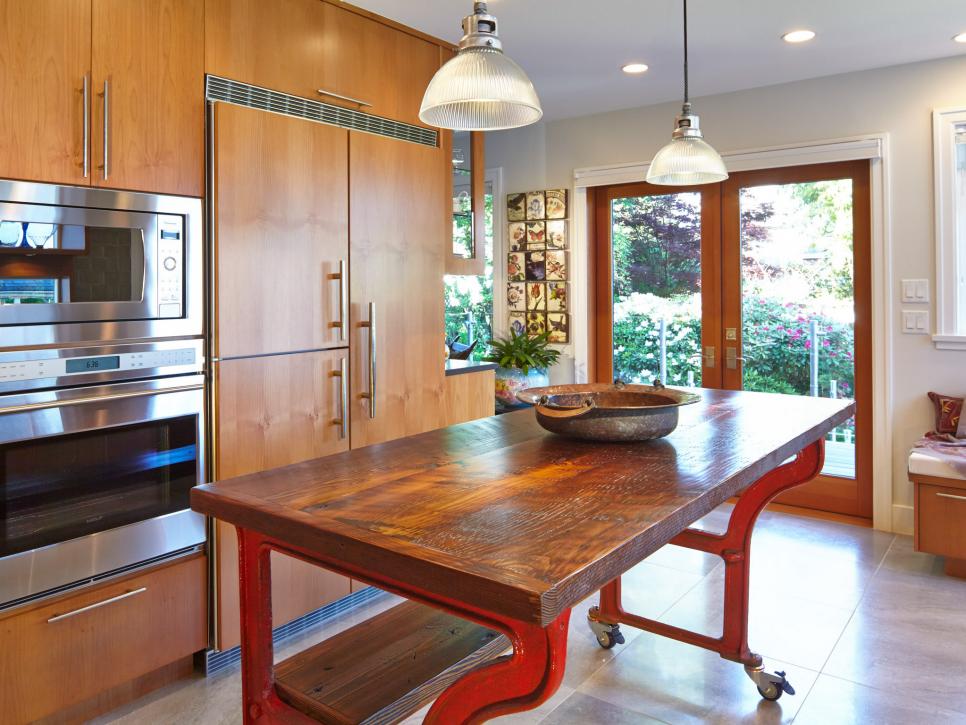 To incorporate more flexibility in your medium-sized kitchen, you can have a large rolling kitchen island. The metal base of this island comes from a midcentury workshop machine. For the countertop, you could see reclaimed wood planks are the material.
The base painted in red matches the charm of medium-tone wood materials. It has no cabinets beneath the counter. However, there is a functional shelve to store some things temporarily.
2. Shabby Rolling Kitchen Island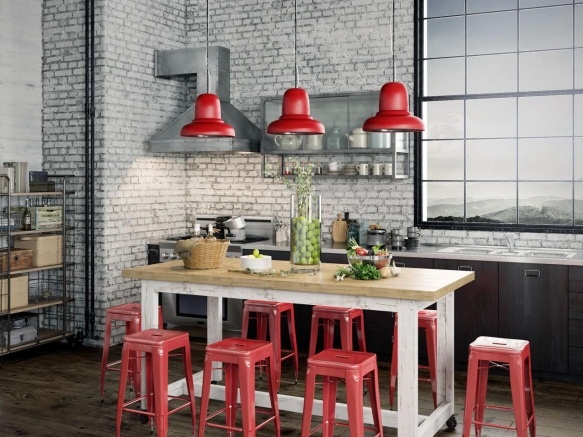 Recycled materials build this freestanding kitchen island. Will Marx design this shabby chic element of the kitchen, which is handmade in Australia. It is made of native Australian timber that is inspired by Queensland's architecture.
The designer originally intends it as a high bench dining table for the eat-in. This kitchen island is timeless industrial recycled furniture that you can choose to paint and finish with the charm that matches the style.
3. Ready-To-Slide Kitchen Island Idea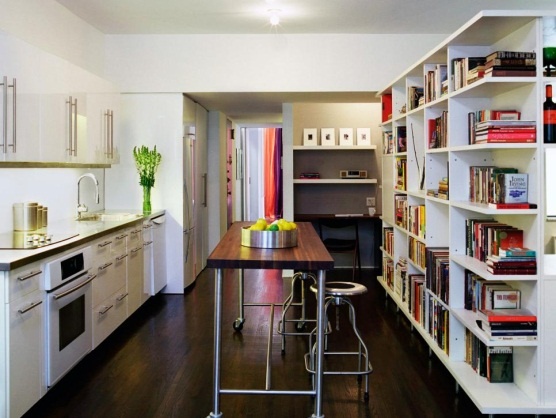 Check out this narrow cart on wheels would be a great element to add in your compact kitchen. A rolling kitchen island like this one can be a space-savvy alternative to the ordinary kitchen island. It might be a great product of kitchen cart IKEA.
This island has a walnut butcher-block countertop with a stainless steel base that offers an industrial vibe. It is designed to save space and sere flexibility you need in the kitchen. You can order the butcher-block counter product online. You can combine with the fabricated steel base.
4. Kitchen Island Cart with Sustainable Style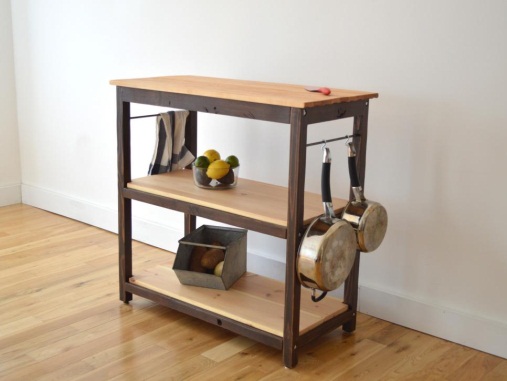 A small kitchen island cart is affordable, space-savvy, and flexible furniture for your cooking area. You can set the cart close to your while you are preparing the food and need extra storage space. The cart you see in the picture is a reclaimed wood island from Herb's Furnishings.
The frame is crafted from old beams and the shelves are made out of reclaimed paneling. It has a butcher's block countertop, which is made of hardwood flooring. It sits on leveling stems for a flat surface for cutting. To hang the pots and other utensils, this island features a steel bar with hooks.
5. Elegant Kitchen Island on Wheels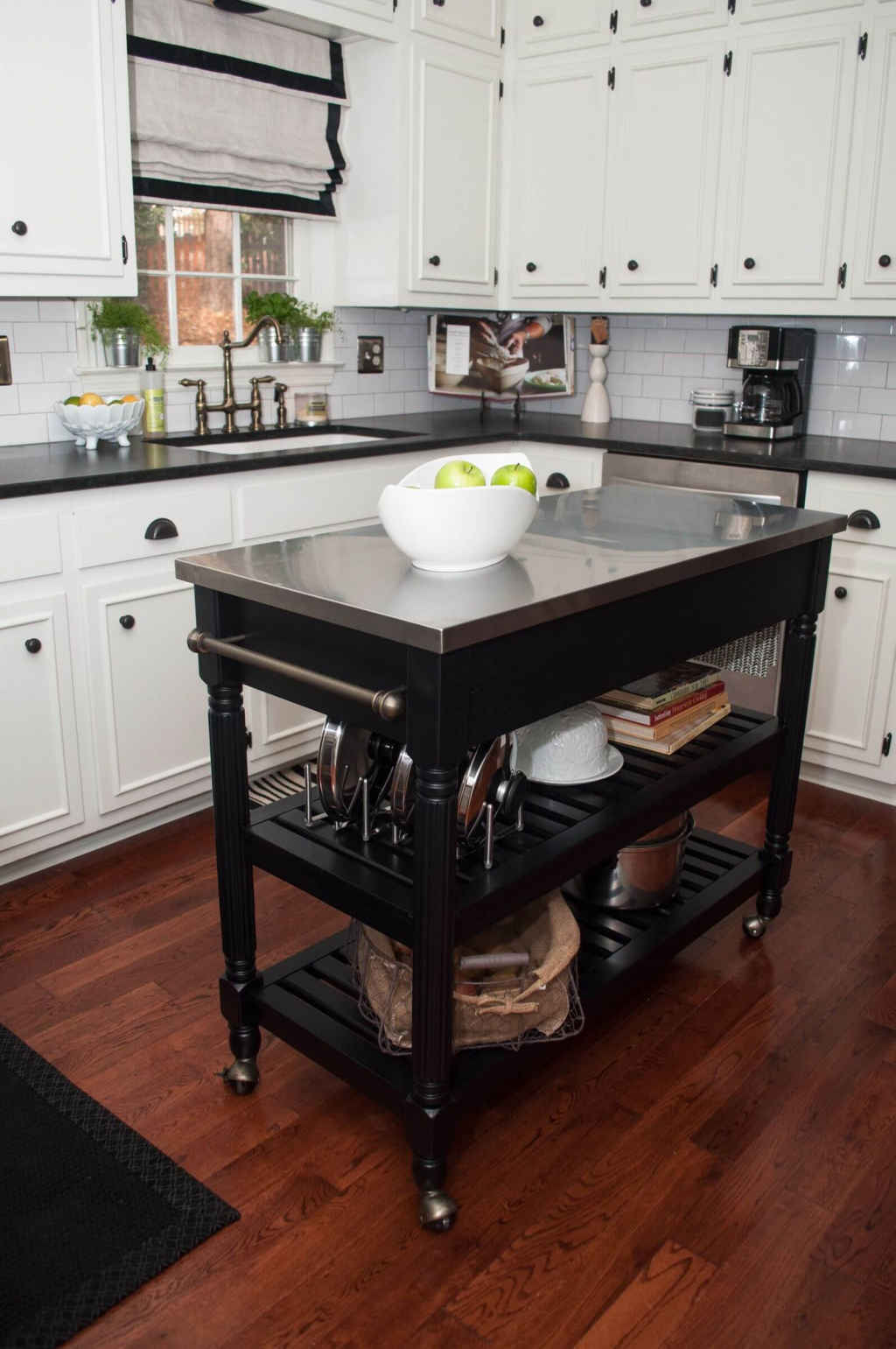 The dark elegant design of this kitchen island on wheels is installed with stainless steel countertop. It is a weird combination of materials but it becomes quite functional in the kitchen. The stainless steel material is easy to clean and durable.
This island comes with useful shelves to store your stuff including utensils, cookware, and even books. The towel holder on the side acts as a handle to move around the cart.
6. Wood Leaf Kitchen Island and Cabinet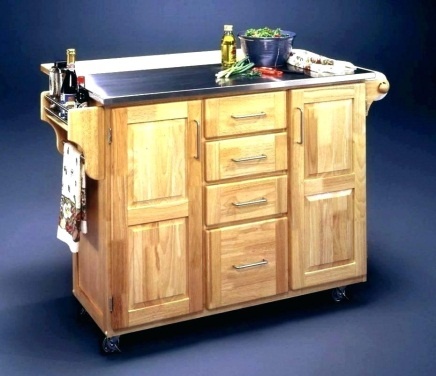 This portable kitchen island is a true workstation for your cooking area. It comes with storage and a large countertop made of stainless steel. A wood cutting board leaf improves your area of food-prep significantly.
On the side, there is a paper towel holder within arm's reach during the cooking. To prevent spilling, there is a stainless steel rim on the countertop. That would make your cooking flow more efficient and clean.
7. Barbara Kitchen Island Cart with Seating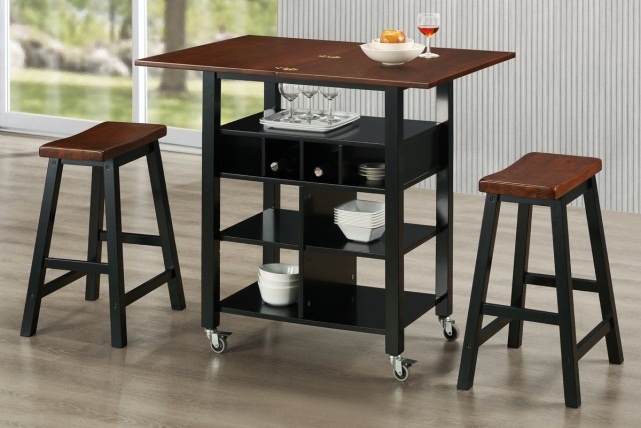 This kitchen island set offers complete furniture for the cooking area. It is so multi-functional. When you are not using it for preparing the food in the kitchen, you can roll it to the dining area like a table.
The dark and stylish wood tone is enough to steal the attention in the kitchen. The matching stools show you that this set of furniture is tied together as one. Because of its size and wheels, you can even move it to the outdoor living space for a backyard party.
8. Small Rolling Kitchen Island with Hidden Trash Can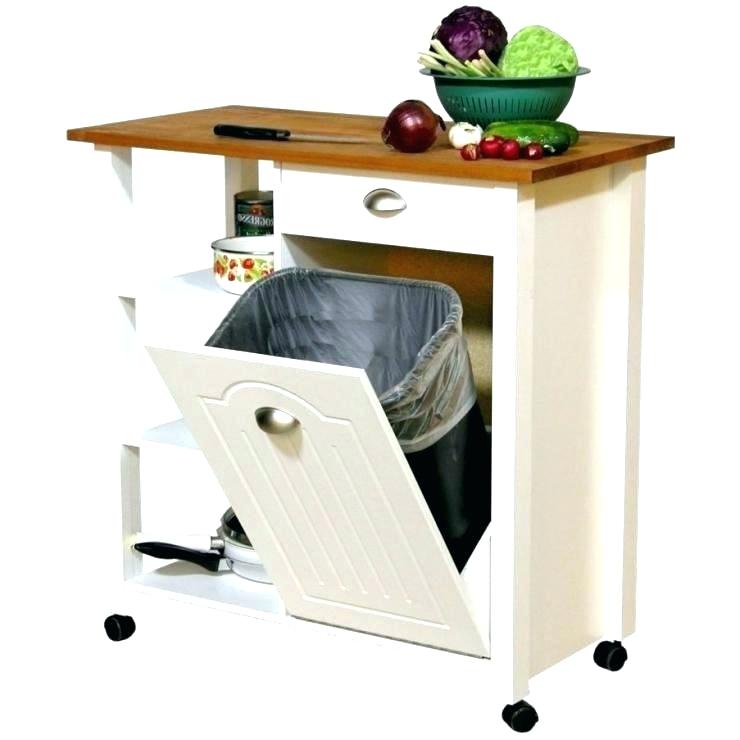 This furniture is a combination of closed and open storage. On one side, it has hidden storage for a trashcan and drawer. On the other side, it has some shelves for easy access to the kitchen needs. The solid hardwood top acts as a convenient cutting board.
It's a clever system built on a rolling kitchen island. The trashcan right under the countertop is made for easy disposing of craps during food prepping and cooking. When you are looking for a kitchen island option for your small kitchen, you should take a look at this one.
9. Small Kitchen Island Card with a Typical Cabinet
This small kitchen island is quite similar to the previous one. Instead of having hidden storage for the trashcan, this one has a typical cabinet with one adjustable shelf. You can just move this rolling kitchen island away from the center to the wall side.
Even though it is very small to be used as a kitchen island, it is still very functional as an extra counter space for you in preparing the food.
10. Rustic Kitchen Chart with Butcher Block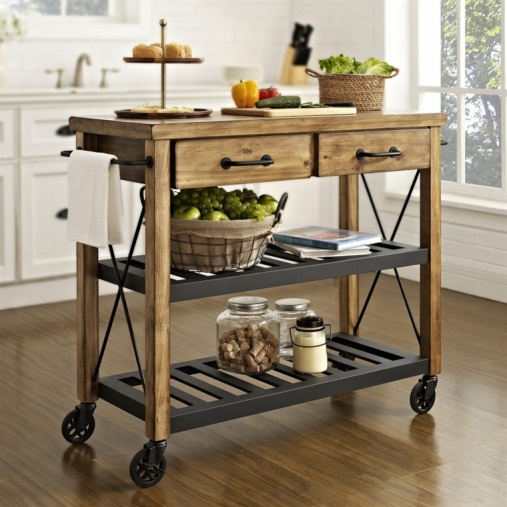 This kitchen island has a strong rustic charm that will stand out in the middle of your cooking area. The reclaimed wood material is used for the base and butcher block. The rectangle shape of the counter is bigger than a typical butcher block in the small cart like this.
It is equipped with drawers, shelves, and racks on each side. That would increase the functionality of this cart. The wheels will make this furniture movable around the kitchen. You can fit this farmhouse kitchen island in a kitchen with the white and wood-tone appeal.
11. Attractive Kitchen Cart Walmart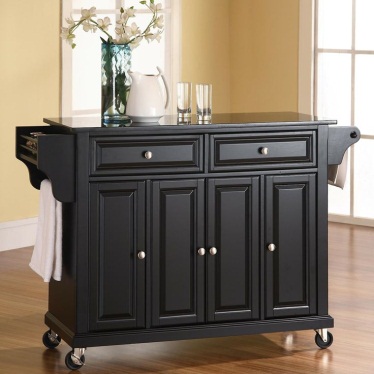 It is a classic option for your classy and fancy kitchen design. This useful kitchen island on wheels has a lot of storage space. The wheels can be locked to make it stay fully in place whenever you need it.
This furniture is available on Walmart with a reasonable price of 388 bucks. It is also available in white and two wood finishes. The design is beautiful and it matches the cherry cabinets around it. This kitchen island with granite top has a smart design that complements the kitchen.
12. DIY Kitchen Island Cart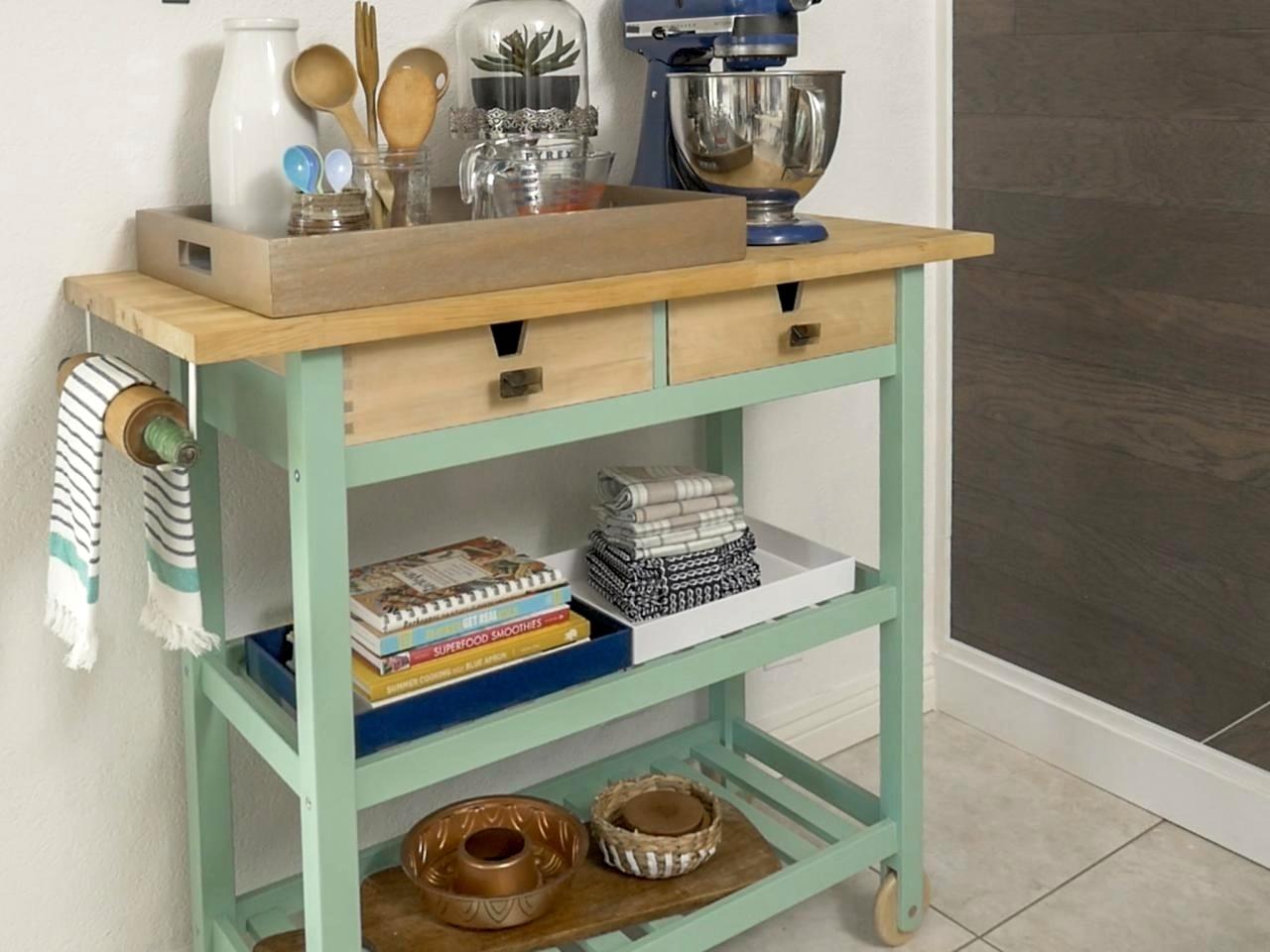 It is a great DIY idea for your next project. This idea is something you should consider when you need additional dedicated space in the kitchen. This customized kitchen cart would take your cooking to the next level.
It is easy to build with some wood planks. You can bring a lot of charm and convenience to the cooking space. This stylish rolling kitchen island will not only keep the gadgets well organized but also move it to the corner to free some space in the kitchen.
13. Inexpensive Kitchen Island to Roll Out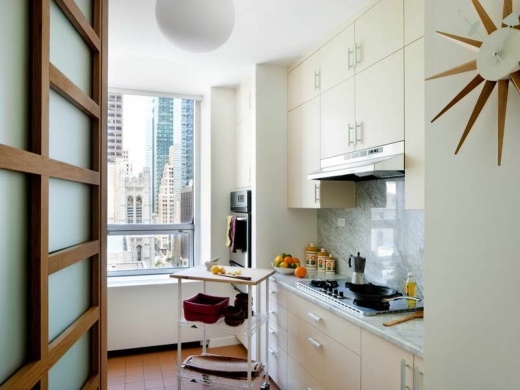 In a limited space like that, you should save some space on the floor. You do not need a waste-a-space kitchen island in the middle of the area. You should just incorporate this kitchen cart to move around the space.
This inexpensive piece of furniture provides a perfect solution for a pantry-less kitchen like this one. The small size of this cart allows you to tuck it neatly into a corner nook. The tiered shelving offers more storage space for the kitchen. You can just roll it closer to you whenever you want.
14. Kitchen Cart for Extra Counter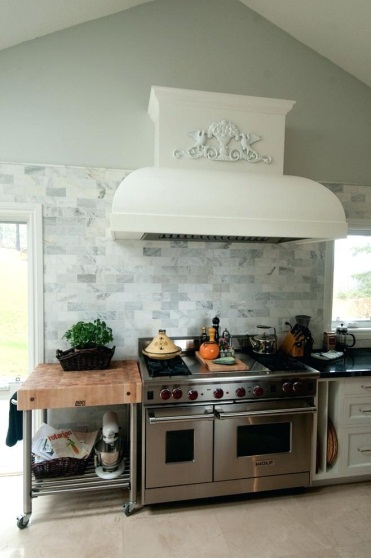 This cart can be used as an extra space to add some length to your kitchen island. For those of you who need more space to work within a kitchen. This kitchen island cart topped with a hefty butcher-block material that gives functional elegance into the mix.
It is an especially ingenious worktable from John Boos since the other elements are in traditional style. The industrial style from the cart blends well with the stainless appliances right next to it. It offers good flow and more functionality.
15. Kitchen Island on Wheels to Embrace the Space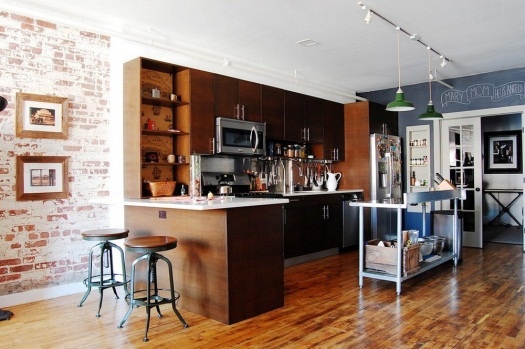 Let us embrace the space you have got in your kitchen. Check out this L-shaped kitchen. It was begging for a kitchen island but this loft space needs light furniture for the open floor plan.
That is why a custom kitchen cart is installed. The lightness of the cart keeps the space-savvy feel in a kitchen.
The kitchen island cart is purely used as the food-prep space because this kitchen already has a breakfast nook for eat-in space. The narrow shape saves a lot of space on the floor but you already get what you need for prep space.
16. Rolling Kitchen Island with Caesarstone Countertop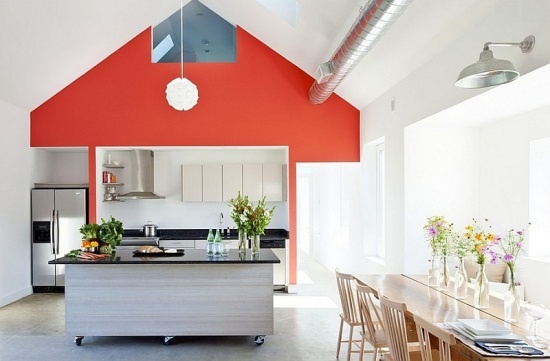 This fancy kitchen with an orange accent wall manages to install a perfect kitchen island on wheels. The large size of the island is not quite supposed to be having wheels because it should be built-in to maintain the position.
Since the owner wanted to move it aside some time, having wheels would probably the best solution for space. You can free some space in the kitchen to get a larger room for a party. The downside to having such a large island on wheels is the lack of balance you will get even with the wheels locked.
17. Contemporary Long Kitchen Island on Wheels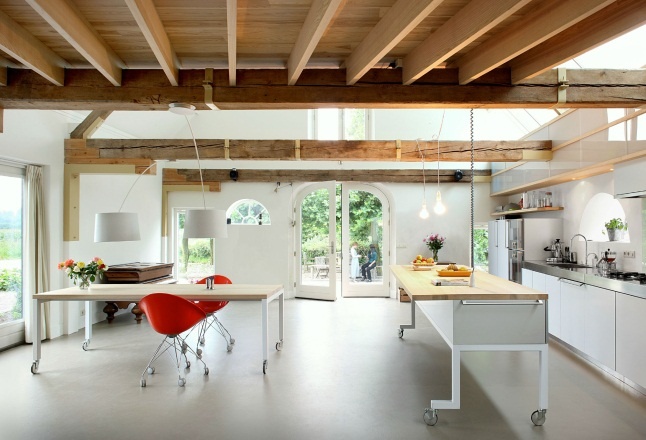 Another large kitchen island on wheels, this kitchen has every functional table on casters. Let us focus on the long table on casters used as a kitchen island. The designer of this open-plan kitchen offers great flexibility in this area.
You can move away from everything at ease. It feels like the room with true furniture on casters. The kitchen island is quite long in shape with an oversized butcher-block top and steel base. The bigger space on the counter allows you to incorporate seating to make an eat-in space.
18. Rolling Kitchen Island with Stainless Top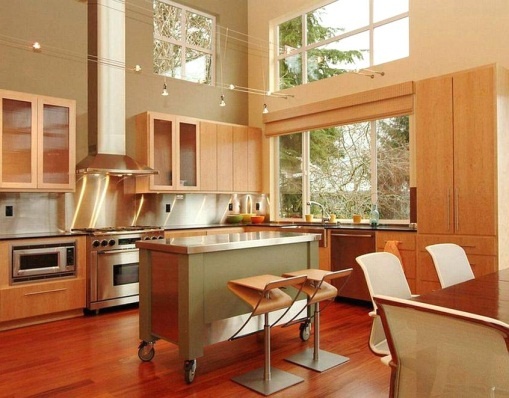 In shaping the look of your kitchen, you have to set the perfect lighting for it. Therefore, you have to get the right blend of light fixtures for your rolling kitchen island. This kitchen has a vent hood ceiling that provides tons of light during the day.
Therefore, your kitchen would be bright and comfortable. At night, there is wall-to-wall rail lighting. It would set the romantic and warm vibe around the kitchen. That industrial kitchen island on casters makes a perfect blend to the design scheme even though it is having a slightly different color.
19. Kitchen Island Extension on Wheels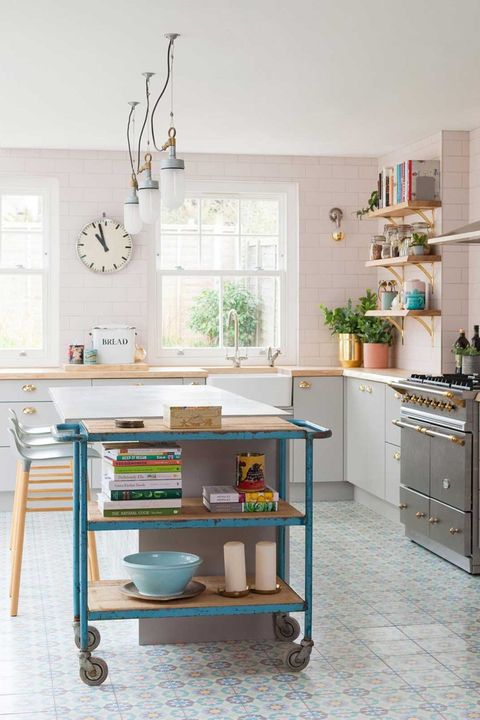 The main kitchen island probably does not have enough space for your work in the kitchen. Therefore, you might need more space for food prep and storage. This kitchen cart comes to you as the best solution.
You can have it sit next to the kitchen island to store some cookbooks and other cookware items. The metal structure and wood planks make this cart as multi-functional three-tiered furniture for the kitchen.
20. Industrial Kitchen Cart with Pipe Structure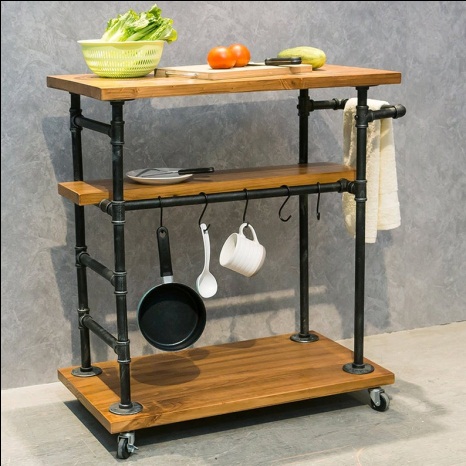 It is a kitchen trolley with industrial design on casters. It is a multi-functional piece of furniture. It can be called a home bar cart, kitchen cart, or coffee cart. Whatever you use it for, it will become it. This is a 3-tier cart with pipe structure and wooden planks for shelving.
This industrial kitchen cart is available on Etsy with 990 dollars. You can add some S hooks to hang some of the utensils. The handle of the cart can also be used as a towel rack. It is a piece of furniture with a complete system of open storage. It can also be described as the Lowes kitchen island.
21. Two Separate Rolling Kitchen Island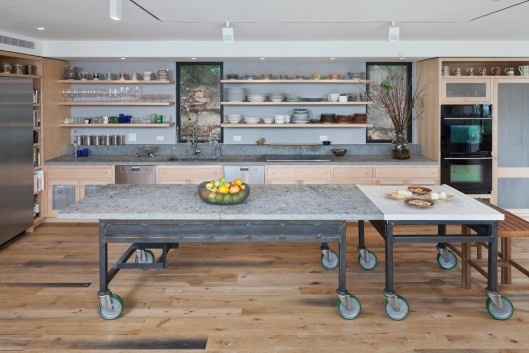 Check out this outstanding kitchen island. Two different sizes movable tables in that act as a double kitchen island. They both get positioned together to make the layout of this kitchen customizable.
With these two rolling kitchen islands side by side in the middle of the kitchen, you can have an outstanding industrial charm for your stylish kitchen.
22. Industrial Wheels for Stainless Steel Kitchen Island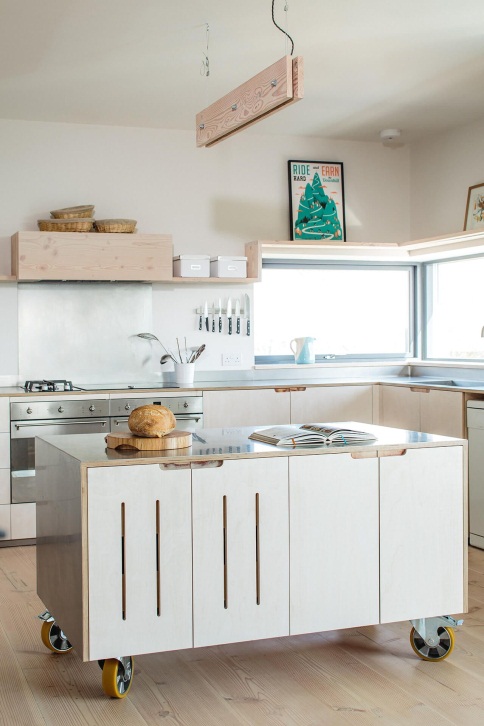 A stainless steel countertop seems to be the favorite choice for kitchen island on wheels. This stunning kitchen island is equipped with large industrial wheels. It gives an industrial look to complete the overall look of this minimalist and bright kitchen atmosphere.
It contains four cabinets to hide the kitchen stuff away from sight. It will give a clean look to the entire space. Its shiny effect from the stainless steel countertop strengthens the sleekness and cleanness of this modern kitchen.
23. Stunning White Kitchen Island to Roll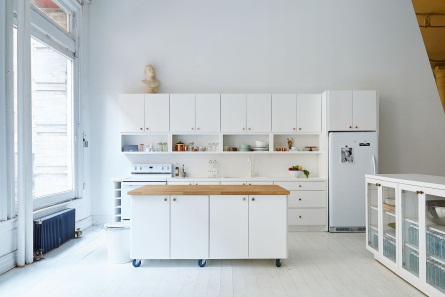 It is a movable kitchen island for your large space. It comes with a wood countertop and wheels on the bottom. You can move the island into the corner space to free up some space on the floor for a party. Therefore, the guest would be having a comfortable space to move around the room.
When you need the island during your cooking time, you can just roll it back in the position. The wheels that are used for this island is not four, but six wheels. It is the right option to maintain the balance and durability of the kitchen island.
24. White Kitchen Island with Invisible Wheels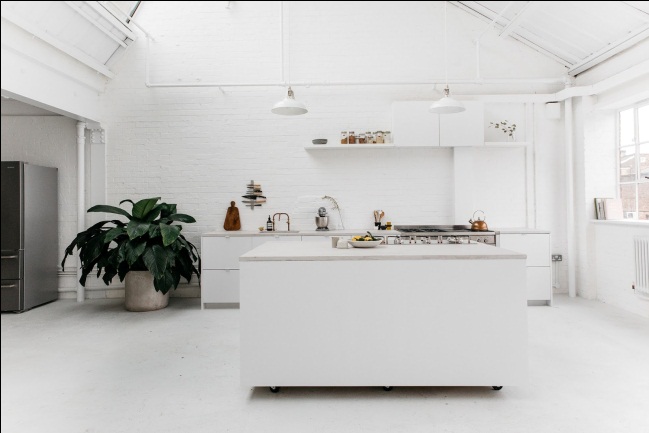 In this whitewashed kitchen, a kitchen island looks like it is floating above the ground. This white and amazing kitchen island comes with wheels that are concealed on the bottom. The brightness of this white kitchen is very powerful to set up the mood.
For some people, working in such a plain white kitchen can be uncomfortable. Therefore, you may need to add more colors to the kitchen from accessories like appliances. The island design comes with various features that create more continuity in the kitchen.
25. Gray Wayfair Kitchen Island Design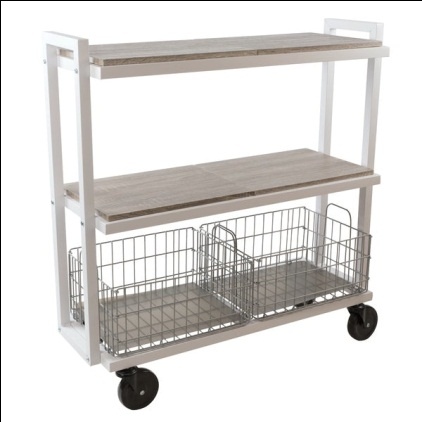 This is a kitchen cart with a 3-tier system and four interchangeable shelves. This simple kitchen cart is very useful to support the flow of your cooking. On the bottom shelf, a couple of metal baskets would make your kitchen supply well organized.
This kitchen island is one of The Gray Barn's products to have in 2019. This cart will not waste many budgets you have. In a store like IKEA, Overstock, Walmart, Target, and Wayfair, you can easily find this rolling kitchen island to buy.
FAQ
Is my kitchen big enough to have an island?
The general dimension of space you should have around the kitchen island is at least 42 to 48 inches. Do not leave smaller open spaces around the kitchen for comfortable cooking.
Should I buy a kitchen cart or a kitchen island?
Before buying anything, you should fully measure the entire kitchen's dimensions. It is important to see whether your kitchen is compatible or not. Then, you should also think more about what you are looking for. It is all according to the needs and space in the kitchen.
Do kitchen islands need to be centered?
Not exactly. If you have a rolling kitchen island or a kitchen cart, you can move the island to the side and free up some space on the floor.
Does IKEA sell kitchen islands?
Yes, it does. The products provide extra storage space in kitchens. Most of them come with open or closed shelving.
How much is a large kitchen island?
The average cost ranges from $3,000 to $5,000.
---
A rolling kitchen island would increase the flexibility and functionality of your kitchen. It is a perfect option for kitchens that need to save some space. However, there are some large rolling kitchen island ideas you may want to look at to design your larger kitchen.