FeastHome – To bring the ultimate comfort to the cooking space, many homeowners do a series of makeover projects. And if the American diners of the '50s can add a personality boost, check out these 17 retro kitchen style ideas that will evoke the bygone era.
House and Tech is reader-supported. When you buy through links on our site we may earn an affiliate commission. Learn More.
1. White Retro Kitchen Style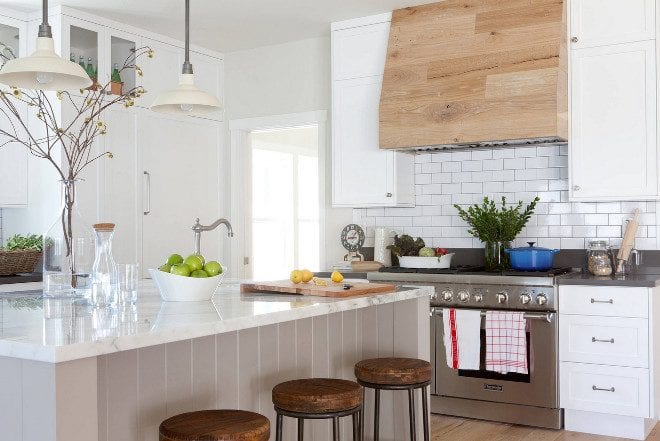 Retro kitchens tend to be adorned with vibrant colors that refer to past trends. But if bold and vivacious colors are not your thing, you can always use neutral colors like white or gray. Anything that can make you feel comfortable will do.
This all-white kitchen looks super clean. The sufficient natural light that comes into it through the window makes it look airier and more spacious. Three bar stools and the checkerboard kitchen towel bring the retro style into the cooking space.
2. A Little Bit Touch of Gray Retro Kitchen Style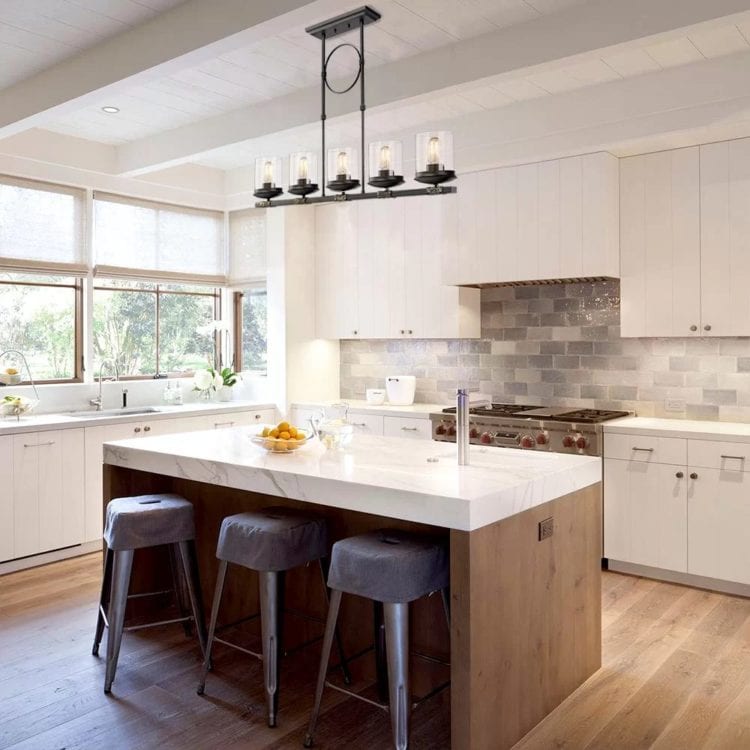 This kitchen features a minimalist design with clean-lined edges that fit in with modern style. Adding a little bit of retro touch will not harm the modern look. They can blend and look great together instead.
The shiplap cabinet doors are a great start. If you are worried about looking too hygienic, you can add a little bit touch of gray like the plastic stools and backsplash that introduces various shades of gray.
3. Blue Fridge and Polka Dots Retro Kitchen Style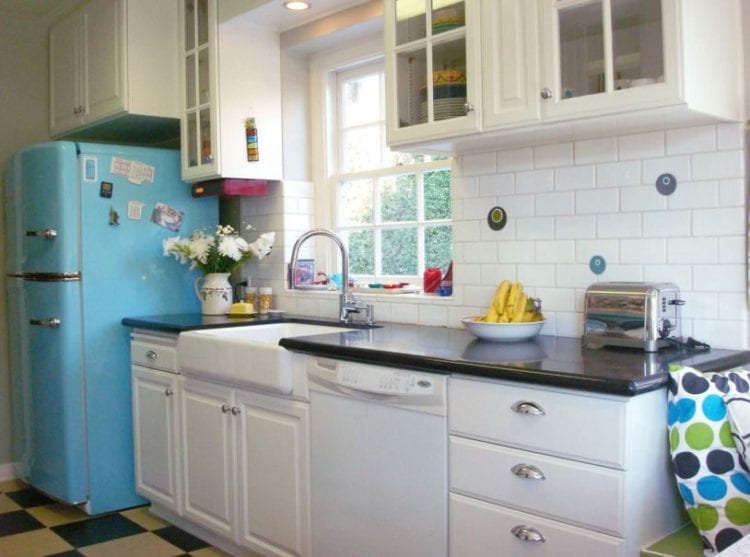 Once you notice the fridge, you will be evoked to the bygone days. A bulky fridge with two doors, glossy finish, and vivid color is one of the most ubiquitous things that you can find in a retro kitchen. Therefore, this blue fridge works like a charm.
Besides the fridge, the polka dot cushion and checkerboard emulate the style of the 15th century, bringing the retro style come to real.
4. Glossy Mint Green and Turquoise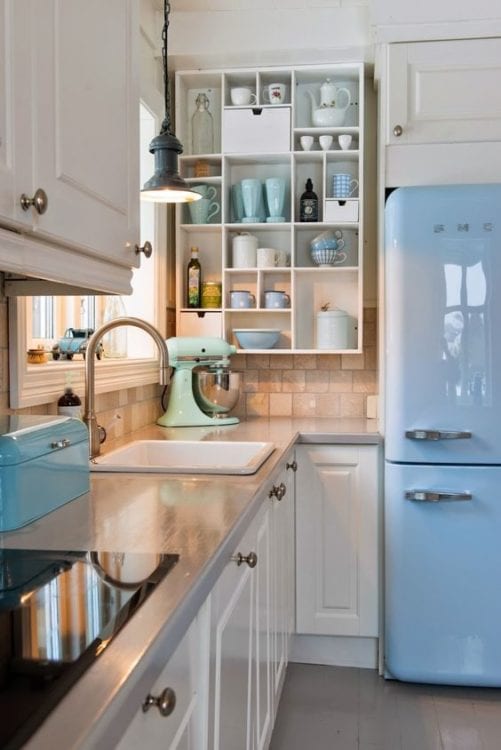 Glossy kitchen appliances with round edges can denote a retro kitchen style well, just like what you can see in this kitchen.
A vintage blue fridge and chest jazz the kitchen up. A mint mixer perching on the tiled-countertop accentuates the style. To make it more appealing, mint and blue glasses and cups are displayed on the shelf.
5. Retro Coastal Kitchen
A retro kitchen can also bring a coastal flair if you pick the right color hues. This kitchen, for example, comprises turquoise and white colors.
Some open shelves are installed in this petite kitchen in place of bulky cabinets that will gobble up a lot of space. Blue and white tableware are arranged fastidiously to match the interior.
A picture of an old motorbike and cars pay the tribute to the past.
6. Accent Floor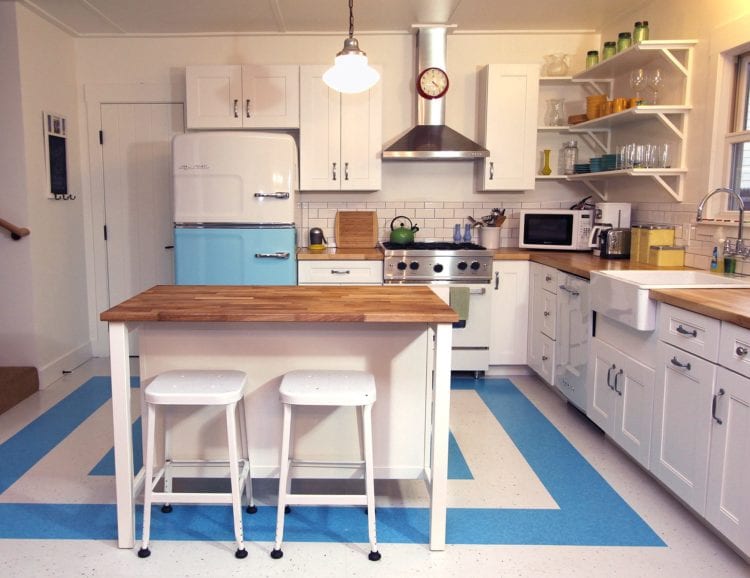 The first thing that might impress you here is the floor. It is quite conspicuous. It is actually a white floor with a blue accent that will definitely steal anyone's focus. The blue-and-white vintage fridge matches the accent floor immensely.
7. Bold Black Kitchen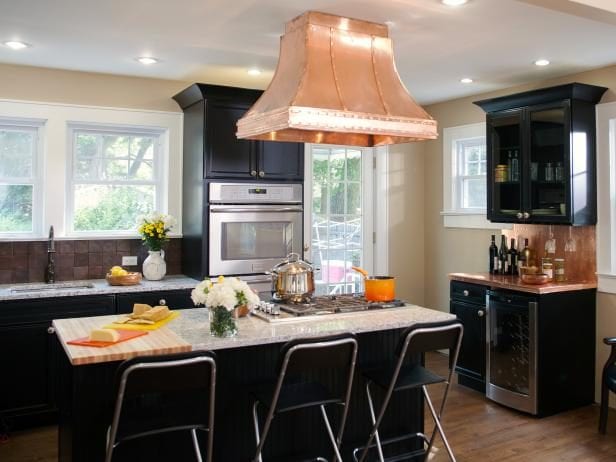 This kitchen looks elegant and bold with the black cabinets and countertops. Crown molding is installed to add a classic look. Copper countertop and backsplash in the coffee table incorporate a little bit of industrial look.
8. Red Vintage Fridge and Gingham Tablecloth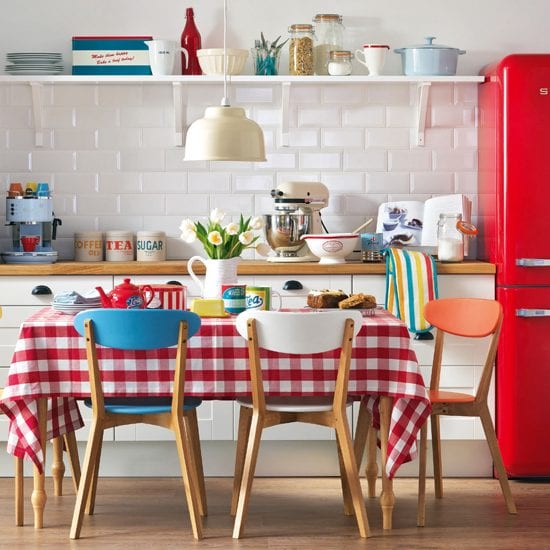 If you are looking for a colorful retro kitchen, this one is for you. Basically, this kitchen consists of a red vintage fridge and gingham tablecloth that will make people's mind travel to the past time.
Instead of using similar chairs to create a united look, blue, white, and orange chairs are used to add pops of colors. And the rainbow kitchen towel pulls all the elements together.
9. Pops of Red Retro Kitchen Style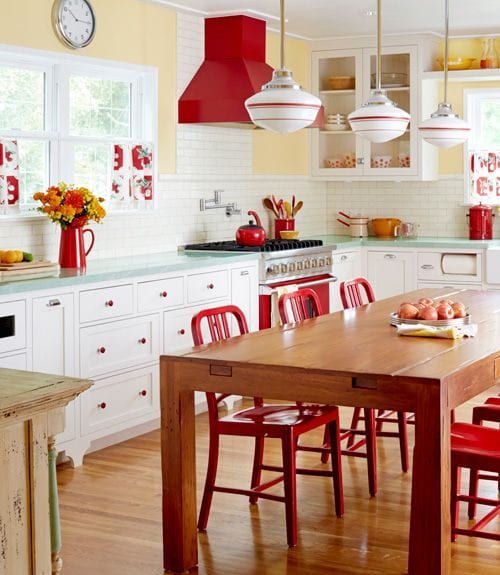 Red has conquered this kitchen in an epic way. It pops into some furniture and fixture of this kitchen without being too overwhelming.
The red wooden chairs surround a wooden dining table that also does a double-duty as the kitchen island. Above the dining table are three white pendant lights with red accent.
The exhaust hood and stove also come in red, even the drawer pulls look like beautiful red buttons.
10. Mosaic Tiles and Red Bar Stools Retro Kitchen Style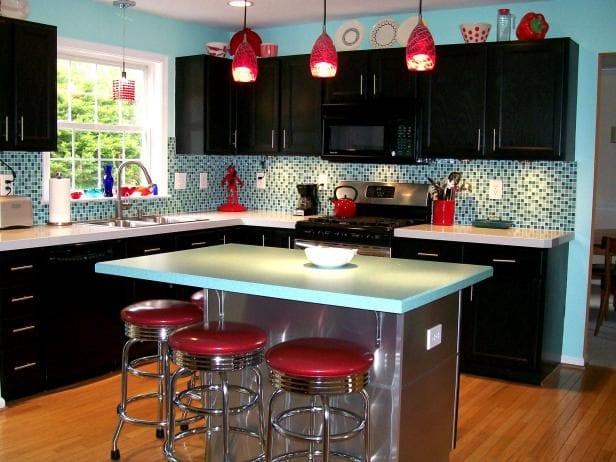 If you are a big fan of the classic retro kitchen, this kitchen decor idea will be your next way to go.
Instead of steel chairs or wooden bench that infuses the warmth of traditional look, opt for typical bar stools with padding on top like these red stools.
The mosaic tiles add more colors and patterns to the backsplash.
11. Serene Cream Retro Kitchen Style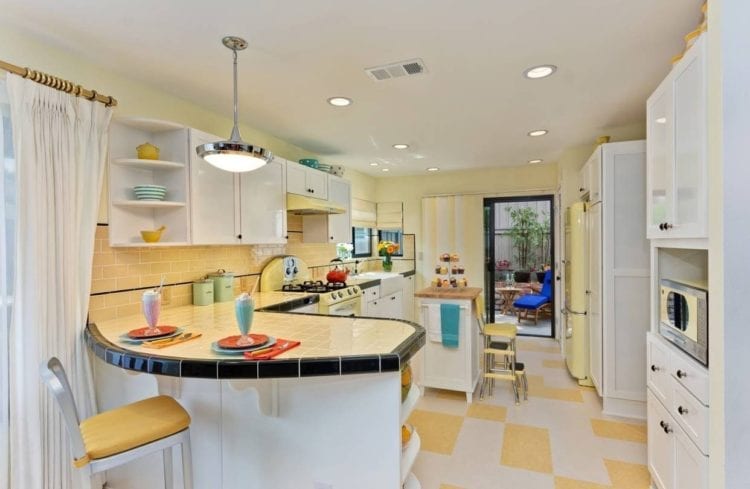 If you want to bring the soothing elements into your kitchen, this cream kitchen will be your safe bet.
The cream hues found on the checkerboard floor and tiled countertop offer relaxing effect. Add a sprinkle of vibrant colors will accentuate the retro style without compromising the serenity.
12. White and Black Checkerboard Floor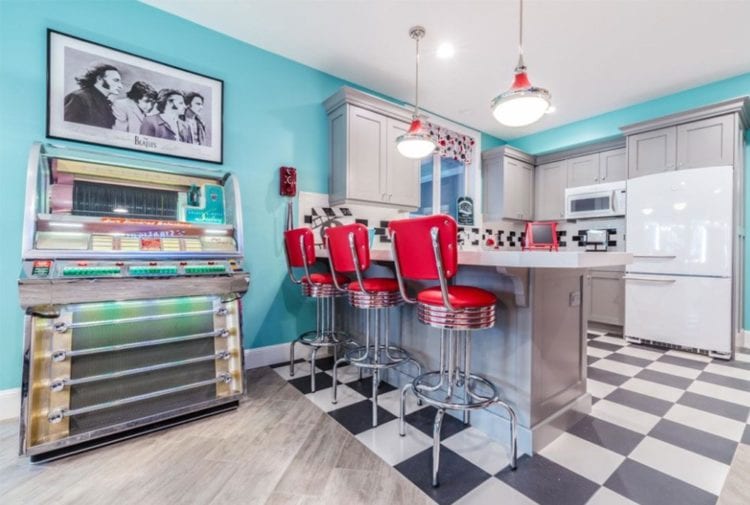 All you need to turn your kitchen into a vintage one is here. The white-and-black checkerboard floor is an important element to create this style.
Red bar stools give an unrelenting charm. An old-fashioned music player is an epic finishing touch.
13. Pastel Green Retro Kitchen Style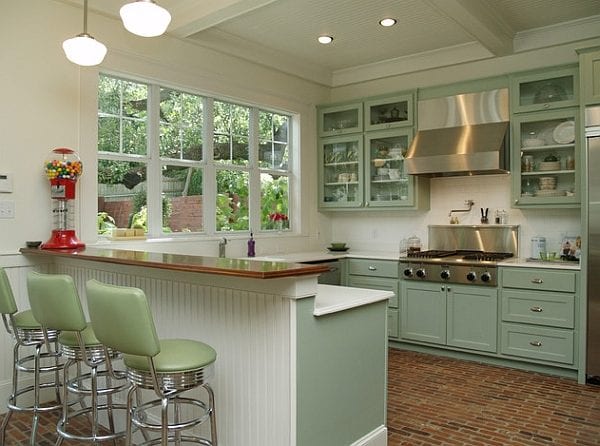 Besides vibrant colors, sift color hues like pastel green can recall the memories of the past. Shaker cabinets and the cabinets with glass doors emulate the bygone style.
To enhance the retro style, three bar stools with padding in pastel green are added.
14. Elegant Retro Kitchen Style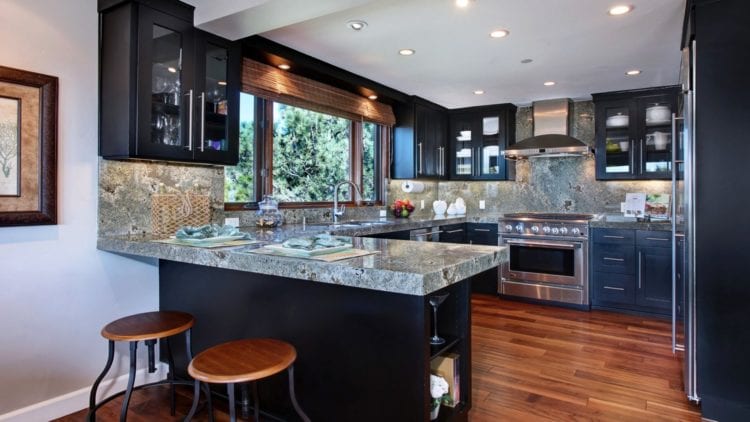 A retro kitchen can be elegant, thanks to the marble countertop and backsplash that have made it happen. To make the retro style more tangible, bar stools are added here.
15. Pale Green Shaker Cabinets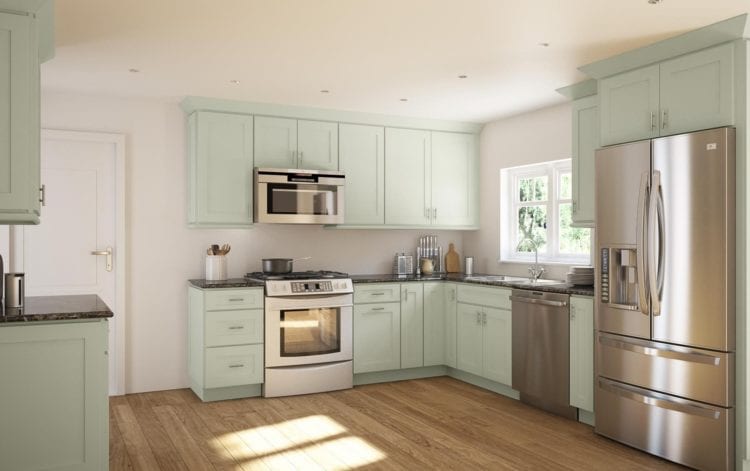 This kitchen is an epic combination of retro and modern style. The pale-green shaker cabinets represent the old-time charm while the sleek fridge and stove embody the futuristic look.
16. Retro Kitchen with Outdoor Bar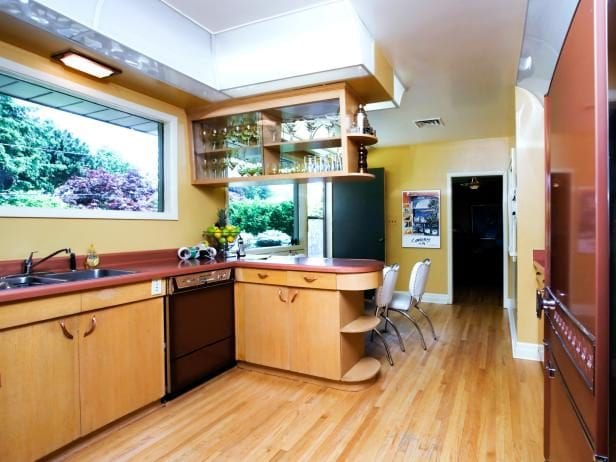 THs kitchen is awesome as it has an outdoor dining area that connects to the indoor kitchen through the huge windows. It is a great idea to have your breakfast while enjoying the backyard landscaping.
17. Vibrant Cherry Red Retro Kitchen Style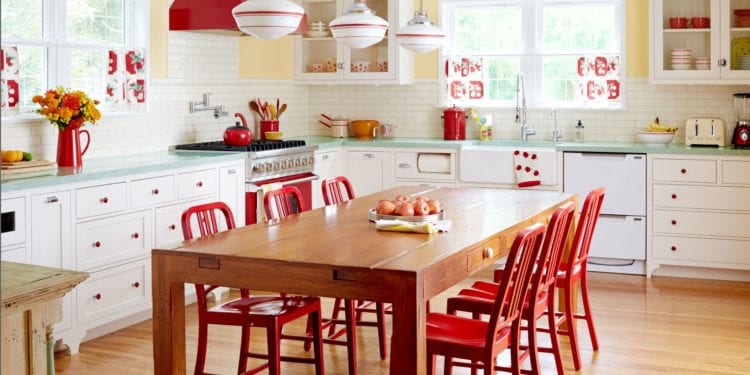 Investing in vibrant colors like this cherry red is an instant way to bring the retro style into your kitchen. Do not go overboard, though. You still need to consider the color coordination to make it comfortable for the sight.
In this kitchen, red blends with the charm of nature well. It does not take over the whole kitchen. It appears in the essential elements of a kitchen like the chairs and fixture instead.
---
The key to creating a retro kitchen style is referring to the things that pay tribute to the bygone era. Bar stools, checkerboard floors, vintage fridges, and vibrant colors are some of the most ubiquitous elements that you can copy.