FeastHome – Monochrome kitchen island is one of the color combinations that become the most favorable color by many design enthusiasts. It offers you various styles paid off with minimal effort. When it is paired with the proper element, monochrome leads you to the countless variety of décor styles.
House and Tech is reader-supported. When you buy through links on our site we may earn an affiliate commission. Learn More.
In term of decorating a house, of course, you don't want to use a color scheme which becomes a temporary trend. It will cost so much money to regularly change your home's design. But it won't happen if you stick with monochrome hues, because this palette is literally timeless.
Based on those reasons, there is no excuse not to give you the best design of monochrome kitchen island. Check this out and be ready to be amazed at these recommendations!
1. An Island Is the Extension of Kitchen's Storage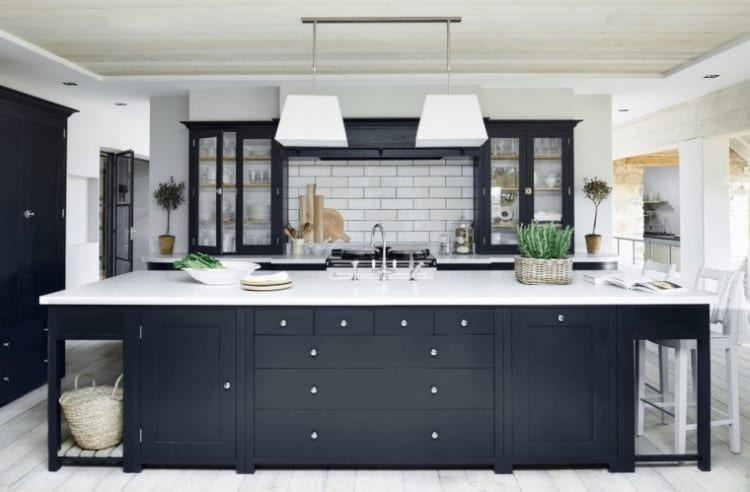 Everybody who loves cooking must understand how many spice boxes which are available on your kitchen. That is why; many people try to maximize every remaining space to be made as shelves or drawers. Now, you can use the island as a beautiful drawer which increases the functionality.
2. Combined With Wooden Material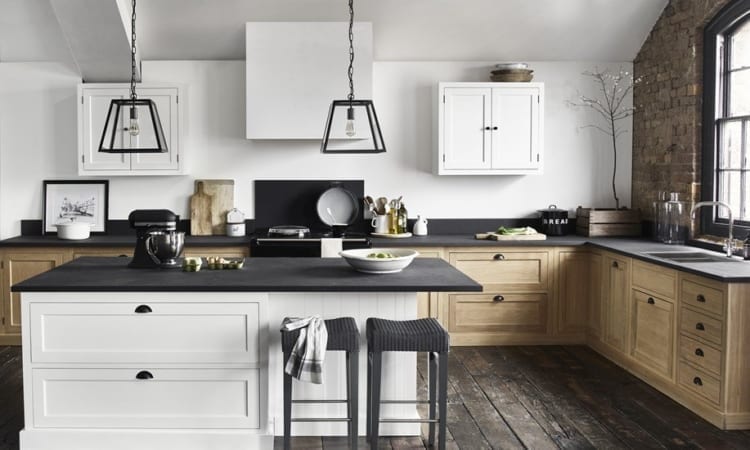 Choose a monochrome kitchen island doesn't mean you have to limit the option of kitchen's ornaments. You still can pick wooden material and keep it raw just the way it is. Even though it is less "monochrome" but the harmonization is still there.
3. Minimalist Yet Accentuate Your Taste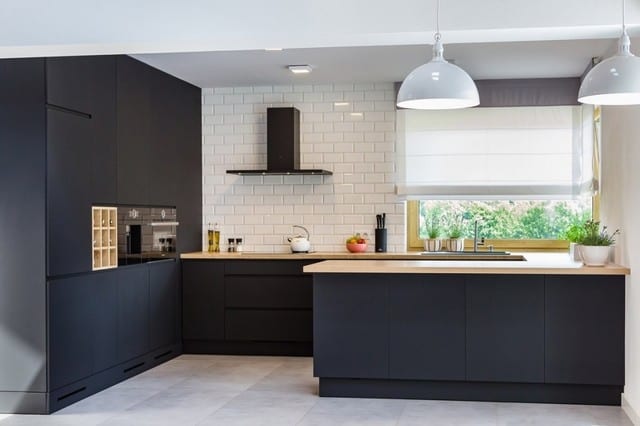 Monochrome tends to be minimalist because you don't play with shocking bold color or too many ornaments. But on the other hand, a simple design with monochrome can accentuate your taste. Also, it gives you broaden the opportunity to explore unique stuff like big pendant lights and backsplash tile.
4. Implement Sunroom Ideas for Your Island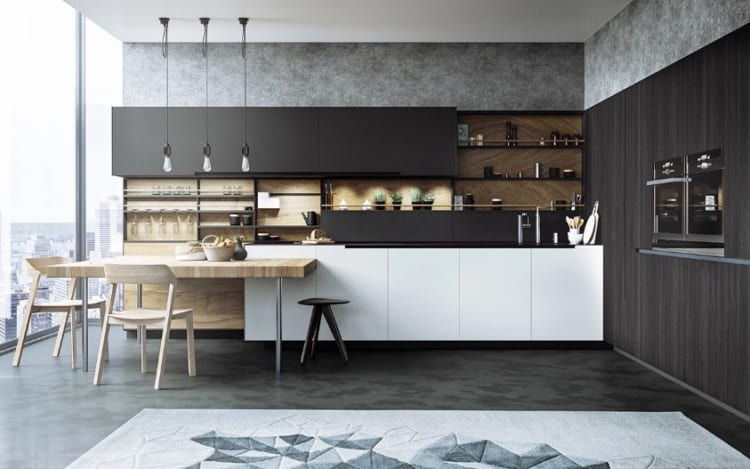 If you have one side on your kitchen's wall that is replaced by all glass instead of brick or concrete, it is actually you are already applying sunroom ideas for the best spot of your kitchen.
If you live in a four-season country, you will be thankful because this glass wall leads you to enjoy abundant sunlight every day.
5. Masculinity over Sophisticated Design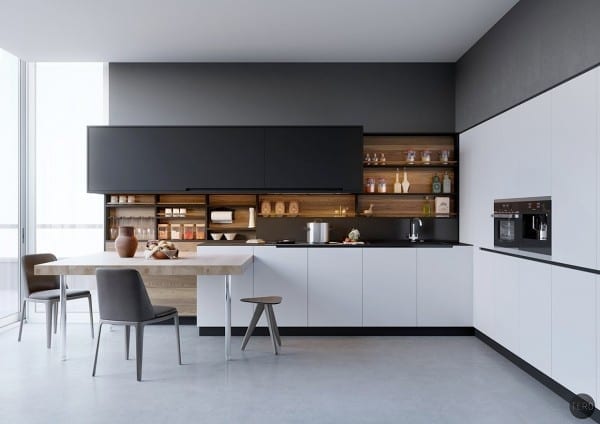 Besides all the positive side of having monochrome ideas, it can lead you to the perception of masculinity and strong personality. It is really suitable for you who really intended to communicate your strong and tough character through your kitchen.
6. The combination of Monochrome and Shiny Metallic Design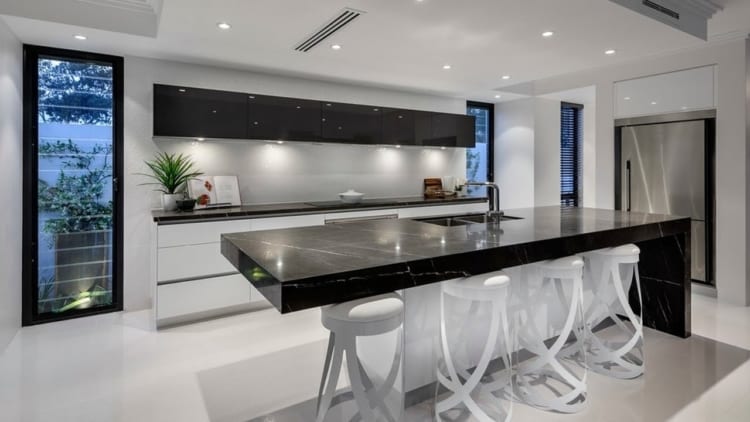 As long as you use delicate material, you will get a shiny and sleek effect. It helps you to make your kitchen looks cleaner. Not to mention, the existence of downlight can become a wow factor which enhances your entire design to be better.
7. Modern Yet Consist Of Natural Element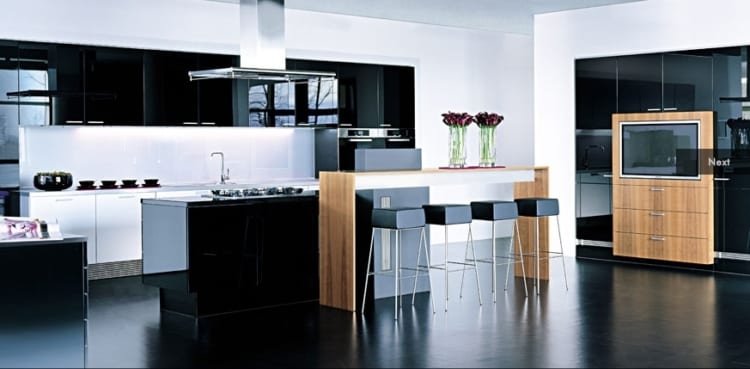 There is always a chance for you to explore everything based on your gut and personal taste. Modern design but still preserves brown wooden natural color is okay, to begin with. Meanwhile, it brings the concept of "when modernity meets nature atmosphere".
8. Coastal Style with White Based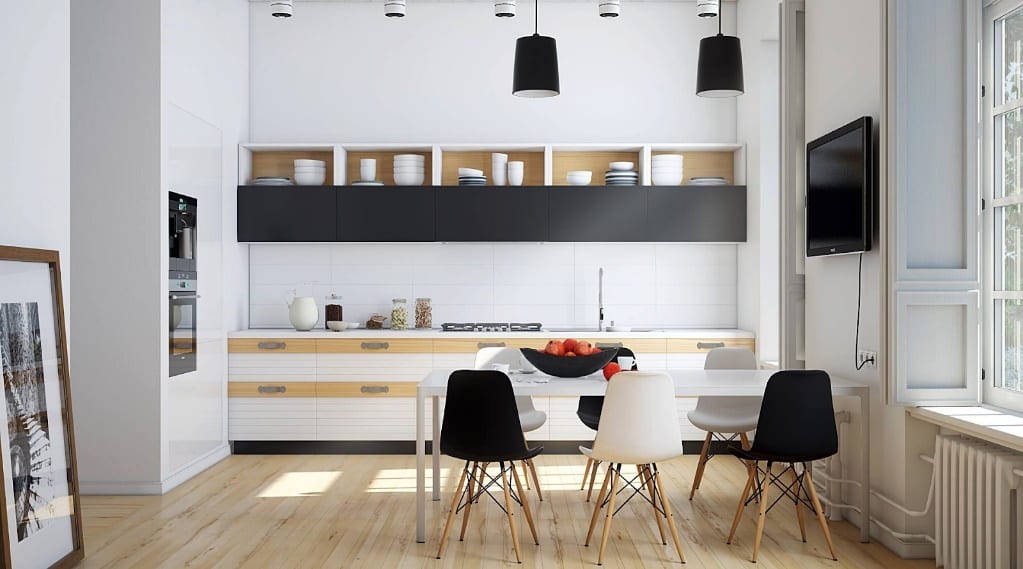 Creativity is the key to bring an out of the box monochrome design. First, pay attention to the island. You can buy a white table with black and white chairs. And for the rest of the kitchen, you can combine both black open shelving and white kitchen's table. Turns out, monochrome can be this fun and playful.
If some of the materials use wooden element, it is okay to let it be light brown instead of changing the color into black and white.
9. Less Is More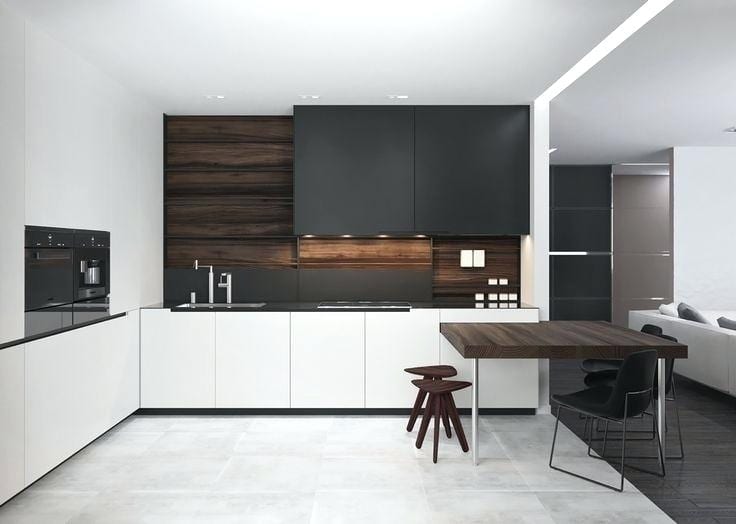 What is the point of having a monochrome style without balancing it with minimalist design? At first, maybe you feel this concept is too plain and empty. But this concept to let a room has less ornament giving the different sensation of soothing and calming effect.
Either way, this super minimalist design still fits the idea of kitchen island as social hub between everyone who spends their time inside this room.
10. Open Space Apartment without Partition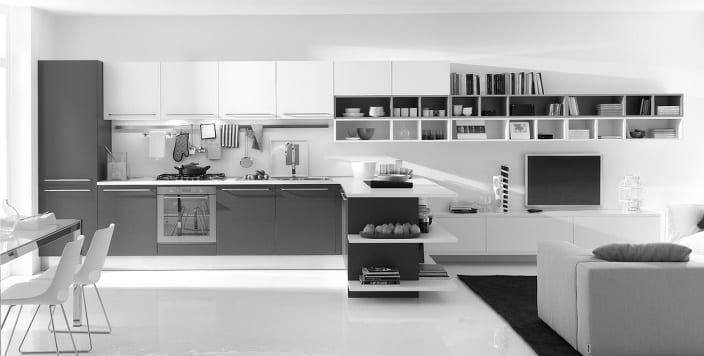 Some apartments have open space design, meaning that there are a very limited number of partitions. You can utilize this condition to decorate living room and kitchen without a separator. It turns out that no separator gives perfect illusion of a bigger kitchen and also beneficial for your island.
11. Two Sides Island
Who said that kitchen island can't have two opposite side? Look at that idea above, you can have specially designed kitchen island in T-shaped. It can be beyond multipurpose, hence you can use it in two directions: from the longer or the shorter one.
12. Multipurpose Island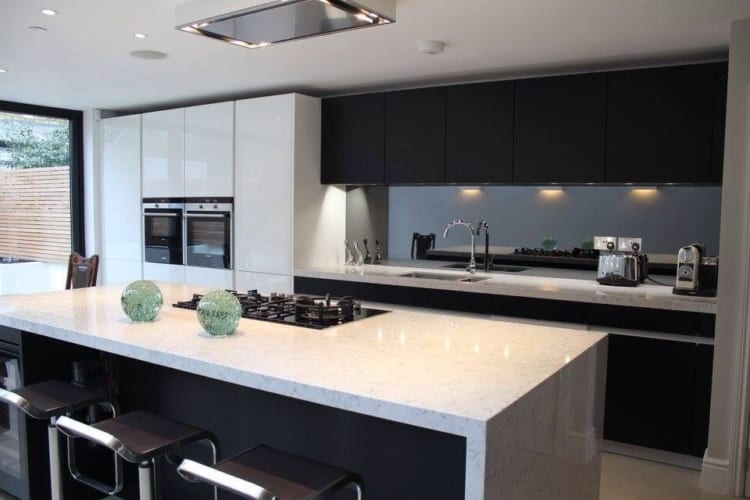 Placing the stove on top of the island can be perfect way to divide the workflow of your kitchen. So, cooking activity doesn't need to be done only in one kitchen table, but you can maximize the island also.
When there isn't a cooking activity, this wide-open island can be used for hanging out with your beloved one.
13. One Wall Monochrome Kitchen's Table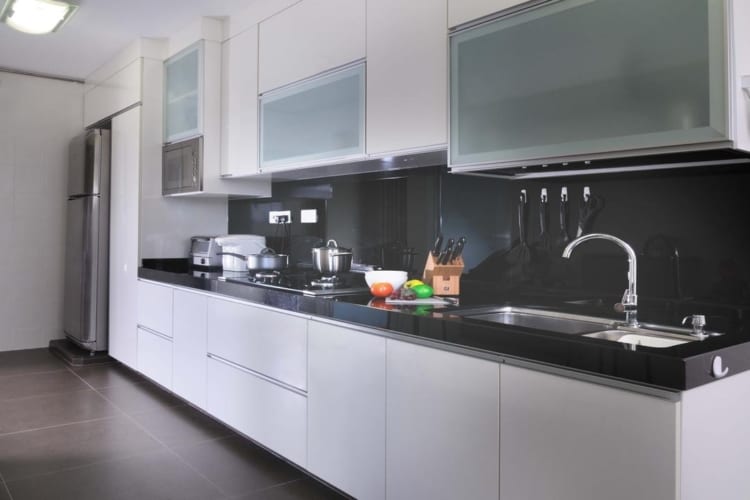 In order to maximize the space, you need to organize kitchen's table, including sink and stove, to be in one line only. Especially if you have tiny room, this idea will give you extra space on the other side for kitchen island or just pathway to access the kitchen.
14. Make It Playful With Blackboard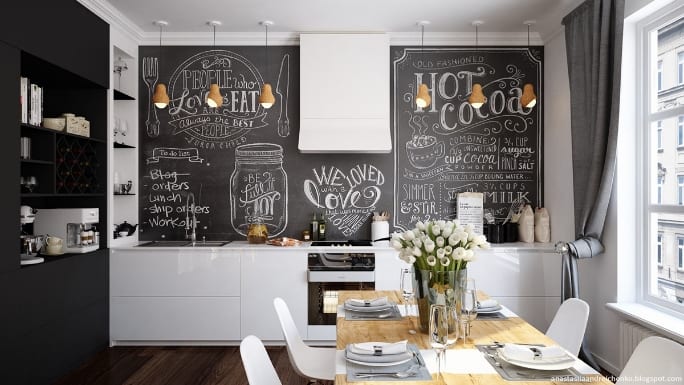 There are a lot of ornaments you can use to elevate monochrome design. One of them is a chalkboard. Use it on the plain wall, and you can draw or write anything you want. Especially if you have kids, you can let them explore their creativity without damaging the wall.
15. Perfect Grayscale with Monochrome and Marble Pattern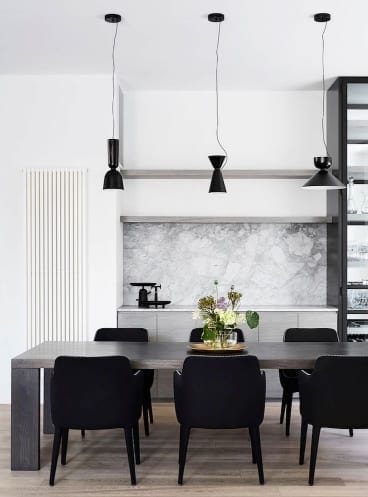 The natural pattern can boost the aesthetic of your monochrome kitchen. You can combine black island and white wall with marble on another side of the wall. It totally looks complement each other since all of them are on the same hues.
16. Minimalist Monochrome Kitchen Island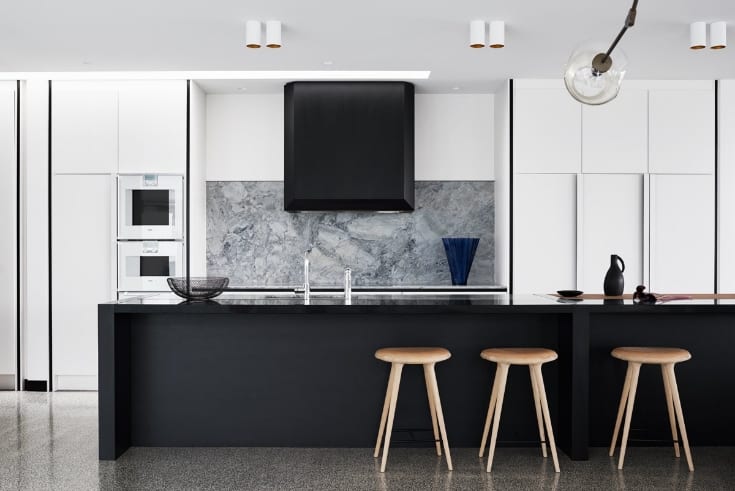 Source: http://decostone.com.au
Monochrome offers you a very subtle and neat ambiance, especially if you mix it with natural marble pattern that contrast but complement each other. That shade of overall room works even better with wooden stool without changing its color.
17. Metallic Shade to Elevate the Value of Monochrome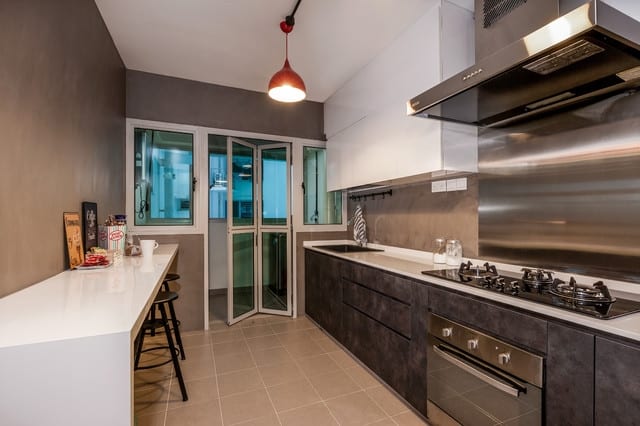 Do you in love with monochrome but need another element to make it less boring? Well, you can combine metallic shade with monochrome to make it is outstanding with its own way. In term of design, nothing can limit your creativity.
---
It is almost undeniable that most people love the ambiance of the monochrome design. Over the whole idea of the monochrome kitchen island, which one you love the most?