What does your current garden look like? A little grey and drab? A bit lifeless? You might think that the only way you can rejuvenate it is by hiring a professional permanent landscaper to do all the hard work for you.
Whether you are strapped for time after a week at your demanding job or you don't have a particularly green thumb, there are loads of ways you can create a gorgeous garden yourself without investing lots of time and energy.
Low Maintenance Garden (Landscaping) Ideas:
If you're looking for low maintenance ideas for your garden, then read on to see how you can spruce up your garden when you're time-poor!
1. Garden Decor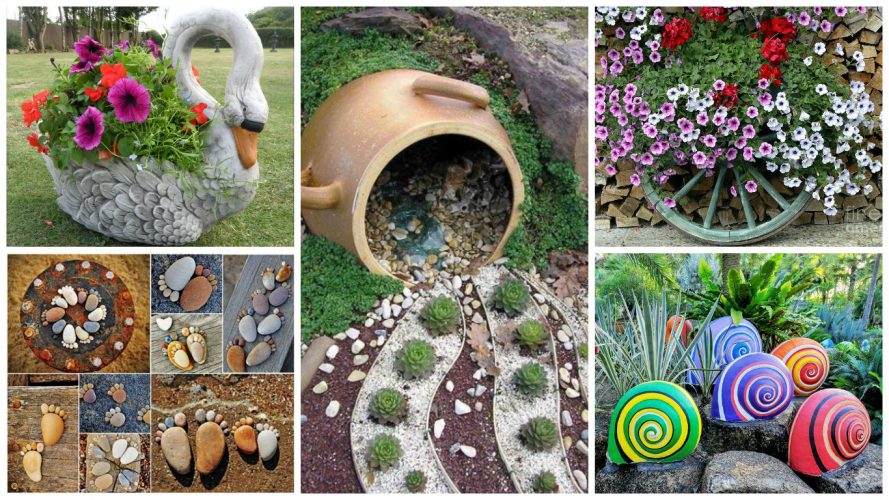 A garden filled with flowers of all shades of the rainbow, an ornate pond with tadpoles swimming around, and a gorgeous cherry-blossom tree blooming at the edge. It sounds like a dream – but a nightmare to maintain.
You can easily add touches of your personality to your garden, invigorating life into the expanse with color and texture, by placing some simple garden decorations.
Whether you're a fan of the traditional garden gnome, a lover of birdhouses or you adore the sparkle of a string of solar-powered fairy lights, there are so many options for bringing your garden to life.
Placing garden decorations around your garden involves minimal maintenance. You can leave them be for the most part, with the exception of the odd occasion where you need to wipe off any garden grime.
Be wary of adding decorations that involve running water. Whilst a water feature might lend a calming and soothing effect your garden space, it'll not be so relaxing cleaning out stagnant water or removing the build-up of mold.
2. Flower Selection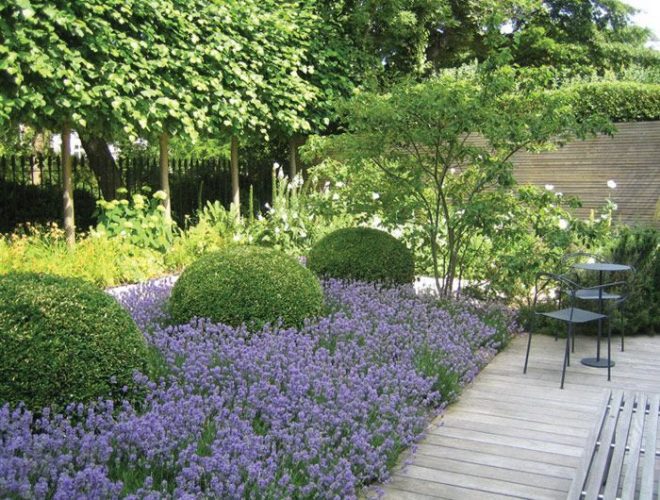 Sometimes less is more. When choosing flowers for your garden, adopting a minimalist approach and picking fewer varieties will definitely be more than enough if you're looking for a low maintenance gardening regime.
Plants of the evergreen variety should be your number one choice to reduce your workload. The clue being in the name, they won't shed their leaves for you to clear up, and just require a spot of water.
Shrubs like holly and lavender are beautiful and self-sufficient plants to introduce into your garden too. Keeping them in individual containers can help curb their growth, reducing the need for you to spend extensive time chopping them back.
By dressing your flower beds and containers with mulch, you'll also hinder the growth of weeds. Mulch also soaks up a great deal of water, which will then be soaked up by your plants, therefore reducing the need for you to keep on top of your watering game.
A good way to keep to the garden and lawn neat and tidy without too much effort is with a string trimmer, self-powered lawnmower, and hedge trimmer.
3. Fencing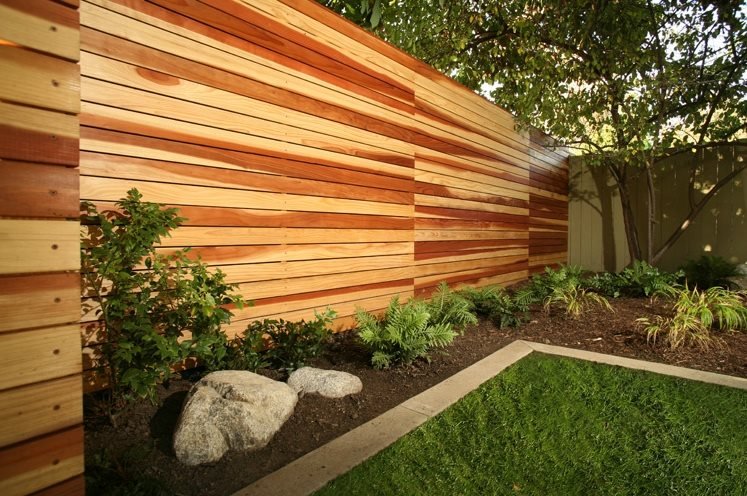 Constructing a wooden fence that wraps around the perimeter of your garden is the perfect, low maintenance way to add structure to your garden. A hedge might give the effect of being in the midst of a fairytale landscape, but it's not easy to take care of. You'll regularly have to get into the habit of pruning it to prevent it from becoming too wild.
There are many fence design options you can choose from feather-edge, picket, tongue and groove, and more. The style you opt for should align with the aesthetic you're looking to achieve in your garden, giving you an effortless way to tie your garden together.
The upkeep of a wooden fence is also very easy. Before constructing it, you should source pressure-treated wooden panels so they'll last longer, protected from the elements. This way, you'll reduce the need to replace rotting panels.
A fence presents another opportunity to liven up your garden space. Invest in a pot of paint in your favorite color and splash it on. Go for a block color or vary it from panel to panel. Go for something that you love!
4. Deck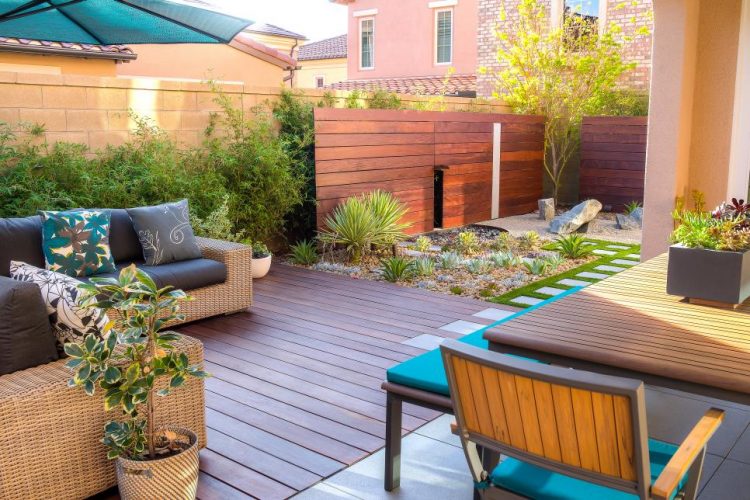 The addition of a decking area outside can massively reduce your long-term garden maintenance. To make space for the decking, you'll have to remove a large portion of the grassy area, which will lighten your gardening workload.
Looking after a vast grassy space is no easy feat. You have to ensure that the grass is well-hydrated and mowed on a semi-regular basis so it looks neat, tidy, and healthy. This will involve dragging your lawnmower out of your shed every other weekend. If you're looking for a low maintenance garden, this is certainly not something you want to be doing.
With decking, you can transform your outdoor space into another living area, kitted out with comfy couches and a picnic table for eating al fresco. There are loads of quirky and cool decking ideas out there for you to tweak and tailor to your own needs and preferences. Accessorize with cushions and a cool patio umbrella.
Decking requires minimal upkeep and your reduced grassy space will much be easier to mow. Just give it a good scrub every now and then and make sure it's protected with varnish or wood stain every few months or more.
To keep warm and snug in the cooler months, invest in a good outdoor propane heater.
5. Shed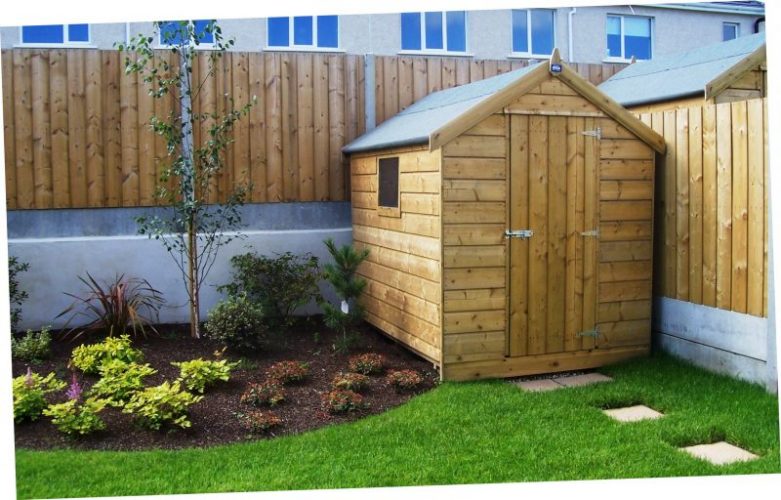 Simple gardening jobs can quickly become complicated and frustrating when you can't find the right tools. The solution? Sturdy and secure garden storage shed with a well-thought-out storage system for your lawnmower, tiller, snow shovels, string trimmers, and shears. You can keep all of your tools and gardening gadgets safe in the shed.
By placing a storage shed near the area you'll be working most, you can save yourself time each time you go to do a spot of garden work. Dragging a lawnmower or heavy shovel from the top to the end of your garden will be incredibly frustrating.
Spend a little time insulating your shed (or recruit someone else to do it for you) and you'll also reduce your maintenance list. A non-insulated shed could become prone to damp or mold, which could damage your contents, leaving you with a big task to deal with. Insulating the shed will keep everything safe from the elements.
Like your fence, you could coat it in your preferred color of paint, adding some stencil patterns if you like, bringing some brightness to your garden without the long-term upkeep commitment.
6. Indigenous Plants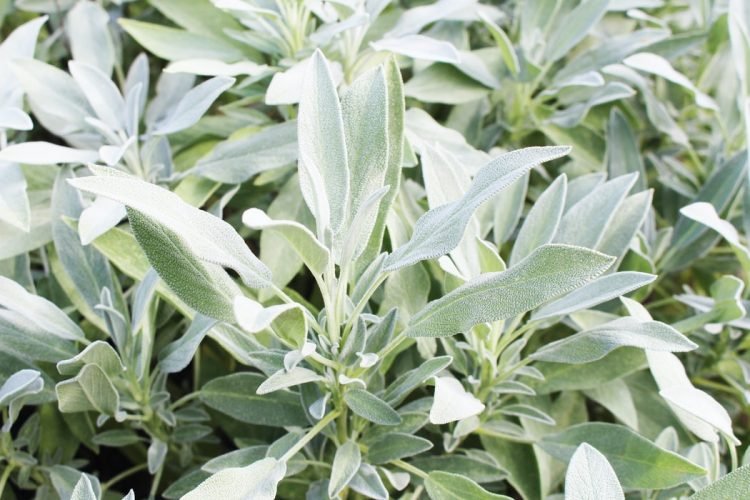 Many common garden plants have made their journey from foreign countries, but there is nothing like indigenous (native) planting, especially if you are looking for low maintenance eco-friendly garden. The variety is amazing.
White Sage, is used for both medicinal and spiritual traditions by Native Americans. It is a small blue/grey shrub that attracts bees, butterflies, and hummingbirds.
Maidenhair Fern comes in handy. Every garden has some shady area where a lush green, lacy textured Maidenhair fern will flourish. All it will need is good soil and some moisture and your reward will come.
Coral Bells are a great touch. This hardy plant is useful as a ground cover, in rock gardens or as borders, and can find a place in any garden. The leaves are the standout feature coming in a variety of colors from lime to rust and burgundy.
Creeping Phlox is another ground cover giving a seasonal display of colorful blooms in early spring. The purple-blue display is spectacular, and when they fade the pleasant green cover remains.
There are many more to consider such as Echinacea Purpurea, Lobelia, Virginia Sweetspire, Nevius Stonecrop a great succulent, so don't feel limited.
Using indigenous plants is easy. They are good for the environment, attract butterflies and insects, and are low-maintenance.
7. Paving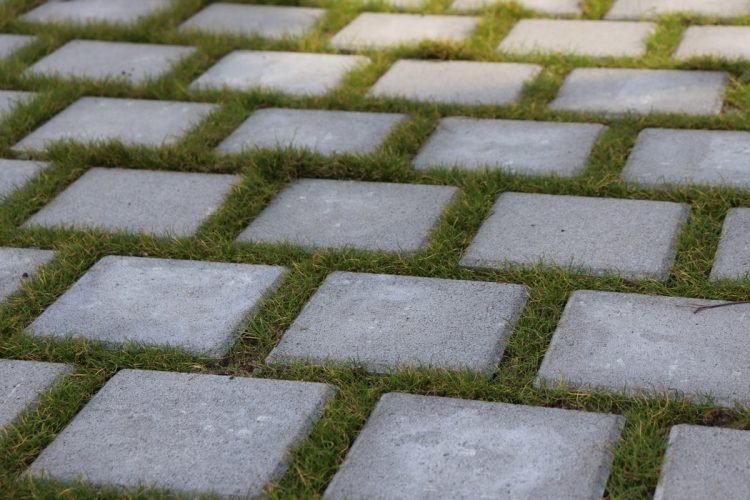 When trying to establish a low maintenance garden, we have agreed that lawns, hedges, and high maintenance plants and flowers are out. We have got the fence, shed and deck in place, now is the time for some paving.
Start with an attractive paved driveway, all the way from the gate to the garage. Choose a durable product for the driveway. An interlocking concrete paver would probably be the best option, and you have a variety of color choices as well as design patterns.
Another popular paving product is granite. Quarried from age-old stone and cut to perfection this durable product can be finished in three different styles. It can be used as rough cobblestone for driveways, brushed for outdoor paths or patios, and polished for interior floors.
As the granite/ marble product is more expensive, staying with concrete for the driveway and garden will be more cost-effective. There is a wide range of colors to choose from and a variety of designs of the block/ brick itself. A very popular design incorporates a brindle colored brick for the body of the paving, this is good for hiding the odd stain, and a charcoal-colored brick for the edge.
This pattern could be extended for pathways through the garden and is a very attractive feature that requires little care. You will have less lawn to mow and all you need to do is give the paving a clean from time to time. The most effective way to do this is with a handy electric pressure washer.
8. Pebbles, gravel, and stones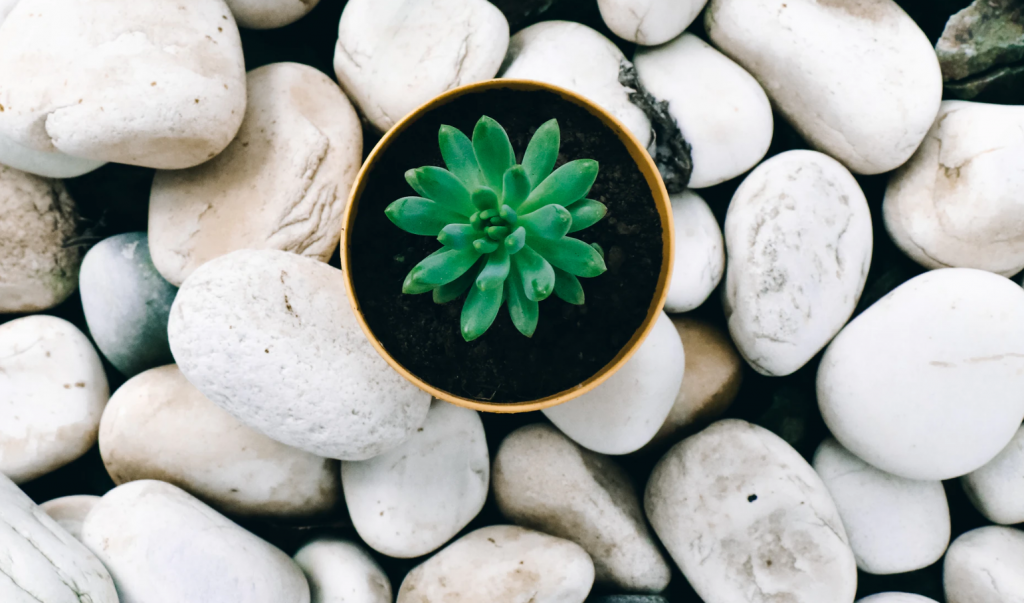 To be just a bit different, consider keeping the charcoal border, as discussed above, but replace the main body of the pathway with pebbles or gravel.
Pebbles come in a variety of colors and sizes, with exotic names like Anvil, Arctic, Bendigo, Bracken, Coral, Eden, and Eggshell. Pebbles afford you the freedom to express your creativity and versatility in design, from hand placed to textured fill and form.
Pebbles are also useful instead of mulch in the flowerbeds and serve the purpose of retaining moisture in the ground while adding a different and attractive feature to the display.
Gravel pathways are also an option, however, some people don't like the crunching sound generated when walking over it.
Stone, either natural or artificial, provides a rustic touch to the garden. Placed strategically with a succulent or maybe a colorful pot plant on top brings balance to the overall effect. The best use of stone would be to build a rock garden in a strategic corner, and to plant a selection of succulents and ferns, as described above.
Once established, a rock garden is always a most satisfying addition to any garden.
9. Garden watering systems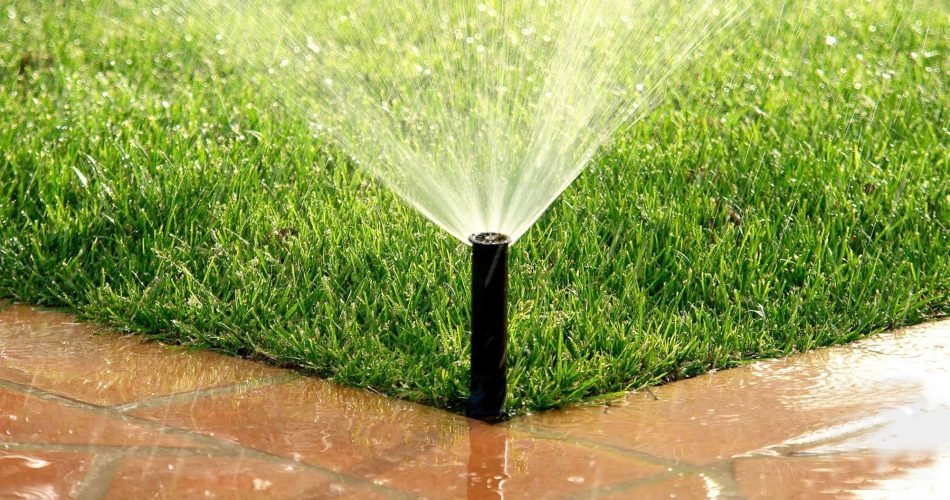 Some people find dragging a hose around the garden and carefully watering every corner, a therapeutic exercise. We don't always have time for such luxuries and want to ensure that the garden gets the water that it needs to thrive and remain healthy.
A bit of initial labor is needed to install the system, but thereafter you can sit back and relax. You will dig a system of trenches around the garden and bury the hose about 15 inches underground. At intervals along this hose, pop-ups are added, and when water pressure is applied they deliver a mist or spray to their surrounding area.
It is important to measure the distance of this spray to ensure that there is no "dead area" between the pop-ups that are not receiving water. They can be set to deliver a solid spray in areas that need good watering, such as the lawn if any, ferns, and other water-loving plants. For succulents and your rock garden, a lighter spray might supply sufficient moisture.
You have the option of manually turning on the hose as and when required, or fitting an automatic attachment just near the tap. There are various models on the market giving you options of time of day for watering and duration.
For potted plants, a drip system or a self-watering container may be used.
To be even more environmentally-friendly, use natural rainwater to water when possible. There are many easy ways to collect rainwater effectively.
10. Garden furniture
Your garden is now all set up just the way you want it, so what now? Are you just going to stand there and admire it? How about some decent garden furniture so that you can sit out there in the little Eden that is your own creation and enjoy.
There is a wide range of plastic and synthetic garden furniture out there, which are both very attractive and durable, not needing to be stored indoors at night. If bad weather is expected just bring the cushions inside.
A novel idea, to go with your granite patio, is a fire pit. It comes in an easy to assemble kit form, and there is always some sort of magic looking into a flickering flame while sipping a cocktail in good company.
Conclusion
Creating a stunning yet low maintenance garden is surprisingly easy. By setting aside some time to lay the initial foundations, you'll set yourself up for success, dramatically reducing your long-term gardening workload. Put these 10 low maintenance garden ideas into practice and reap the benefits!
This article was last updated on March 18, 2021 .