So spring has finally sprung and what better way to start the season than setting yourself a worthwhile challenge – finally clearing out all of the unused junk collecting cobwebs in your garden shed and make use of the space!
In this article, I'm going to give you a clear and concise list of easy-to-follow tips, helping you to convert your garden shed into a functional home office. So keep reading to find out how you can easily transform that dumping ground at the end of your garden into a dream workspace.
1. Plan, Plan, Plan!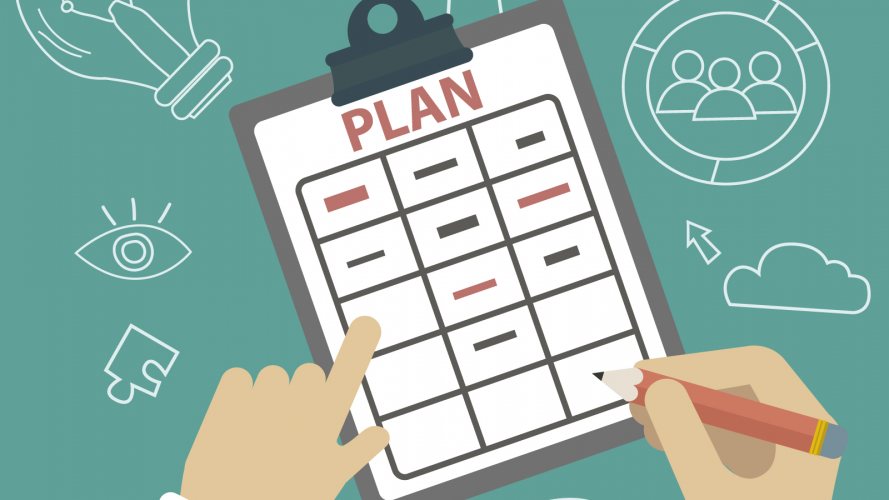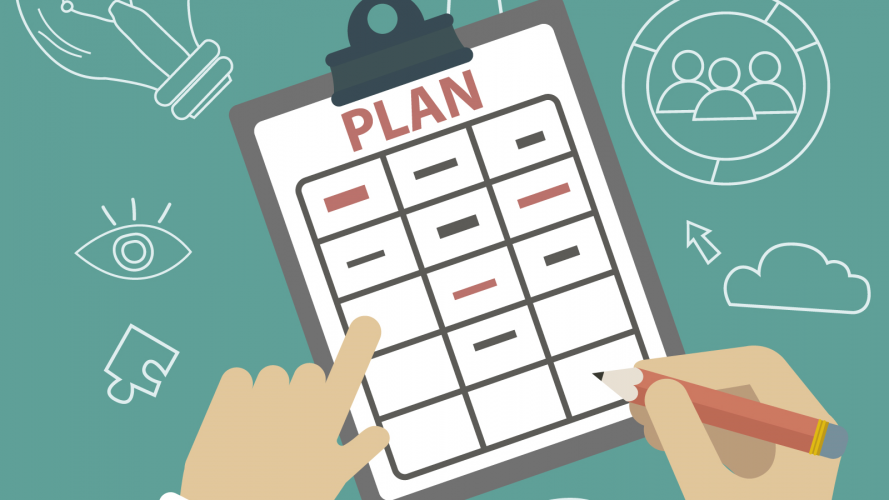 The first rule of thumb, as with any project that worthwhile, is to devise a coherent plan of action. As the saying goes, "If something's worth doing, then it's worth doing well", and there are no exceptions here.
In your plan, you're first going to outline what you'll be using your home office for – will you be writing, drawing, playing the guitar, using your desktop computer to work? Let's say you want to be able to use your desktop computer, you'll need access to a plug socket, meaning it'll be necessary to connect your converted shed to the electrical mains. This will require the help of a professional tradesman.
Another thing you may want to consider is whether you'll want access to running water in your newly converted workspace. Again, this will mean you'll need to employ the help of a plumber to correctly install a water system. You'll also want to think about what tools you're going to need for the job. Cordless screwdrivers and a hammer drill are probably going to be essential for you.
Next, you'll need to think about your budget. What materials will you need? What will you spend on the labor of skilled tradesmen? How much do you need for furnishings? It may sound simple, but planning ahead will save you a lot of time, and help you keep within your budget.
2. Assess The Current State Of Your Shed

The next step and perhaps the most essential step (unless you're a mermaid) is to ensure your shed is watertight! It's amazing how easily how the environment and harsh weather conditions, especially in the winter months, can do damage to your delicate garden shed.
You'll need to begin by checking that the roof is in a good condition i.e. make sure the felt used to cover the majority of the rooftop hasn't got any holes or tears in it which would let water through. Next, check the doors and windows to see if there are any gaps which could potentially expose the interior to the outside elements.
Once you're convinced that the aforementioned potential issues won't be a problem, the next step is to clear out everything from your shed, put on your Sherlock Holmes hat, and start investigating the current state of the interior. The main things you need to be looking out for include damp, dry rot, pests (woodworm, for example), mold, etc. If you're unsure if something may be an issue, it's always best to hire a professional to assess the situation before you proceed with your project.
Providing your shed gets the all-clear, you want to make sure that you treat the wood correctly to ensure issues such as damp don't arise in the future.
3. Insulation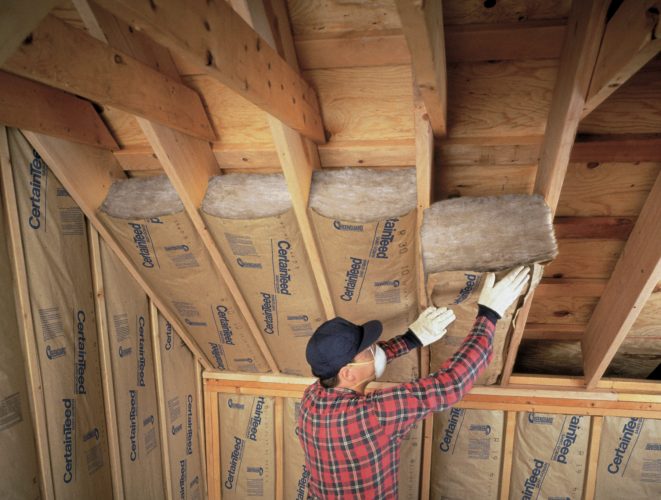 If you're planning on using your future home office all year round, then installing the proper insulation will be crucial (you'll thank us in the winter months).
For this part, you may want to employ a trusted professional who will ensure your office uses the correct type of insulation. However, if you want to keep this as a completely DIY project, you'll have to get yourself down to your local hardware supplier and pick up some sheets of insulation. You may want to start by creating a framework out of timbers (also known as cavities), attaching it to the walls, floor, and ceiling of your shed.
Next, place the carefully measured (remember – measure twice, cut once!) pieces of insulation in between the framework, ensuring they stay connected to the walls and ceiling by using a strong adhesive. After this is complete, you'll want to drill plasterboard or plywood on top of the framework, or use interlocking 'tongue and groove' planks to cover the insulation – we personally recommend the latter for home office sheds.
If you don't feel comfortable doing this, or you're unsure of what type of insulation to use, save yourself the stress, and hire a contractor to carry out the work for you.
4. Electricity & Plumbing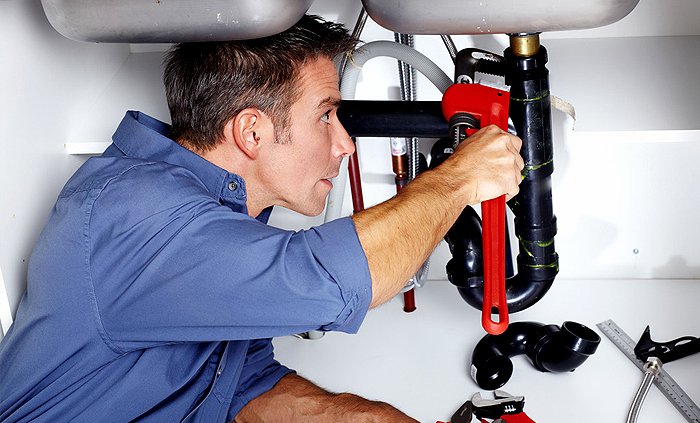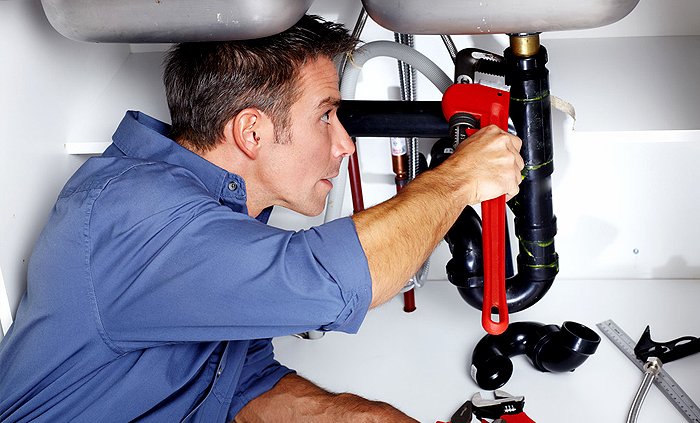 As you will have decided in your plan, you may need to wire in electrics for sockets and lighting, or you may want access to running water. In both of these instances, it's best to consult with both a professional electrician and plumber respectively, to help guide you on the best course of action for your office space.
If you've decided that access to running water won't be necessary, and you wish to keep office off the grid, then there are a few bonus tips we can suggest.
Bonus Tip #1: Consider Going Solar
If you can extend your budget, we'd advise you to consider installing solar panels to help power your office. This would help do away with all the hassle of connecting your garden shed to the mains, whilst providing you with sufficient power, allowing you to use your electronic devices and have access to lighting.
Bonus Tip #2: Install Solatubes
Solatubes are a nifty way to utilize daylight to help illuminate your workspace. They don't require the need for electricity either, which makes them a win-win for anyone who just wants a casual workspace to use in the day.
Here's a video that explains how they work:
5. Worktops & Furnishings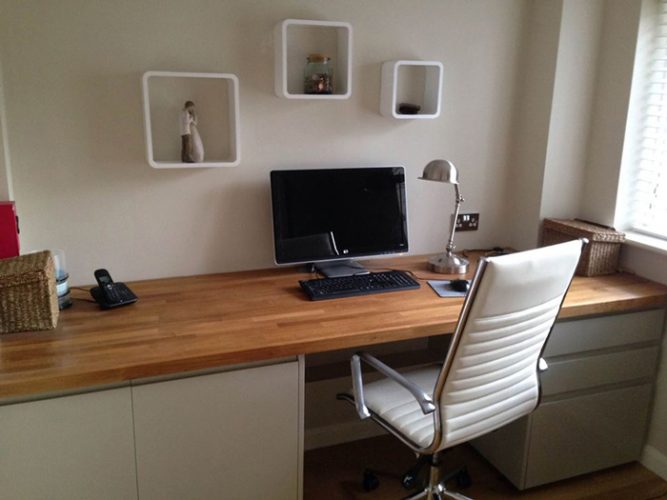 Now you've ensured your shed will survive the long night (Game Of Thrones reference), it's time to decide what workspace you'll need and how you're going to furnish your office.
If you're going to be carrying out computer work, most flat-pack desktops will do the trick. However, if you're an artist, or maybe a horologist, for example, working with all different kinds of materials and tools, you may want to seek out something that's purpose-built to ensure the workspace meets your requirements and is able to stand the test of time.
With regards to furnishing, if you're going to be using your office space predominantly for computer work, then a comfortable office chair of choice will usually suffice.
You may also want to install some blinds to give you some privacy. We recommend using whichever blind you feel will work, however, if you shed is positioned so the windows or door will be letting a lot of sunlight in throughout the day, then you may want to invest in a good quality blackout blind so your shed doesn't become overheated during the summer months.
6. Final Touches
Now for the fun part! Once your newly converted office space is structurally sound, and your workspace is installed, all it needs now is that final touch of magic to make it yours!
How you choose to decorate your office may depend upon a few factors, including what time of year it is. For example, in the summer, you may opt for cool, pastel tones, and in the winter, you'll embrace bolder more warming shades. If you're going to have clients visiting your office, then you may want something more sophisticated – try a navy blue finish with copper furnishings.
We personally recommend using the Dulux EasyCare Egyptian Cotton matt emulsion for your interior walls, and finishing off your windows and door frames with a quick-drying gloss white, for a clean, neutral finish. This fresh combination will allow you to add in any accent color that suits you to give your space that extra spark of life.
Here is another one of our blog posts that will give you some ideas on how to decorate your home office shed.
Final Thoughts
Remember that planning your project in advance will be the key to the success of your renovation. Always check with your local council if you need any special permissions before you undergo any construction work, as you may need to request approval.
For more creative ideas on how you can transform your garden space, check out our blog here.