FeastHome – Yellow is the color of joy. Many people believe that room sporting yellow colors can give good vibes to space. Therefore, adding a yellow kitchen rug to your kitchen can boost your mood well.
House and Tech is reader-supported. When you buy through links on our site we may earn an affiliate commission. Learn More.
1. Moroccan Yellow Rug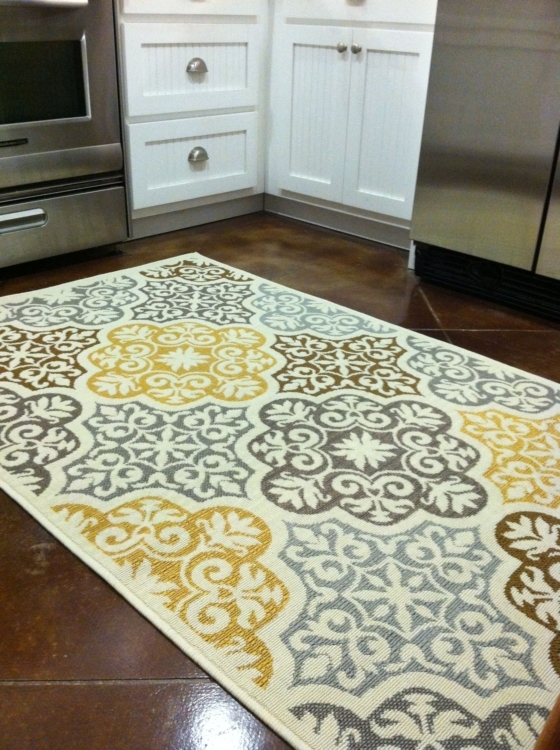 Do you want to add more patterns into your mundane kitchen? Try this yellow-and-gray kitchen rug.
This kitchen rug features Moroccan patterns that will provide an upscale look to space. The yellow patterns add pops of color to space while the light gray ones alleviate the yellow patterns, creating more balance in this kitchen.
2. Yellow Rug with Curvy Pattern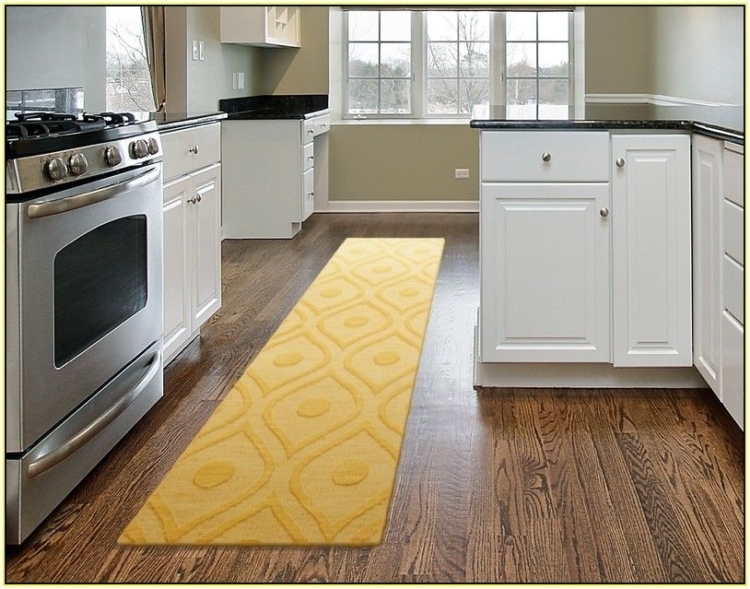 Moroccan patterns are on-trend now. They are timeless patterns that can be used to adorn any space in your home despite the style, just like this yellow kitchen runner rug.
This runner rug features curvy patterns that look like creepy eyes staring at you all the time. They are not that creepy, though. Thanks to the vivacious yellow that makes this rug look more fabulous.
3. Yellow-and-Gray Rug with Trellis Pattern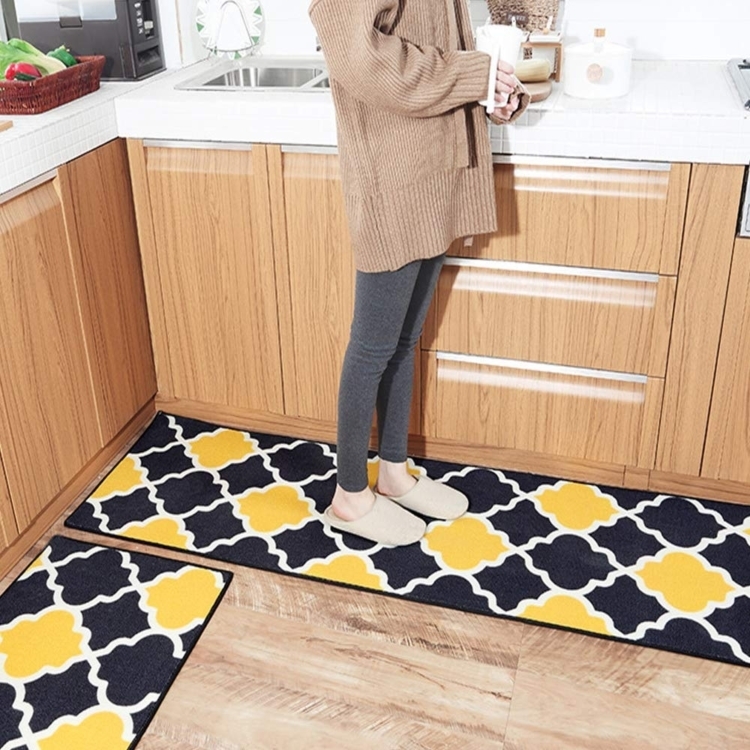 For an area that is prone to spill and liquid, this rug will be your best bet. The low-profile surface pile promotes comfort for your bare feet. Besides, it also allows you to clean it without breaking a sweat.
Made of premium nylon pile, this rug provides long-lasting quality and vivid colors. The trellis patterns, which belong to Moroccan patterns, will beef your kitchen up.
4. Yellow Cotton Rug with Gray Accent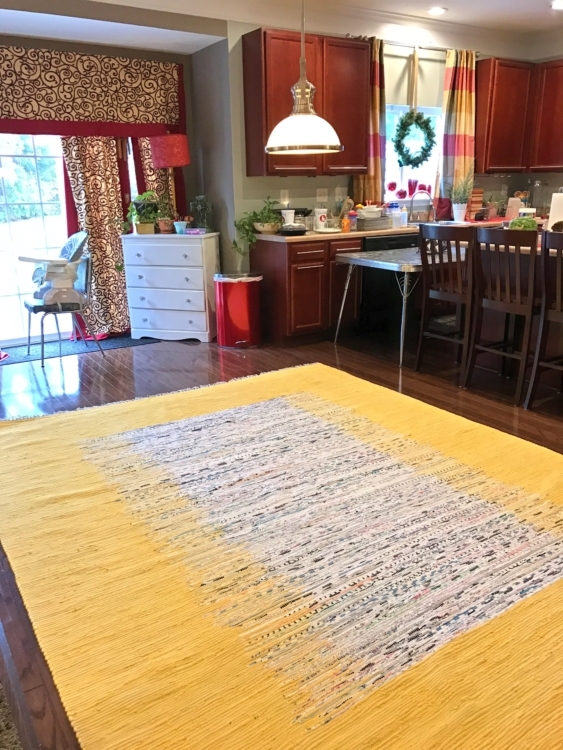 An open-kitchen concept offers a more modern flair as well as expanding the space of your home.
However, ripping off the wall that separates the kitchen and living room leaves you an indefinite border. To tackle this problem, you can try laying an area rug.
This area rug will add a little bit touch of Boho style to space. The vibrant yellow blends nicely with some gray accent that becomes the centerpiece of this rug. Since it is made of cotton, it is quite comfortable.
5. Fresh Lemon Yellow Rug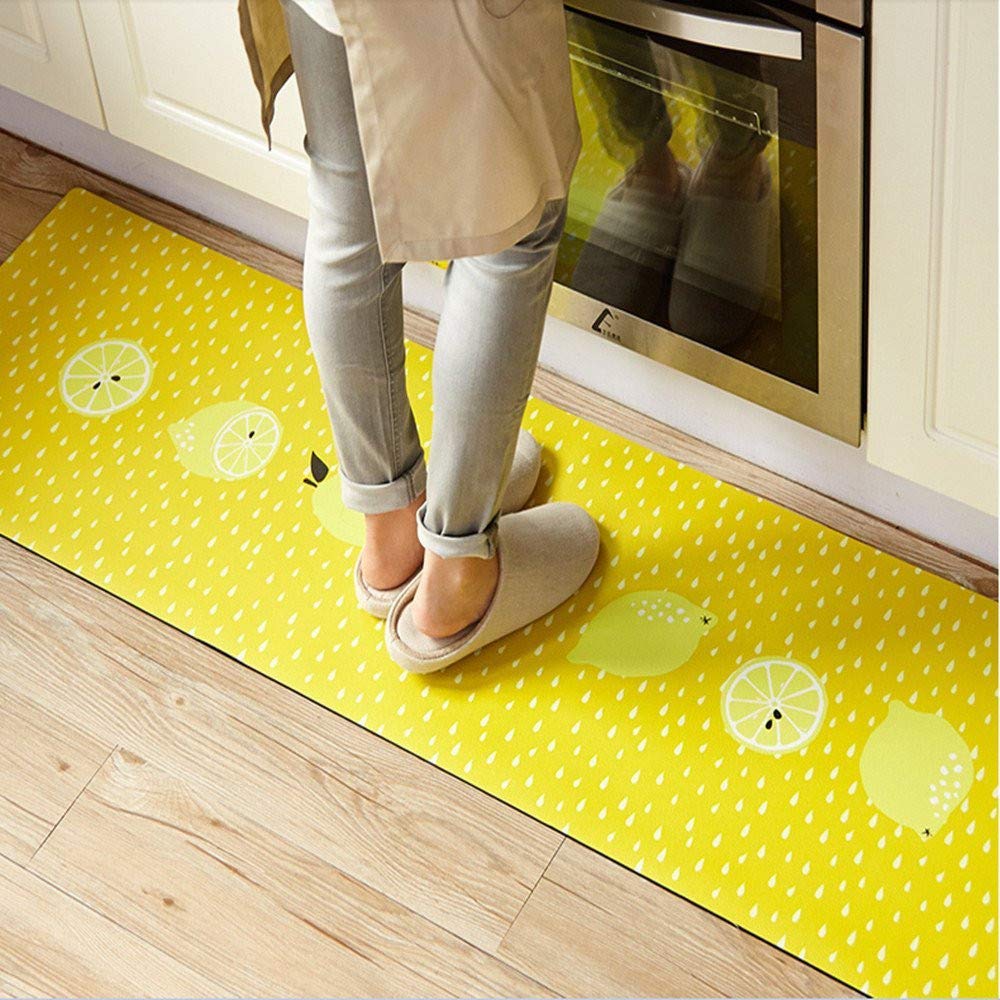 Freshen up your boring morning in the kitchen with this lemon rug. The vibrant yellow of this rug will add pops of color to your kitchen. It sports some lemon prints that look fresh and will infuse positive vibes to space.
Besides being stylish, this rug is also comfortable and safe, thanks to the anti-slip rubber backing that provides extra grip to the floor.
6. Yellow Paisley Rug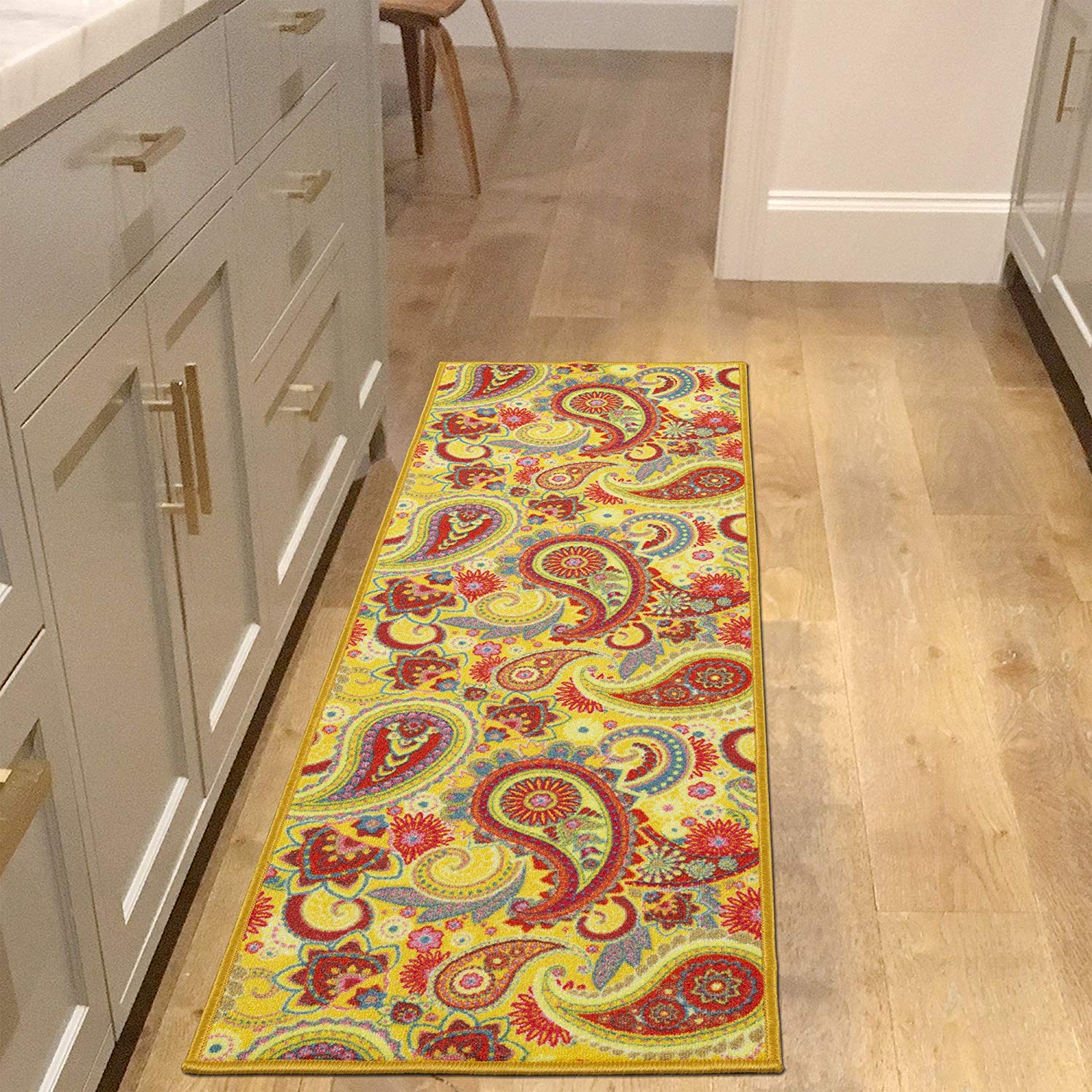 If you are into a luxurious look, this paisley rug is for you. The paisley patterns come in red and yellow, adorning the yellow rug well.
The rug is hemmed on all edges to provide a neat and clean look. It is also fade-resistant, which makes it a perfect choice for a long-lasting charm.
7. Good Morning, Sunflowers!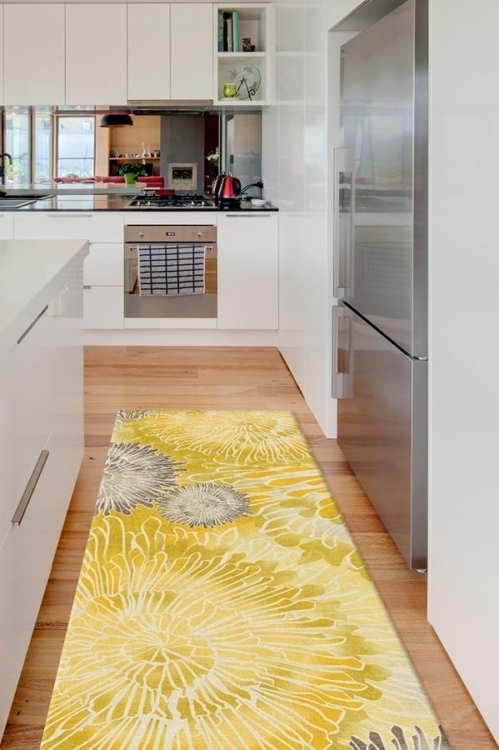 This is not a backyard. But you can bring the striking view of your backyard landscaping by investing in this yellow rug.
This yellow rug features gigantic yellow sunflowers with some smaller gray flowers on it to cheer up your day.
8. Yellow Rug with Diamond Pattern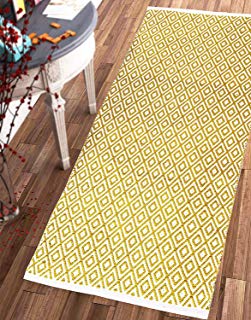 If you are a big fan of Bohemian style, a rug with bright colors can be a great adornment to maintain some semblance of style. You can try this rug.
This rug comes in vibrant yellow which will perfect the Bohemian style of your home. It is made of cotton blend fibers with a woven texture that will incorporate a textural element to space.
9. Square Yellow-and-Gray Runner Rug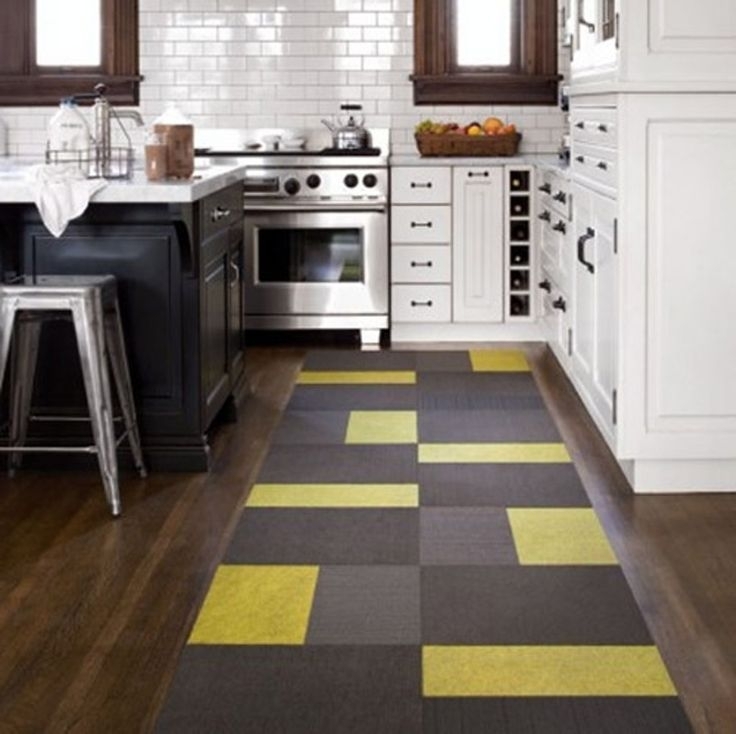 This yellow-and-gray comes in clear-cut design, which makes it a perfect choice for modern homes. The gray and yellow patterns come in rectangles with different sizes, complementing the white subway tiles immensely.
10. Yellow-and-Navy Area Rug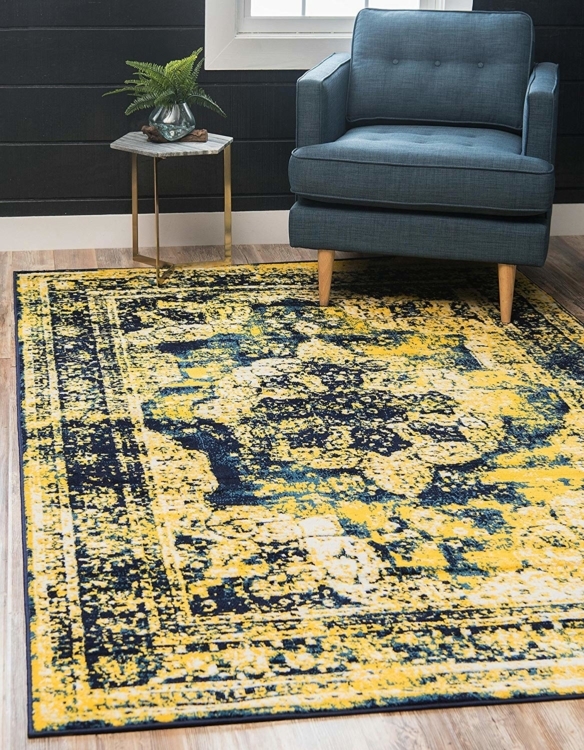 Add the touch of elegance into your home with this classic rug. This area rug is suitable for any high-traffic area including your kitchen. It is waterproof and resistant to mold and mildew, which makes it safe for your kids and pets.
The yellow pattern blends with navy blue nicely. And the navy-blue hem makes a clear border for this rug. It also has a respectable medallion as the centerpiece.
11. Gigantic Sunflower
Many homeowners hang a painting on the wall in their ding room to create an impressive focal point. But this is different. This area rug does double duty. It keeps your feet warm while you are having dinner and makes a great artwork for the floor.
12. Industrial-Style Yellow Rug
This rug will be a superb embellishment for your steam punk kitchen. Steam punk kitchen entails industrial look with piping and wooden furniture. Therefore, this rug is for you.
This rug comes in yellow-and-gray geometric patterns with the effect of rusty pipes on some of its surface.
13. Cotton Rug with Fringes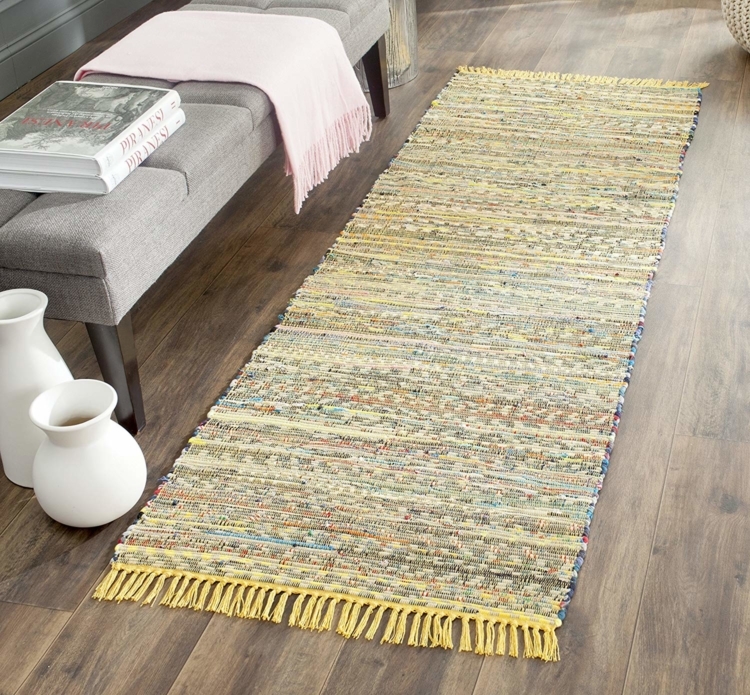 This cotton rug will add a distinctive look to the space, thanks to the yellow thread that is woven with some other colors like blue and orange. It also has fringes that make it look classic. Cleaning this rug will just a breeze due to the cotton material.
14. Mosaic Yellow-and-Gray Kitchen Rug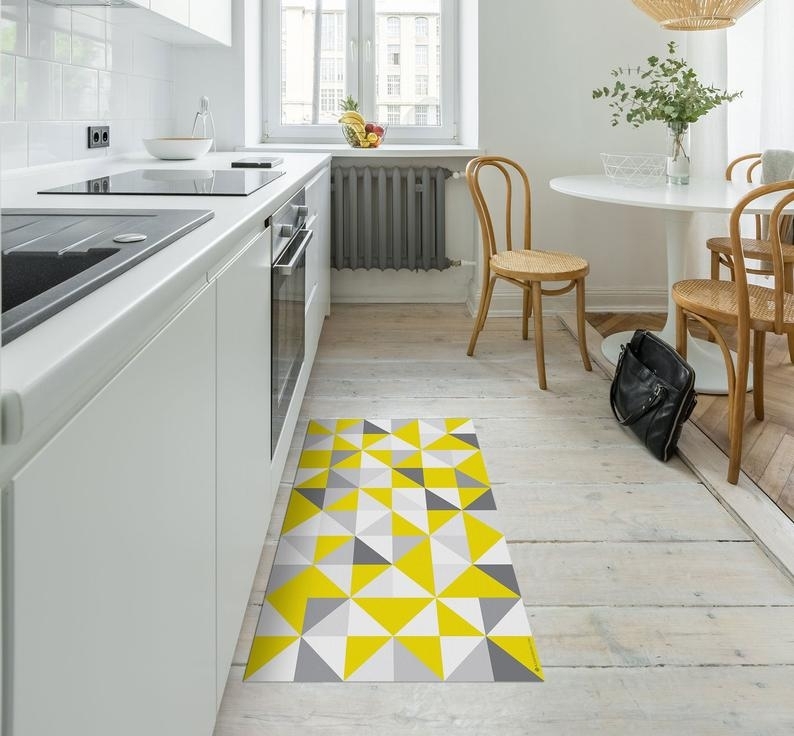 Mosaic patterns on this rug are suitable for any modern kitchen. The clean-lined edges and the absence of fringes will adorn your kitchen well in a simple way.
15. Yellow Rug with Circle Pattern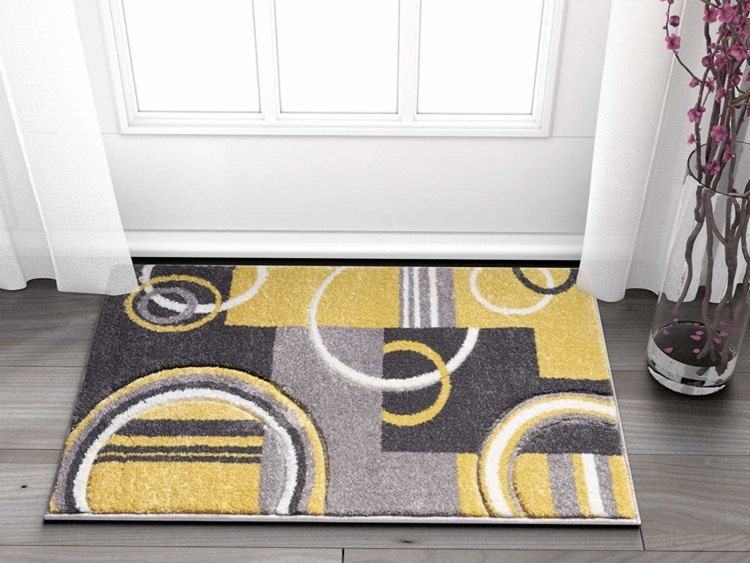 Apparently, gray is the perfect match for yellow. And this rug has proven it well. Furthermore, the soft surface will make your feet feel comfortable. The anti-slip rubber backing provides extra safety.
16. Yellow-and-White Rug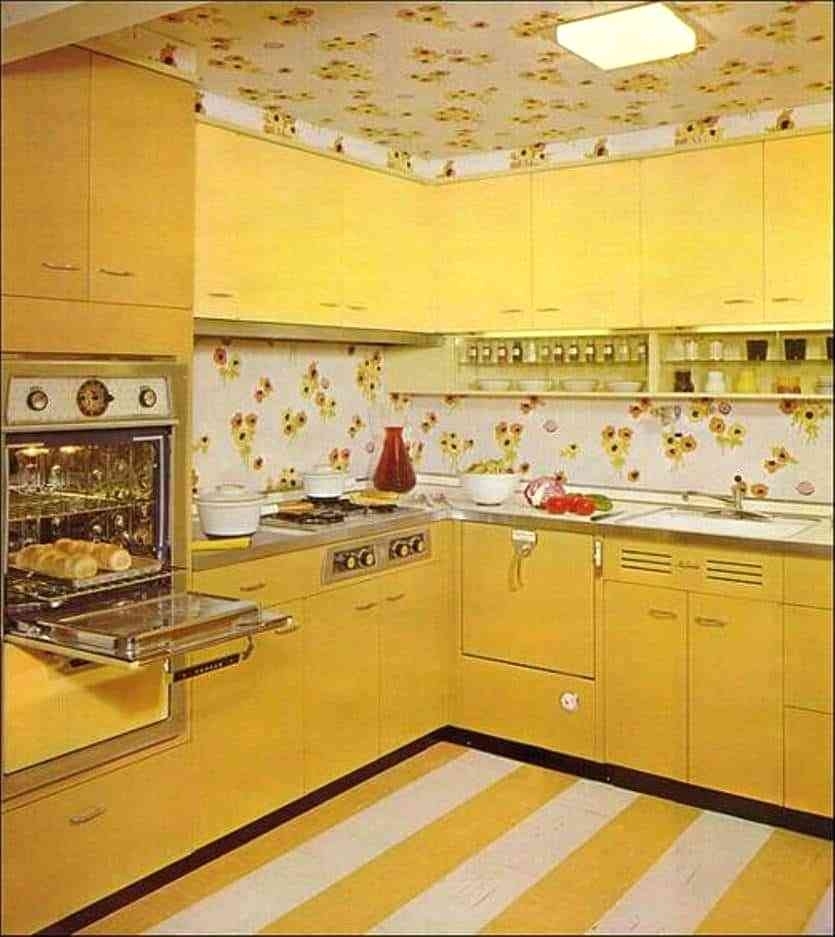 Fancy rugs are not always the only way to add an upscale look to the space. Even a simple one like this stripped yellow rug can work like a charm because it matches the decor perfectly, making everything flow into one being.
17. Yellow Jute Rug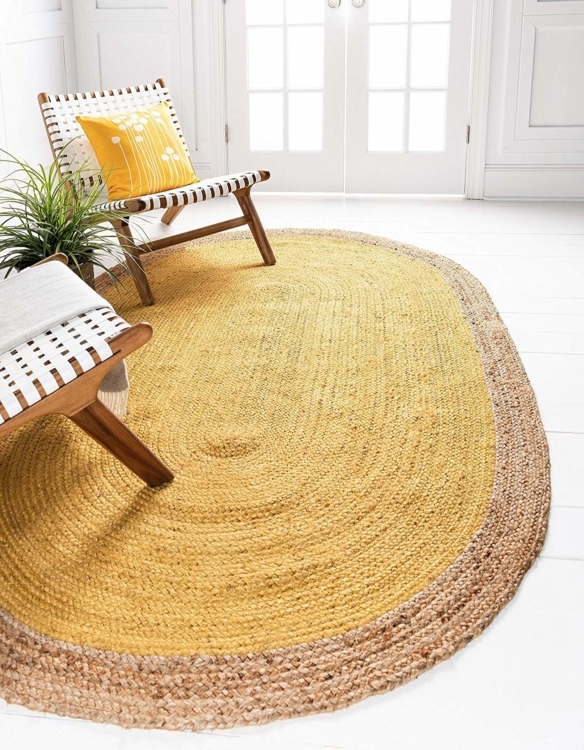 This rug offers a prolonged charm because it is made of jute, natural fiber which is renowned for its durability. And who can resist its exotic design?
---
Those are some best and inspiring yellow kitchen rug design ideas that will jazz your kitchen up. Which one do you like best?