FeastHome – Whether your kitchen adopts the simplicity of modern flair or sports well-worn furniture to pay tribute to the past, a gray kitchen rug will be a top-notch choice to complete the stylish look. Check out these 17 stylish gray rugs for your kitchen.
House and Tech is reader-supported. When you buy through links on our site we may earn an affiliate commission. Learn More.
1. French Country Modern Rug
French country décor entails well-worn furniture that can add a little bit of rustic look. Sometimes it is combined with some contemporary elements to add a little bit of modern touch.
This rug looks like toile, traditional fabric from French, with some blue and yellow accent on the gray rug. Since toile is often synonymous with French country style, laying this rug in your kitchen can emphasize the style well.
2. Woven Gray and Yellow Rug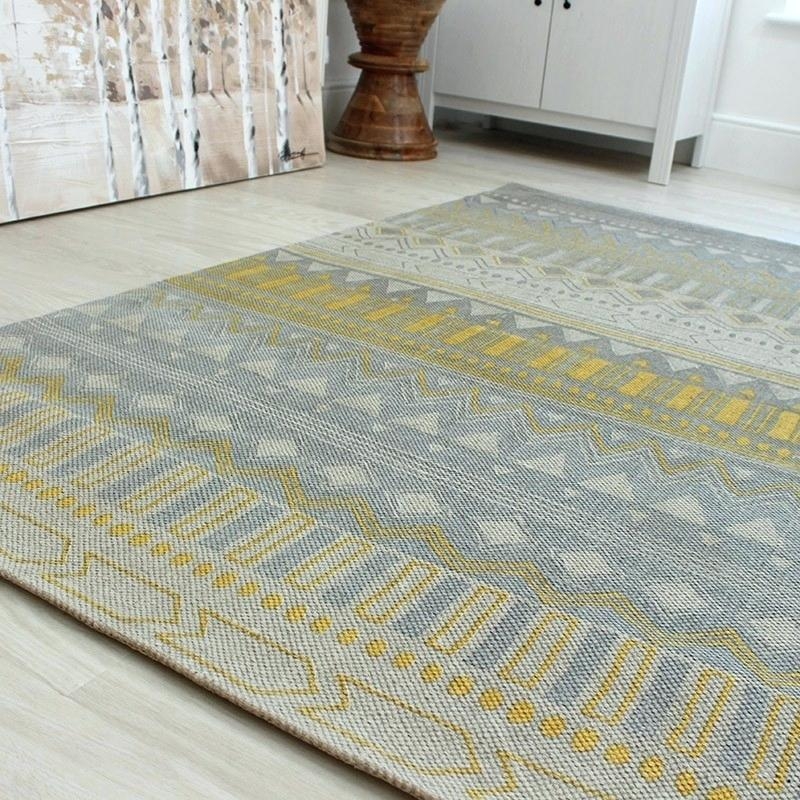 As one of the most versatile and neutral colors, gray can be paired with any color of your choice. And this gray rug teams up with some yellow patterns to add nuance to it.
The yellow pattern lies on both edges and the center of the rug, bettering the look of the rug without overlapping the gray color. The woven design adds a textural element to space.
3. Gray Cotton Runner Rug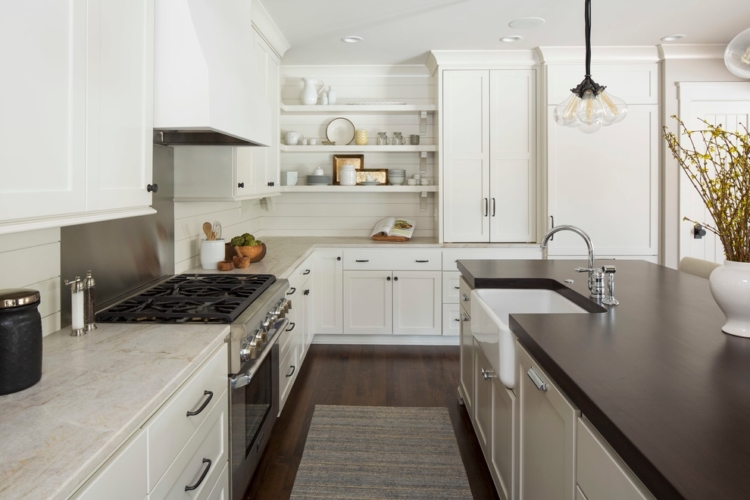 This kitchen has a small gap between the sink and stove, which allows you to work efficiently without having a trip to the other sides of the kitchen.
However, the gap seems awkward and tedious. Therefore, laying a gray runner rug in the space between the kitchen sink and stove is a great idea.
Since this area is prone to moisture and spill, an easy-to-clean rug like this gray cotton rug would be your greatest bet.
4. Gray Kitchen Rug with Vine Motif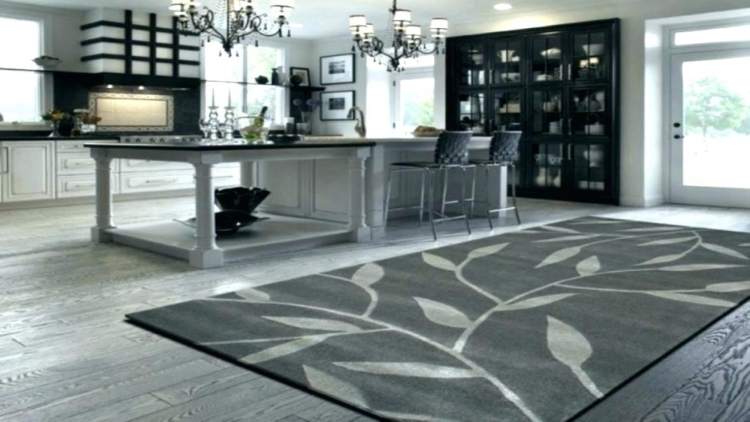 Add a little bit of lively lift into your kitchen by investing in this gray rug. This rug features a respectable vine motif that adorns it simply.
The concoction of wool and nylon makes a super soft surface that can comfort your kids when they are playing on it while waiting for you preparing the breakfast.
5. Gray Rug with Trellis Pattern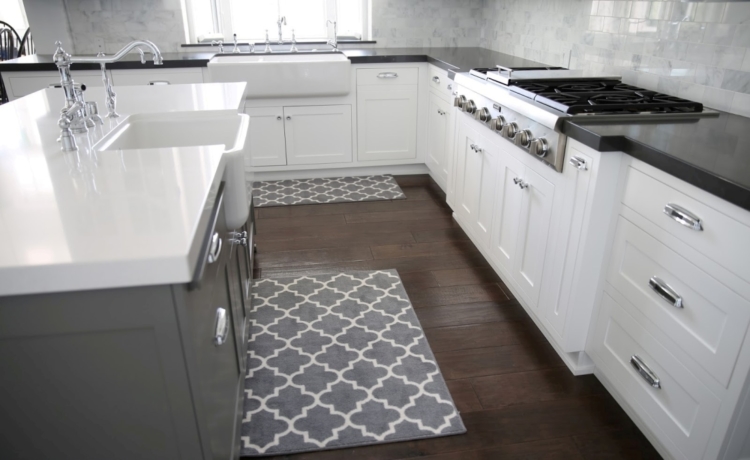 Trellis patterns are one of the most ubiquitous patterns of Moroccan rugs. They are eminently simple, yet they can embellish your kitchen well, just like this rug.
This kitchen sports monochrome décor with gray and white cabinets. To complement the look and bring harmony to space, a gray rug with white trellis patterns would be nice.
6. Simple Gray Jute Runner Rug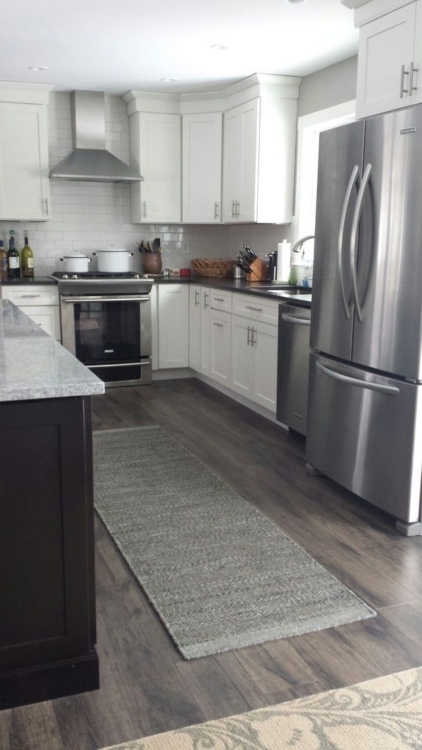 This gray jute rug spruces up this modern farmhouse kitchen well. The natural fiber that constructs the rug brings the charm of nature to space.
Furthermore, jute rug is well-known for its durability and softness, which can spoil your feet when you have to stand up for a long time. More importantly, it can be cleaned easily.
7. Hand-Woven Gray Rug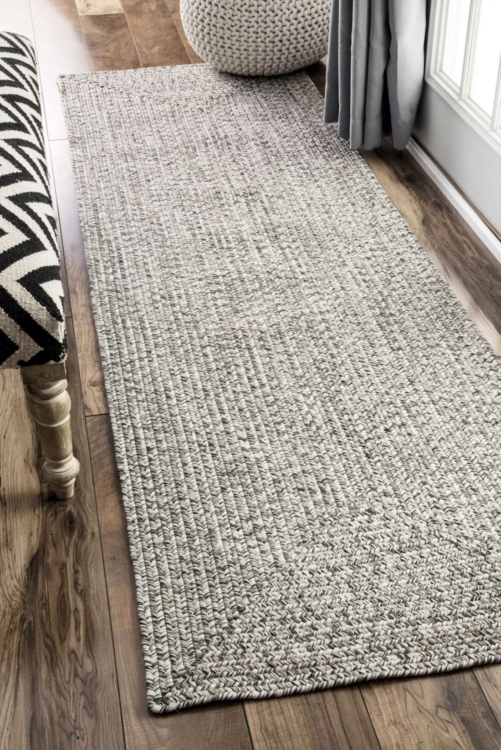 Bohemian style is on-trend now. And if you want to add a little bit touch of this style, you can add greenery to your kitchen and lay a woven rug like this one.
This gray rug is woven fastidiously to provide the braid pattern. Even the braid style also adds a textural element to space, giving your feet the best comfort with its softness.
8. Gray Rug with Diamond Pattern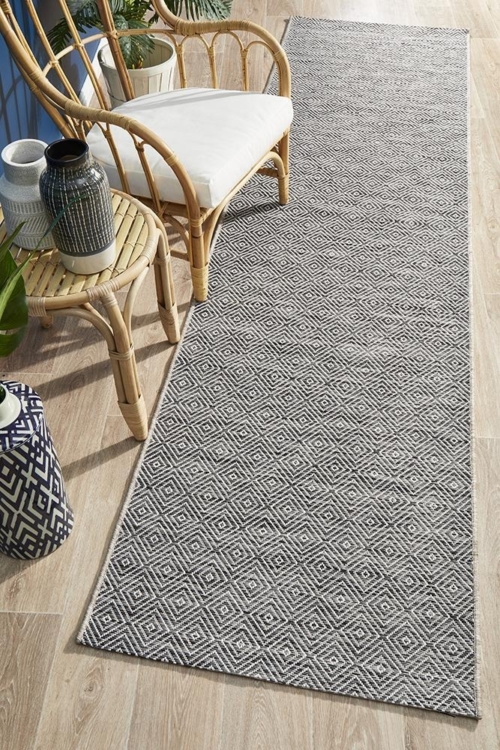 If you want something simple for your kitchen, this gray rug is the best choice. It is flat and made of cotton, which makes the cleaning process extremely easy. This rug is reversible, allowing you to lay it twice.
It does not feature fussy design. You can only find a diamond pattern on the rug that will match any décor immensely, especially if your kitchen adopts farmhouse or Boho style.
9. Gray Rug with Embossed Zigzag Pattern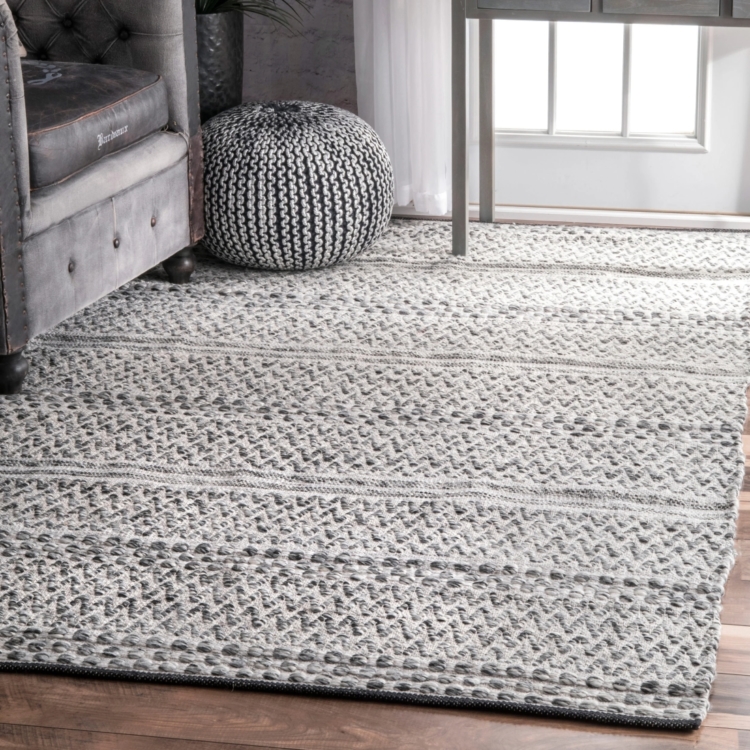 If your kitchen implements U-shape style, consider filling in space with an area rug.
You can try investing in this gray area rug. It can cover a large area in your kitchen; even make an artwork for the floor. Furthermore, it will provide warmth and comfort when the floor is too cold for your bare feet.
10. Beautiful Sunshine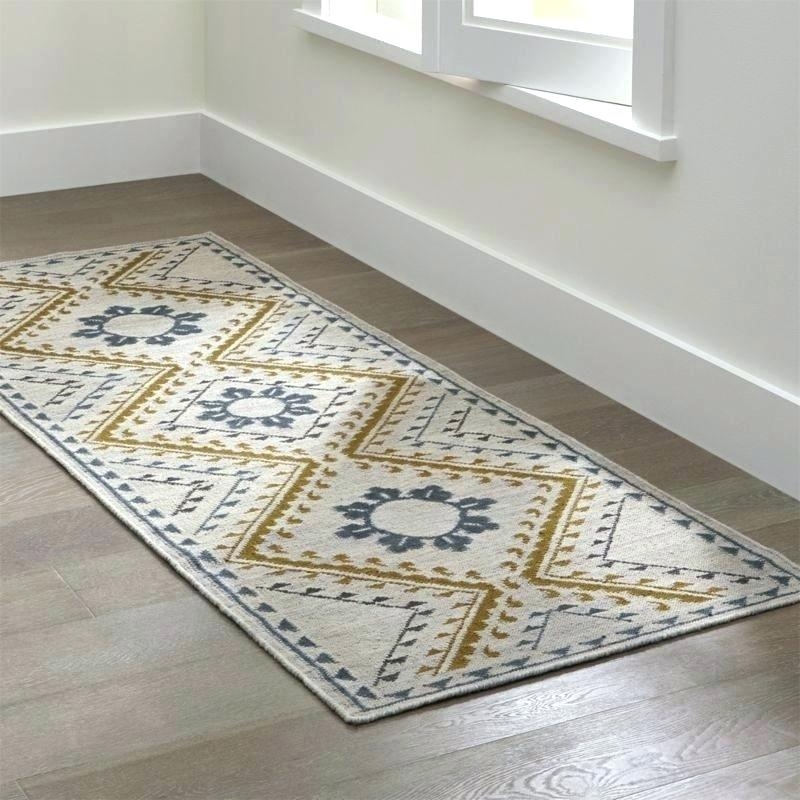 Incorporate the good vibes to your kitchen with this gray-and-yellow kitchen rug. This rug features a yellow pattern with three small suns in the center as the centerpiece.
This rug also has anti-slip backing that will keep you safe while you are running off your feet.
11. Coffee List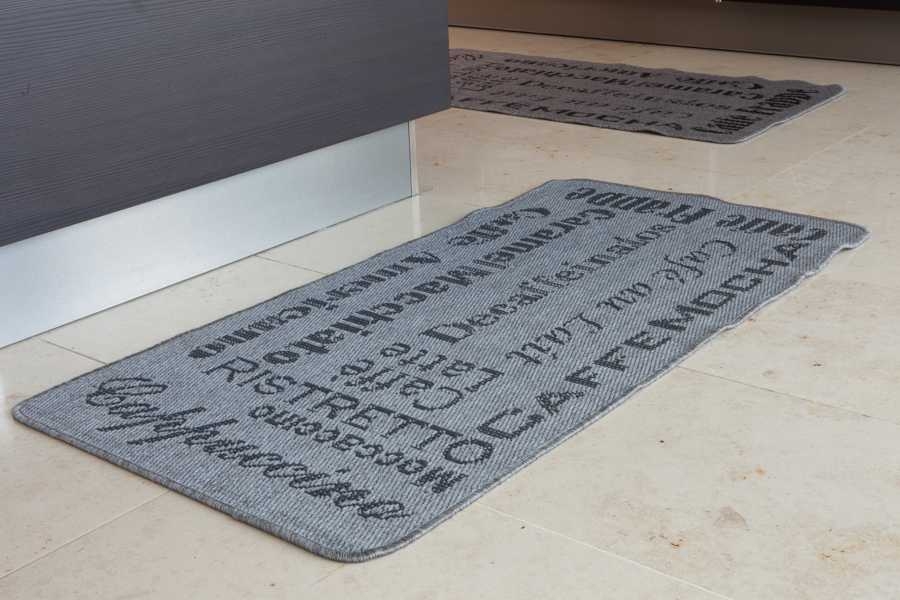 How many kinds of coffees that you can mention as a coffee lover? Well, you might need to consider purchasing this gray rug.
This rug is quite simple as it does not feature any sophisticated pattern. All you can see here is just some names of coffees. Have you tried them all?
12. Various Shades of Gray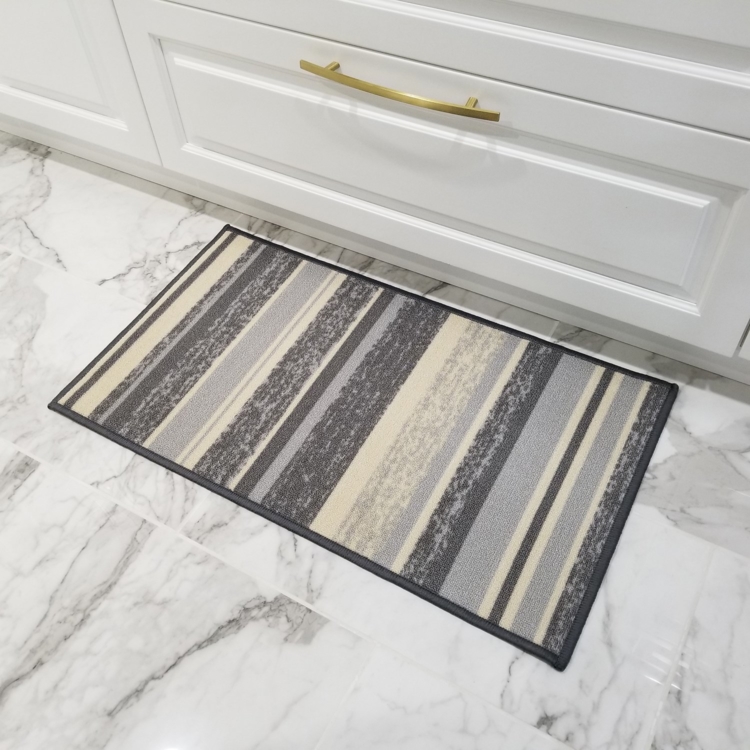 It is crucial to make the furniture in your kitchen flow into one being.
If your countertops or floor tiles use marble that has natural vein pattern, this rug can be the best choice for your kitchen as it features various shades of gray that will match the marble countertops well.
13. Turquoise-and-Gray Kitchen Rug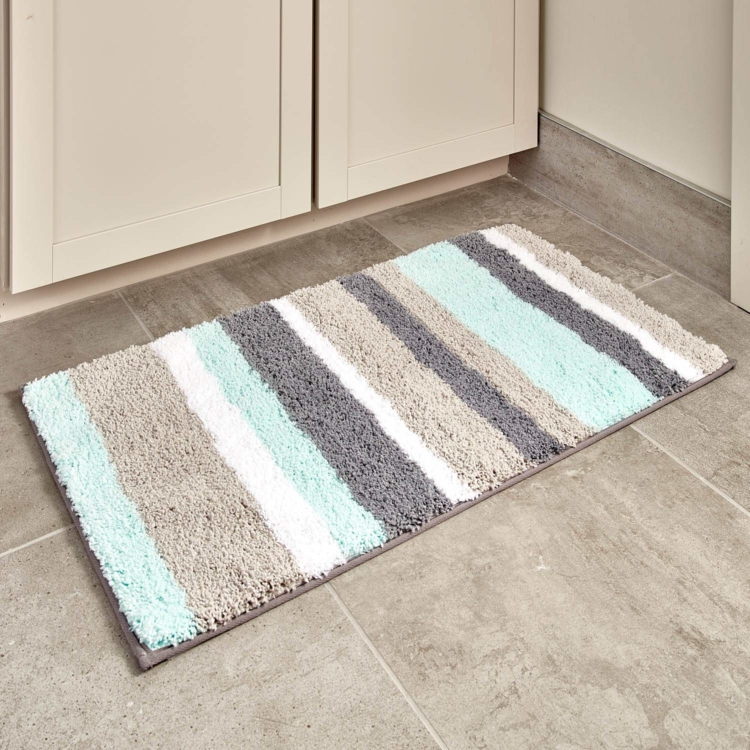 Combining gray with turquoise? Why not?
As a versatile color, it can be combined with any color including turquoise to create a nuance. And when gray is combined with turquoise, you will add tranquility to your kitchen. This kitchen would be great in a coastal-themed kitchen.
14. Anti-Fatigue Gray Rug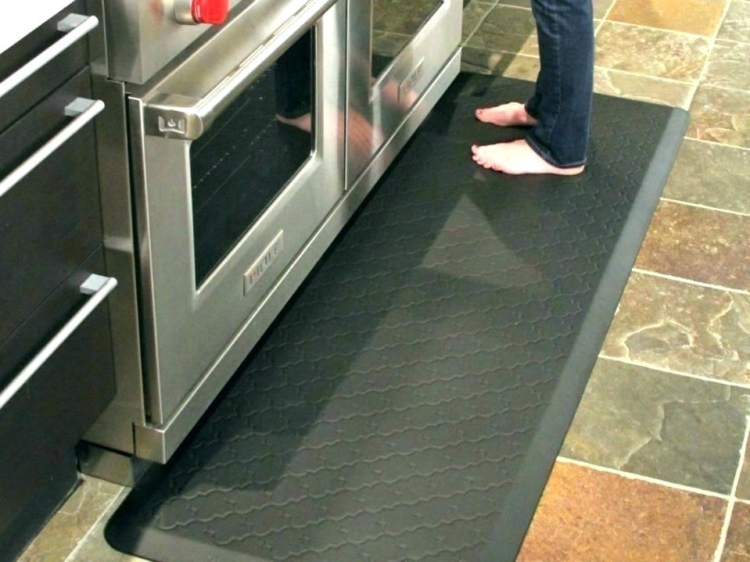 Slaving over a hot stove is really exhausting. But this rug can alleviate the fatigue that you may get, thanks to the premium foam that fills in the rug. More importantly, it is easy to care as it is stain resistant.
15. Stone-Tile Rug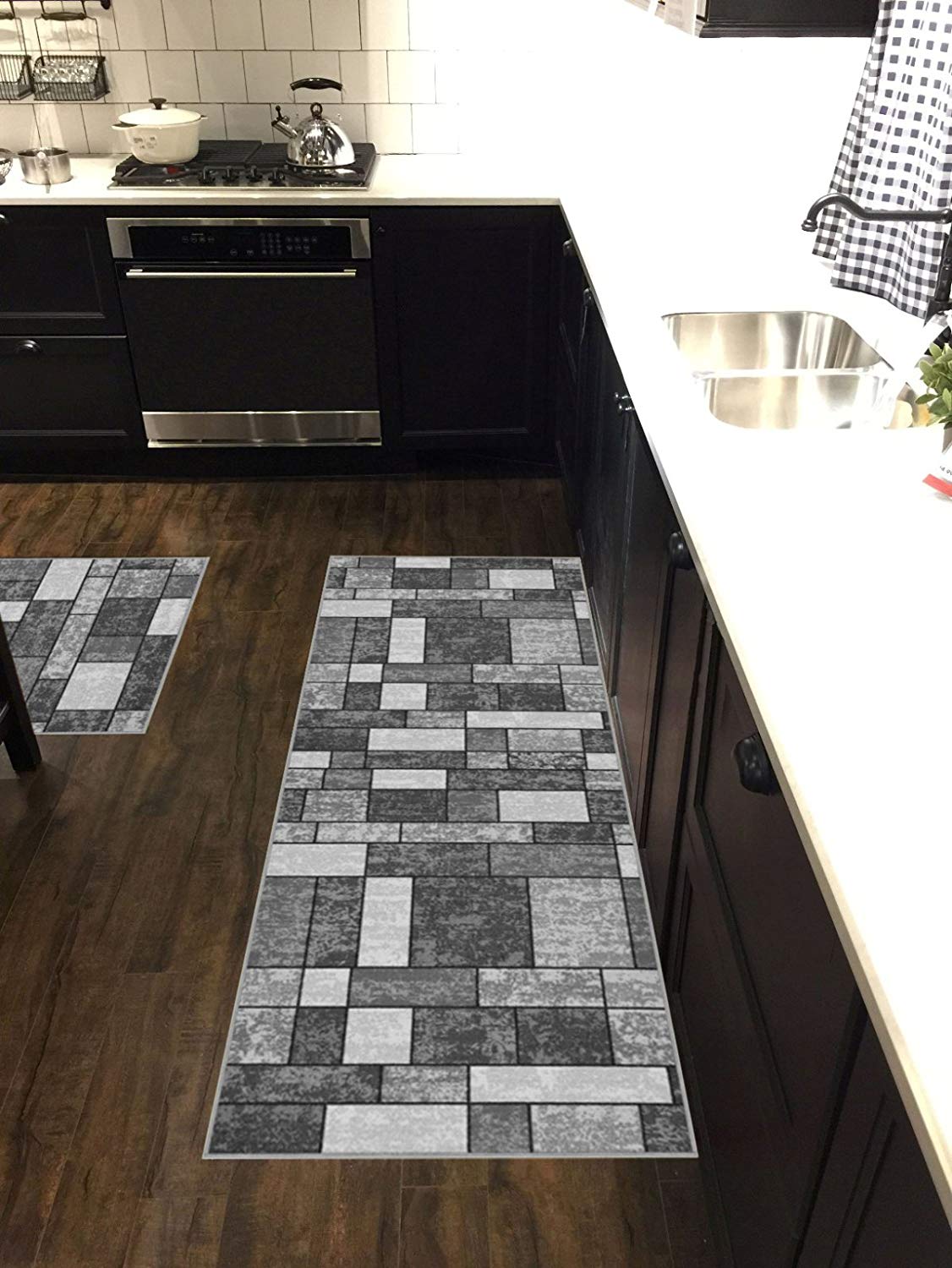 This rug looks like some gray bricks in different sizes arranged together. It will give your kitchen a distinctive look. If you use subway-tile backsplash, this rug will be a perfect match.
16. Elegant Gray Rug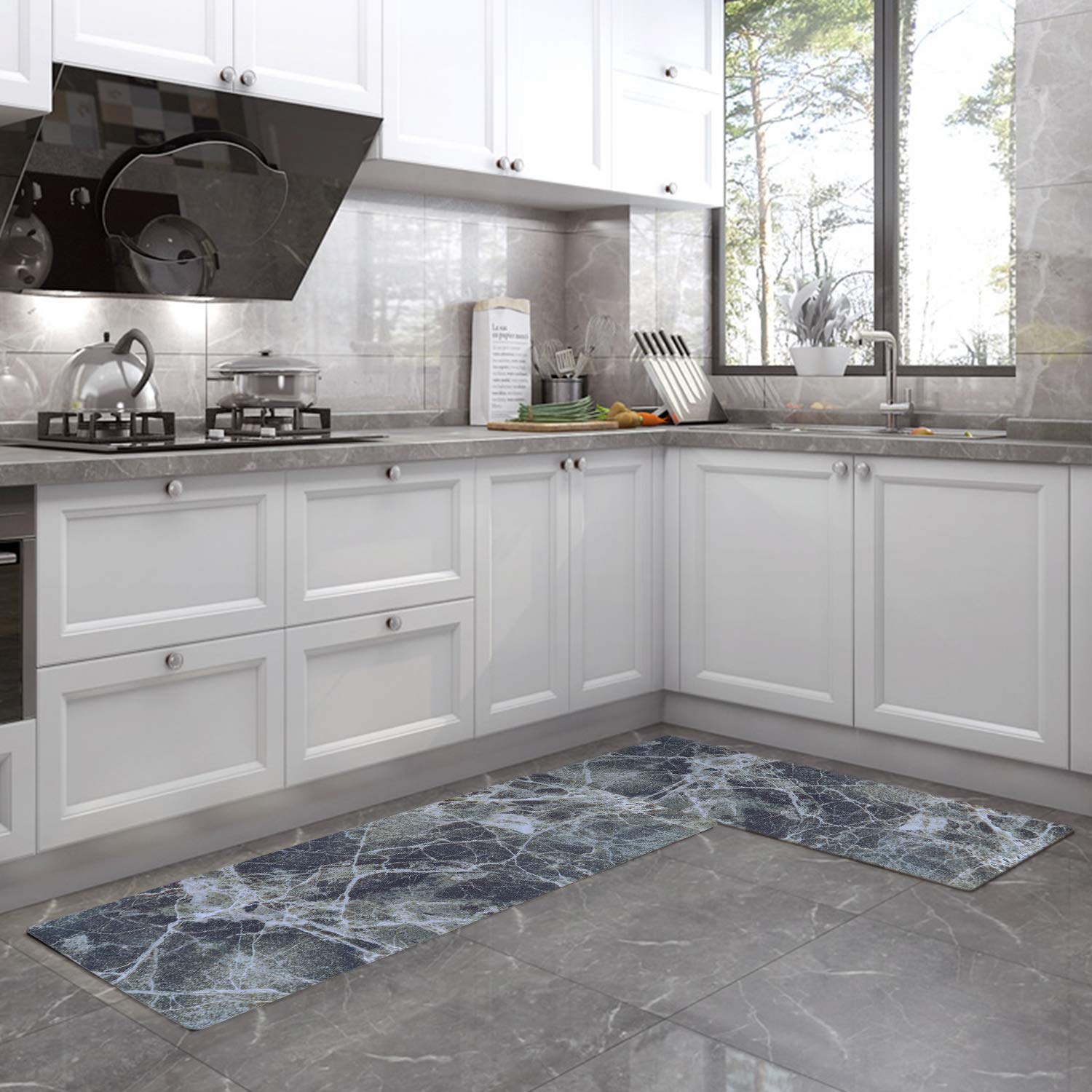 Nothing can beat the elegant look of marble countertop. The natural vein makes an elegant pattern that pleases the eyes.
But if you want to add the same look with a more affordable price, investing in this elegant gray rug that looks like marble tiles will be your greatest bet.
17. Gray-and-Orange Kitchen Mat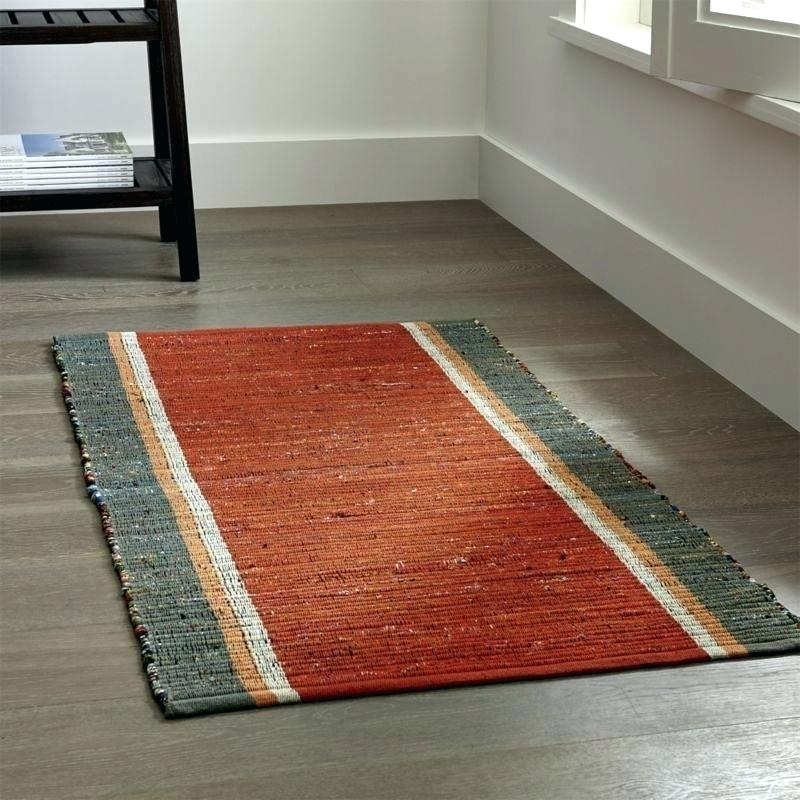 This rug looks comfortable as it is made of cotton. Besides being comfortable, it is also chic as the combination of gray and orange can cheer the space up.
---
Whatever your kitchen style is, a gray kitchen rug can always make it look more stylish. But you will still need to consider the patterns and materials before purchasing one.