The safest decision to make when securing your home with Blink cameras is always to have replacement batteries on hand. The blink camera batteries are said to last around two years. Still, if you're familiar with electronic devices, they can fail, usually at the worst possible time.
House and Tech is reader-supported. When you buy through links on our site we may earn an affiliate commission. Learn More.
Like everything else in life, failing to plan is planning to fail, said Benjamin Franklin.
The day you took home security and safety in hand was when you tasked yourself as your family and property's chief home security officer. A plan should already be in place should your battery-operated blink devices fail, not when. Ultimately, you can only depend on yourself and the plan you have in place, as your loved ones are counting on you to make the best decision.
We are blink camera users and did the research, so you don't have to. This guide will review blink camera users' common questions about battery life as it applies to blink security cameras and battery-operated video doorbells. Keep reading to learn how to get the best batteries for your blink security cameras for optimal performance and battery life.
What type of batteries do blink cameras use?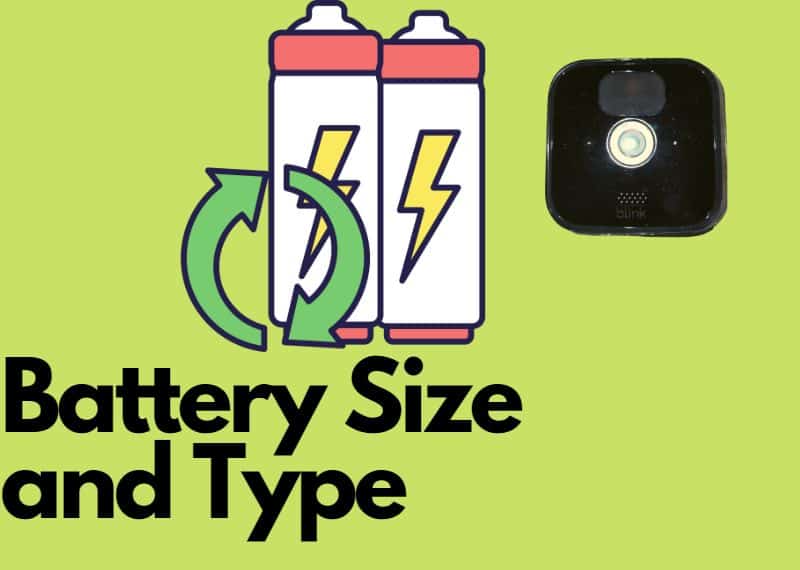 Per Blink's recommendation, You need to replace the batteries on your security camera with two AA lithium batteries, non-rechargeable batteries. Unless you bought used blink cameras, Blink cameras use two lithium aa batteries. They are included when you purchase new ones. And, if you bought them used, you should replace the batteries as soon as you possibly can to maintain the security camera's integrity and reliability and reset the blink camera.
The best set of batteries to buy for your blink cameras
Dependent on your local climate, environmental factors can hurt battery life and increase battery consumption. Such is the case in places that experience extreme temperatures like Extreme heat or Extreme cold. It is best to use reputable battery brands for your blink camera. We stick to the recommended Blink batteries first and foremost, which are Energizer batteries. There are other affordable options as well if you can't get your hands on energizer batteries.
Amazon basics batteries have been proven reliable in our home electronics. Still, they don't measure up to Duracell and Energizer brands when stored for the long term. For example, we bought twelve D batteries for our automated garbage can; we used six and stored six for replacement. The first six we used performed well above our expectations, but the other six that were stored lasted less than a month once we put them to use.
Note: As of the date of this blog post, Duracell and Amazon basics do not make AA Batteries that meet the blink camera's battery requirements which are lithium non-rechargeable batteries. Duracell and Amazon basics are mostly alkaline batteries. Blink strongly advises customers against using these types of batteries for their cameras as they don't provide sufficient current. Additionally, a Lithium-ion battery is not recommended as well.
The Best Batteries On Our List
1 The Energizer Ultimate AA lithium batteries
These will make the best battery replacement for your blink devices. They operate optimally in extreme temperatures and have a long shelf life. We use these batteries on our smart locks, security cameras, and video doorbells. We only have good things to report.
2 Bevigor Lithium batteries
Bevigor Lithium batteries will also do the trick and meet Blink's replacement battery recommendation.
3 Solar Panel Power option via micro USB cable
Blink has their proprietary solar panel to power their cameras, but unfortunately, they're only sold bundled with blink cameras. For existing customers, individual blink solar mounts are not available, but all hope is still there. ITODOS makes a great set of solar panels compatible with blink cameras.
Hopefully, you have a bright sunny area on your property where you can install one of these bad boys and forget about the old batteries.
When to replace Blink batteries
Symptoms of failing blink camera batteries
Without their batteries, these cameras would not be able to operate efficiently and keep our homes safe. However, there are a few things that can shorten the life of these batteries:
Your Blink Camera Keeps Flashing Red
One symptom of a failing battery is the blink camera flashing red. Many factors can cause this but weak batteries is on of them.
The constant search for Wi-Fi or weak signal strength:
You can monitor Wi-Fi signal strength in the blink app on your phone. Ensure that your blink outdoor cameras are in an optimal range with the Sync Module. This would badly impact battery performance.
You can also monitor Battery strength and health in the Blink app, among other things.
Your camera may not detect motion accurately:
Motion detection is a vital feature of any security camera, but for battery-operated cameras, even more so. When the batteries in blink cameras are low on power, they may fail to trigger motion-activated recording properly or not detect motion altogether. If you've replaced your batteries and are still facing this issue, check out our post on blink camera not detecting motion to help you solve this problem.
Final Words
In conclusion, Blink cameras are a great way to secure your home. However, it is crucial to be aware of the battery life and have replacement batteries on hand at all times in case any issues arise. Additionally, ensuring that your camera has a good Wi-Fi signal strength will help you maintain healthy blink camera batteries for extended periods. With these tips in mind, you can rest assured knowing that your home security system is up and running with minimal maintenance required!