White princess quartzite prices have decreased for several years, making it more affordable for homeowners who want to remodel their kitchens.
House and Tech is reader-supported. When you buy through links on our site we may earn an affiliate commission. Learn More.
Many people prefer this material because it works well to make a statement in the kitchen and offers ten times more durability than marble.
Quartzite is known to be one of the standout materials for kitchen countertops. Besides, it is available in various colors and patterns, so applying it in your kitchen will make it far from boredom.
It seems to be the perfect time to use this material in the kitchen as the price comes lower.
6 Varieties of White Princess Quartzite Price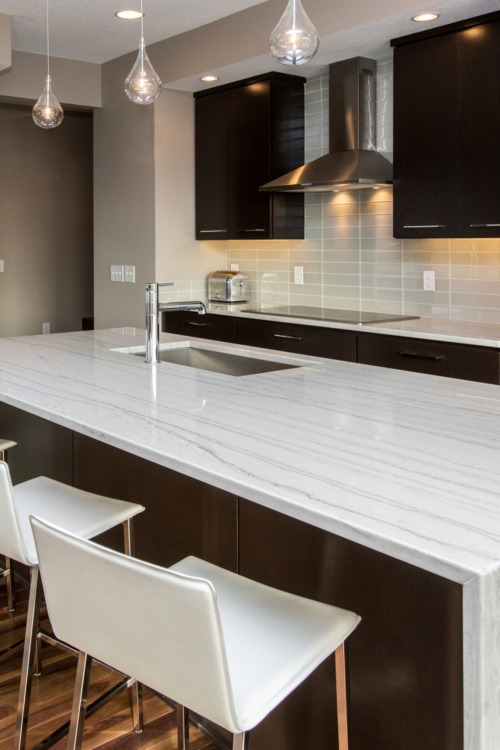 Before heading to the nearest store and buying princess quartzite, it is important to estimate the price you need to pay for this material.
You can estimate the cost per square foot by measuring the square footage of stone required in this project.
Here are prizes that you can consider by its popular white quartzite types.
Classic white quartzite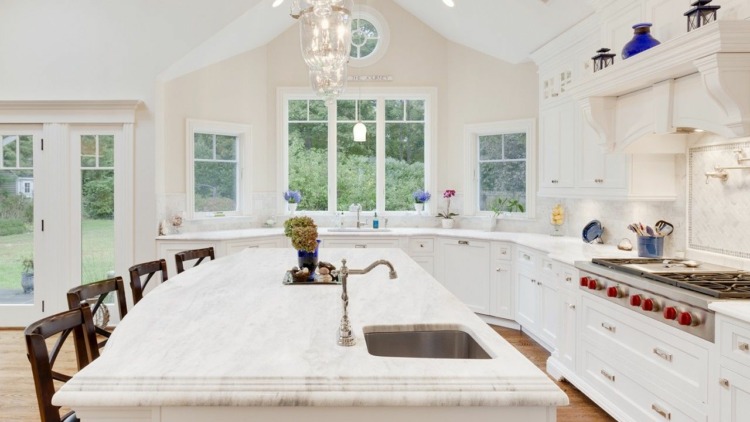 Classic white quartzite is one of the best seller types in the quartzite lines.
This stone has an interesting look due to its strong grey vein that complements the almost perfect white background. When you place it under the good lights, this can create a sparkling look.
The classic white variety is a highly versatile option for kitchen countertops since numerous interior designers use this material in different kinds of kitchen designs, from traditional to modern designs.
That's why choosing classic white type can be one of the best options if you plan to have a quartzite kitchen.
To make the stone look standout in the kitchen, you can install LED lighting under the kitchen cabinets.
This option will create a more dramatic look in the cooking area, which draws people's attention once they enter your kitchen. '
Classic white princess quartzite price is considered the most affordable one. Installing this type per square foot requires you to pay $65.
It will be better to explore the stores first before getting one because classic white has many variations.
Super white quartzite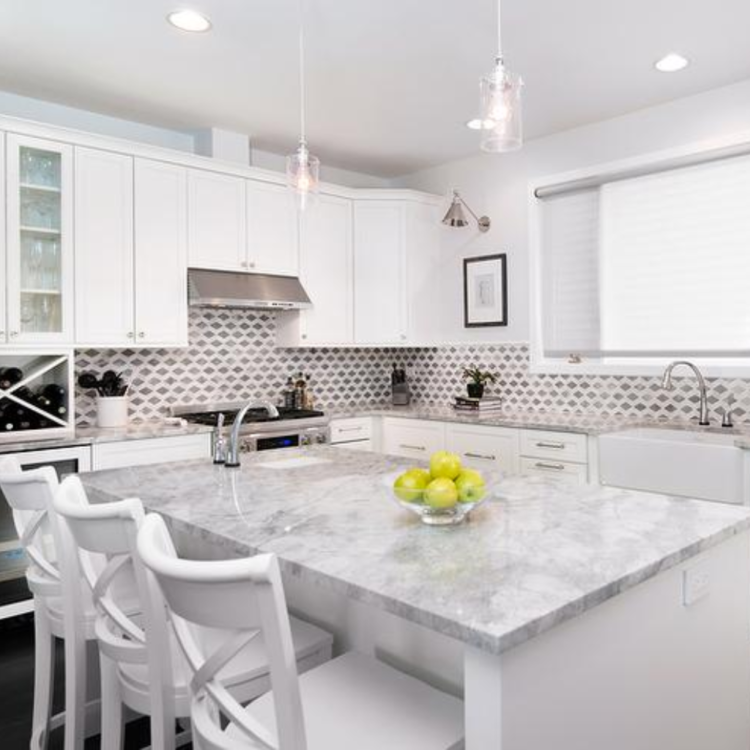 Super white quartzite is a type that closely looks like marble. This variety requires less maintenance despite its marble-like appearance and is available at a lower white princess quartzite price.
If you don't look at it carefully, perhaps you will mistakenly recognize it as marble stone.
It is due to the deep grey veins that can be seen obviously over the white background.
Super white quartzite is denser than Carrara marble, so it has a lower risk of staining. Not to mention, less sealing is required to protect its surface.
Super white variety can be easily found in the kitchen as many homeowners use it for top-of kitchen islands, countertops, vanity tops, and even bar tops.
Super white princess quartzite price ranges are available from $75 to $125 per square foot, including installation.
White Macaubas quartzite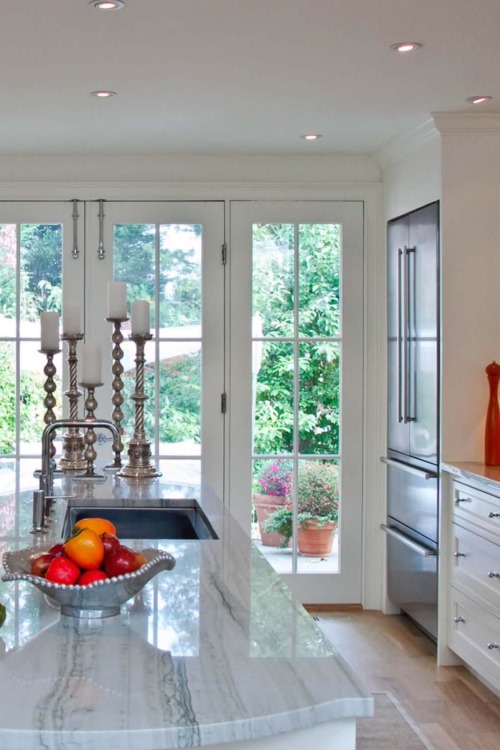 If you want to create a more elegant or sophisticated look in the kitchen, white Macaubas quartzite works well for countertops.
This stone has an off–white background that offers long and straight veins in various grey shades.
This quartzite type is very popular, so many interior designers use it for kitchen remodel.
This stone can be easily discovered, especially in high-end homes, including kitchen countertops, vanity tops, wall cladding, and backsplash.
White Macaubas type is the most suitable option for homeowners who want to have a waterfall island.
Its long, straight veins of stone will pour over the edge, making an interesting waterfall effect in the cooking area.
If you are interested in this quartzite type, you must spend around $120 per square foot for Macaubas white princess quartzite price.
The price of this stone installation can be higher depending on how many stones you need to cover the kitchen countertops.
Taj Mahal quartzite
The white background paired with light brown veins creates a unique Taj Mahal quartzite.
This stone is named after the famous monument in India because it has a similar color to the ones used in that iconic building.
Taj Mahal is also popular among quartzite families because it has a marble look and offers extraordinary performance when used in high-traffic areas such as the kitchen.
However, this variety comes at quite a higher white princess quartzite price with $220 per square foot for the installation.
Don't worry because the quality and look you get from this stone are worth the price. Install it on your kitchen countertops, and it will draw anyone's attention as soon as they enter the kitchen.
Fantasy brown quartzite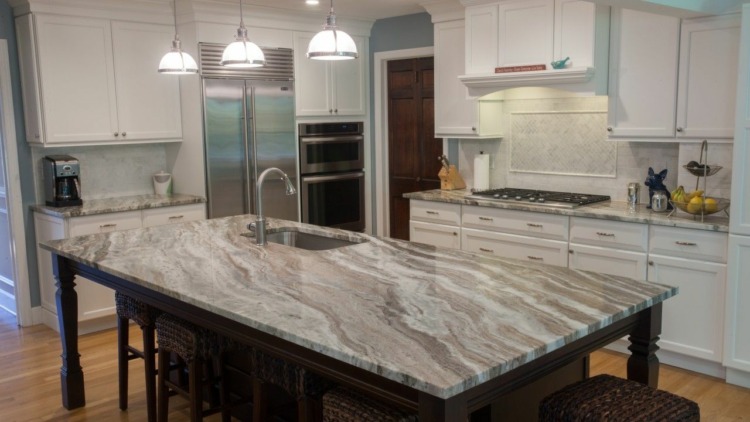 Fantasy brown quartzite becomes a great option if you add more color to the kitchen design.
This marble-looked stone has a white background with a combination of green, grey, and brown veins. You can create a focal point in the kitchen by combining this stone with white cabinets.
It also makes a nice centerpiece when installed in a wide kitchen island so that its veins look more obvious and beautiful.
With a wide variety of this stone that you can select, you can prepare a budget from $60 to $75 per square foot for this white princess quartzite price.
It is an average budget that you need to install this stone in medium size kitchen.
Rarest quartzite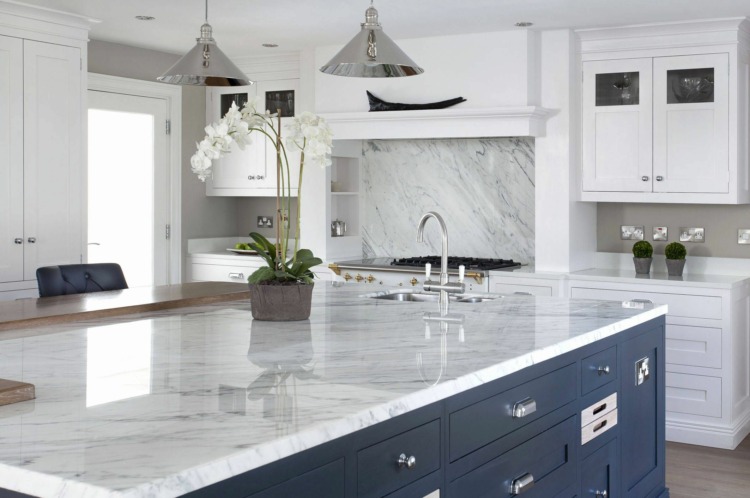 If you want to have a truly unique countertop, it is possible to find it among the quartzite family.
Some of the rarest types of quartzite have a white background but feature either blue or emerald veins. They will look great if you use them as accents on the kitchen countertops.
Another rarest type called medusa quartzite comes with long veins of orange, brown, green, and violet throughout the stone.
The uniqueness of its veins makes the rare white princess quartzite price come high, such as $250 per square foot for this type.
---
The unique color and patterns are the main reasons why people like white princess quartzite. Not to mention the more affordable white princess quartzite price to spend than marble.