White fantasy quartz countertops serve you with the kitchen look you have always dreamed of.
House and Tech is reader-supported. When you buy through links on our site we may earn an affiliate commission. Learn More.
When applied to the kitchen island, it provides a striking view as a kitchen focal point. This actually cannot be separated from its clean white look combined with vein patterns on its body.
Also popularly recognized as super white quartzite, this material has become one of the important features of quartzite.
It is because white quartzite is denser than most materials available in the market. Hence, it gives a sophisticated look and high durability in the high-traffic kitchen.
5 White Fantasy Quartz Countertops Design Ideas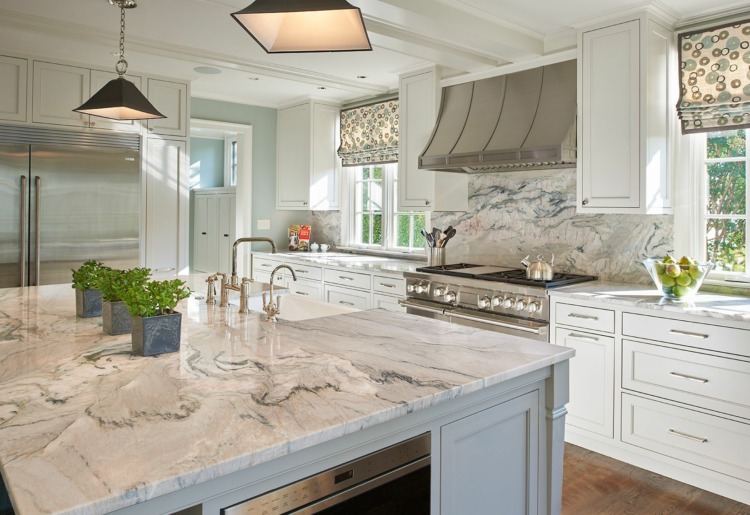 Quartzite countertops are vastly better than other natural stones commonly used for countertops like marble and granite because it is more user-friendly.
It also comes with flaws that are completely different from the granite. Here are some ideas to apply white fantasy quartz countertops for your kitchen.
White quartzite countertops with white cabinets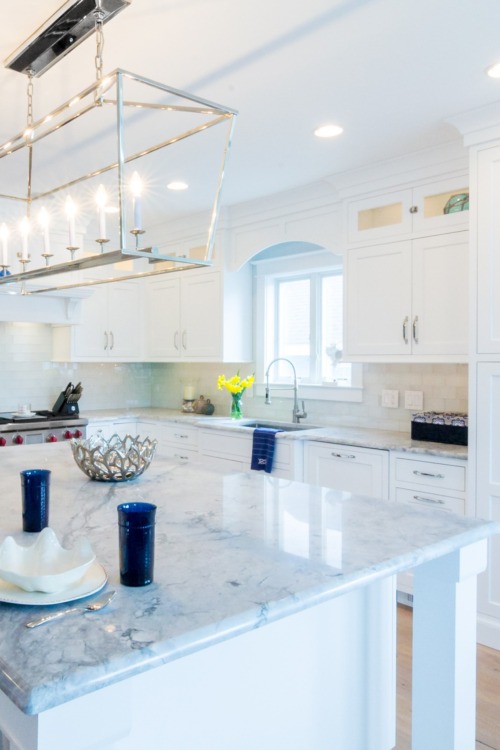 Using white as a dominant color in the kitchen can be good if you don't mind more frequent cleaning.
This will give your kitchen a cleaner, and brighter look especially if your kitchen has a small size or in a narrow location in the home.
You can combine white fantasy quartz countertops and white dove-painted kitchen cabinets.
The solid white color applied in the kitchen cabinets goes well with super white quartz along with its unique flaws on its tops. Although white color dominates the kitchen look, this can be a marvelous kitchen design.
To give a little bit of contrast in the kitchen area, you can install stainless steel appliances such as the sink and faucet.
Complete the look by inviting warmth in the kitchen by painting the creamy wall color and using medium color oak hardwood for the floor.
White quartzite countertops with dark cabinets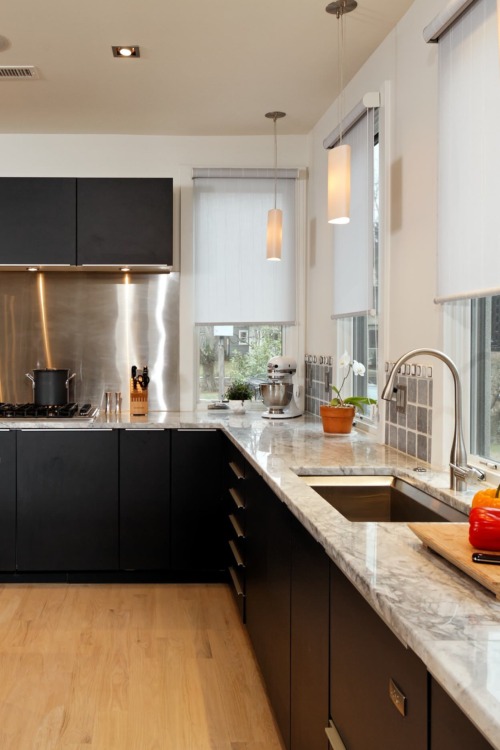 You also play with this stone in different ways when you plan to have a quartzite kitchen. Creating a contrasting look with this stone can be an interesting thing to do.
The simple way to achieve this look is by using contrasting colors for the countertops and kitchen cabinets.
Combining this stone with dark stained kitchen cabinets can be great white fantasy quartz countertops to add contrast to the kitchen.
You can use another color of the stone in the kitchen as well, such as by using grey tumbled stone for a kitchen backsplash since it provides a cleaner look.
To continue the contrast look from the dark kitchen cabinets, you can choose a light color hardwood for the flooring.
The lighter brown color offers a contrasting look to the kitchen cabinets and the countertops. The color of the floor also adds warmth to the kitchen.
This kitchen remodels idea gives a complete look since it uses different colors from white, light brown, to dark brown.
Sometimes, playing with colors can be a great way to create a more interesting kitchen since it offers a different level of contrast far from boredom.
Brown-veined quartzite countertops with white cabinets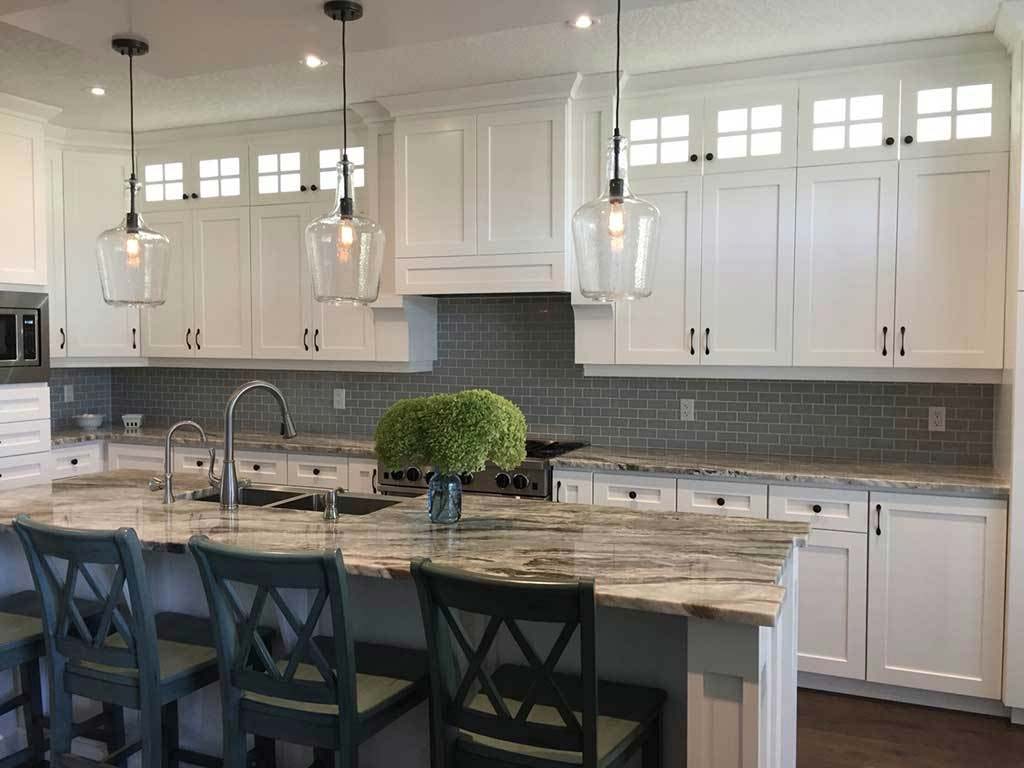 Some people like to use white as a dominant color in their kitchen for several reasons, such as a cleaner look or brighter space.
White kitchen is great to be paired with white quartzite as countertops since it has a variety of unique veins that add interest in the kitchen.
For example, white shaker-style kitchen cabinets combined with brown-veined white fantasy quartz countertops will make an outstanding kitchen look.
The brown-veined countertops will add a little bit of contrast without creating an overwhelming look in the kitchen.
You can use other materials with similar colors for another area in the kitchen. For instance, you can install polished white marble for the backsplash. Although it is also in white, it can give a pop of texture in the dominantly white kitchen.
Besides, that backsplash also offers a subtle transition between the white wall cabinets and brown-veined white quartz countertops.
The last touch you can give to this outstanding kitchen is by applying dark hardwood to the kitchen floors to give a more contrasting look.
White quartzite for countertops and backsplash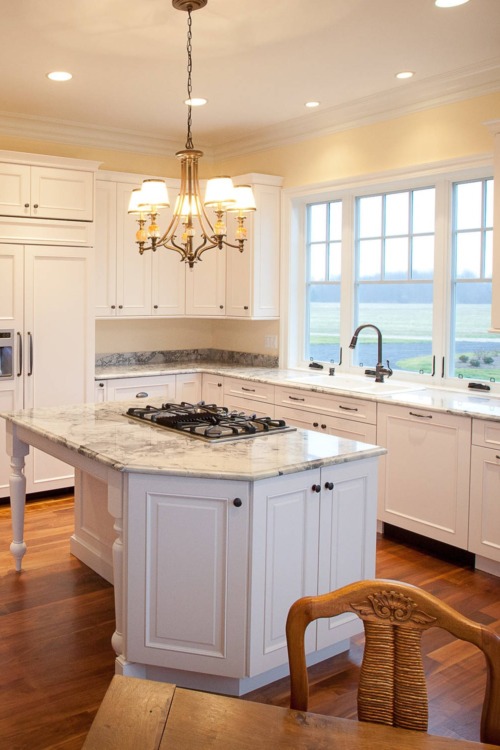 Still can't get over from the neutral theme kitchen? You can consider using the same material, super white quartz, for the countertops and backsplash.
Then you can use other colors for the rest of the kitchen that still come in neutral shades.
White fantasy quartz countertops with grey veins look great to be installed above with kitchen cabinets.
You can use a similar stone to create a short backslash as well. Although it uses the same material, it can deliver new vibes if you work with the wall.
To give a slightly different look on the wall, you can paint it using soft cream color. It is slightly different from the countertop color but still looks neutral.
The soft cream color creates a nice transition between the countertops and backsplash that looks the same.
Since the kitchen dominantly uses neutral colors, you can add the contrast by applying medium dark hardwood for the flooring.
The brown color of the floor goes well with the rest of the kitchen and gives a warm feeling in this area.
White quartzite countertops in a traditional kitchen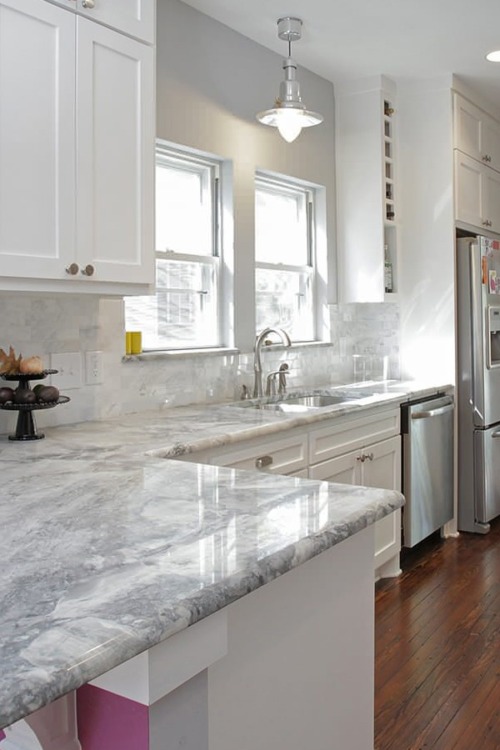 White shaker-style kitchen cabinets match well with white fantasy quartz countertops. This combination can be tried in a traditional kitchen.
The marble look of the countertops will make the kitchen cabinets look more sophisticated without needing frequent maintenance like the real marble.
Since you already used white cabinets and countertops, you need to use different colors in the kitchen to add more interest.
For example, you can use dark hardwood for the flooring to give a contrasting look and use two or more colors for the kitchen walls.
For example, you can paint one side of the kitchen wall with light purple to give a pop of color. Meanwhile, you can use grey paint for a subdued look for other sides of the walls.
---
White fantasy quartz countertops can be applied in the kitchen in various ways. You need to combine it properly with the cabinets and other kitchen elements.