FeastHome – Taking a full notice to window treatment is what people do these days. And you shouldn't get left behind by setting whatever to your kitchen window. Giving some color would do just right. The list of purple kitchen window treatments is here today!
House and Tech is reader-supported. When you buy through links on our site we may earn an affiliate commission. Learn More.
Why purple is a must? It's because purple gives the touch of luxury. It is also often associated with royal symbols and power. Thus, if you want to feel luxurious while working above the cooktop, take a thorough look at our list below and get inspired.
1. Tulle Curtains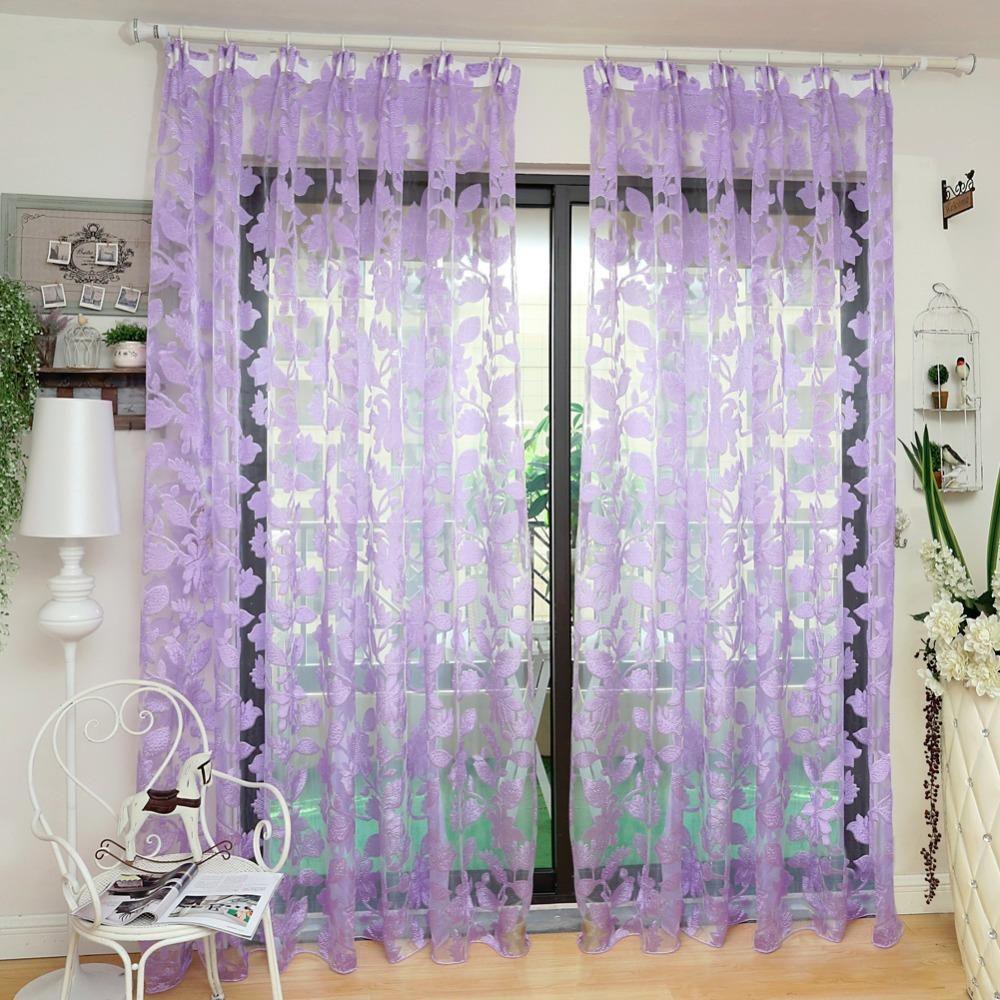 Just like clothes, curtains also could be made of various materials, like cotton, damask, and tulle. Each material has its own pros and cons. As they differ in texture and shape, they also function differently.
Cotton curtain gives you comfort and guarantee durability, and thus perfect to place in the living room where guests are entertained there. Meanwhile, tulle curtain is for embellishment and works as a see-through also.
2. Floral Designed Curtain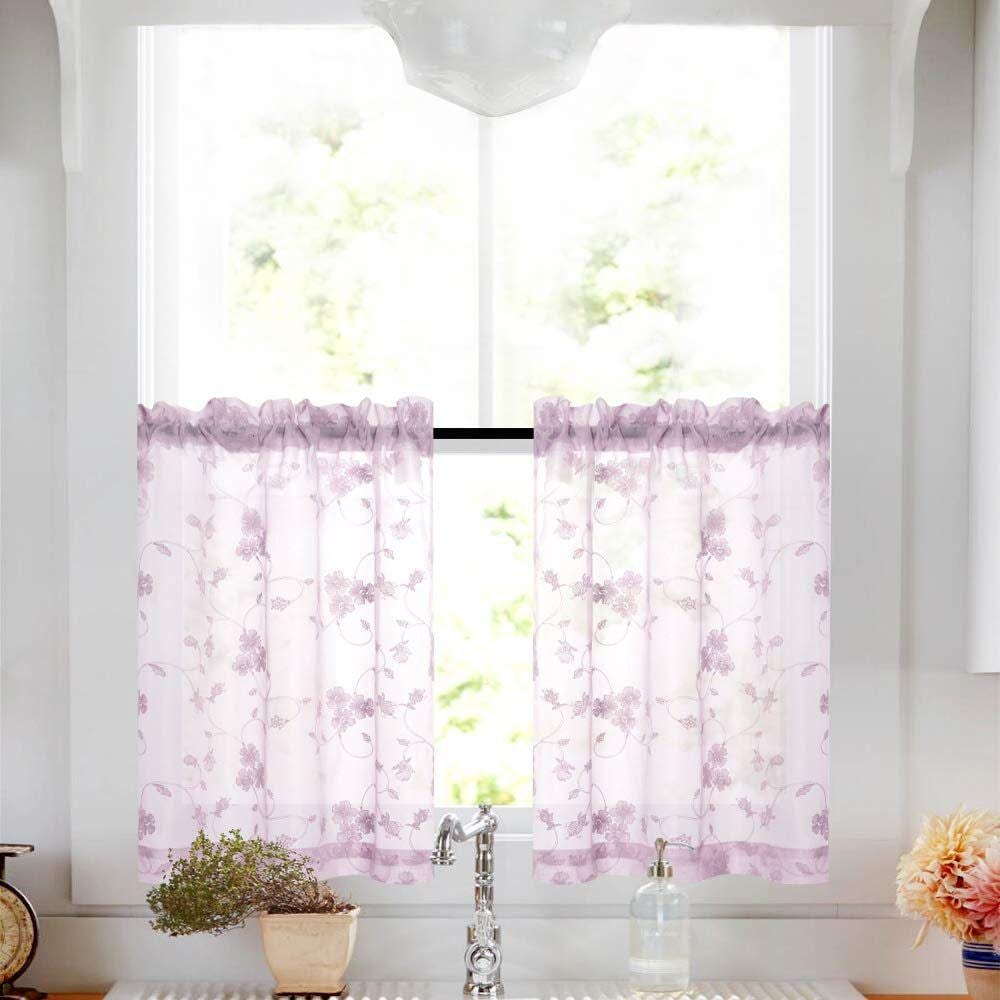 It's the type you could easily find almost everywhere because who wouldn't fall for this beautiful curtain set? It's simple, cute, elegant, and sweet, oh, you name it! It's like looking at a little girl with big round eyes.
3. Modern Kitchen Sunshade Ideas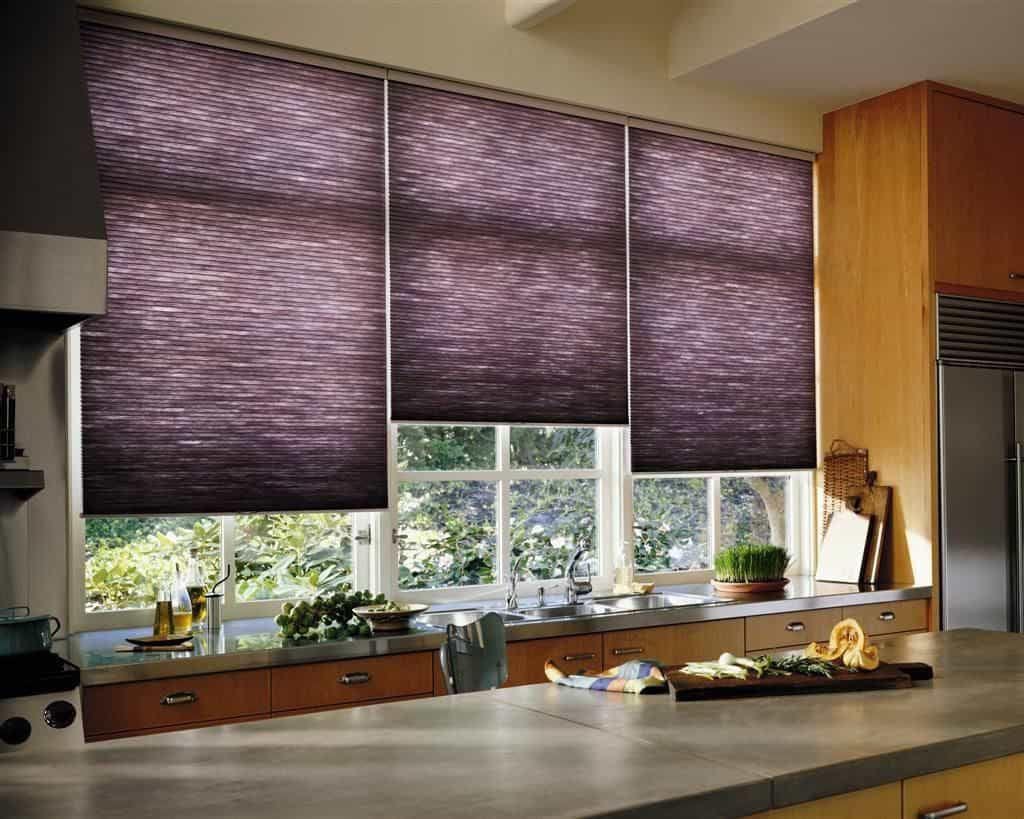 While sunshade is known to be the epitome of traditionalism, you could have a contemporary one. The ones in the picture are the examples. The two styles might be made of the same material, but they differ in function.
The traditional one has only one job; it's to shade you from the hot sun. Meanwhile, the modern one us the upgraded version of the former: to shade you and to decorate the window.
4. Purple Curtain for Beige Walls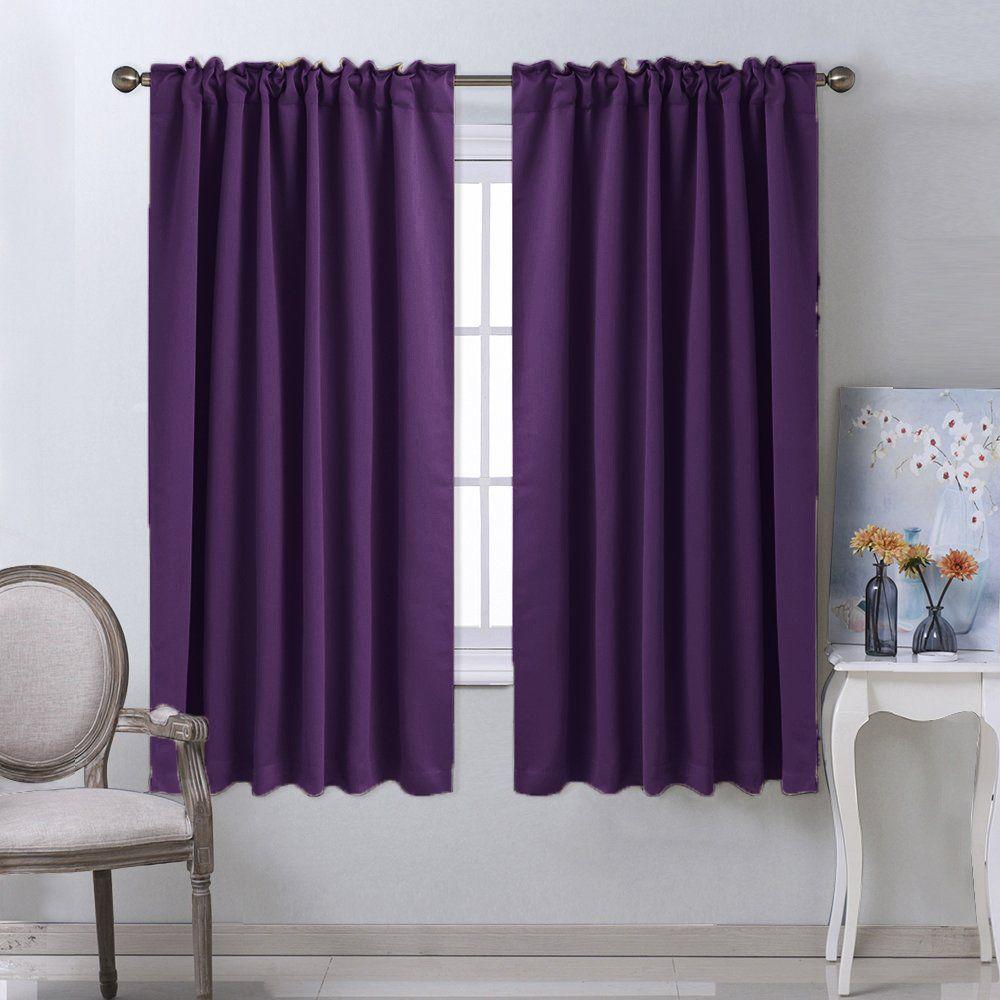 Beige is almost neutral. But unlike the other neutral tones which blend in easily with whatever color you throw, beige couldn't be treated likewise.
It'll look so pale and unexciting if paired with soft or light tones. Dark purple is the best choice so far, just you take a look at the image above!
5. Floral Blackout Curtain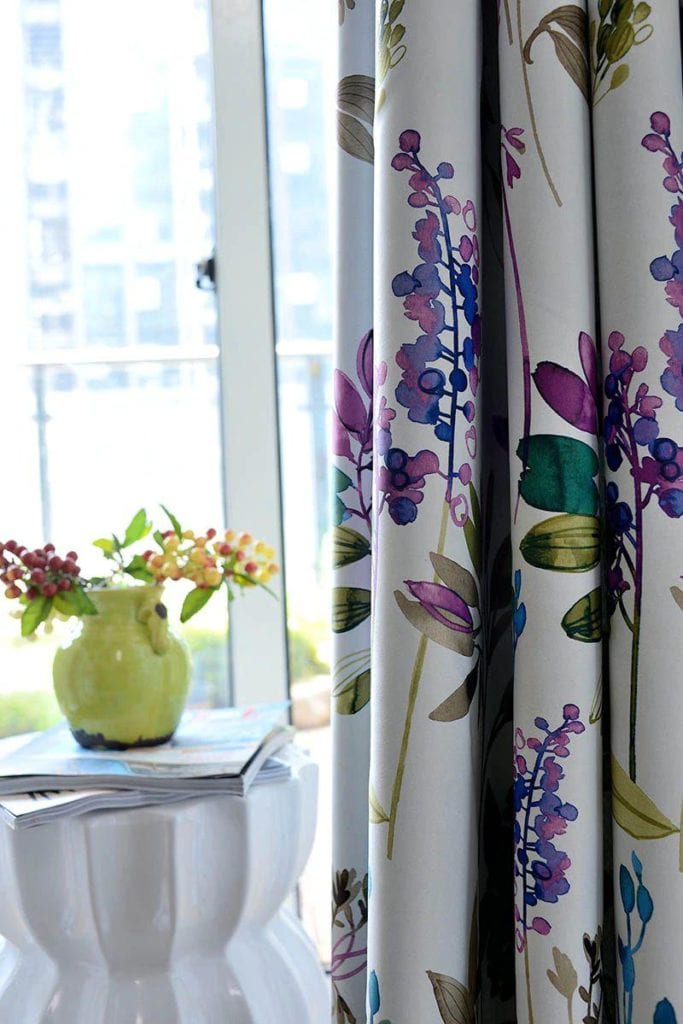 Now, it's new. If it's mentioned before that purple represents lavishness, this floral blackout shows you what it means. Though the purple color only takes in a little bit of the part, it works wondrous, still!
6. Modern Embroidered Tulle for Curtain Fabric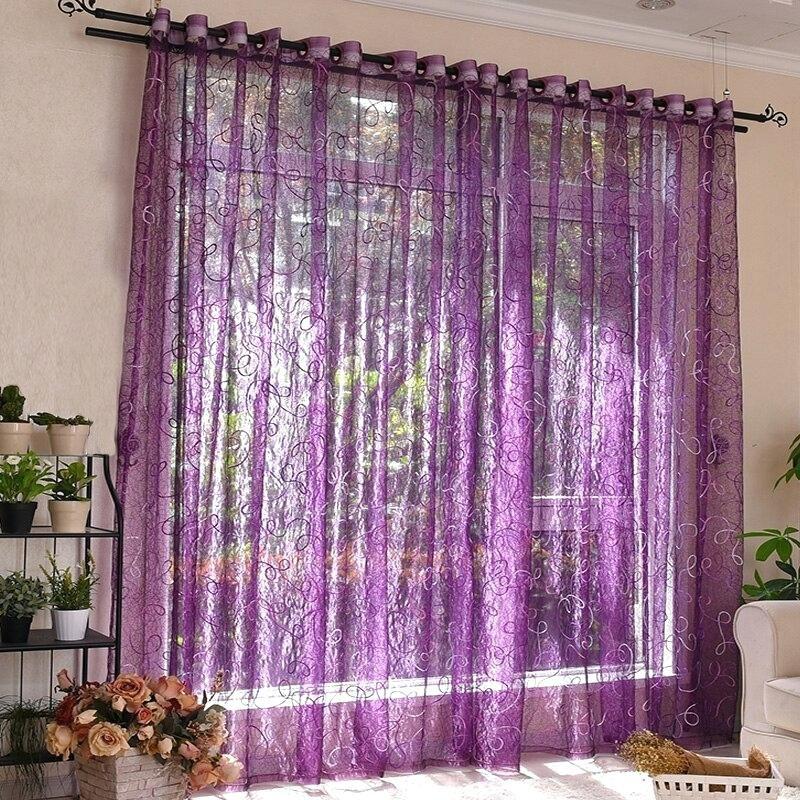 This is another example of a curtain made of tulle fabric. Though it's said to best fit the living room, don't feel discouraged to install it in the kitchen. Your kitchen deserves the elegance brought by this lavish tulle as much as the living room.
7. The Monochromatic Purple and White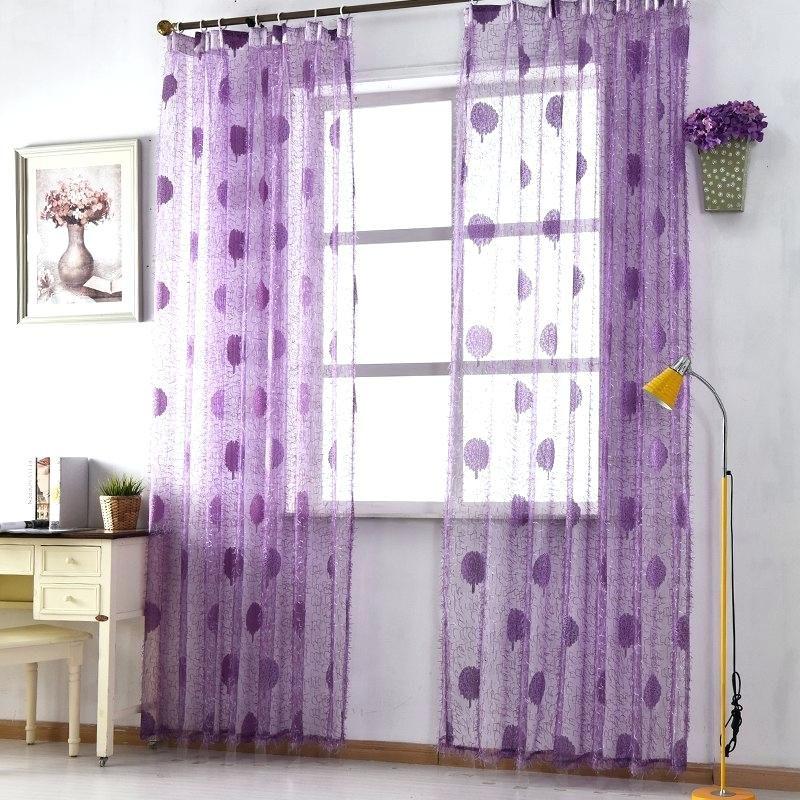 It's due to the capturing angle that we barely see the white part this curtain set comes with. Actually, the white part takes as much as the purple does. Thanks to the white wall background; it emphasizes the former color more.
8. Faux Silk Crafted Valance
When silk is great to be the material of a curtain but the price ranges too high, select the faux one instead. It impacts the same visually, giving a shiny looking fabric, yet this one is much more affordable. Faux silk materials are easy to craft with multiform patterns, too.
9. Kitchen Window Valance Tier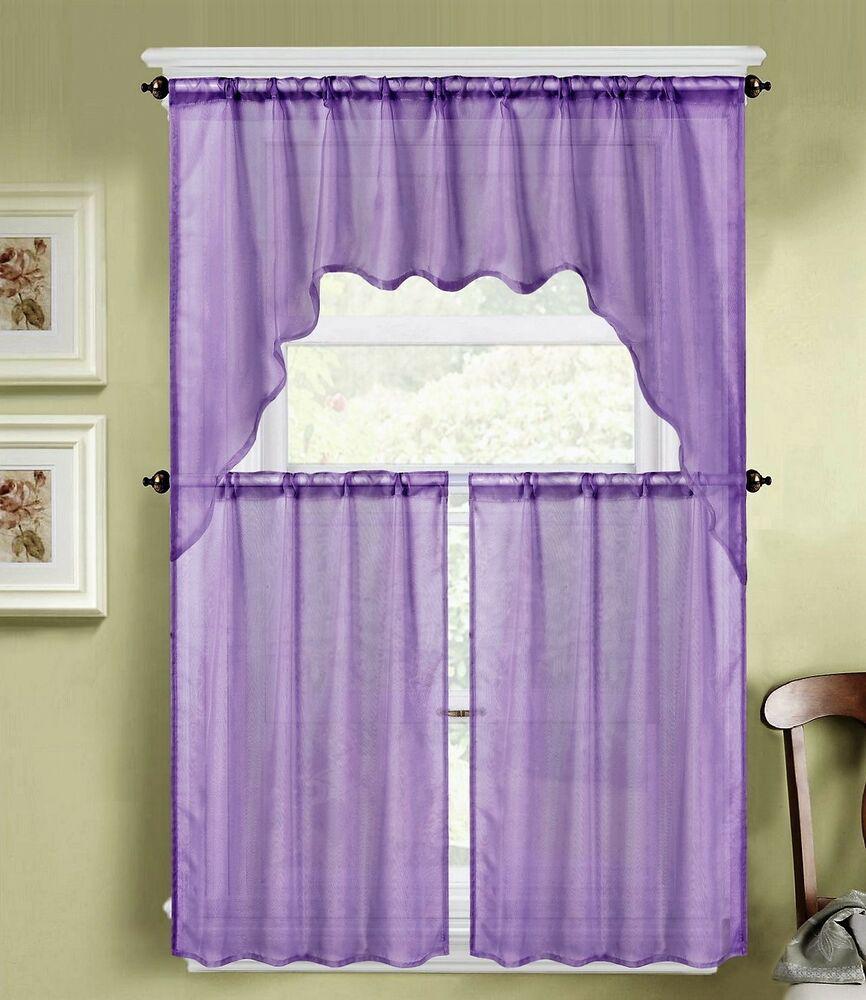 A valance and a set of curtain make a nice pack. It reminds me of a girl with a bun and some flyaway hair. Is it just me or what? But, it is that elegant.
10. Chic Purple Blackout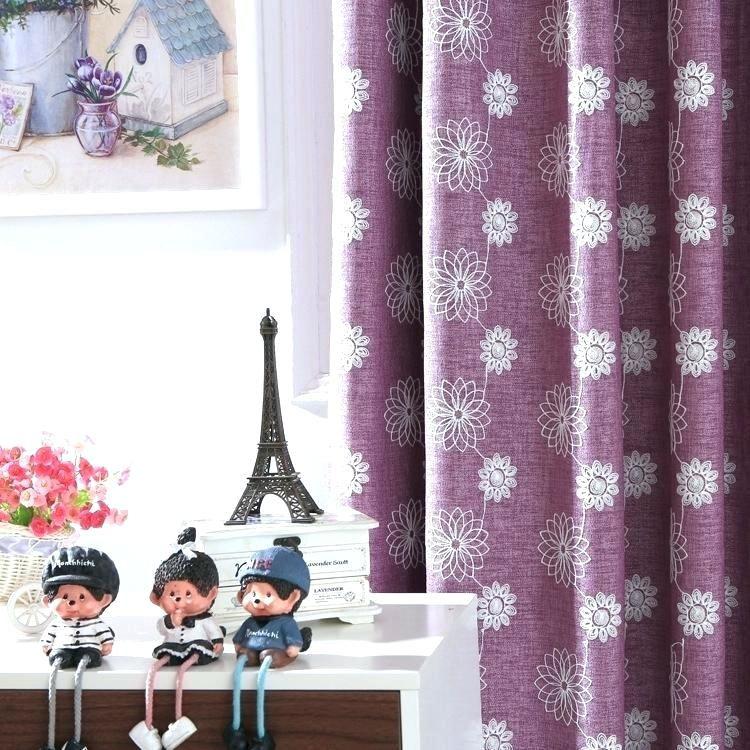 By only looking at the picture, you'd know that its fabric is so solid like those own by cotton or linen material.
It's not transparent and thus couldn't be seen through, some characteristic that cotton doesn't bring with. That's how this blackout derives its name, isn't it?
11. Three-Piece Faux Cotton Kitchen Window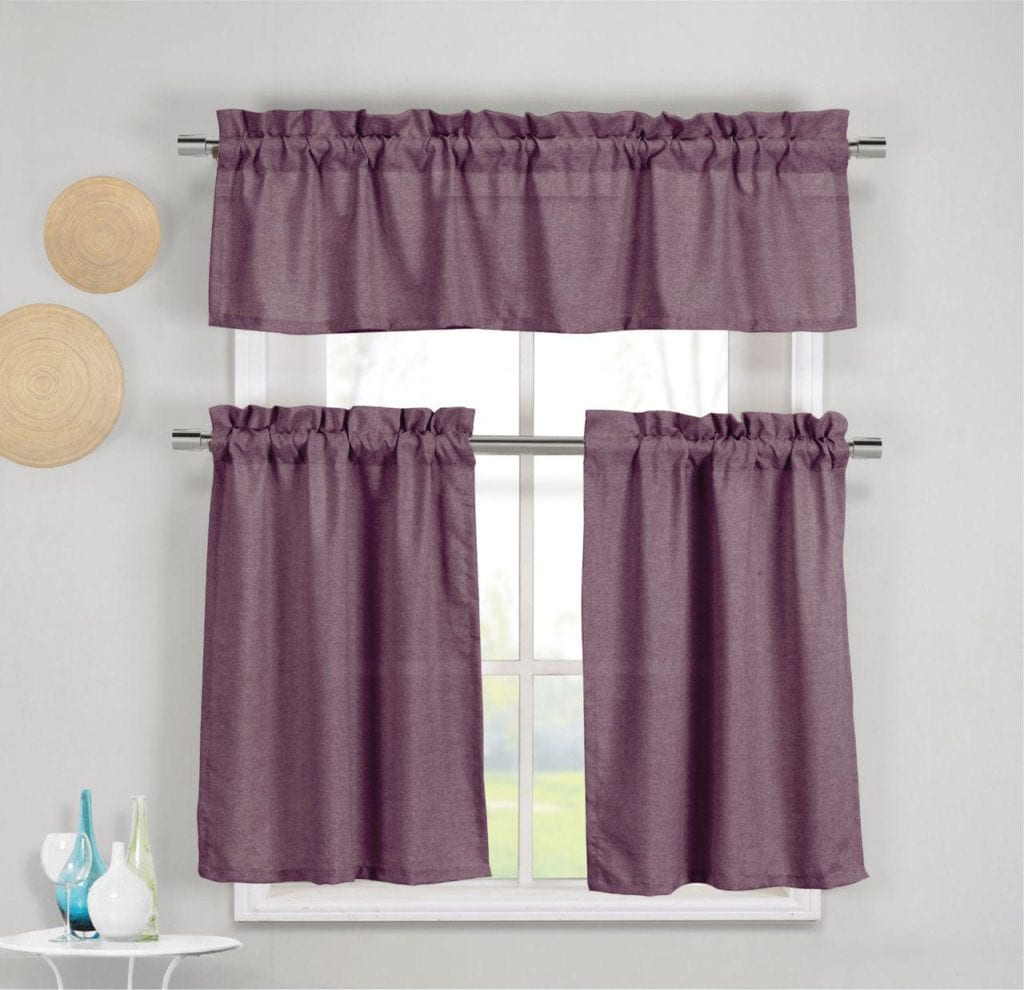 The previous blackouts are made of cotton, while this three-piece set made of faux cotton. Faux cotton offers soft surface and textured solidly that it could give you some privacy without worry.
12. India Single Quilt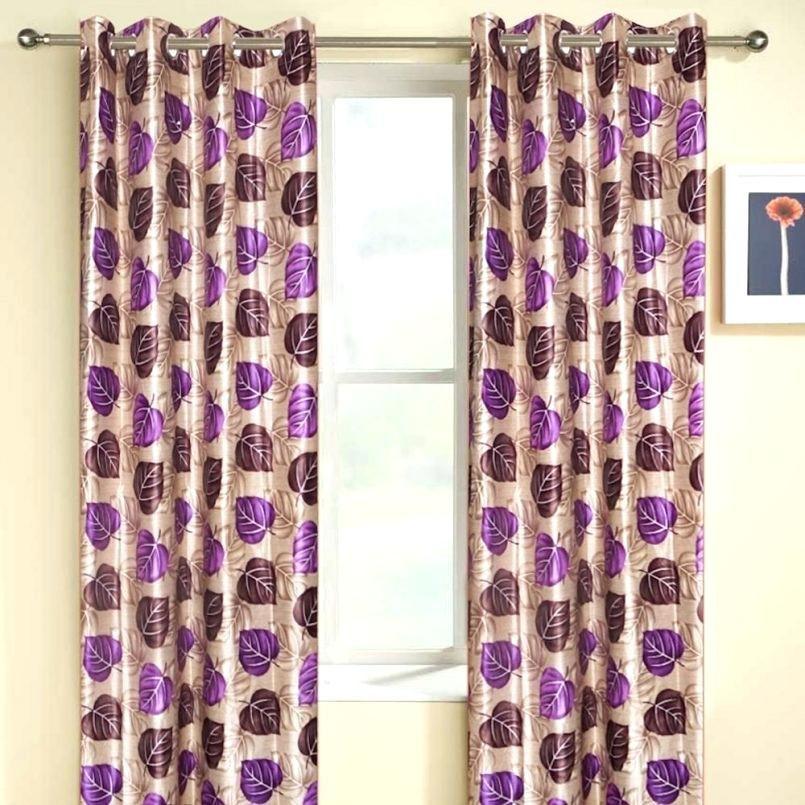 The bold color selection of purple shades is what makes it called 'Indian'. It is made of polyester which offers durability, easy cleaning due to quick-drying, and shrinkage impossibility.
Not to mention that it's installed with eyelet heading style which lets you to be practical and don't need extra help from other curtain attachment system.
13. Purple and Orange Window Treatment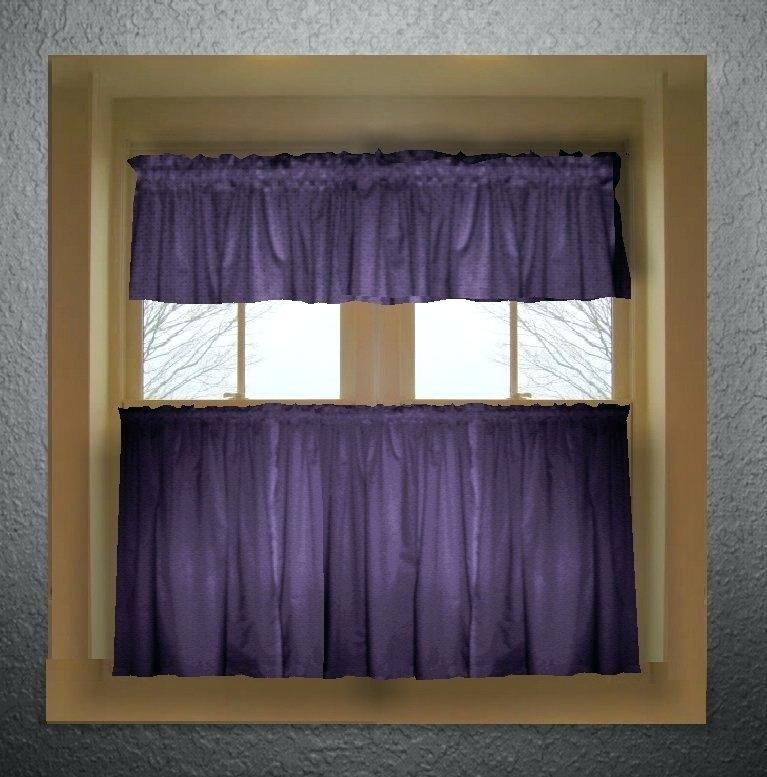 Window treatments include all that covers the window. It means the window sill is also a part of the treatment. Here, you have a purple curtain combined with orange window sill to exemplify a layered window treatment.
Basically, it's called layered because there's a combination of soft and hard window treatment. Curtain and blinds, valance and shutters, shades and window sill; all of them are the layered ones.
14. Sheer Purple Kitchen Drapes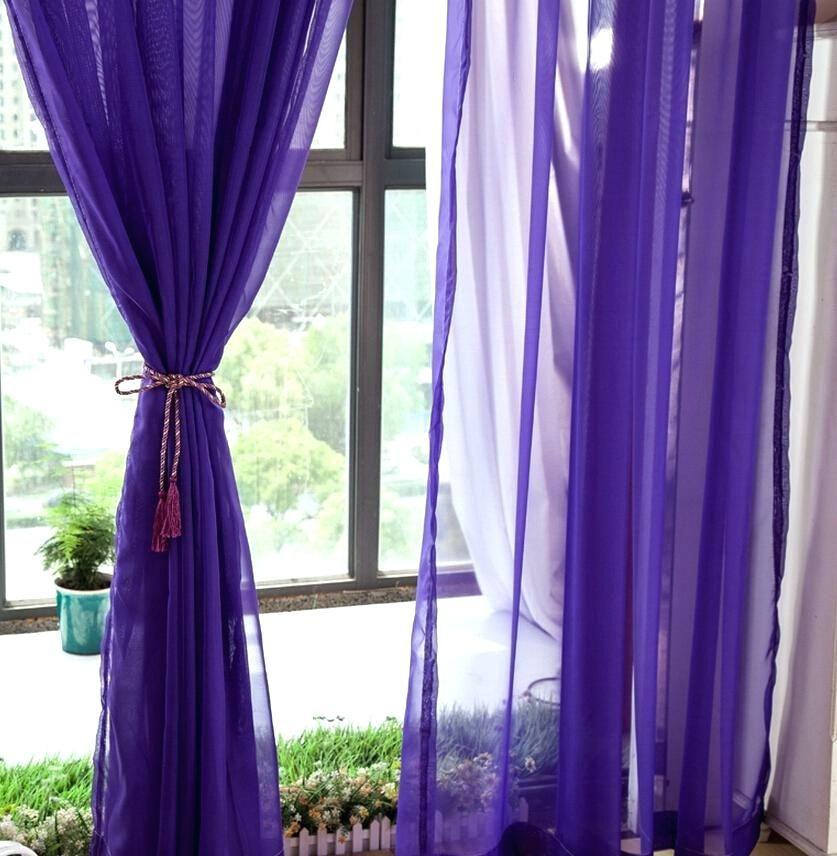 Sheer drapes add an airy feel to space where they're installed. The thing with drapes is the more you have them, the more elegance your room could become. So, weigh how graceful you want the kitchen to be.
15. Lush Décor Curtain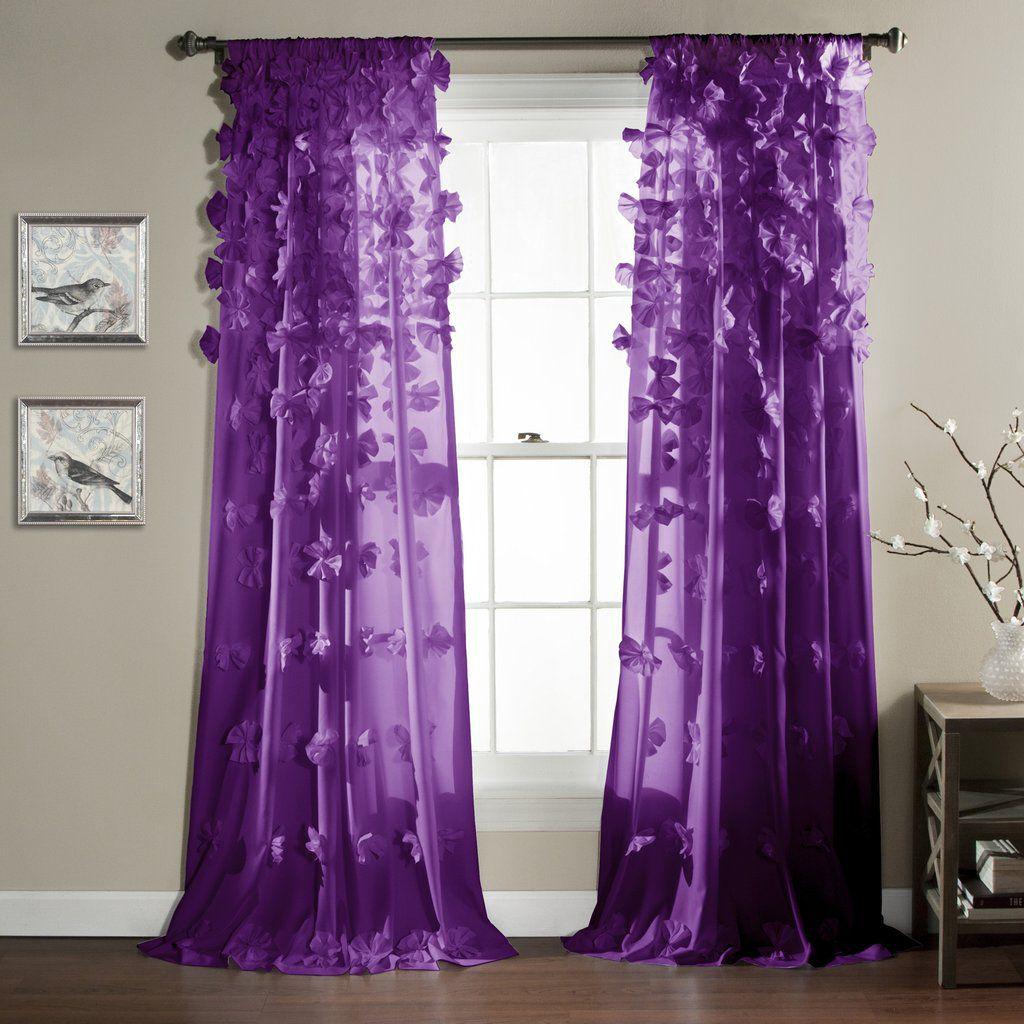 This ornamental drapery would be perfect to embellish the plain and solid wall. It makes the nuance livelier and adds plentiful of texture. It's absolutely something you wouldn't want to miss.
16. Purple Kitchen Window Treatment See-Trough Curtain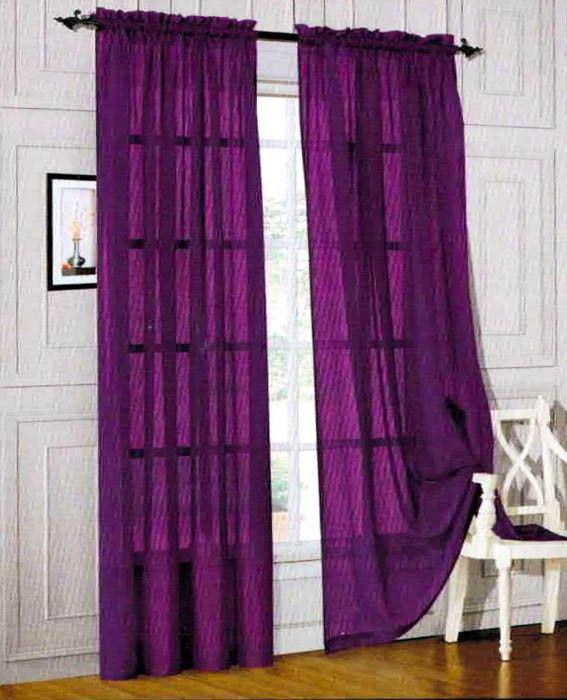 It's not solely the job of blinds anymore to be transparent and be seen through, because this pair of drape could work well, too. Thanks to the sheer material we assume. But, do you know that changing the curtain is done once in a season?
You should match the season with the curtain material. When it is winter, install something different from the one arranged during summer. And so on and so forth.
17. Involve Glitter for Special Occasion
Though it's a kitchen, you shouldn't forget to decorate it also on a special occasion. Why it's because special events always related to good food, right? And from where else you'd supply the food if not the kitchen?
---
There, you have all of the purple kitchen window treatments. Hopefully, it helps you in deciding what type and material window covering you should install. Good day!