Every once in a while we come across a kitchen innovation that we wish we had thought of ourselves, and the Handy Pan is a case in point. On the surface it appears to be a conventional 10" inch frying pan with a curved circumference, but the specially designed, heat resistant push button hides the main attraction: a built in strainer.
The concept is a simple one: instead of creating extra work, extra dirty dishes and kitchen utensils, why not integrate two of the most popular kitchen and cooking appliances into a simple, single item? Well, that is exactly what the folks at Handy Pan have done, creating an interesting and different cooking solution.
You might be wondering why you would want to integrate two separate kitchen tools into a single one in the first place, but there are many key advantages to this approach. If space is an issue in a small kitchen, having a built in strainer can save space, and the convenience of having to clean a single item after cooking speaks for itself.
Some Fast Facts About the Handy Pan Frying Pan:
It's a high quality frying pan with a built in strainer
It allows you to remove excess grease and liquid
It is easy to clean and is dishwasher safe
It features an anti-scald/heat protection system for maximum safety
What Are Some of the Features of the Handy Pan?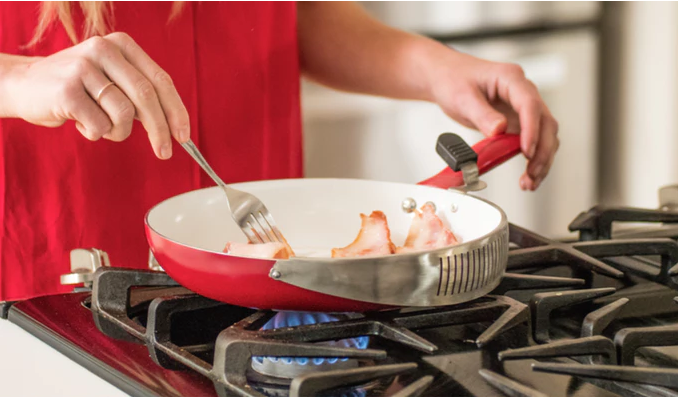 It's hard for any product to stand out in today's saturated markets, but the Handy Pan manages to do this with ease. This is due, in part, to the interesting straining mechanism that makes it unique, but that is not the only factor. The materials list is the second vector from which this pan separates itself from mediocre frying pans. Some features include:
It's a Frying Pan: This is an obvious one, but we thought that it was worth mentioning. Better yet, it features a non-stick ceramic finish that is awesome for cooking fried eggs, pancakes and flap jacks due to its non-stick properties. Having a non-stick coating also means that users will need to use less oil, which could be beneficial to people following a fat restricted diet.
It's a Strainer: The straining element of this product is made from high quality stainless steel (click here for more stainless steel frying pans) that is safe, and according to the creators of the product, environmentally friendly too. Due to the inherently durable nature of stainless steel, the strainer is sure to last for a very, very long time.
Advanced Heating Surface: The bottom side of a pot or pan hardly ever gets any mentioning when looking at their features, and we're happy to say that the Handy Pan has some noteworthy features on this front. It is constructed from high grade stainless steel (like the strainer element) which is not only durable, but also an excellent medium for hear transference. The bottom surface is a great induction plate companion, for those with more high tech cooking requirements.
Inner Coating: The inside of any frying pan is where you can tell where the quality is in the product, and how well it will ultimately cook your meals. In this instance, the Handy Pan does not disappoint: it features an environmentally friendly non-stick ceramic that contains no harmful chemical compounds such as PFAS (Perfluorooctanesulfonic acids) or PFOA (Perfluorooctanoic acids).
Aluminum Body: Aluminum is renowned for its light weight and high strength, as well as its heat transference capabilities, which is why it is used as the pans main body material.
Heat Resistant Button: The star of the show is no doubt the retractable strainer that comes with this product, but how about the control system? That is handled by a heat resistant button that is durable and comfortable to operate. Simply push down the button and voila! The strainer rises into position, ready for operation.
Phenolic Resin Handle: The handle is made from a highly durable Phenolic resin that is custom designed for comfort and functionality.
Why Use the Handy Pan?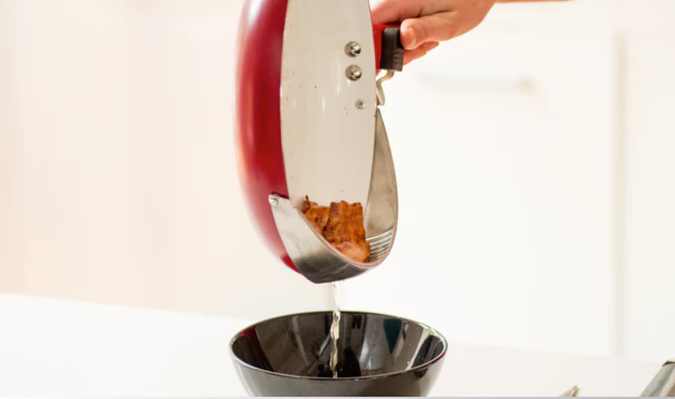 If you have ever been responsible for cooking a meal, then you are probably all too familiar with straining excess grease or water from a dish. This requires that you turn your attention away from the cooking so that you can fumble around for a strainer, then the actual straining process can begin. This can be a real pain if your strainer is not close at hand before you commence the cooking process.
The Handy Pan eliminates this extra step by allowing you to press the heat resistant button, which raises the strainer. (Which looks strangely similar to a medieval knight's visor) Once the strainer is in position, simply tilt the pan and allow the excess liquid to drain out of the vertical slots, leaving only the solid ingredients in the pan. By using a single cooking utensil, you can save yourself time during your clean up, not to mention less effort and hassle!
For people that are following the latest trends in dieting, High Fat Low Carb diets could find this feature especially useful. Some derivatives of this Way of Eating, such as the Ketogenic diet, covet the fats in food, and are collected for meals during the cooking process. The Handy Pan is the ideal frying pan for such an application as it allows for the quick and effortless straining of fats out of the pan so that it can be used later.
Aside from the reasons mentioned above, there are a few other interesting things about this product that might make you a potential owner of one. How about the fact that you can't actually buy one of these bad boys from a retailer? The Handy Pan is part of a Kickstarter Campaign that seeks to bring this product to market by attracting enough backers to fulfill a manufacturer minimum unit order to kick things off.
If everything goes according to plan, then you could have one of these great looking frying pans by about November 2018. So far they have almost 100 backers and have raised close to $4000 USD. Consider supporting the project by backing the project here.
Conclusion
The Handy Pan Frying Pan is a unique item that manages to combine great design with practical features. Their take on the attributes that make for a successful, traditionally styled frying pan are apparent in the features that the pan possesses, even before we consider the revolutionary design of the strainer. The strainer mechanism is well thought and simple, and constructed from some high strength, environmentally friendly materials. If you are looking for a unique piece of cookware, then the Handy Pan Frying Pan could be just the item that you are after.
Update from Handy Pan – 19/10/2018:
Even though the Handy Pan Kickstarter did not fund successfully the manufactures of the Handy Pan has stated that they still plan to manufacture and sell the Handy Pan (and Handy Pot). As soon as we know when the product is officially available we will publish an update right here. Subscribe to this article to stay up to date with all developments related to the Handy Pan.
Update from Handy Pan – 10/11/2018:
The Handy Pan is now available for sale on their website here.
Clip-On Strainers Available on Amazon:
On Sale
Bestseller No. 1
Bestseller No. 2
Bestseller No. 3
Bestseller No. 4
AUOON Clip on Strainer for pots Pans,Heat Resistant Silicone, Easy to Use and Store, Dishwasher...
CLIP-ON STRAINER PRACTICAL: Small, Compact Strainer That is Easy to Use and Store in a quarter the...
SIMPLE STRAINER INNOVATIVE: Snaps onto most of Pots, Pans and Bowls, Big and Small. Attaches Easily...
SILICONE STRAINER SMART: Eliminates the Transferring Process. Tilt to Strain While the Food Stays in...
DURABLE:Kitchen Gadgets Made with Top Quality Heat- Resistant Silicone. Dishwasher Safe.
Bestseller No. 5
Zulay Silicone Pot Strainer - Adjustable Snap On Strainer For Most Pots & Pans - Food Grade, Heat...
ADJUSTABLE SPACE SAVING DESIGN The Zulay Kitchen Silicone Strainer is made from 100% premium food...
CONVENIENT HANDS-FREE STRAINER The strainer is made from BPA Free materials that have a natural heat...
FITS MOST ROUND POTS & PANS Simply latch the two clips onto the edge of your cookware and lean to...
EASY TO CLEAN & STORE Most of the time a rinse and quick swipe under the tap is all that is needed...
This article was last updated on May 22, 2020 .
House and Tech is reader-supported. When you buy through links on our site we may earn an affiliate commission. Learn More.