Programmable slow cookers help take some of the hassles out of cooking – all you need to do is put in the appropriate ingredients, set it to cook and take your mind off the matter. All these models come with timers that will automatically adjust from 'cooking' to 'warm' once your meal is ready to be eaten.
With digital displays and additional cooking functions, your job is made even easier. All these slow cookers will be a great help to those of you who are often too pressed for time to spend hours preparing meals, but who nevertheless prefer serving home-cooked meals to take-out to your family members. And even if you love spending time in the kitchen, these slow cookers can still be a valuable addition that will allow you to prepare multiple dishes at once.
The 5 Best Selling Programmable Slow Cookers:
Bestseller No. 1
Hamilton Beach (33969A) Slow Cooker, Programmable, 6 Quart With Temperature Probe, Sealing Lid and...
NOT YOUR MOM'S SLOW COOKER: Smart technology allows you to cook a recipe to either a desired cooking time or specific temperature, before automatically switching to Warm when it's done.
PATENTED TEMPERATURE PROBE: Place the temperature probe into large cuts of meat to cook to a precise temperature. The control panel will display the food's exact temperature as it cooks.
CLIP-TIGHT GASKET LID: The lid clips securely in place, perfect for taking the slow cooker to a party, potluck or tailgate. The tight seal helps prevent messy spills along the way.
Sale
Bestseller No. 2
Bestseller No. 3
Hamilton Beach 33861 Programmable Slow Cooker, 6 Quart, Dual Digital Timer, Stainless Steel
Programmable Flex Cook mode: Select 1st heat setting & cooking time then select 2nd heat setting & cooking time. After timer ends, it shifts to warm
3 slow cooker cooking options:- Flex Cook Mode: program 2 heat settings & cooking times for customized cooking- Program: select 1 heat setting & cooking time- Manual: high, low, warm settings
Stay or go clip-tight sealed lid for easy transport
Sale
Bestseller No. 4
Sale
Bestseller No. 5
The 5 Best Programmable Slow Cookers:
Below we've listed and reviewed 6 of the most popular programmable slow cookers. These also happen to be the best value for money slow cookers in our opinion: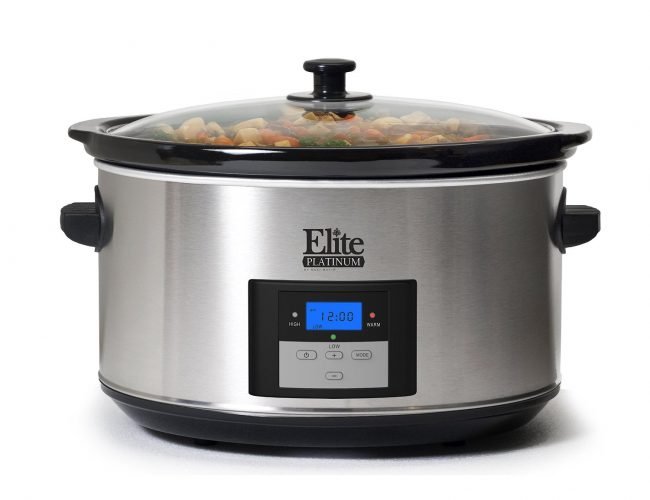 Measuring at 16.3 x 11.7 x 11.8 inches and weighing 14.6 pounds, the Elite Platinum 8.5 Qt. Programmable Slow Cooker was designed with the busy family in mind. Housed in brushed stainless steel with black accents, it promises to visually complement your kitchen.
With the 20 hours advanced programmable timer, you can be sure to prepare meals well in advance of mealtimes. It comes with low-medium-high temperature controls settings and an 8.5-quart oval removable stoneware pot that can easily be used to prepare stews, soups, pot roasts, curries, casseroles, and other wholesome family meals.
The oval shape also allows you to slow cook large chunks of meat or vegetables, while the cool-touch handles and knobs allow for easy adjustments. The clear tempered-glass lid traps in moisture and nutrients for delicious and nutritious results, while allowing you to easily check up on cooking progress.
Avg. Retail Price: $45.50
The Hamilton Beach Set and Forget Programmable Slow Cooker provides three choices for hassle-free and easy cooking: program, probe, and manual mode. You can use the program mode when you are really pressed for time – simply input the cooking time and it automatically changes the settings to 'warm' once the cooking time has elapsed.
If you want to cook a large meat portion (e.g. for a pot roast, meat stew or pork tenderloin), simply use the probe mode – key in the appropriate meat temperature and it automatically changes the settings to 'warm' once the desired temperature has been reached. Finally, use the manual mode for traditional slow cooking, where you manually choose between a high, low or warm temperature without inputting a cooking time.
Additional features include a clip-tight gasket lid that prevents messy spills, a thermometer probe that displays the actual temperature of meat as it cooks, full-grip handles that allow you to easily transport the cooker, and a stylish metallic aluminum finish.
Avg. Retail Price: $49.00
With a 6 quart capacity, the Crock-Pot Cook and Carry Slow Cooker is the perfect choice for slow cooking large meals that can serve up to seven people. It comes with an easy locking gasket lid that prevents spills and messy countertops, a programmable digital control which lets you program cook times from 30 minutes – 20 hours, and programmable time settings to accommodate different cooking needs and time constraints. All you need to do is set the countdown controller to your preferred cooking time, and the Crock-Pot Cook will automatically shift to the 'warm' setting once that time is reached.
The Crock-Pot has been designed for an easy cleaning experience, further adding to your time savings in the kitchen. Once the cooker has cooled down, you can easily wash the lid and stoneware in the dishwasher or with hot, soapy water. The external surface of the heating base can be cleaned with a soft cloth and warm, soapy water.
Avg. Retail Price: $39.00
Frigidaire Professional™ kitchen appliances have a stellar reputation for attractive designs and powerful yet user-friendly features. With the Frigidaire Professional™ Slow Cooker, you can expect that same capacity for high performance, durability, and style.
The Frigidaire Slow Cooker comes with an easy-to-read Pro-Select™ LED Display which is easily visible in dark or bright lighting, and six preset Pro-Select™ One-Touch Options (buffet, soup, low, medium, high or warm) – all housed in a visually appealing stainless steel design. Its Spacewise™ Design features a seven-quart capacity design that provides a large cooking area, thus easily accommodating big meals as well as small servings.
All you need to do is select the cooking option, program the time, and then choose the Auto Keep-Warm control to maintain the set temperature for up to three hours (until you're ready to serve the meal). Additional features include a stylish stainless-steel exterior that provides durability and visual appeal, an easy-view glass lid that allows you to easily check on progress, and ergonomic-designed die cast handle that allow you to easily transport the cooker around the kitchen or to external events.
Avg. Retail Price: $60.76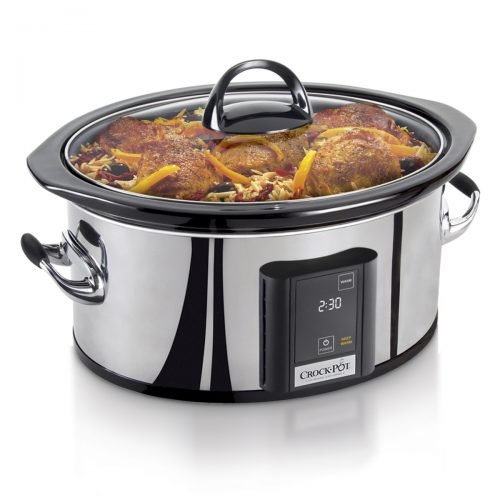 The 6.5-quart sized programmable Crock-Pot slow cooker can accommodate food portions large enough to feed eight to nine people, easily fitting in a 7-pound roast or a sizable portion of curry, soup or stew. With this slow cooker, your family can enjoy time savings while benefitting from healthy and delicious home-cooked food that easily trump fast food and takeouts in terms of nutritional value.
Its features include a touchscreen control panel (fingertip touch controls include low, high, and warm cook settings, and 'time up' or 'time down' options for setting the cooking time from 30 minutes up to 20 hours), metal side handles wrapped in silicone for a secure, comfortable grip when moving the cooker around the kitchen or to the dinner table, and a removable stoneware and glass lid which doubles as a serving dish and makes the cleaning up process much easier.
Avg. Retail Price: $66.99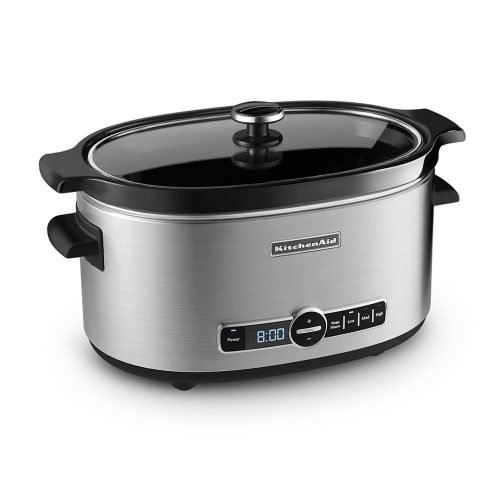 Measuring at 10.5 x 17.5 x 10.8 inches and weighing 16.1 pounds, the KitchenAid 6-Quart Slow Cooker comes with a solid glass lid and oval-shaped ceramic vessel with a 6-quart capacity that can accommodate meals large enough to feed up to seven or eight people.
The digital display allows for 24-hour programmability, so you can set the slow cooker well in advance (you have four temperature settings to choose from) and expect your meal to be waiting for you after a day of work. It automatically switches to the warm mode (for up to four hours) after the set cook time elapses, so you can keep your mind at ease if you happen to be running late.
Avg. Retail Price: $99.99
Conclusion
Any of these six programmable slow cookers will allow you achieve a better work-life balance – you should not have to sacrifice quality family time (or good nutrition) around the dinner table for the sake of your busy career (or vice versa). Have a look through the list of recipes you wish to pull off (e.g. pot roasts, meat stews, vegetable soups, casseroles, etc.) for yourself, your family or friends in the near future, and choose the right slow cooker that will allow you to bring those culinary ambitions to life.
The right cooker can give you the peace of mind you deserve by taking hours away from the cooking process and several minutes from the cleaning process, leaving you with more time to spend with your significant other, friends and family.