Buying a refrigerator under $1000 does not mean that you need to compromise on size, quality, and features. There are many amazing appliances in this price bracket and we look at the very best refrigerator under $1000.
A fridge is essential in any home and one of the first basics people focus on. There are other items that are important but a quality fridge is critical. According to your environment, lifestyle, and circumstances, your needs might be different.
While there are some awesome fridges that cost way in excess of $1000 there is not always a need to spend so much. While we looked at the options for the very best fridge under $1000, the Danby DFF092C1BSLDB stood out as a clear winner. It offers exceptional value for money, looks amazing, and gives you plenty of storage space.
Let's take a closer look at this and a few other excellent fridges that you can pick up for under $1000.
The 5 Best Refrigerators You Can Buy for Under $1000: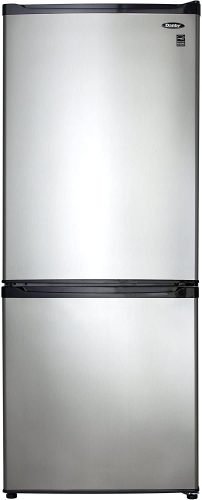 | | |
| --- | --- |
| Size | 26.42 x 23.82 x 59.8 inches |
| Weight | 125.7 pounds |
| Color | Stainless-steel |
| Capacity | 9.2 Cubic Feet |
In this price range, the Danby DFF092C1BSLDB stands out as an excellent product. It has great capacity and looks spectacular.
It has a stainless-steel finish and the refrigerator unit is mounted at the bottom. While it only has a stainless-steel look, the big advantage is that it does not pick up fingerprints or smudges. This makes it easier to keep spotless.
The hinge is reversible so you can open the door from the left or right according to space and your needs. Another thing that is easy to adjust is the glass shelves. This allows you to get the most out of the capacity and makes the fridge more versatile.
The fridge is easy to maintain thanks to the frost-free feature. This also makes it more effective at preserving food and keeping things cold. The crisper is effective at keeping vegetables and other items cool and improving their storage time.
The fridge is Energy Star compliant so will be light on your monthly electricity bill while also being eco-friendly.
If you are looking for an affordable fridge with a decent capacity this is one to consider. It is a top seller that is highly rated.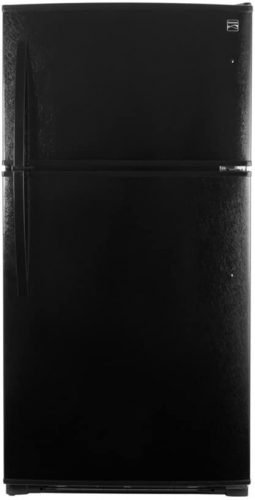 | | |
| --- | --- |
| Size | 33.8 x 32.87 x 66.1 inches |
| Weight | 221 pounds |
| Color | Black |
| Capacity | 20.84 Cubic Feet |
This fridge looks spectacular in black but if that is not your style it also comes in white and stainless steel. It has an excellent capacity and you can store an incredible amount in this unit.
The freezer size is generous and thanks to the handy ice maker, you don't have to worry about ice trays. This is a great convenience.
The door compartments and adjustable glass shelves make it versatile and easy to use. It is designed for comfort and efficiency.
You can store large food items or beverages with ease. There are two crisper draws that allow you to keep fruit and vegetables fresh and healthy. They are clear for easy viewing. They are humidity controlled for perfect crispness and freshness.
Speaking of efficiency, it uses very little power so if highly energy efficient. This will save you money over time with reduced electricity costs. The LED light is also extremely effective allowing you to see all parts of the fridge with ease.
Another benefit is that the design makes this unit easy to clean and maintain. Cleaning a fridge can be a chore but Kenmore makes this job easier. It is also easy to control the temperature according to the contents and your preference. It is quick and easy.
This is a good-looking fridge that is versatile and has loads of features. It is a popular choice.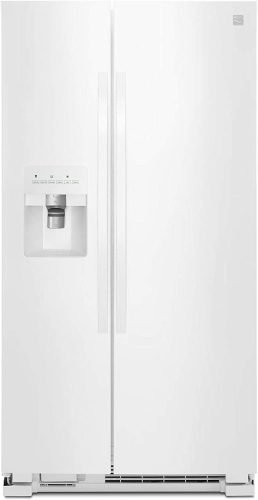 | | |
| --- | --- |
| Size | 33.81 x 35.5 x 69.25 inches |
| Weight | 270 pounds |
| Color | White |
| Capacity | 24.57 Cubic Feet |
This is another great option from Kenmore that also comes in at under $1000. It has a generous capacity despite the compact design. It boasts a water dispenser as well as an ice dispenser. The integrated filter will ensure that your water and ice are clear, safe, and top-quality.
It has large door bins as well as adjustable shelves. This makes storing items, even tall beverages super easy. The unit is also easy to clean and look after.
The crisper bins are clear and humidity controlled to ensure fresh produce stays fresh for longer. It has a side-by-side design for increased convenience and ease of use. It also allows for a slim design despite the decent internal capacity.
Interior lighting comes from dual LEDs for easy viewing of the fridge contents. It also makes for a cool modern look when you open the fridge. The fridge operates quietly which is always important and it is also energy efficient. Temperature is easy to adjust thanks to the control panel which is touch operated.
This is a popular choice given the excellent capacity, the many features, and of course, the excellent price.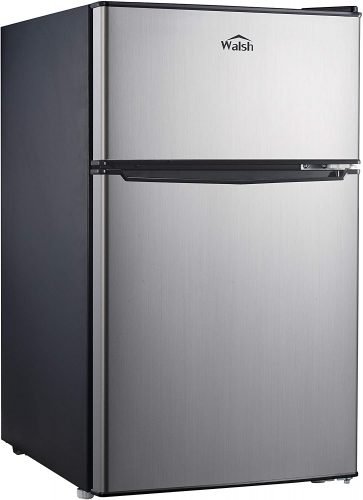 | | |
| --- | --- |
| Size | 19.13 x 21.1 x 32.8 inches |
| Weight | 52.9 pounds |
| Color | Stainless-steel |
| Capacity | 3.1 Cubic Feet |
If you need a compact unit and do not need to store large items, this is a nifty little unit that is highly rated by many happy customers. It is ideal if you just need to keep drinks and a few items cool and is perfect for the bar, office, or dorm room.
It is a sleek modern looking fridge that takes up very little space. It has a mechanical thermostat to keep the inside at the perfect temperature. Another very useful feature is that the door is reversible so you can set it according to your needs and space.
The glass shelves are removable and there is a fruit and vegetable crisper compartment. The legs are adjustable to ensure the fridge is perfectly level.
This unit is versatile and extremely handy for those wanting a compact fridge at an amazingly low price. If this is what you need then this is one to consider. It is easy to use, low on energy use, and highly practical.
You still get a freezer compartment although space is somewhat limited due to the compact design.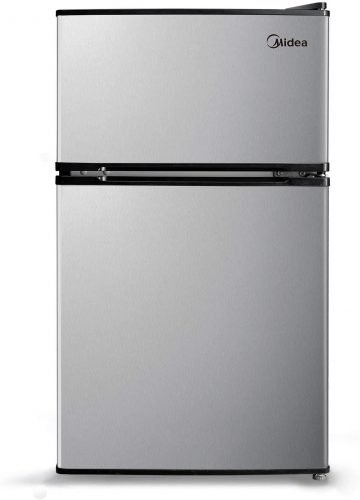 | | |
| --- | --- |
| Size | 18.5 x 19.37 x 32.95 inches |
| Weight | 52.2 pounds |
| Color | Stainless-steel |
| Capacity | 3.1 Cubic Feet |
Midea has been around for decades and they have established a solid reputation for quality affordable fridges and other appliances. They combine quality design and workmanship to build appliances that perform well, look great, and last well.
This is another popular compact model and it is extremely affordable. Given the small design, it does not have a massive capacity but it is ideal for areas where you need a small unit to keep snacks and beverages chilled.
You can adjust the temperature as well as the legs. It has reversible doors so will work well in any space. What's more, is that it is energy efficient, confirmed by an Energy Star rating. For convenience, it has an automatic defrost feature to help with this chore.
There is a separate freezer compartment and you will be astounded by just how much you can fit into this little fridge. The glass shelves are easy to clean and make maximum use of the internal space.
FAQs
While researching this review we came across a number of frequently asked questions. Read on if you have any questions about the best refrigerator under $1000.
What are the critical factors to think about when deciding on a fridge?
While we cover the most important aspects in the buyer's guide, it bears repeating. Size and capacity are top of the list. The fridge needs to fit where you wish to place it and it needs sufficient capacity for your needs. Sometimes you might need to compromise if you have limited space.

Energy use, noise output, and looks are all important to consider. Ease of cleaning, features, adjustability, and versatility are also worth a look.
How long can you expect a fridge to last?
Modern fridges are generally well-made and built to last. The workmanship and materials contribute to the durability of the appliance. It will also depend on how much you use the fridge and how well you look after it. Basic cleaning and maintenance will extend the life of the fridge.

To answer the question, the average fridge, under normal conditions should last roughly 10 to 15 years. Many more if it a top-quality unit and is well looked after.
What to look for when buying a refrigerator for $1000 or less
Even at under $1000 a fridge is still a significant investment. You want to make sure you get the best value for money and buy something that will work perfectly well for your needs and space where it will be placed.
Here are some of the most important factors to consider before parting with your money.
Types of refrigerators
There are quite a few to choose from. The best option for you will depend on the size and space available as well as what you intend to use the appliance for.
The main options are:
Side-by-side fridges
Bottom freezers
Top Freezers
French doors
The names are fairly self-explanatory.
There are advantages and disadvantages to all four options. It will come down to your requirements to determine the best option for your needs and the position where the fridge will be located.
Give some thought to how you intend to use the fridge, space, and the items you will be chilling to help with this decision. The design or style will also impact the looks so take this into consideration.
Size
Unless you have unlimited space, your fridge will normally have to fit a space of a certain size. Too large and you will have issues. It is vital that you measure the space that you have available and confirm the fridge you decide on will fit.
Remodeling the space is expensive and takes time. Often there is a specific cutout space and anything too big will simply not work. Get the size right before anything else.
Capacity
This refers to the internal volume of the fridge and will determine the number and size of items that you can store in the fridge. Naturally, a smaller fridge will have less capacity but some units make better use of the internal space.
Give some thought to your needs and what you intend to store in the fridge. Some compact units, while handy, might not be enough if you need to keep larger beverages or items cool. Unless space available demands a specific size fridge, make sure that it will have enough space for your needs.
Looks
The fridge is often one of the largest appliances and even a compact unit is seen and used often. You want it to fit into the environment and look good.
The design, color, finish, and build quality will enhance the looks. There is no need to have an unsightly appliance so look for one that suits your taste and style as well as the look of the room in which it is positioned.
Finish
Following on from the above, the finish and color are important. You want it to blend into the environment or perhaps you want it to make a statement.
Fridges are available in a range of colors with white being the most common and stainless-steel also very popular. Black, in the right spot, looks amazing. You can sometimes even get them in fright colors which can also look good.
Stainless steel is a very popular option these days but remember that it can pick up smudges and fingerprints easily. While it looks great it might need a bit more effort to keep clean at all times. Some models have a stainless steel look and these are a bit easier to keep clear and clean.
Features
Some of the popular features to consider include an ice dispenser as well as a water dispenser. If this is something you need it is worth looking at.
Auto-defrost will make the fridge easier to maintain and keep clean.
Reversible hinges allow you to open the door from either the left or the right and this can be useful in certain environments.
Energy use
We all want to look after the environment as well as save money. An energy-efficient fridge will ensure you do both. This will save you money as your monthly energy consumption will be lower. Over time, this will be a significant saving.
Temperature control
You obviously want to regulate the internal temperature of the fridge. This will depend on your preference and how many items are stored in the fridge. Some fridges feature a manual control while some have a digital controller.
A temperature display, although not essential, is also a handy feature if you want to keep a close eye on the precise temperature.
Noise level
The last thing you want is a noisy fridge. Fortunately, most modern fridges are quiet but check on this feature especially if the fridge is in an area where noise could be a major issue.
Crisper draw
This will allow you to store vegetables and fruit at the ideal temperature. This will ensure they last a lot longer and remain fresh and healthy. You will have better fresh produce and less wastage. It helps if they are clear so that you can quickly identify what it is you have in storage.
Humidity-controlled crisper draws are even more effective and work extremely well.
Design and versatility
Not all fridges are created equally. Some are way more versatile. This allows you to accommodate different size containers or beverages. Again, give some thought to your needs to determine the fridge that will work best for your requirements.
Finial thoughts
Fridges can be expensive but there are some amazing options available for under $1000. We have looked at the very best available. There is something to suit all needs and budgets.
Most fridges in this category are compact units that are great if that is what you need. There are a few quality models that are much larger and suitable for the average family requirements. The bottom line is that there are some brilliant fridges that will not break the bank and we have reviewed the very best refrigerators under $1000.
Give some thought to the space that you have, what you need to store, and your budget. This will help guide you to find the perfect fridge for your needs. You are guaranteed to find a suitable option in our reviews.
The 5 Best Selling Refrigerators Under $1000:
For your convenience, the below list shows the 5 best selling refrigerators under $1000 on Amazon.com. The list is automatically updated once a day.