Got a small kitchen that lacks cooking space?
With a peninsula, you can easily increase much-needed surface and storage space. Keep reading to learn more.
House and Tech is reader-supported. When you buy through links on our site we may earn an affiliate commission. Learn More.
Here are design ideas for a small peninsula kitchen layout
It's no secret that kitchens with peninsulas are becoming increasingly popular among homeowners who want the flexibility of a traditional kitchen island but want to maximize countertop space.
As you look into various kitchen designs, consider whether a peninsula would better fit your kitchen space and routine. This elegant addition serves multiple purposes by providing a place to sit, put things away, and work.
Kitchen Peninsula Ideas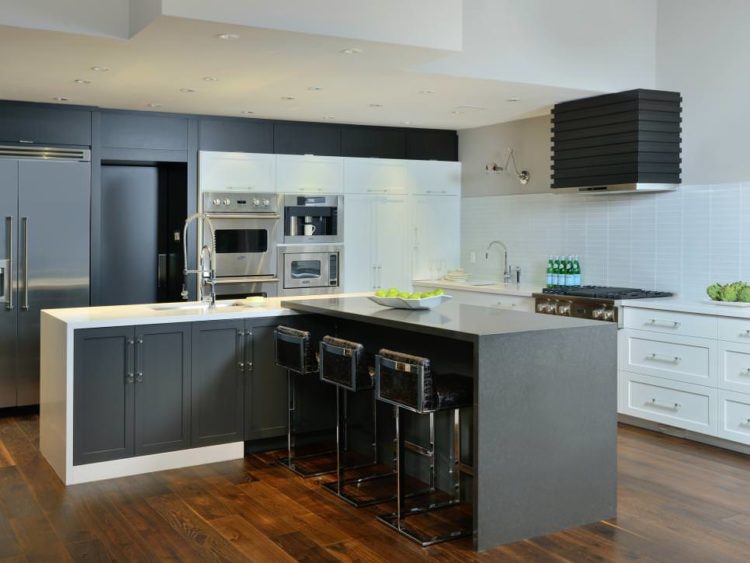 Over the past four decades, kitchen islands have been the centerpiece of kitchen design, but the peninsula is quickly becoming a close contender.
The word "peninsula" literally means "nearly an island" in its original form. For geographical purposes, a peninsula is defined as an island-shaped piece of land that is bordered by water on all but one side. A kitchen peninsula is an island-shaped work area freestanding on all sides except one, which is attached to the wall.
A peninsula can serve as an arbitrary boundary or a flexible space for various purposes, such as an extra counter or table space. The piece's adaptability extends to its ability to be built around structural elements (like a pillar) to make the most of a given area. It's a terrific way to get the island effect without taking up as much room.
Zone Your Kitchen With the Help of a Peninsula.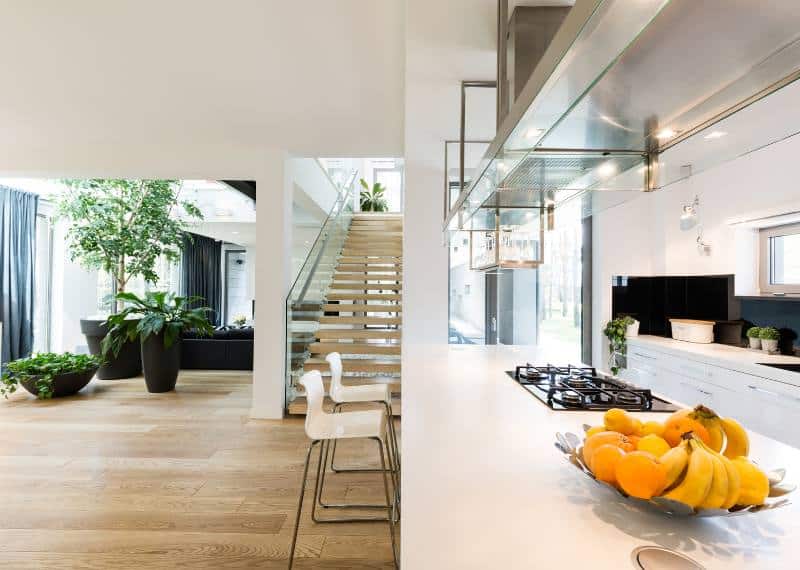 Space division has become increasingly important with the popularity of more open floor plans for kitchens. The peninsula can act as a partition to separate the kitchen's working area from the rest of the space.
"Broken plan" becomes a more practical option for contemporary living as we all plan our homes around individual needs. The key to a successful broken plan is to utilize an open plan concept entirely but to devote attention to creating separate functional zones inside the area for dining, cooking, working, etc.
One way to achieve this lifestyle is to build a peninsula into your kitchen layout. They serve multiple purposes, including a desk, table, and kitchen, with plenty of storage and the ability to divide up a large room.
L Shaped Peninsula kitchen layout Provide a Seating Area on the Backside.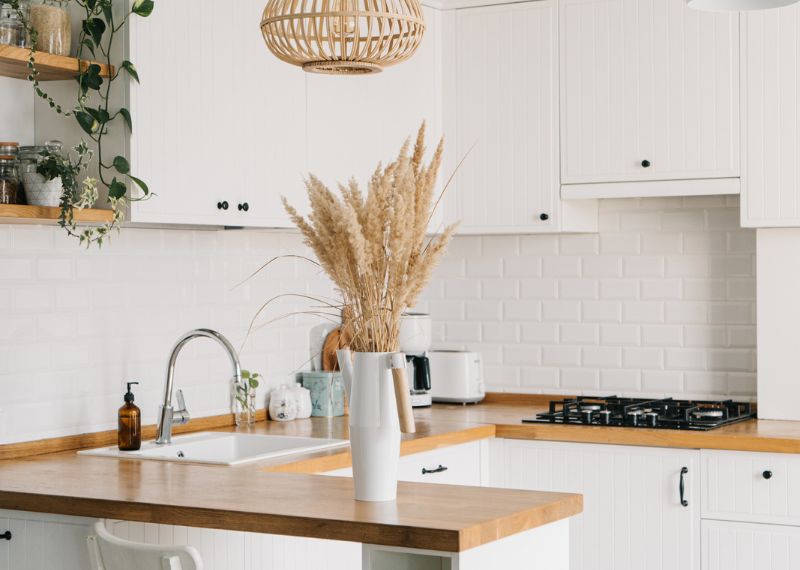 Adding bar stools to a kitchen island is simple. But, those seats sometimes feel natural or conducive to interacting with others. Nevertheless, banquette kitchen seating ideas may be easily incorporated into l shaped kitchen peninsula designs. It will help to produce a warm, welcoming atmosphere. That would be ideal for casual meals and socializing.
Make your Kitchen's Focal Point Multipurpose.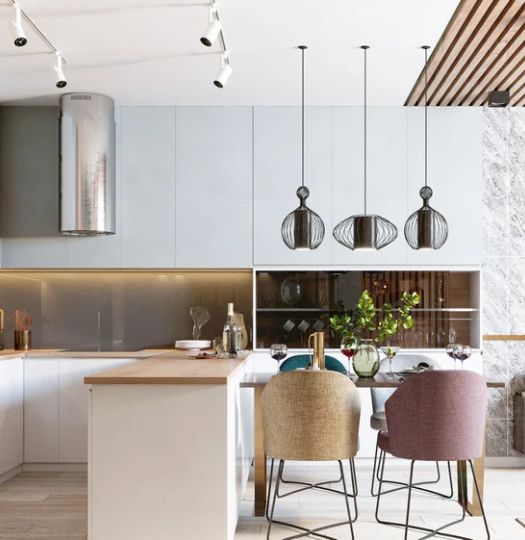 If you're looking for practical kitchen design ideas, choosing a peninsula over an island isn't a sacrifice. Given the average kitchen size in this country, a peninsula layout makes the most sense. By fastening the peninsula to the wall on one side, you'll have enough area to put a stove, sink, and seating for five people and a cabinet on the other.
Choose a Variety of Materials for Your Countertops.
You can expand the usefulness of your kitchen peninsula designs by installing a multipurpose work surface. A functional workspace can be created with marble worktops on each side of the sink. At the same time, a softer wooden material on the peninsula's arm is ideal for serving and dining and adds a new textural element to the room.
Brighten Up the Peninsula Like an Island.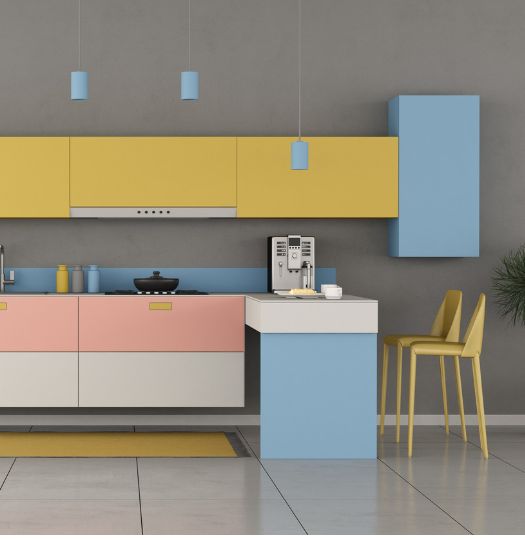 Avoid taking light levels for granted. By flipping a switch, you can completely alter the atmosphere of a room. Everyone is familiar with the regulations for hanging pendant lights over an island. Although, what about a peninsula that is strategically off-center?
If you want to avoid having one pendant that seems out of place in the space, a triptych is a good option. That's because it will create a more even light distribution.
U-shaped Kitchen Layout with Peninsula Utilize the Peninsula to Maximize Square Footage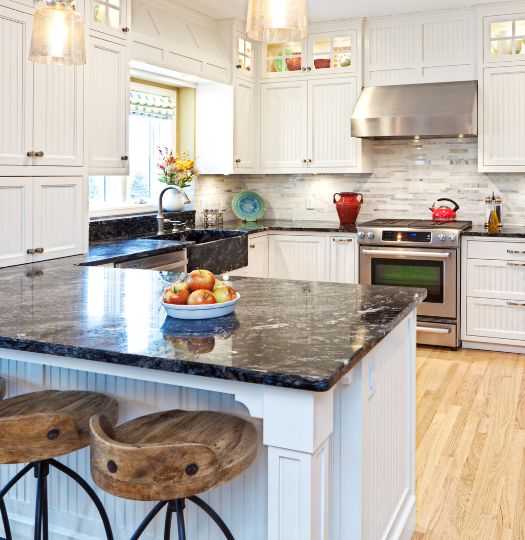 Use kitchen peninsula ideas with black-and-white kitchen ideas for maximum effect. There is a veined marble that combines the black and white to almost perfect proportions.
Storage space is enhanced thanks to the dual-access design. With restricted space, a return provides the functionality of a kitchen island without the necessary extra space. It's an excellent method to add storage, seating, and serving/workstations without taking up too much room.
Combine an Island and a Peninsula for Added Convenience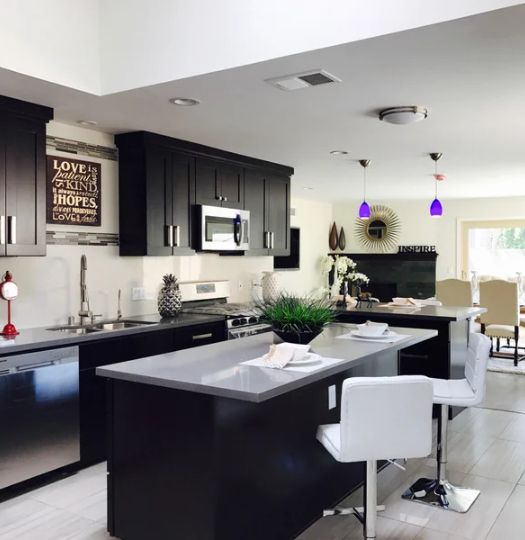 Why not make the most of your kitchen layout and add a peninsula and an island if there's room? The peninsula secures the kitchen work area and provides sitting. The island is used exclusively for food preparation and cleanup.
Integrate a Peninsula with Patio Doors
A peninsula is an excellent design element choice to complement any kitchen, indoor-outdoor. When placed opposite sliding or bifold doors, Its arm creates a seamless transition between the indoor kitchen, and the outdoor dining area, making it the ideal spot to prepare and serve meals or drinks. It makes the kitchen functional year-round by allowing the dining area to be moved indoors with the help of bar stools during the colder months.
Incorporate The Kitchen Peninsula to Add Patterns
You may add some color and style to your kitchen by placing decorative items on any flat surface. Adding to the boho kitchen decor is a great way to add a splash of color and texture to an otherwise neutral design and bring the room together with the living room.
Use a Grey Peninsula Kitchen Design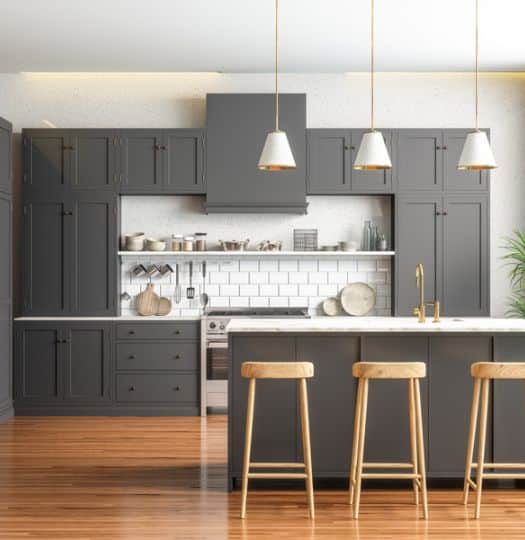 With their three-sided cabinet design and neutral color palette. Grey peninsula kitchens are a flexible option for individuals who want to design a roomy, functional, and attractive living environment. This configuration separates the kitchen from the rest of the open floor plan by a series of counters and cabinets.
Adding a peninsula to a room is a fantastic way to make it more versatile. It can be utilized in various ways: as extra storage for daily kitchen essentials, as integrated cavities for home devices, or as extra counter space for meal preparation and rapid dining.
Due to its neutral color pallet, grey is adaptable to a wide range of interior design styles. From soft, calming tones that promote an airy atmosphere to bold, eye-catching tones that make a peninsula in the living room the center of attention. Whether you're going for a modern gloss look or a classic wood grain, there are many options to create a unique ambiance.
Which Is Better, Kitchen Island Or Peninsula?
A peninsula serving the same purpose as an island but taking up less room is ideal for a kitchen with limited square footage. Consider the mood you want to create if your kitchen is part of an open floor plan.
An island is the best choice if you want your kitchen to look like it belongs with the rest of the living space. Nonetheless, a peninsula is a good choice for creating distinct areas inside your kitchen. Combining the features of an island and a peninsula into a single layout is a good idea.
Will a Peninsula Work In a Little Kitchen?
A peninsula is possible and recommended for even the smallest kitchens. It makes the most out of your area and gives you more space options. You may use a peninsula for anything from food preparation to dining and hosting guests.