FeastHome – An option to incorporate a kitchen drawer organizer is great to avoid any clutter and disorganization of the cooking space. Drawers would make a perfect space to store all the kitchen tools and stuff. However, it is hard to keep the inside clean and well organized.
House and Tech is reader-supported. When you buy through links on our site we may earn an affiliate commission. Learn More.
You cannot see the cluttered stuff in the kitchen anymore. However, when you open the drawers, you might have problems to find what you need. That is because of the disorganization. So, do not just get a drawer, have a kitchen drawer organizer for storage efficiency.
1. Pegs Organizing System for Drawers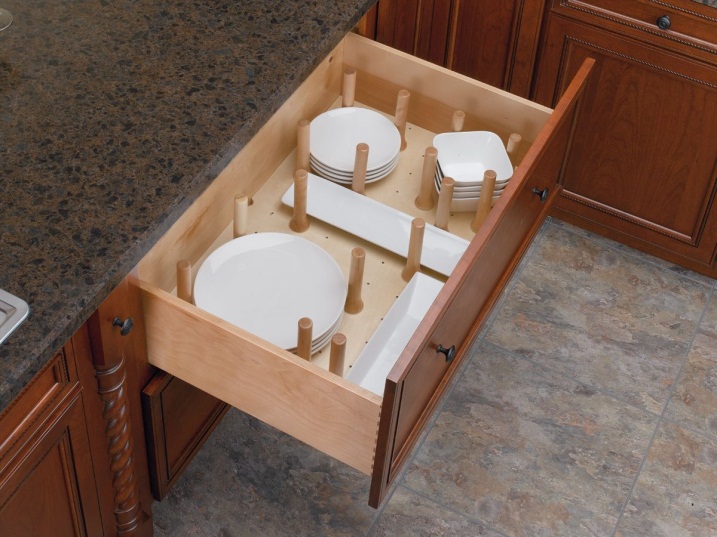 Looking at the inside of this drawer, you might be familiar with the organizing system. This drawer has pegs installed inside it in order to divide the space into different storage areas. This system is very flexible; you can even reposition the pegs according to the size of the utensils.
This system would be very helpful for your kitchen flow. You can keep all the plates away from sight and easily take it every time you want. You can buy this pegs drawer organization on Homedepot.
2. Drawer Organization with Clear Plastic Compartments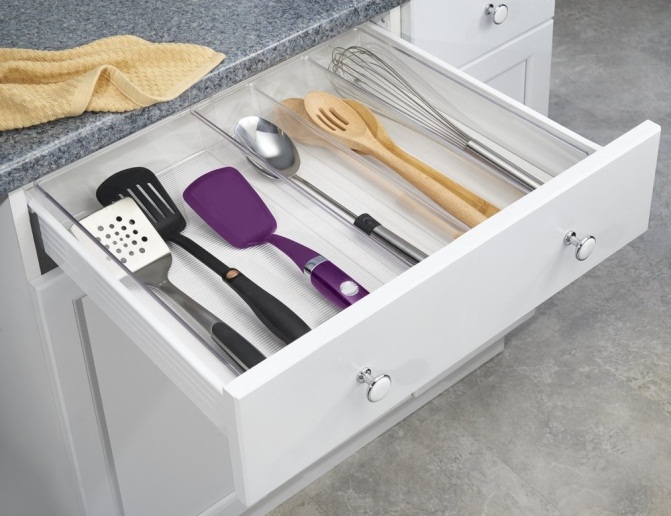 The addition of a plastic compartment into the drawer helps a lot in organizing the tools. It also got chrome accents that improve the sense of accent in the kitchen. It does not come in many sizes because it has a system that allows you to adjust and expand it to match the size.
It will not be any waste of space, and it is quite affordable. You can buy the item on Amazon and eBay for about $25.
It is originally for the kitchen utensils like a spatula, serving spoons, cutlery, and some other similar tools. It one of the nicest kitchen drawers inserts you can buy online.
3. Kitchen Drawer Organization for Longer Tools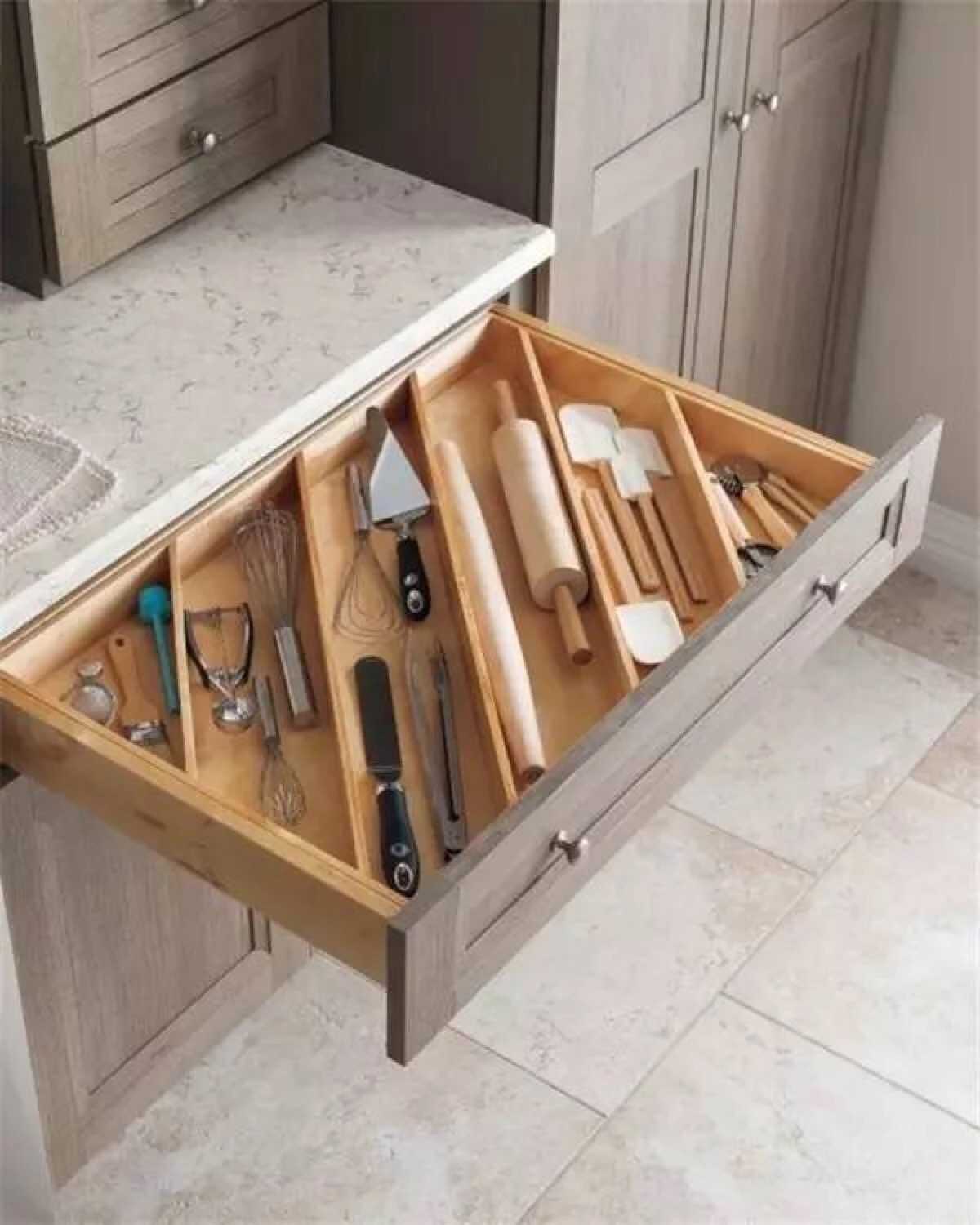 Some kitchen utensils are just too long to fit in the drawer. Therefore, you need a suitable system for the organization. Some of your long utensils might fit in this drawer organization. Instead of installing the section vertically, you can aim to have it using the diagonal method.
Having some diagonal sections would give you a suitable space to keep your longer kitchen utensils a place to hide. The diagonal method makes some compartments with varying sizes. It is a nice recommendation if you have utensils with various dimensions.
4. Special Built-in Drawer Organization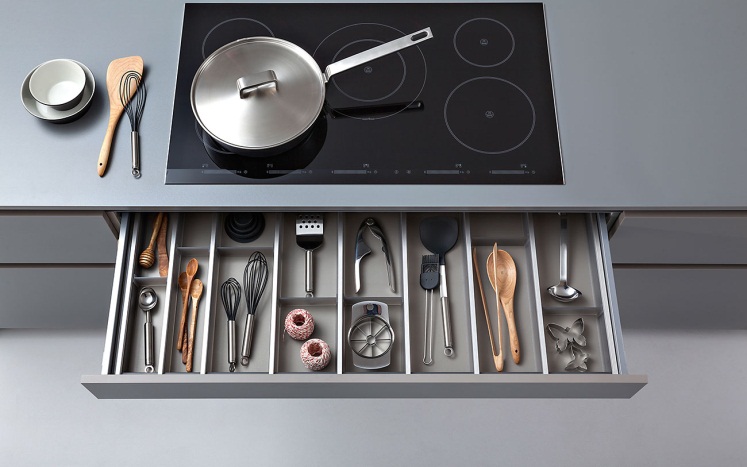 As part of this sophisticated kitchen island, the built-in kitchen drawer organizer is well designed. It suits perfectly to the modern sleek style of the kitchen. The wide space inside the drawer allows various utensils to be stored inside the organizing system.
The placement under the electric stove elevates the level of efficiency on this kitchen island. You can easily reach anything you need during your cooking. From this point of view, the kitchen looks so high-tech and sleek.
5. Wood Drawer Insert for Organization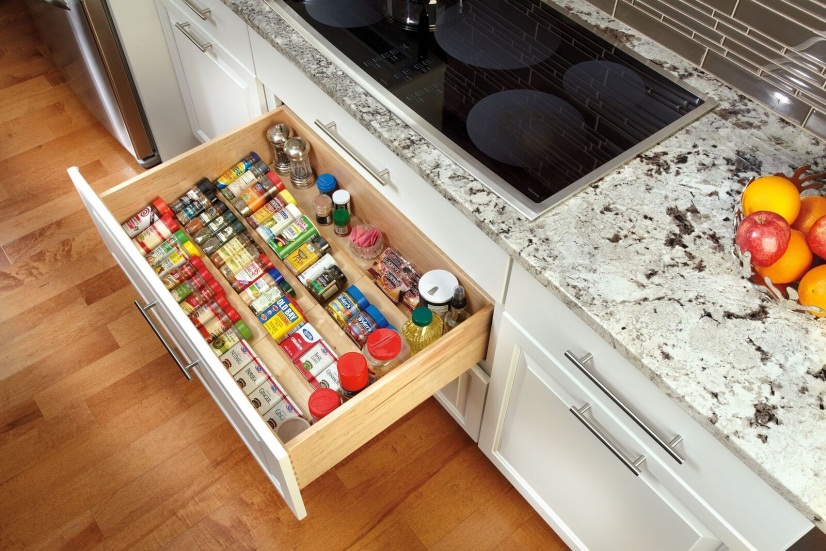 With a special accessory, you can transform an ordinary drawer into a kitchen drawer organizer. This wood insert for the drawer is also available on Amazon. This drawer organization would make a perfect rack for the cooking spices.
Having it right below the stove with a marble countertop allows you to organize the entire collection of spices you need during the cooking. You will not waste a lot of space in the drawer. Besides Amazon, you probably have the Kitchen drawer organizer Walmart.
6. Knives Holder in Kitchen Drawer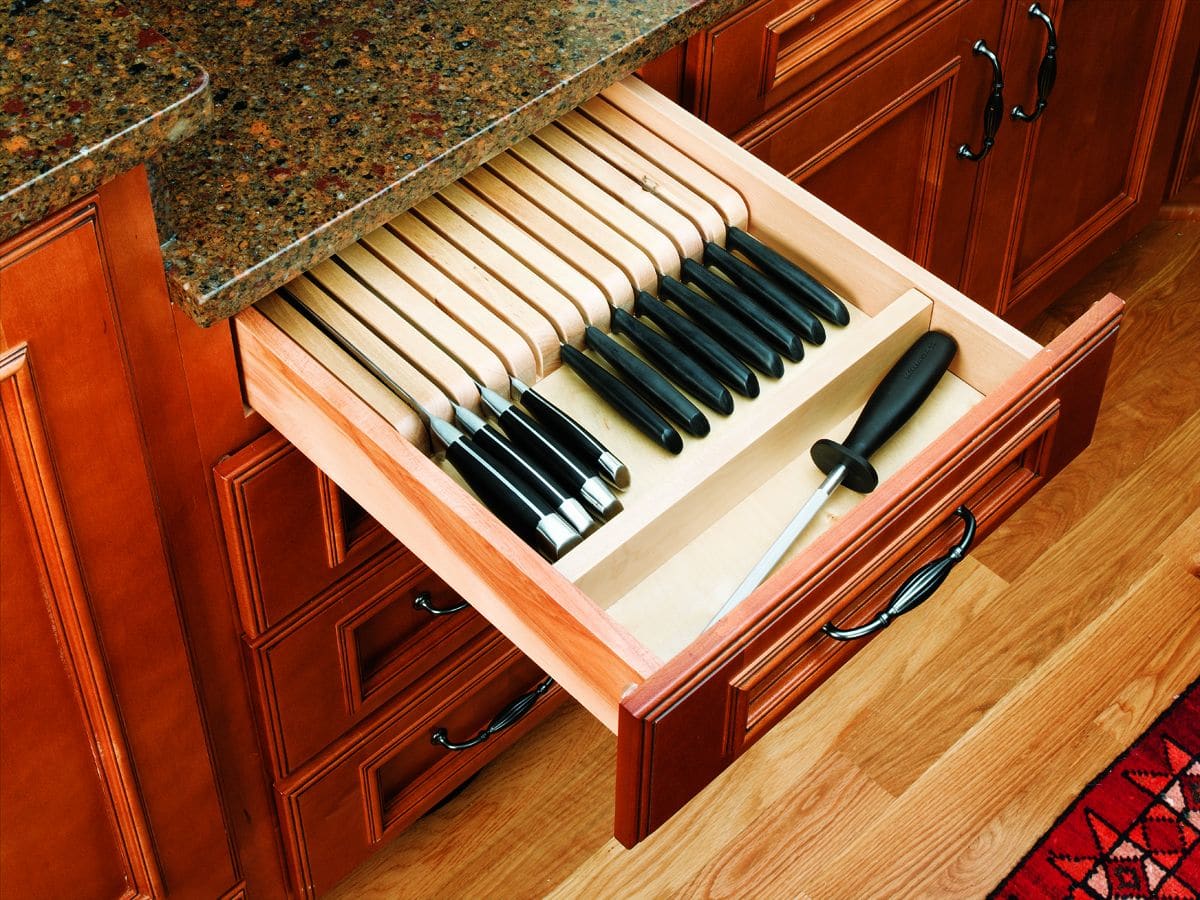 It is one smart move to make in a kitchen. As a homeowner, you have to keep the kitchen area safe enough to run the cooking flow comfortably. You need knives in the kitchen, but you have to be careful in storing them since they are dangerous tools, to begin with.
With this Rev-A-Shelf product, you can keep all the knives and any sharp tools inside the drawers hidden. The holder also safely keeps the knives. It can improve the efficiency and security of your kitchen.
7. Lid Organizer for Food Container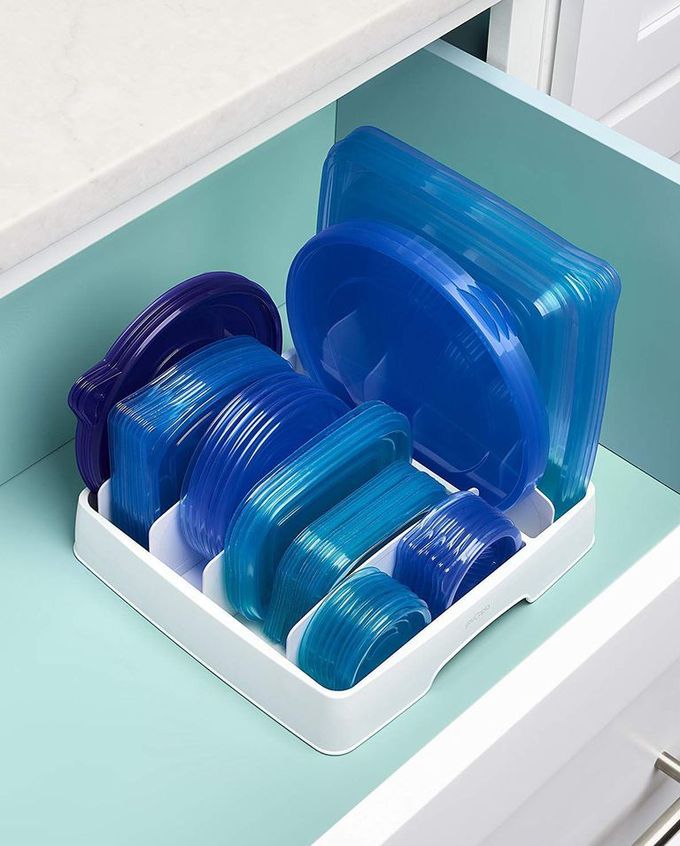 The demand for food container products is quite high lately. That is because this product is very useful in the kitchen. You can use it to keep the food fresh for a longer time in the fridge. The container can also save your food in the fridge for tomorrow.
If you have the food containers in your kitchen, get away from the cluttered drawer. You can keep this lid organizer inside the drawers. This small tray will always give you the correctly sized lid on-hand. You can get it on Amazon for only 19.90 dollars.
8. Bamboo-Made Stackable Kitchen Drawer Organizer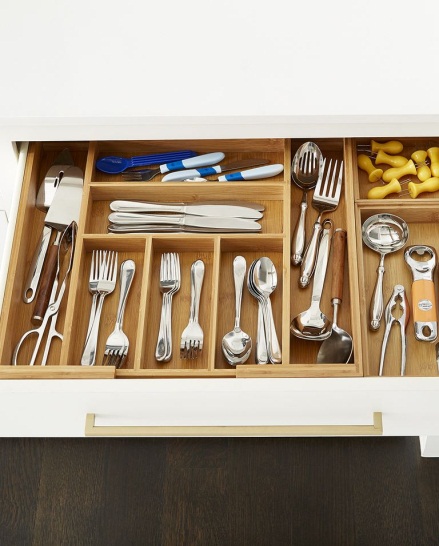 The first thing you have to know about this drawer is that it is made of bamboo. The entire organizer structure is made of very durable wood material. It gives you a strong structure and a natural look. That makes a perfect scene when combined with your silverware.
It is even better when you have the bamboo organizer inside a crisp white kitchen cabinet. That makes the natural color of the bamboo pops up even more.
9. Narrow Tray for Spoons and Forks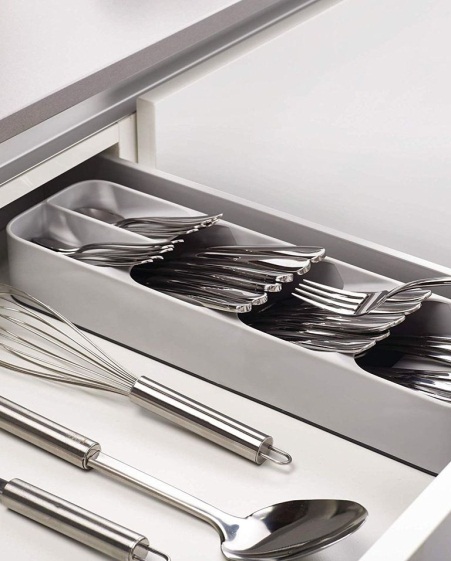 Check out this narrow tray inside the drawer. It will help you to organize your collection of spoons and forks. This product is available on Amazon for only $9.99. It features a unique design that gives more space in your kitchen drawer to make it well organized.
This compartment is for not only spoons or forks, but it is also quite flexible for other storage purposes in the kitchen.
10. Jar Storage Kitchen Drawers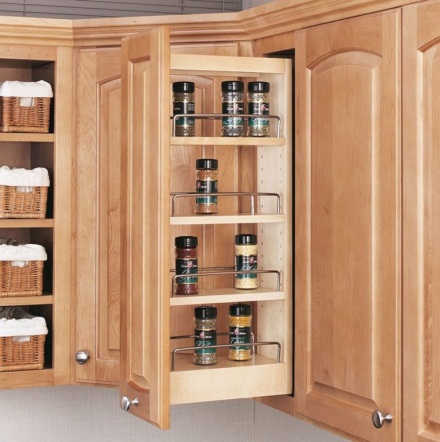 It is a unique concept of a drawer for a kitchen. You can store jars of spices to would season your food to make it more delicious. Some people might think that it does not look like a real drawer. It is more like a pullout wall cabinet.
This jar storage is a product of Rev-A-Shelf company which the best-seller in the market. It features a simple wood structure with chrome rails that make it more durable. The brackets allow you to install it easily.
11. Proper Storage for Food Containers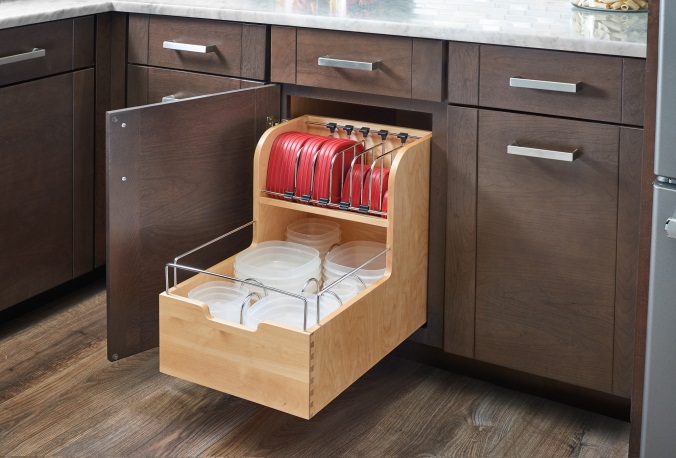 Many food containers are for daily use in a busy kitchen. People might have trouble keeping it efficiently nearby. Fortunately, such an organizer is available in the market. You can just buy it and install it in your kitchen cabinet.
This organizer has a large module for food containers in all sizes. It features a separate shelf with lid dividers. You can keep all the food containers you have in a great organization system.
12. Vertical Storage Organization for Kitchen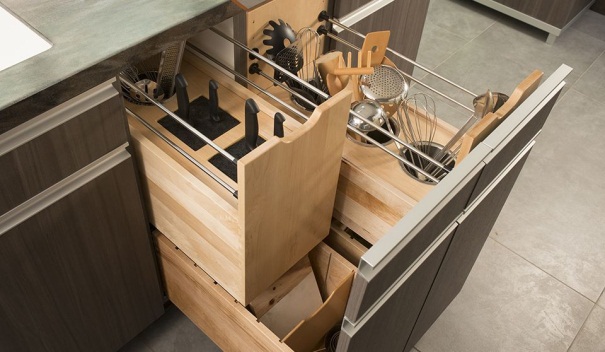 A smart storage system saves space in the kitchen. The main material of this kitchen organizer is plywood. You should install simply additional storage under your kitchen counter. Instead of getting all the clutter above it, it would be better having it hidden inside the cabinet.
You can just pull out the vertical drawers and get or store everything you want. You will get your cooking flow a lot smoother. People also mention it as the deep kitchen drawer organizer.
13. Modern Kitchen Drawer Organizers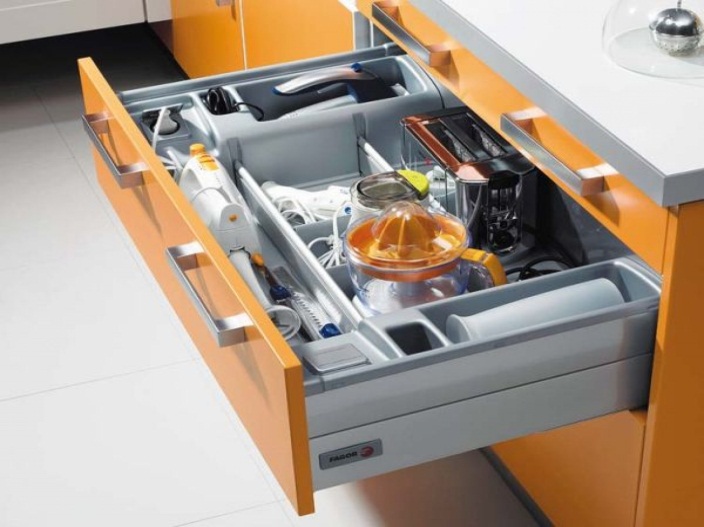 Organizing the kitchen stuff can be an issue for your cooking activity. You might have trouble getting the tools you want some time. The need of organizers for the kitchen stuff is high. There must be many additional accessories for your drawers in the market.
This kitchen drawer organizer's placement is right under the main drawers of the cabinet. It comes with various compartments to organize all the items. The gray color of the organizer matches the cabinet color scheme.
14. Kitchen Drawer Organizer DIY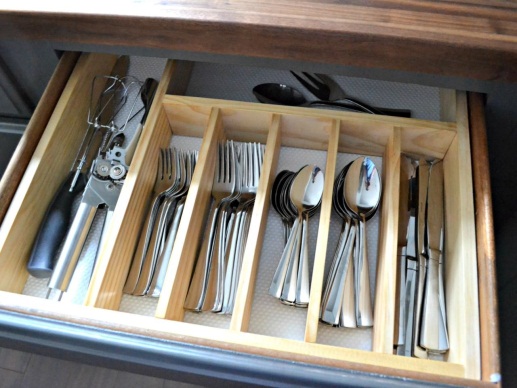 Look at this simple utensil organizer for kitchen drawers. The simple wood structure of this organizer makes it perfect for a DIY project. You can save a lot of budget for a drawer organizer if you can make one with some wood planks.
This organizer is very useful to store the silverware and small utensils. There is also a space for the longer ones. These DIY wooden drawer dividers will serve the proportions of your kitchen stuff.
15. Full Storage Drawer for Container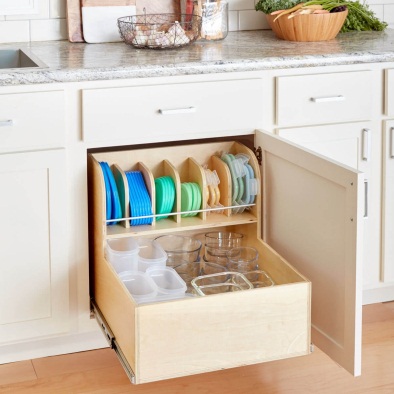 Unlike the previous storage system for food containers, this one is the ultimate storage drawer for the container. Its rollout storage will keep everything easily accessible and neatly organized. It comes with an ingenious carrier system to make a smoother slide to the storage system.
You can mount this storage drawer in every kitchen cabinet of yours. It has dividers for the lid organization and a big compartment for all the containers. It is one of the kitchen drawer dividers adjustable.
16. Ultimate Peg Drawer Organizer for Kitchen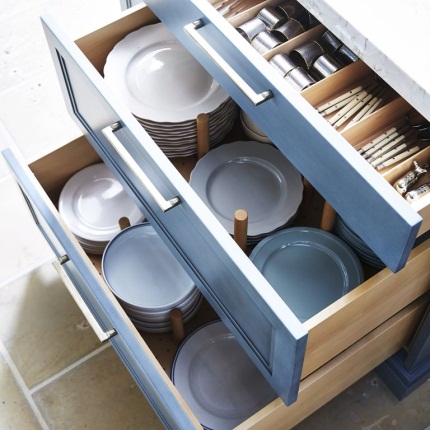 If you are currently dealing with organization problems in your kitchen, then this one should be something to consider. It is a simple solution to all the clutter and disorganization of the utensils and kitchenware.
As you can see, these three-level drawers have an organizer installed in each of them. The two drawers from the bottom feature peg structure that organize the plates. It acts like a divider that separates some plates to the other plates.
17. Kitchen Drawer Organizer for K-Cup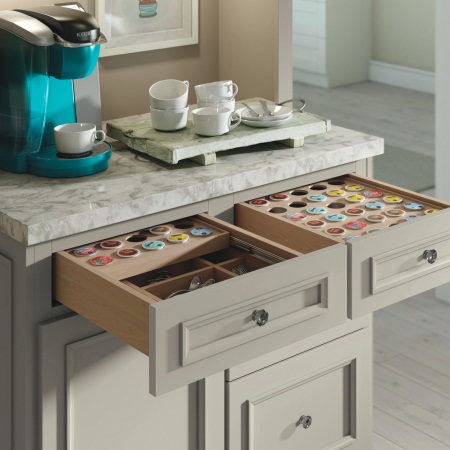 Having K-Cup to make a cup of coffee is quite popular today. I guess many modern kitchen designs should have a special drawer for K-Cup in the kitchen. If you are a fan of coffee, you must need this K-Cup organizer in your kitchen drawer.
This organizer is for up to 40 K-cups. You can easily find the coffee flavor you want because of its face-up mechanism.
18. Kitchen Drawer to Organize Veggies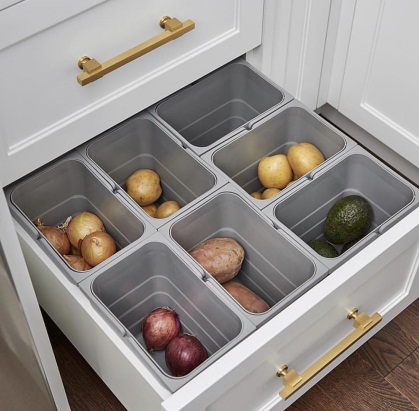 This one could be one of the most functional drawer organizers you should have in your kitchen. Why is it so? It is because you can fill it up with any sort of things related to kitchen flow. In this case, you can use it to store all the veggies or fruits.
You can make all the veggies like potatoes, onions, avocadoes, and more, well kept inside the drawers.
19. Vertical Pullout Pantry Drawer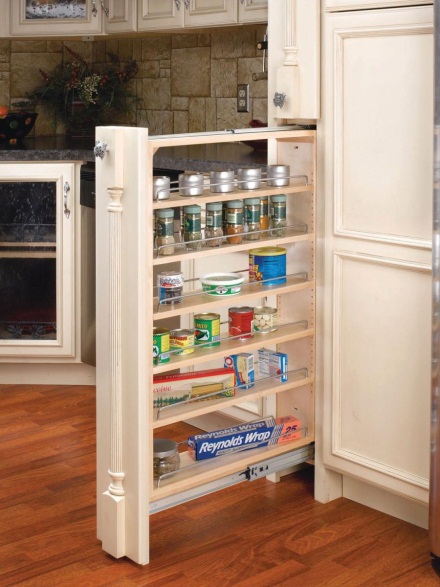 This is the tall version of the vertical drawer in the kitchen. It is more like the warm fridge to store all the cans, bottles, and other staples to run the cooking flow smoothly. It has a simple and sleek design with a pullout system that could save a lot of space.
It will keep all the stuff in the pantry unsightly, but you can still use them frequently. You may want to search for this Kitchen drawer organizer IKEA from its store.
20. Charging Drawer for Kitchen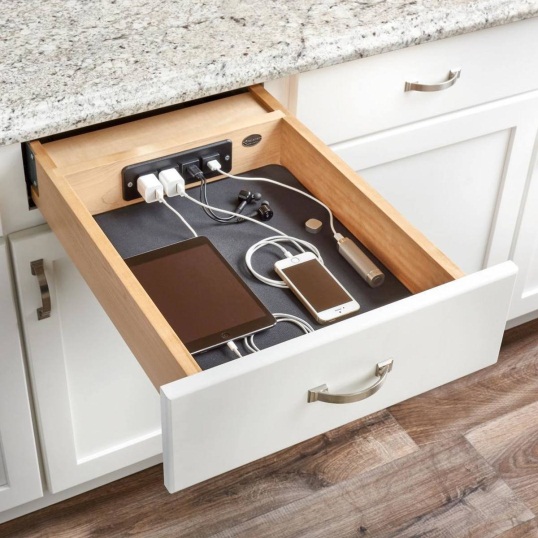 The kitchen drawer organizer is not only about the storage for kitchen utensils or about other tools related to the kitchen. It is more flexible than that. Check out this one of sleek Kitchen drawer organizer ideas. No cord clutter on the kitchen counter could disturb your cooking.
This charging drawer will be very useful to fill up the battery life for all your gadgets. It has kept hidden safely inside the drawer. When you are planning a renovation for your kitchen, you can talk to your contracture to install a surge protector in one of your kitchen drawers.
21. Reclaimed-Wood Pull-Out Utensil Drawer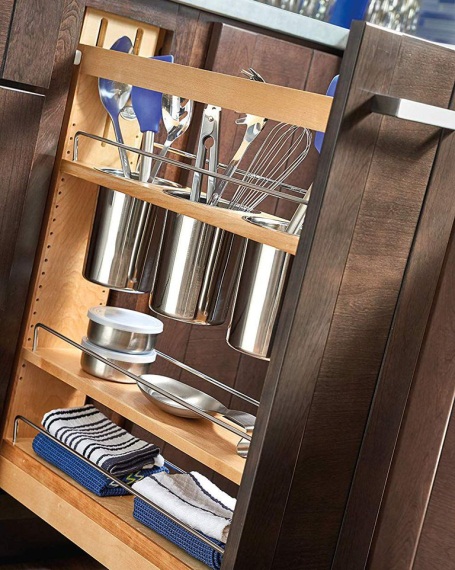 This is a nice additional storage for your country kitchen. The dark brown wood or the cabinet offers a nice interest to the kitchen itself. When you pull out the drawer, you can see the lighter shade of the wood that would suddenly catch attention.
It consists of some rack-level, which is very useful for storing various kinds of small utensils. You can fill also some steel containers with all the silverware that matches the material. This drawer system is available on Amazon for $237.
22. Tray Friendly Kitchen Drawer Organizer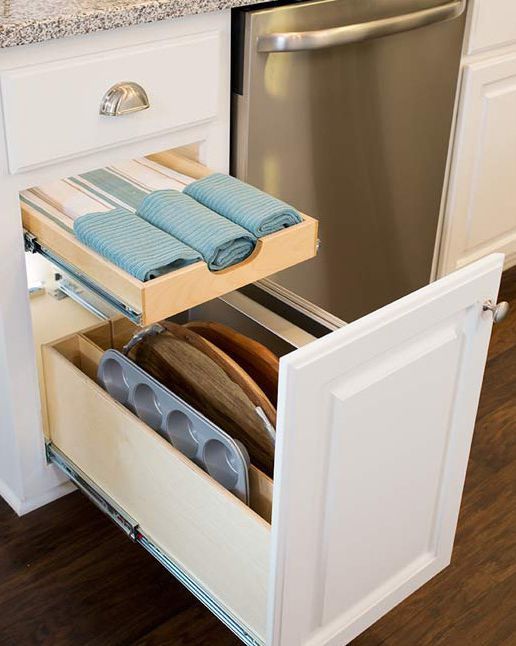 The pullout system, dividers, and two levels are the big draws of this tray organizer. For a small kitchen, having this drawer would be a compliment. It would help you to keep all the stuff like baking sheets, serving trays, and other large tins well organized.
The drawer is a product of ShelfGenie that you can buy on Amazon. It would make sure all the trays you have will be kept upright and easy to locate.
23. Compact Drawer for Plates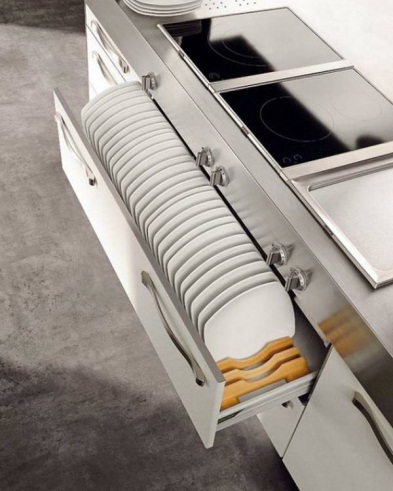 Look at that. Plate's organizer fills that sleek and compact kitchen drawer. It features a vertical storage system to organize all the plates with similar shapes and sizes. Get all the plates away from the counter and maximize all the storage you have in the cabinet.
This wooden insert is what you need for the kitchen drawer. You can easily reach the plates to serve the food.
24. Kitchen Drawer Organizer for Plates and Bowls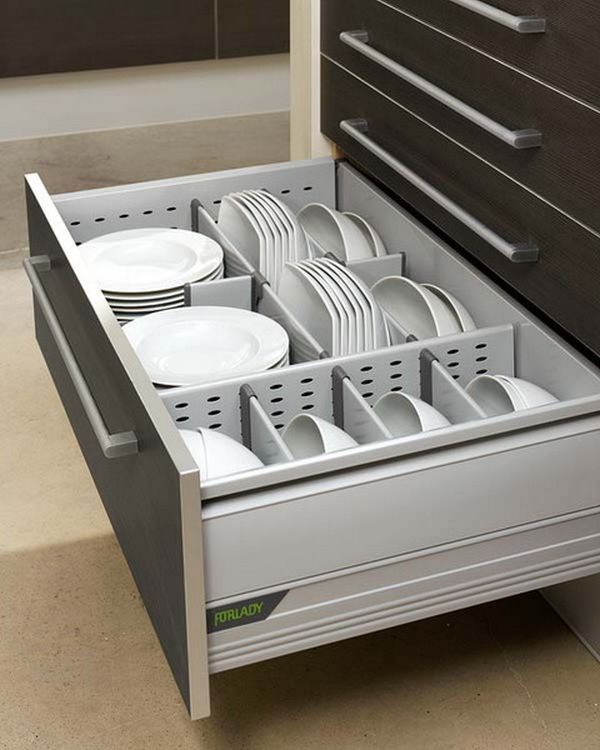 Unlike the previous one, this storage system inside the drawer is for various kinds of plates, including bowls. You can organize all the plates and bowls hidden inside the drawer. The gray metal structure that matches the handle color looks sleek.
25. Thin Drawer for All the Silverware
One efficient idea for the kitchen organizer is to keep all the silverware in one place. It would make the cooking flow runs smoothly. This kitchen drawer organizer would allow you to organize all the silverware according to its size neatly.
There is an additional red insert in the drawer. That plastic insert features some dividers designed especially for all the small kitchen utensils. The color of red gives a special pop of interest inside the drawer.
26. Under-Sink Drawer with Compartments for Veggies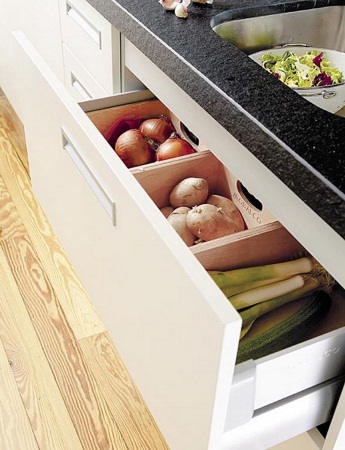 A space under the sink could be too crowded for storage or a drawer. It is mostly filled with small things related to the sink. However, it does not that the space is not open for business. You can install a drawer right under the sink that is filled with compartments for vegetables.
Well, it could be a nice move to have the vegetables and other supplies right under the sink. Therefore, you can wash the veggies right after you take it out from the storage. This clever concept elevates the level of efficiency of your kitchen.
FAQs
How do you keep the kitchen drawer organizer in place?
You can use glue or tape to keep the insert steady and still.
How do you keep a silverware tray from sliding backward?
First, you can use vinyl round bumpers to keep it from moving around. Second, you should apply two-round vinyl bumpers. There you have it.
What is the best way to organize the kitchen?
There are many ways to organize the kitchen. Using a kitchen drawer organizer is one of the most simple and easy ones.
Are kitchen drawers better than cupboards?
Drawers offer maximum space usage and are better at keeping dishes and cookware in place. Deep drawers even offer an ideal space to keep those items secure and organized.
How do you make drawers slide easier?
Rub paraffin on the meeting parts of drawers. It keeps them working smoothly.
---
No matter how small or big your kitchen is, keeping everything organized can be pretty challenging. All the stuff including small appliances, pantry items, and utensils should be well organized. Those ideas of kitchen drawer organizer would make a great inspiration for you in organizing the kitchen.