Marble floors are undoubtedly stunning yet so expensive.
House and Tech is reader-supported. When you buy through links on our site we may earn an affiliate commission. Learn More.
If your budget is impossible to have marble flooring, but your heart wants it, you'd better check how to stain concrete to look like marble.
This is the cleverest alternative to bring your home to another level without breaking the savings. As you know, concrete costs fewer budgets, and it's effortless to install.
How to Stain Concrete to Look Like Marble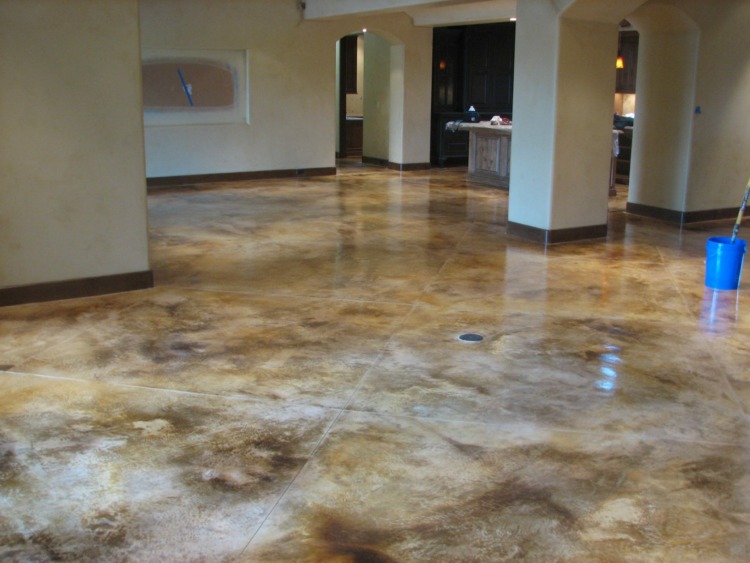 Transforming concrete into faux marble floors isn't a simple process, but the result is worth the effort. Read on and learn more about enhancing concrete to resemble marble flooring.
Installing marble flooring can cost you a fortune. If you have limited budgets but want to redefine your living space, transforming concrete into marble gives you a surprising result.
There are at least eight steps to improve your concrete flooring. Let's get started:
1. Choose Marble Color and Texture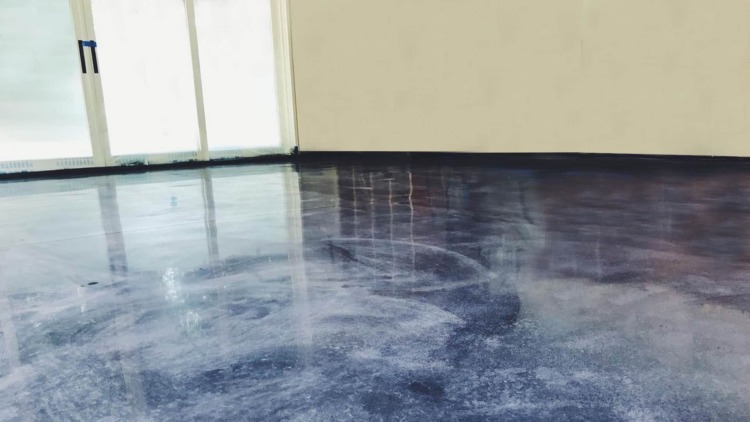 Marbles are available in a variety of colors and textures. Before getting started with the transformation, it becomes essential to select a color and texture you want to work with.
Can't find some good ideas? Visit marble catalogs online or a home improvement store nearby.
While white and black marbles are an essential choice, many other options to choose from.
Staining concrete to look like marble in different colors is the same, so you have nothing to worry about.
2. Clean the Area
Now that you have decided on the right color and texture, you are good to go. Start by cleaning the area with soapy water and let dry.
This process may sound simple, but it plays a significant role in giving you the perfect stained concrete at the very end.
3. Fill up Small Holes
After cleaning the area, you may find some small holes in the concrete surface. It's necessary to fill up those holes with a concrete patch.
A pre-mixed concrete patch is relatively easy to apply, so you don't have to call professionals to get the job done.
To get started, apply a concrete patch to the holes. Using a putty knife, smoothen the surface of concrete and leave it for hours.
Make sure the patch dries up completely before moving to the next step. Don't forget to wipe stray putty from the surface using a wet rag.
4. Prepare the Area
How to stain concrete to look like marble also includes area preparation. During the staining process, the paint may splatter and drop anywhere, and it's the last thing you want to have on your floor.
That's why you need to prepare the area to avoid the unwanted mess you never expect.
You May Also Like: Honed vs. Polished Marble Flooring: What's the Difference?
Spread drop cloths to cover potential areas where the pain may splatter. Using painter's tape is also necessary to cover the corners and mask any areas you don't want to color.
This is a great way to maintain smooth edges for your stained concrete floors.
Wearing rubber gloves is another preparation you shouldn't skip before staining. Rubber or non-latex gloves avoid contact with your skin and harsh chemicals.
5. Add Primer and Base
Now that everything is ready, it's time for staining. Add primer and base made explicitly for concrete. Leave for hours and let the primer coat dry naturally.
This phase is essential to ensure the surface is smooth and the stain is well painted on the floor.
6. Apply Acrylic Texture
The next step of staining concrete to look like marble is applying acrylic texture. Select an acrylic color and mix with glaze.
Using a brush or cloth, dip it into the mixture and make drips from the fabric. The drip is going to create a marble pattern on your flooring.
Alternatively, you can also use spray paint to create stunning marble texture. This method is more straightforward and accessible, especially if you don't have much time for the project.
7. Apply Mixed Epoxy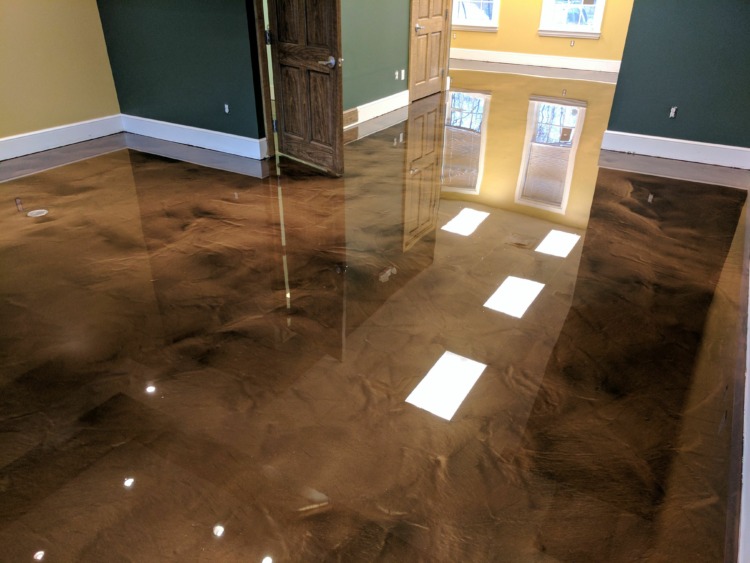 The next phase of staining concrete to look like marble is applying an epoxy coat. You'll need to mix hardener and resin based on the instructions and apply the mixture to the concrete floor.
Typically, a square foot of concrete surface requires 3 ounces of mixed epoxy.
Making concrete look granite using mixed epoxy coating is quite simple, but it can be time-consuming.
It takes around 45 minutes for the coating to set, so make sure you have enough time for it. Use either a heat gun or a propane torch to remove trapped bubbles.
For the best result, sweep the surface with the torch head. Keep it about 3 inches away and wait for 24 hours for the coating to dry completely.
Stain concrete to look like marble may take a lot of time, but the result is worth it.
8. Apply Clear Epoxy
Once your color epoxy coat has dried, this is time to apply clear epoxy and leave it for hours to dry.
You will also need to sand the surface lightly with 220-grit sandpaper before applying the second coat of clear epoxy. Sanding the first coat helps create a tooth for better attachment.
For the last step, apply another coat of mixed clear epoxy. To achieve a level surface, you may need to use a 1/8-inch by 1/8-inch square notch.
That's how to stain concrete to look like marble as a budget-friendly alternative to upgrade your space.
How to Transform Concrete into Marble without Epoxy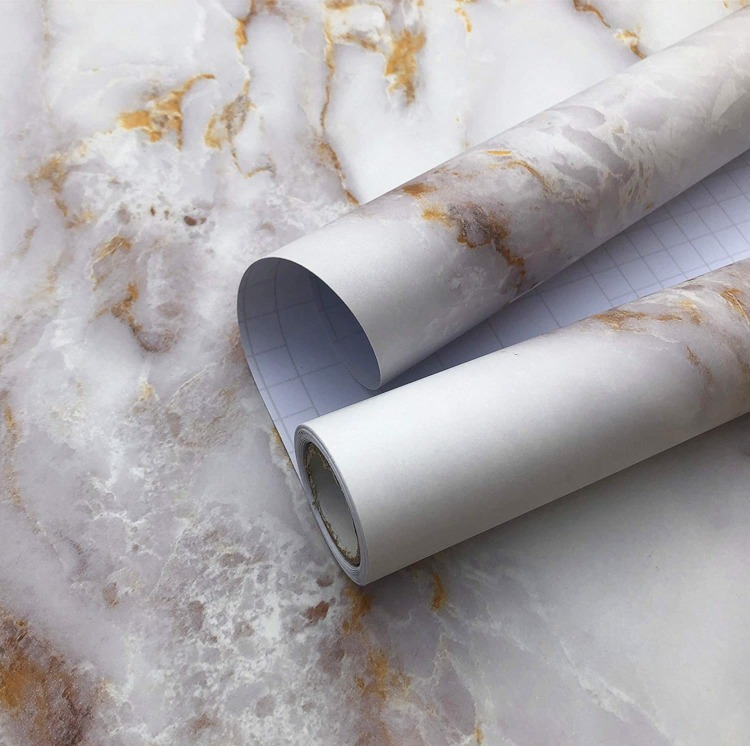 If you are not into an epoxy coating, you still have another way to make concrete look like marble. This method is incredibly brilliant for indoor surfaces like countertops.
Quickly transform your concrete into marble with marble contact paper. It comes in handy to achieve a realistic effect of a marble stone without breaking the savings.
This paper is designed for updating concrete surfaces, not to mention it is waterproof and heat resistant so that it can be the perfect solution for the kitchen.
Best of all, removing marble contact paper is effortless. Feel free to refresh the look of your indoor in a matter of minutes.
---
Staining concrete to look like marble can be tricky, but you can get the job done without hiring a professional if you know how to do it.