Some surfaces are tougher than others. Quartz is among them. Unlike marble, quartz is not as easily damaged. It can handle being polished. The question is, how to polish quartz countertop edges?
House and Tech is reader-supported. When you buy through links on our site we may earn an affiliate commission. Learn More.
We got you covered. In this post, we tell you how to polish a quartz countertop, things to avoid when polishing, maintenance, and how to remove stains on the countertop.
How to Polish Quartz Countertop Edges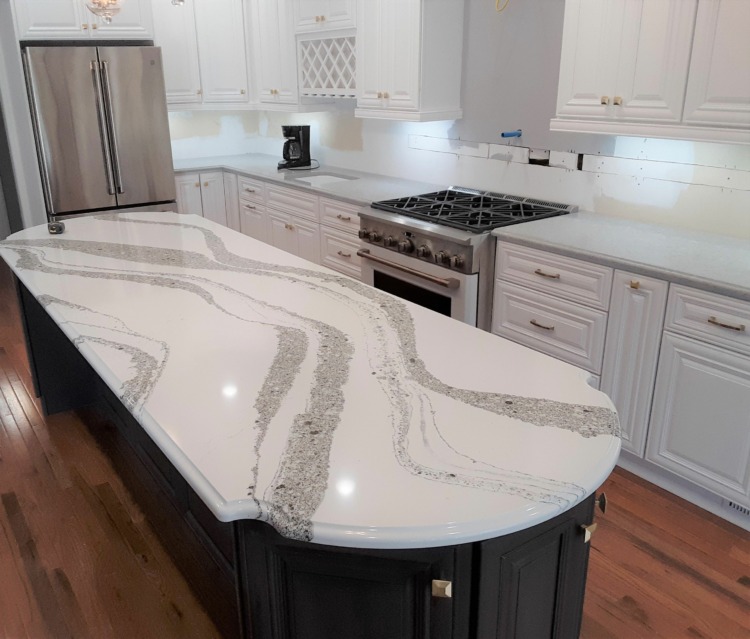 To polish a quartz countertop, there are three steps you will need to take. The first step is cleaning. It would help if you didn't polish the edges of the countertop is dirty.
The second step is rinsing, which prepares the countertop for polishing. And the final one is polishing.
Here's how to polish quartz countertop edges.
1. Cleaning
The process of polishing quartz edges starts with cleaning. To clean a quartz countertop, you will need warm, soapy water. Scrub down the entire parts of the quartz countertop.
Don't worry. Quartz is a tough material. Scrubbing it down won't harm or scratch the surface.
That said, do not use abrasive scrubbers when cleaning a quartz countertop. Using abrasive scrubbers may not scratch the surface, but they can often leave residue and streaking. You want none of these.
Apply just a small amount of vinegar to the stubborn areas to them. Then, place a wet rag on top of the spot and leave for several minutes.
For the soap, use standard dish soap. Steer clear from oil-based soaps as they can dull the countertop.
2. Rinsing
The next step on our how-to polish quartz countertop edges is rinsing. After you have cleaned the countertop, the next thing to do is rinse it thoroughly.
Prepare a spray bottle, fill it with water, and spray the countertop until it is soaked with water. Don't stop until the countertop is wet.
Most streaking on quartz countertops come from food or soap residue. Since quartz is a non-porous stone, the countertop doesn't absorb anything into it. This, in turn, may create an unsightly film on the surface.
So, use a sponge and scrub the countertop with it. Then, use a clean, dry cloth to wipe off the water.
You should find no streak on your countertop when it is rinsed and dried thoroughly.
3. Polishing
The final step on our how to polish quartz countertop edges is, well, polishing.
To polish the countertop, you will need window cleaners. Why window cleaners, you ask? Because it works well on quartz.
So, spray window cleaners on the countertop, including the edges.
Although window cleaners are effective against the greasy film, which dulls the countertop's appearance, you should not overuse it. Here, less is more.
After spraying edges with the window cleaner, use a soft cloth to wipe them off. If you sprayed the window cleaner on other areas, wipe them off as well.
To wipe the window cleaner effectively, use left-to-right and top-to-bottom motions.
The window cleaner should dry immediately, thus leaving shiny, streak-free quartz countertop edges.
Have chemical contamination concerns? Don't worry; there are many of them available. Use organic, natural, or chemical-free window cleaner.
And that's how to polish quartz countertop edges.
You can also use specialized quartz polishing products. Follow its label instruction to apply and polish the countertop using a specialized quartz polishing product.
You May Also Like: Cultured Marble VS Quartz: Determining The Better Choice
Things to Avoid when Polishing Quartz Countertop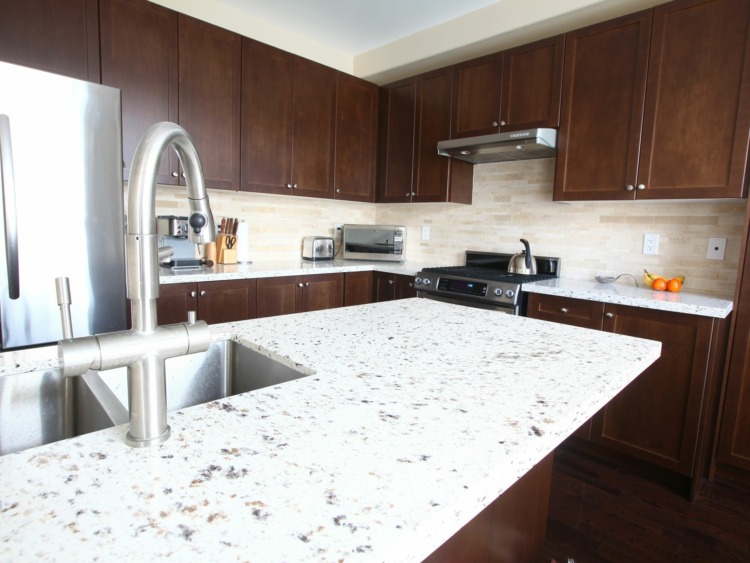 Now that you know how to polish quartz edges, there is something that you need to know next—namely, things to avoid when polishing them.
Strong chemicals may not damage a quartz countertop, but they can discoloration on the polish. So, avoid using them.
Harsh cleaners or scrubbers
Avoid using harsh cleaners or scrubbers on your quartz countertop. Doing so can lead to dullness. Or worse, permanent damage to the natural shine of your quartz countertop.
Acidic cleaner or lime-based products
Steer clear from acidic cleaner or chemicals as well as lime-based products.
Substances with a high pH value
Avoid using substances with a high pH value. Substances with a high pH value can damage the finish of the countertop.
Maintenance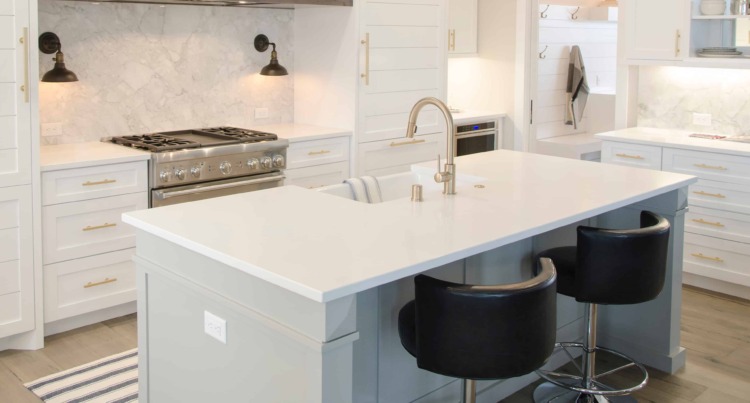 Knowing how to polish quartz countertop edges is important. But so is the maintenance of the countertop. Here are some tips for maintaining a quartz countertop.
Clean up spills immediately
Quartz can resist stains for some time, but you should always clean up spills immediately. If there is a spill on the surface, don't let them sit there for too long.
Why? Because they may become stains that are harder to deal with later. Use a mix of warm water and mild soap to clean up the spill.
Please protect it from high temperatures and citrus liquids
Placing an object with a high temperature can damage quartz countertops.
So, if you want to place electric skillets, hot pans, or pots on the countertop, use trivets or mats.
Also, use coasters if you will be using or drinking citrus liquids, as they don't get along well with quartz countertops.
Quartz is a tough material. But that doesn't mean you should cut directly on it. Quartz is scratch-resistant, yes, but it is not scratch-proof.
If you want to retain the gorgeous look of your quartz countertop, use a cutting board.
You May Also Like: 6 Things About Chinese Quartz Countertops Quality
How to Remove Stains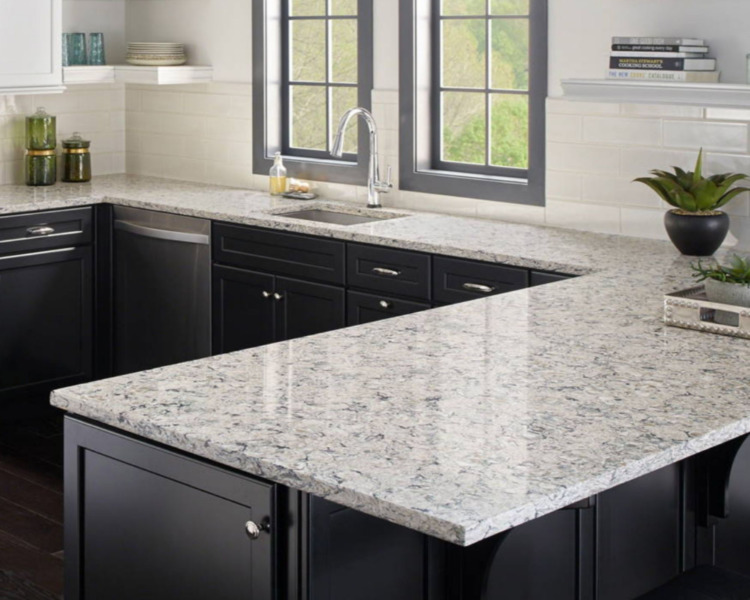 You know how to polish quartz countertop edges. But what if you find some stubborn stains? In that case, follow these steps.
Use a clean cloth. Damp it on warm, soapy water and remove excess moisture.
Rub the stains with the cloth.
Once the stains have been removed, wash the soap from the countertop surface.
Leave the surface and let it dry. Use a dry hand towel you want to quicken the drying process,
And that's it.
Being non-porous, quartz doesn't absorb liquids as easily as other surfaces. Due to this, most stains on a quarts countertop surface can be removed with ease.
---
And that's how to polish quartz countertop edges. Quartz is a tough material, and it can handle being polished with ease.
However, when polishing a quartz countertop, you will still need to be careful and patient. You want to make it shine and not damage it. Good luck!