Every household needs power tools, especially when living in a house and are in need of a small repair. Having said this, a cordless drill is nearly a necessity in your power tool arsenal.
When the drill is cordless and you do not have to worry about having wires all around you when working on a task, this ensures a quicker and easier completion of any task, along with improved mobility as you can reach any place without the anxiety of whether you have a suitable power outlet nearby.
In this review, we will discuss the pros and cons of Black and Decker 20v Cordless Drill and how it can support your DIY needs, so let's dive into the details.
Key Features of the Black and Decker 20v Cordless Drill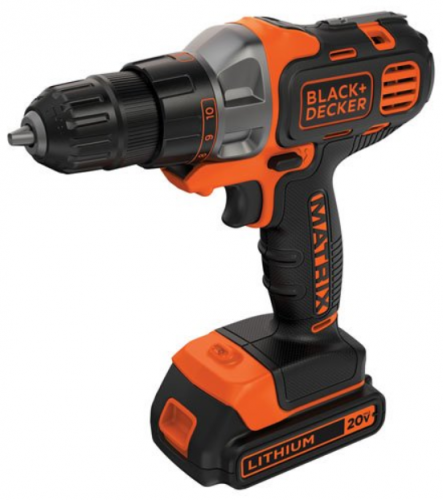 Black and Decker 20v Cordless Drill Specs
| | |
| --- | --- |
| Dimensions | 11.13 x 3.13 x 8.81 in |
| Power source | Battery |
| Voltage | 20 volts |
| Weight | 4.1 pounds |
With this Black and Decker cordless drill, you can enjoy a wide range of attachments and applications. It comes equipped with a 20-volt max motor that is powerful enough and a 3/8 inch chuck to withstand any task you might have around the house.
Curtesy of its lightweight design and compact size, you can complete any driving or drilling job easily without a doubt, even when you find yourself working in confined spaces. 
The motor performs well at 800 RPM and you can choose between 10 clutch settings. Moreover, there is a convenient LED light unit to allow for better visibility when the tool is in use.
It should be noted what you get out of the possible purchase. Included in the 20-volt max system are Black and Decker Drill, a drill/driver attachment, double-ended bit, 20-volt max Lithium-Ion battery, nicely complemented by a 20-volt max charger. The battery is not only powerful enough but also can hold a charge in a period of up to 18 months. 
A key feature is that this cordless drill is part MATRIX™ Quick Connect System, which gives you the opportunity to cut, drill, sand and complete many other tasks by employing a wide range of easy to use attachments. Although you buy the base tool, there are many interchangeable attachments you can choose from and upgrade your Black and Decker from there.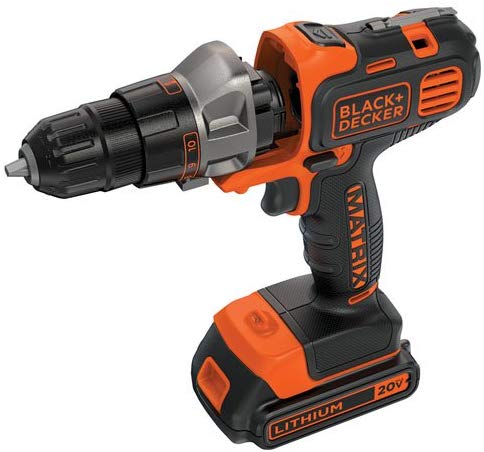 The torque and speed of the product are great and multiple possible attachments give you the chance to build and expand your workstation and projects you are equipped to handle while saving you a fair amount of money and not taking up valuable space in your garage.
The Black and Decker 20v drill is built to be convenient and mobile. It is cordless which allows you to take it anywhere with you and the small weight of a bit over 4 pounds makes it perfect for everyday tasks.
Even when you would like to repair something in a different to reach area, the drill will help you achieve the desired result. Furthermore, it is made from heavy-duty metal, plastic, and rubber and can withstand most casual day to day work and possible falls, while the material on the handle ensures a nice and comfortable grip.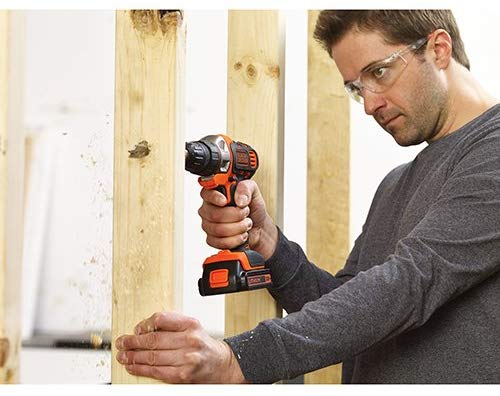 One of the few downfalls of this unit would be its battery. Although it is perfect for everyday tasks and occasional projects, work on the heavy-duty side results in a quick battery drain. Furthermore, if you use it continuously and for more intensive tasks, the unit may overheat.
These two possible issues do not mean that you will not enjoy having this cordless drill and fixing up things at home. What they suggest, however, is that it cannot be highly recommended for more intense professional use.
Popular Black and Decker Cordless Drill FAQs:
How to use Black and Decker drill?
It is easy to use and intuitive tool. Make sure that the battery is powered, choose from any of its 10 clutch settings and the reverse or forward rotation, pull the trigger and start any home project you would enjoy. For any further references, the tool manual comes quite handy with detailed instructions.
How to charge Black and Decker drill?
The battery pack should be charged in about 3 to 5 hours. To charge the drill, plug the charger into the outlet and then insert the battery pack. The start and completion of the charging cycle will be indicated by an LED light
How to change the drill bit on Black and Decker drill?
As the chuck on this model is keyless, following these few steps: find the opening switch located right above the trigger of the drill, set the anti-clockwise direction in order to open it and then press the drill trigger in short power bursts; when the chuck opens, insert the new bit and start rotating the outer sleeve clockwise to ensure everything is tightened. 
What drill bits are best for Black and Decker?
There are different Black and Decker drill bit sets available on the market. Most of them cover the popular range of sizes – from 1/16 in drill bits to 1/4 in pieces. Before buying a set though, make sure to check on the label if it is compatible with you tool that you are using.
Final Thoughts
The Black and Decker Drill is definitely a good option for any Do It Yourself individual motivated to progress on home projects and complete at tasks at home.
The multifunctionality of the tool comes from it being part of the Matrix Quick Connect system which allows it to be transformed into other types of tools, using the same base and different attachments such as a screwdriver, sander, router, jigsaw and impact driver.
The drill is cordless which comes handy in terms of mobility and you can swiftly tackle any job without the worry of cables around the house and having an outlet in the right spot to ensure an easy repair. The quality to price ratio is good and you will not regret buying it to become part of your home toolbox.