Let's face it, the garage can be a cold space. If you are working on your latest project or busy with other work in the garage, you need will need something safe and reliable to warm you up in the cooler months. Propane is a popular way to do this and we take a look at the 5 best propane garage heaters.
Our top pick for the best propane garage heater was a fairly easy choice. The Mr. Heater Corporation Convection Heater, 30- 80K BTU/HR is highly effective and comes at a great price. It is a perfect option to warm the garage on those chilly nights. 
We will take you through the details of five leading options for your garage and look at a few points you will need to think about before deciding on the best one for your needs. We also look at a few frequently asked questions that came up during our research.
The 5 Best Propane Garage Heaters: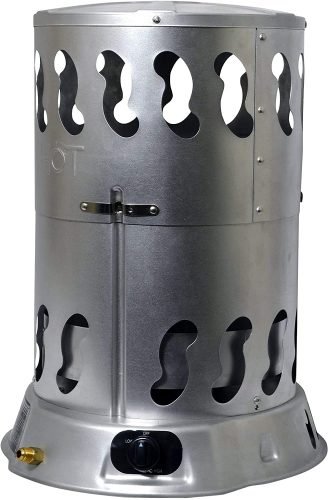 | | |
| --- | --- |
| Dimensions | 16.7 x 15.9 x 21.8 inches |
| Weight | 13.4 pounds |
| BTU | 80,000 |
| Color | Silver |
Mr Heater is one of the most popular brands of propane heaters and they make a wide range of options. Their products are affordable, reliable, and durable. This model looks rather industrial but delivers exceptional heat. One of the main attractions is that it is outstanding value for money. It is a great option for your garage.
You can set the heat to the perfect level according to the size of the space and your preference. It delivers heat from 30,000 BTU up to an impressive 80,000 BTU. This makes it suitable for even a large garage. It can heat a space as large as 2,000 sq. Ft.
It comes ready to use and no assembly is required. A 100 lb. Propane tank will give you up to 14 hours of use. You do not need any electricity to operate this heater. The regulator, 10 ft. hose, and P.O.L. Tank connection are all included.
For safety, there is a standing pilot as well as a thermo-electric safety valve that will shut the unit down if the flame dies. The heater is CSA certified and is odorless. It also operates quietly so will not be a disturbance.
If you are looking for something with plenty of power for a garage, job site, or other applications. It is safe, strong, and highly effective.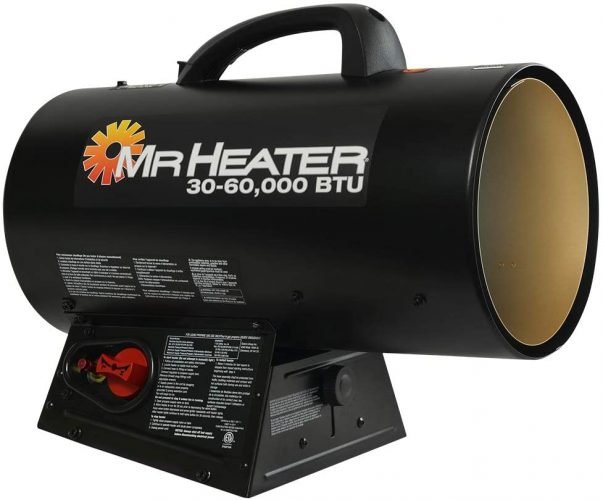 | | |
| --- | --- |
| Dimensions | 15.98 x 8.82 x 13.5 inches |
| Weight | 13.01 pounds |
| BTU | 60,000 |
| Color | Black |
Here is another option from the ever-popular Mr. Heater. It is a forced air propane heater making it fast and effective. It delivers rapid heat over a decent-sized area quickly. This model has 60,000 BTU and will heat a space up to 1,500 Sq. Ft.
Thanks to the QBT Technology (Quiet Burner Technology) it operates at half the noise level of comparable heaters. You can adjust the heat from 30,000 BTU to 60,000 BTU so it is ample for most garages or spaces. It will comfortably heat a space up to 1,500 Sq.Ft. A 20 lb. The tank will give you around 14 hours of use on the lower setting.
This is a tough heavy-duty heater that is designed for hard work. It is well made from quality materials and designed to last. This makes it ideal for the jobsite or the garage.
The unit comes with a regulator as well as a 10-foot hose. Thermoelectric safety valves, as well as high limit switches, ensure the safety of the heater. Due to the forced air design, it will need to be connected to a 115v outlet. It is easy to set up and use.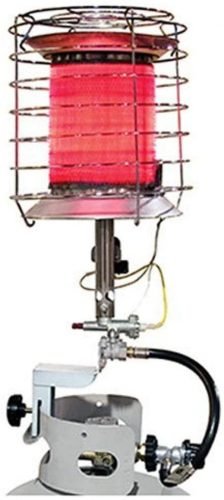 | | |
| --- | --- |
| Dimensions | 9.25 x 9.25 x 17.5 inches |
| Weight | 4.87 pounds |
| BTU | 40,000 |
| Color | Chrome |
Dura Heat is also a popular brand and this is a tough powerful option for the garage, worksite, or other applications. It delivers 40,000 BTU and can heat an area up to 1,000 sq ft. Another advantage is that the infrared heat works over 360º providing all-over warmth.
It does not have an electronic ignition but is still easy enough to light. The tip-over switch makes it safe. One of the features of this heater is that is rugged so ideal for hard work. The chrome emitter guard is chrome making it resistant to rust.
The TT-360 is also an excellent value for money. If you are on a budget and need heat for your garage, this durable unit is one to consider. It is compact and portable allowing to move from place to place or to the job site.
A 20 lb. The propane tank will give you around 14 hours of operation. Connecting and using the heater is simple and easy. This nifty compact heater receives stellar reviews and is a top seller. It might have a very basic design but it great value for money and works hard to keep you warm. The 360º output is a massive advantage in many environments.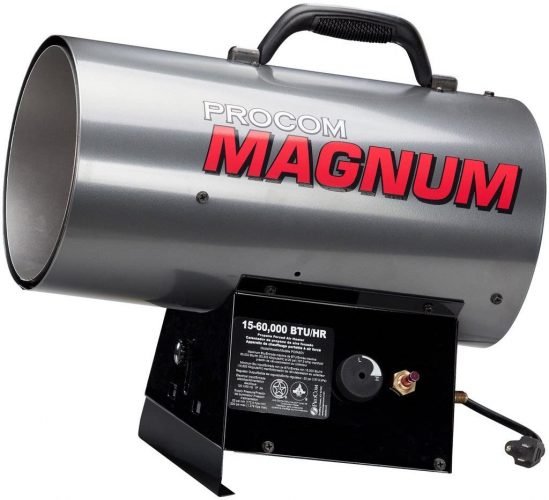 | | |
| --- | --- |
| Dimensions | 17 x 10 x 15.5 inches |
| Weight | 15.5 pounds |
| BTU | 60,000 |
| Color | Gray |
ProCom offers a strong 60,000 BTU heater that is great for the garage. This is a quality product that is well made. Quality materials have been used ensuring it can stand up to the hard work and last for many years.
The powerful output can heat a space up to roughly 1, 450 Sq. Ft. ProCom has patented its Power Burner Technology which allows this unit to be up to 80% quieter than similar forced air propane heaters. If you want power without noise, this makes the PCFA60V a tempting option.
It heats up quickly for fast effective heat. This allows you to get on with the job at hand in comfort. The design is not only strong and durable but also looks great. The handles make it easy to move around when necessary.
It has all the necessary safety features and comes with a 1-year warranty. As garage heaters go, most would agree that one looks good. It is light and portable and even has a handle to make moving it a breeze.
This heater is also available in a range of higher powers including 125,000 BTU and 175,000 BTU. If your power needs are greater than 60,000 BTU, consider one of the larger options.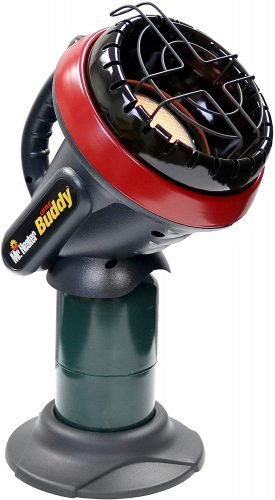 | | |
| --- | --- |
| Dimensions | 11 x 11 x 11 inches |
| Weight | 5 pounds |
| BTU | 3,800 |
| Color | Red and Black |
Yet another great option from Mr Heater is the compact Mr. Heater F215100 MH4B. It is perfect for smaller spaces where you need to keep the chill away. This tiny heater delivers 3,800 BTU and will heat a space of around 95 square feet. It generates heat over a 45-degree angle. This means that you can focus the heat to maximize the 3,800 BTU output.
It is super easy to use and has excellent safety features. This includes ODS ( oxygen shut-off system) so it can be used in a garage with no concerns. It is also odor-free so will not cause any irritation. It also has the standard tip-over protection.
It operates off a disposable 1-pound propane cylinder. The main benefit of this is that it makes it compact and portable. This is one of the lightest and smallest propane garage heaters that can warm your workspace. The size and weight make it versatile and you can use it for a host of other applications.
If you only have a small space or want a garage propane heater that is versatile and portable, this is one to look at. You will get a lot of use out of this handy little guy.
What to look for when buying a propane garage heater
There are a few unique factors to consider before investing in a propane heater for your garage. It is important for your safety, comfort, and enjoyment that you get these right.
Power output
As we said at the beginning, garages are often cold places. You will probably need a stronger heater in a chilly garage than you would indoors. They normally have a concrete floor and quite a bit of draft. If you have work to do in the garage you want something with sufficient warmth to keep you comfortable as you work on your project.
Some garage heaters are also used on job sites, outdoors. These will need even more heat output. The heat produced by a propane heater is measured in BTU (British Thermal Unit). The higher the number the more heat it will deliver.
The heating technology is also important. Take a look at our explanation in the FAQ section below. If you do not have enough heat for the space and the environment in which you plan to use the heater it will be a wasted purchase.
Spend some time thinking about where and how you plan to use the heater and ensure that you get the correct power for your needs.
Safety
The second most important factor when deciding on a propane garage heater is the issue of safety. Most modern propane heaters, and certainly all of those we have reviewed, have excellent safety features. That being said, it is still important to look at them closely.
Firstly, it is important to note that although these are garage propane heater you still need ventilation. The heater uses oxygen to operate and produces carbon monoxide. Ventilation is essential.
A safety feature that all good garage propane heater should have is an oxygen depletion sensor (ODS). This will shut the system down if oxygen levels drop too low.
They should also have overheat protection and tip-over protection that will shut the system down if it falls over. Something else that is important for safety, particularly in a busy garage, is a sturdy base so that the unit does not fall over easily.
Used and maintained correctly, with some ventilation a propane garage heater is safe.
Size
Sometimes you might have all space in the world while other garages have little free space available. This about this when shopping for a heater. If you intend to take the heater to other sites you want one that is relatively compact and portable.
Durability
A garage can be a busy place with lots going on. Some garage heaters are used on the job site. They are transported and work hard in a tough environment. In this case, you want something that is solidly built and durable. You want it to last you for many years.
Look at the materials that have been used as well the quality of the workmanship. The reputation of the company also helps as they make quality products in order to retain their good reputation. A warranty is also a good indication that the company making the unit has faith in the product.
Price
Unless you are fortunate enough to have no budget you will have to give some thought to the price of the propane garage heater. That does not mean that you need to spend a fortune to get a good one. There are many excellent models at affordable prices.
Larger, more powerful units will cost you a bit more but if you are on a tight budget there are many less expensive options.
Efficiency
Don't look at the upfront cost of the heater only. Remember that you will have to replace the propane every time it is used up. Some are a lot more efficient than others. If you expect to use the propane heater often it would be wise to invest in one with good efficiency. This will save you on running costs over time.
Heating Technology
There are several technologies used to heat your garage with a propane heater. We take a look at the most popular options.
Radiant heat
As the name suggests, radiant heat transfers heat in waves. The radiated heat is fast and effective but is more suited to smaller spaces. What makes them appealing is that they operate silently. They also do not need to be connected to an electrical outlet.
Convection heat
Sometimes called blue flame technology, convection heat is effective over larger spaces but generally does not get as hot as other technologies. A fan is often used to distribute the warm air.
Forced Air heat
This is a popular choice for propane garage heaters. A powerful fan pushes warm air in the area that you need to be warmed up. They are affordable, compact, and reliable. The main downside is that the fan generates a fair amount of noise.
FAQs
Is a propane garage heater more cost-effective than an electric heater? 
There is a time and place for an electric heater but in most cases, propane will be a better choice for a garage. It generates a lot of heat efficiently and the running costs by using a propane heater are likely to be lower than ongoing electrical costs.
What can I do to ensure my safety when using a propane garage heater?
A: The first thing, as we said above, is that you need to have some ventilation. Do not use the heater in a fully enclosed space. The safety features, particularly ODS, are extremely important. 
A good idea, to protect yourself, is to install a carbon monoxide detector. This will serve as a backup and alert you if carbon monoxide levels are becoming dangerously high. 
Is condensation a concern with garage propane heaters?
In some environments, yes. If the area is enclosed moisture can build up. If this is a problem in your garage, invest in a  dehumidifier. That will address the problem of condensation.
Does a garage propane heater need electricity?
While many models don't some do. Generally, those with a fan, particularly those that work on forced air will need to be plugged into an electrical outlet. This could be an issue if you want to use it at a remote job site or in other areas where there might not be power. 
Final thoughts
Working in a cold garage is unpleasant and you will probably not be highly productive let alone comfortable. A garage propane heater is the answer. They are affordable, easy to use, safe, and extremely effective.
There is no perfect solution for all garages. It will depend on your environment and your needs. We have given you 5 of the best propane garage heaters available and there is something for everyone. Consider what you need from the heater and the environment as well as your budget.
Spend some time considering the various options and your requirements in order to select the very best solution for your needs.
This article was last updated on June 2, 2021 .