Portable propane heaters allow you to take safe and convenient heating power wherever and whenever you need it. In this article e take a look at the 10 best portable propane heaters and how they can keep you warm wherever you might be.
House and Tech is reader-supported. When you buy through links on our site we may earn an affiliate commission. Learn More.
Having researched all the leading options and reading all the feedback from customers, the Mr. Heater F232000 MH9BX Buddy is our favorite and comes in at number one. It is everything you want in a portable propane heater. Apart from being light and compact, it is safe, reliable, effective, and affordable.
Some portable propane heaters are designed for indoor use and can be moved from room to room while others are for outdoor use. The point is that they are relatively compact and can be moved around. Don't suffer the cold, get good, safe, and convenient heat that you can use when and where you need it.
The 5 Best Selling Portable Propane Heaters:
For your convenience, the below list shows the 5 best selling portable propane heaters on Amazon.com. The list is automatically updated once a day.
The 10 Best Portable Propane Heaters:
We look at some of the most popular options available as well as what to look for when buying a portable propane heater. We also answer a few frequently asked questions.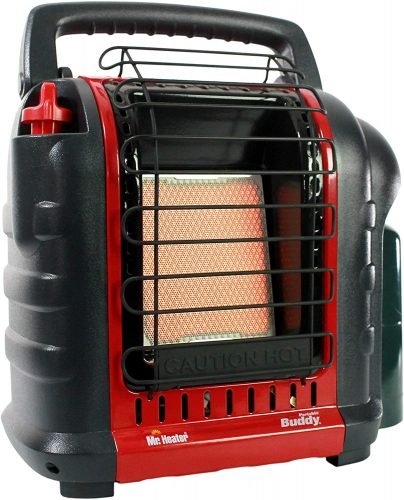 | | |
| --- | --- |
| Dimensions | 7.7 x 13.4 x 15 inches |
| Weight | 9 Pounds |
| BTU | 9,000 |
| Color | Red and Black |
The customer reviews speak for themselves. They are amazingly positive. This top-selling heater is a firm favorite and highly rated. It delivers between 4,000 and 9,000 BTU, according to your needs and space.
It is a radiant heater so is efficient and highly effective. It will heat an area or room as large as 225 square feet. What is great about this portable propane heater is that it can be used indoors or outdoors. This makes it a winner for portability.
Speaking of portability, it is light and compact. The heater is easy to move from place to place.
Safety features are what you want in a portable propane heater and if tipped over it will shut off automatically. It also has a low oxygen sensor.
The fuel consumption is good for the output so it is economical to run. You can set the heat according to your needs, from low, medium heat, or high heat. It ranges from 4,000 BTU to 8,000 BTU. This will allow you to create the perfect warmth all year round.
The unit is easy to start and comes with a one-year warranty. This portable indoor heater is a good option for those looking for a reliable, safe, and effective heater. It is not ideal for larger spaces but for most rooms in the house or a bit of outdoor heat, it is a winner.
---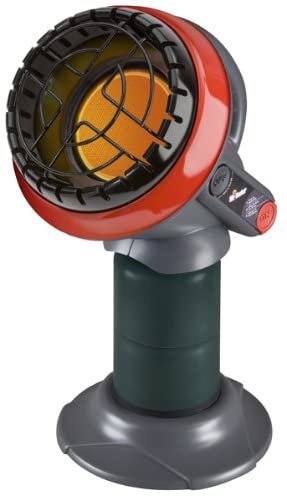 | | |
| --- | --- |
| Dimensions | 10.38 x 9.75 x 12 inches |
| Weight | 5.85 pounds |
| BTU | 3,800 |
| Color | Red |
It is not by accident we chose another Mr. Heater option for our second choice as well as the top pick. They have a solid reputation for quality affordable heaters that deliver what they promise. Again, this is a firm favorite that receives many positive reviews.
This unit will heat an area up to 95sq feet. As always, Mr. Heater ensures the unit is safe and will automatically shut off if there is low oxygen or if it is tipped over. This makes it safe in any environment.
It is a light and compact unit that makes it easy to move from place to place. There is even a useful handle to make it even more portable.
It has a Piezo ignition making it quick and easy to start. Although only 3,800 BTU it delivers radiant heat that will warm smaller areas effectively.
It has a tip-over shutoff and an ODS (Oxygen Depletion Sensor) to ensure the safety of this device.
---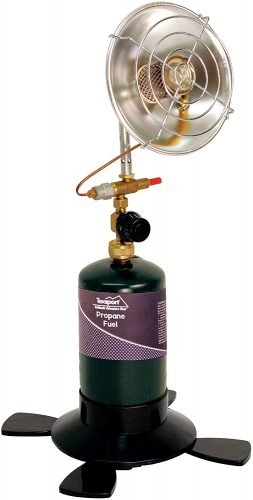 | | |
| --- | --- |
| Dimensions | 8.5 x 10 x 5.25 inches |
| Weight | 1 Pounds |
| BTU | 2,890 |
| Color | Black and silver |
This is a super-compact unit that offers exceptional value for money. It is one of the most affordable portable propane heaters on the market. It is a great option to take with you when you head outdoors for a hunting or camping adventure or if you simply need a bit of warmth outdoors.
The design is safe and sturdy with a large firm base and has auto shut-off if it is knocked over. The safety grid also offers safety and protection.
Texsport has a good reputation for quality affordable products and they have more than 4 decades of experience. The unit is durable and built to last. It features a burner of stainless steel. Despite the low price you can expect many years of heat from this unit.
It works off the normal disposable one-pound propane tanks which you will need to purchase separately. The benefit of this is that it keeps the unit small and light. You can pack it with your gear and barely know it is there.
As compact budget options go, the Texsport is a good option to take a look at.
---

| | |
| --- | --- |
| Dimensions | 33 x 18 x 89 inches |
| Weight | 37.9 Pounds |
| BTU | 46,000 |
| Color | Charcoal Gray |
If you are looking for a powerful outdoor heater for entertainment, this option from Amazon Basics is a winner. It is even suitable for commercial use in restaurants and cafes. It looks sleek and elegant so will not be an eyesore even in the smartest environment.
With an impressive output of 46,000 BTU, it will deliver fast and effective warmth to a radius of around 9 feet, 300-500 sq. ft. It operates with minimal noise so will not disturb those enjoying the pleasant warmth.
The unit is well made from quality materials so able to handle the outdoor conditions. Durable steel, aluminum, and strong plastic have been used. It is powder-coated for added protection and enhanced looks. Thanks to the Piezo ignition it is a breeze to start.
A water box is used to give the unit weight in case of wind. If it does happen to tip over the auto shut-off valve will kick in keeping it safe. It has wheels so, although rather large, is still portable and can be moved to where it is needed.
Given that this is an Amazon Basic product it is affordable and comes with a 1-year warranty for peace of mind. It is a stylish heater that is solidly built. It comes in a range of colors to complement any outdoor setting.
---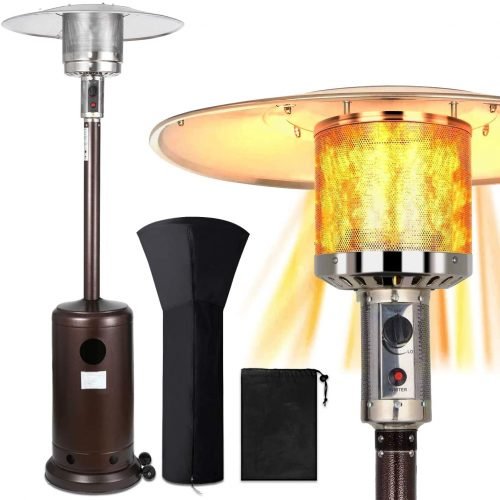 | | |
| --- | --- |
| Dimensions | 34.2 x 18.4 x 18.25 inches |
| Weight | 38.5 Pounds |
| BTU | 48,000 |
| Color | Brown |
Another larger portable option for patios, outdoor restaurants and parties is the popular WASAKKY 48000 BTU Portable Outdoor Patio Heater. It has 48,000 BTU so there is plenty of heat to you and your guests warm and comfortable. The radiant heat will reach an area of 16 feet.
It is made from stainless steel so not only looks great but is built to handle the elements. It is durable and should last you for many years. It is always a good idea to cover these units when not in use and that will extend the life of the heater.
Some minor assembly is needed when you unpack the unit but this is quick and easy. What makes a big unit like this portable is the sturdy wheels. This allows you to wheel the heater to where it is needed. It has a quick and effective ignition system so is super easy to start.
Safety features have not been ignored and it has an auto shut off and tilt protection. If you are concerned about it falling over there is an optional sandbox that you can add to keep it more stable. This will help if it is windy or there are people nearby that might knock it over.
This is a popular option that is highly rated. It looks goods, performs well, and is an option to consider.
---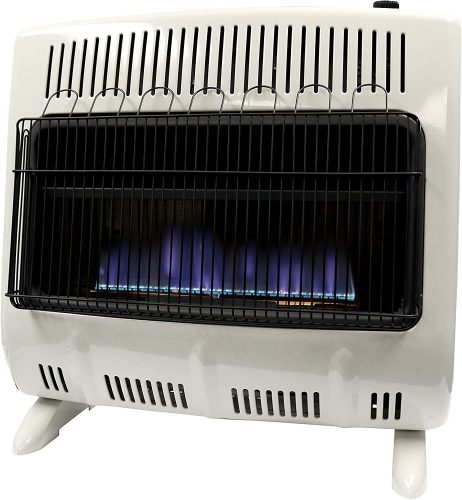 | | |
| --- | --- |
| Dimensions | 23.75 x 11.25 x 27 inches |
| Weight | 26.8 pounds |
| BTU | 30000 |
| Color | White |
This is yet another popular and effective portable propane heater from market leader Mr. Heater. It is compact, powerful, durable, and affordable. That is everything you want in a good portable propane heater.
This neat heater is compact and pushes out an amazing 30,000 BTU. That is sufficient to comfortably warm an area up to 1000 square feet. It is a blue flame burner so this makes it clean, fast, and efficient.
The heater is not only reliable and efficient but also safe. It has an ODS system that will automatically shut off when oxygen levels are low. Proof of safety is the CSA Certification.
It is a vent-free heater that requires no electricity to operate. If you want, it can be wall-mounted and the bracket comes with the device. Installation is quick and easy, something anyone can do with basic tools. If not, it has a standard leg-mount for more portability.
This highly rated propane heater is versatile and gets the job done. It is compact and robust. Best of all is that it is outstanding value for money.
---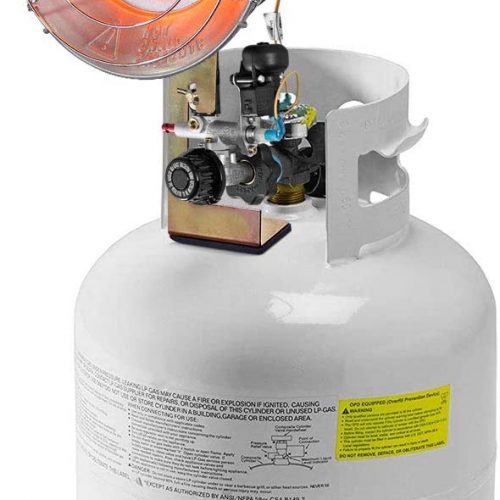 | | |
| --- | --- |
| Dimensions | 8.5 x 6.5 x 13 inches |
| Weight | 2.5 pounds |
| BTU | 15000 |
| Color | Silver |
Costway makes an affordable propane tank top heater that is budget-friendly and highly versatile. It is a quick and easy solution to deliver heat wherever you might be. The design is small and light so it is easy to take with you. It is fast and effective.
This is one of the better options to take with you if you need warmth when camping, hunting, fishing, tailgating, or any outdoor activity in the cooler months. The heat is practically instant indoors or outdoors.
There are three heat settings on the variable control so you can dial the heat into your needs. With a maximum output of 15,000 BTU, it should keep you warm in most environments.
Safety-wise, you can rest assured that this heater meets all the requirements. It has tip-over protection and a shut-off valve. The design and build keep it sturdy and stable on the ground. The safety is backed up by multiple standards and certifications including CE. ETL, as well as CSA.
The design is tough and durable. This is a portable propane heater that can handle movement and last many years. The steel is practically rust-proof and will last you many cold nights. The chrome exterior adds extra resilience and protection. Furthermore, the metal dishes help to direct the heat to where it is needed.
One feature lacking in this model is electronic ignition. Do not let this put you off as lighting with a match, thanks to the intelligent design, could not be easier.
---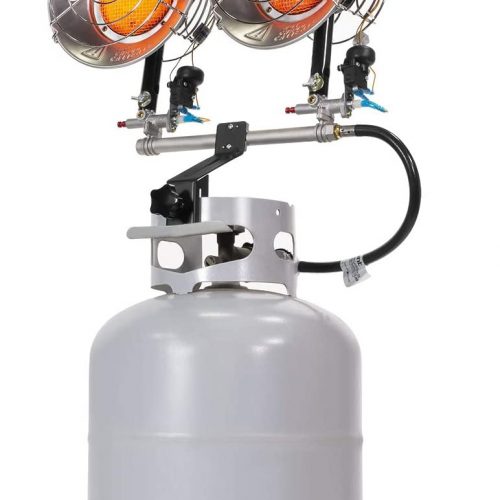 | | |
| --- | --- |
| Dimensions | 6.5 x 16 x 17 inches |
| Weight | 4.8 pounds |
| BTU | 30000 |
| Color | Silver |
The is a heavy-duty powerful portable propane heater. It is ideal for outdoor use or warming a large warehouse or job site. While it will not win any design awards for the style it is built to perform. That it does remarkably well.
The unit itself is light and compact making it easy to take with you to work or on outdoor adventures. It delivers good heat of up to 30,000 BTU. You can adjust it according to your needs and the environment from as low as 11,000 BTU. At maximum, you can expect to warm an area as large as 750 square feet.
The design features metal reflector dishes that help to focus and direct the heat to increase the effectiveness. One feature this model lacks is electronic ignition. The design does, however, make it very easy to light with a match.
It is safe to use and has tip-over protection. The design is robust and durable. Quality materials have been used and the workmanship is good. There should be little to no risk of rust or corrosion even if it is used in harsh environments.
A 20lb. tank should allow for up to 14 hours of operation at full strength.
While you might not be able to use this portable propane heater in your living room it comes in handy for a range of applications. It is strong, powerful, and effective.
---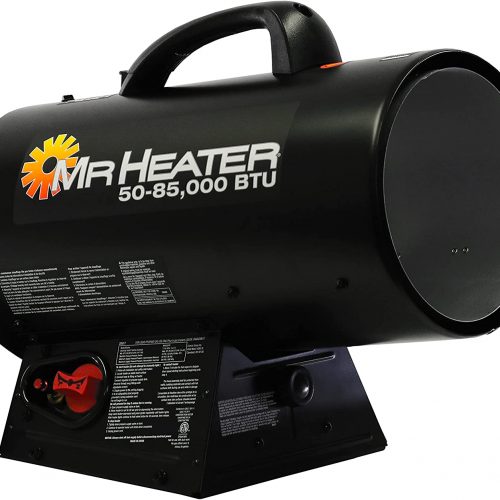 | | |
| --- | --- |
| Dimensions | 21 x 16 x 12 inches |
| Weight | 1 pounds |
| BTU | 85000 Max |
| Color | Black |
Forced air heaters are the ideal solution for rapid warmth in large areas or outdoors. Once again, Mr. Heater has some leading options. The F271380 MH85QFAV has extreme power for large areas or those very cold times. It is also available in a range of less powerful options if you do not need as much power.
The unit is compact and has a sleek compact design, particularly if you consider how powerful and effective it is. The beauty of forced air is that they work quickly. You can be set up and start warming quickly.
One issue with many of these designs is that they are noisy but not so with the F271380. It makes much less noise than comparable units thanks to Mr. Heater's Quiet Burner Technology (QBT). One other aspect to take note of is that due to the powerful fan, electricity is needed. These are minor issues when you consider what the heater delivers.
The heater comes with a 10-foot hose as well as a regulator. It is solidly built and made from quality materials. It should last many years and handle the bumps and bashes that come from transporting a portable heater.
It has a Piezo ignition so getting it started is quick and easy. Safety features on a high-temperature limit switch as well as thermoelectric safety valves.
This is a popular model that is highly rated by many happy customers.
---
| | |
| --- | --- |
| Dimensions | 15 x 15 x 22 inches |
| Weight | ?17.11 pounds |
| BTU | 18000 |
| Color | Red |
ProTemp is another highly respected brand that is extremely popular and highly rated. The PT-18PNCH is a top choice if you are looking for a compact versatile portable propane heater. It is a radiant heat cabinet propane heater. The castors make it easy to move around and can lock for safety and stability.
This heater will work well indoors or outdoors. It is solidly built and has a tough construction. The safety features are excellent and include a high-temperature limit shut-off, tip-over protection, a thermocouple, and a flame-out fuel cut. It also has a sturdy safety guard.
No electricity is needed to run this heater so it can be used anywhere. It is user-friendly and comes with a hose and regulator. The ProTemp PT-18PNCH has a 1-year warranty.
This is a quality product that receives heaps of positive feedback. If you are looking for an affordable and versatile portable propane heater you should consider the ProTemp PT-18PNCH.
---
What to look for when buying a portable propane heater
There are several important factors to consider when investing in the best portable propane heater.
Intended use
There is portable and there is very portable. If you intend to take the heater with you on outdoor adventures then you need something that is light and compact. You can't carry a large heater around for a hiking, hunting, or camping trip.
These small light options will not give as much heat as the larger units but can be carried with ease. If you need more heat, you will need to consider a larger portable heater. Many are still light and designed to be carried from area to area.
Another important consideration is whether you intend to use the heater indoors or outdoors. Some can do both but most are designed for one or the other.
While they are large, we did include 2 outdoor patio heaters. They both have wheels so can still be considered portable. They are great for outdoor parties on cold evenings and can also be used in restaurants and cafes with outdoor seating. One can simply wheel them into position to give your guests instant warmth.
Heat output
The main purpose of a propane heater is to keep you and others warm. You need to consider the environment in which it will be used, the size of the area you need to warm, and the number of people. The power is generally measured in BTU and often the size of the area it can warm will be quoted.
This is where you need to find a balance between the portability of the unit and how much heat it produces. One that is too small for your needs will be a disappointment.
Size
Size, as we have mentioned, is an important factor when comparing portable propane heaters. Some of the smaller units put out surprisingly good heat so weigh up your options and select the one that will work best for your needs.
Other features such as castors or wheels make the heater more portable. Weight is also a factor if you intend to take it with you on adventures. At home, it is not a major factor, especially if it has wheels.
Durability
A portable heater is going to take a few more bumps and knocks as it is moved from one area to the other. The quality of workmanship and the materials used will determine the durability of the heater.
Some are made from top-quality tough materials and will last you for many years. You do not want to spend your money on something that only works for a short time.
Looks
Some portable heaters are rather industrial-looking. These tend to be more compact and lightweight so are fine if you are hiking, camping, fishing, or hunting. If it is to be used in your home, you probably want something a bit more stylish.
Safety features
These can never be ignored. Propane is safe if used correctly but there are a few basics features necessary. An automatic shut-off if the heater is knocked over is essential. For those used indoors, it is best to have an ODS (Oxygen Depletion Sensor).
The heater should also have a strong safety grill and a stable firm base so that it can not fall over easily.
Budget
For most people, budget is always a factor. Prices range from really low to rather expensive. Naturally the better the build quality, the more features, and the more power the unit has will generally result in a higher price.
A quality portable propane heater can last many years so it is often better to invest in a good quality item. If you go for a budget portable propane heater you might need to replace it more often. This will add up over time.
FAQs
During our research, we found several questions that came up quite often. You might have some of the same questions. Let's take a look.
Are portable propane heaters safe?
Safety is a big concern for many people. If used incorrectly, propane can be dangerous. Modern portable propane heaters have several safety features and, provided you use them correctly, they are perfectly safe.

There are a few features you want to look out for. Tip-over protection is one of the main ones. If the heater is knocked over or falls over for any reason, it should shut down instantly. If the heater is to be used indoors you want to be sure that there is sufficient oxygen and no carbon monoxide buildup. The heater should have an ODS (Oxygen Depletion Sensor).

The general design, particularly the grill will also contribute to safety. Another thing that is important is that it has a stable sturdy base to reduce the risk of it falling over. Some, particularly the larger more powerful units, have to overheat protection.

Apart from that, follow the instructions and make sure that all hoses, connections, and parts are in good order at all times.
What is BTU?
The power of the heater is measured in BTU or British Thermal Unit. The higher the number the more power (heat) it produces and the larger the area it will cover.
Here is a handy
BTU Calculator
if you want to work out how much power you need.
How long will my propane last in a portable propane heater?
This will depend on several factors. The most important is the power (BTU) output you are using. The design, heating technology, ambient temperature, and other issues will impact how long your propane will last.
Can you use all portable propane heaters indoors?
No, not necessarily. Some are designed to work indoors or outdoors while others are strictly designed only for indoor or only for outdoor use. Be sure to check on this when making your decision.

Even those that are designed for indoor use should still only be used in an area with ventilation.
Can you leave an outdoor heater out in the rain?
The truth is that yes you can but it will last a lot longer if you have some sort of cover for it. Although outdoor portable heaters are more robust and durable, the elements will eventually get to them and reduce their lifespan.
How do you start a portable propane heater?
Most modern propane heaters feature and electronic ignition. These are easy to use and you simply need to push a button. Some of the budget models might need to be started manually with a match but these are relatively rare.
Why is my propane heater burning less than usual?
Over time, you might find that your portable propane heater buns with less intensity and heat. This could be due to several reasons. The first step is to check all connections and hoses. Ensure they are clean and clear of any obstructions as well as firmly connected. Simply clean and repair when and where necessary. This will not only improve the performance but will also make the heater safer.
What is the difference between a Blue Flame heater and an Infrared heater?
While both are effective at keeping you warm there are a few differences. A blue flame heater warms the air. Infrared heaters radiate heat that warms up objects. This in turn warms the air. A blue flame heater is generally better for insulated rooms or areas whereas an infrared heater will be better in uninsulated areas.

Either way, they both keep you warm and cozy. Both are safe, however, with an infrared heater, You need to keep it well away from furniture, curtains, and other objects. The downside to blue flame heaters is that they take a tad longer to warm the area.
Final thoughts
A portable propane heater is a safe and convenient way to have access to heat wherever and whenever you need it. A good portable heater is light and compact however there are some larger ones that are still considered portable.
We have covered a wide range of options from small lightweight options that can be taken camping to larger units that can be used at home, in the garage, or even on the patio.
Take the time to think about where and how you intend to use the heater and this will guide you to make the best decision.
We have reviewed only the very best of the best and there is something for everyone. Provided you are clear on your needs you are sure to find a suitable option.