There is no need to suffer in the cold when you easily get one of the best indoor propane heaters. These are an affordable, safe, and easy way to keep the inside of your home or office warm and comfortable. Propane is a great option as it is easy to use and inexpensive. The modern propane heaters are super-safe.
Our top pick is from leading brand Dyna-Glo and is the RA18LPDG 18,000 BTU Cabinet Heater. It is affordable, safe, effective, and portable. It has everything you need in an indoor heater at a great price. 
We look at this model and four other leading choices giving something for everyone. We also give you some ideas of what to look for when buying an indoor propane heater in our buyer's guide. Then we also answer a few questions you might have about indoor propane heaters.
The 5 Best Indoor Propane Heaters: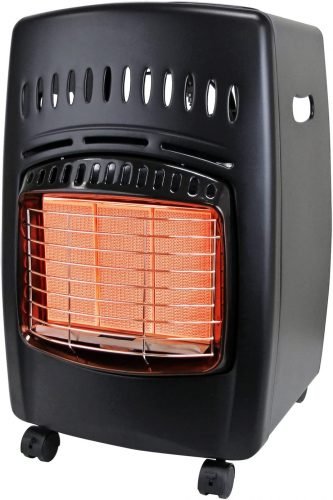 | | |
| --- | --- |
| Dimensions | 16.1 x 17.5 x 23.2 inches |
| Weight | 20 pounds |
| BTU | 18,000 |
| Color | Black |
The reviews for this heater are mostly extremely positive and it is a popular option. Such feedback is always a good indicator of the quality of the product. It delivers up to 18,000 BTU. This allows it to heat a space up to roughly 600 sq. ft. You can control the heat and set it according to your preference.
It is relatively light and compact and the side handles make it easy to carry from room to room. There is a safety grill in the front for safety and protection. Starting is easy as it has an electronic Piezo ignition.
This heater is versatile and can be used indoors and outdoors. The locking casters also make it easier to move around. A 20 lb. propane tank will give you up to 64 hours of use.
The usual safety features such as tip-over protection and ODS (oxygen depletion sensor) are all included. The safety is ensured as it has CSA approval.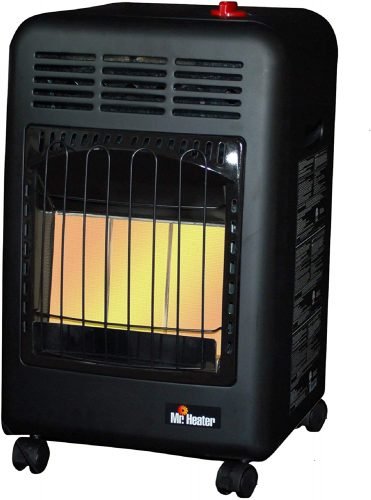 | | |
| --- | --- |
| Dimensions | 15 x 16 x 22 inches |
| Weight | 19 pounds |
| BTU | 18,000 |
| Color | Black |
If it is speed and effectiveness you are after, the MH18CH Radiant Cabinet LP Heater from Mr Heater is a firm favorite. It is a cabinet design that might not be the world's best-looking heater but it gets the job done. It is well priced, strong and durable, and highly effective.
The cabinet is made from steel which is what makes it so robust. It is a quality product that should last a long time. There are three heat settings to choose from so the room can always be at the desired temperature. The options are 6,000 , 12,000 and 18,000 BTUs. It will quickly warm up a room a large as 450 square feet.
Safety features are what you would expect and it has ODS or low oxygen shutoff system as well as tip-over protection. The unit is CSA certified. You do not need electricity to run this heater.
It will run for 24 to 72 hours depending on the setting you use. It has a tank mounting for a 20lb propane tank inside so you don't see it and the unit can easily be moved from spot to spot if necessary. It comes with the regulator and the hose.
Starting the heater could not be easier as it has a reliable Piezo ignition. It comes with a 1-year warranty.
Mr. Heater is one of the best-selling brands and this model has received a large amount of positive feedback from happy customers.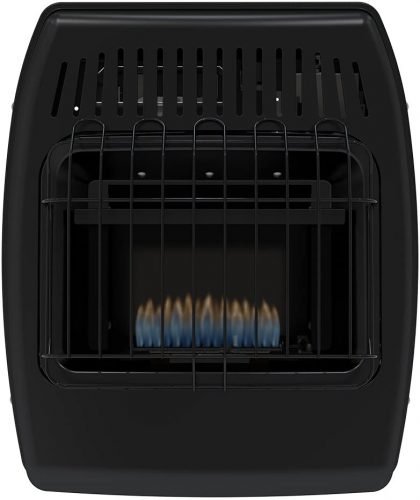 | | |
| --- | --- |
| Dimensions | 17.32 x 9.49 x 20 inches |
| Weight | 17 pounds |
| BTU | 10,000 |
| Color | Black |
Dyna-Glo is another top favorite and this is a nifty little indoor propane heater. It looks great and is a reliable unit. The maximum heat output is 10,000 BTU which will cover an area of up to 300 sq. ft. If that is too warm for you there is a low, medium, and high option.
If you need to warm a larger area, there is an optional fan that you can purchase. This is quiet and effective at dispersing the heat over a larger area. This would allow for warming up a space as big as 1000 sq. ft.
It uses blue flame technology which heats the air in the room via convection. It is also liquid propane ready if that is something you might want at some stage. The regulator and a 10 ft. propane hose are included. You do not need to connect the heater to electricity.
It comes with a 1-year warranty. The heater is user-friendly and has all the necessary safety features.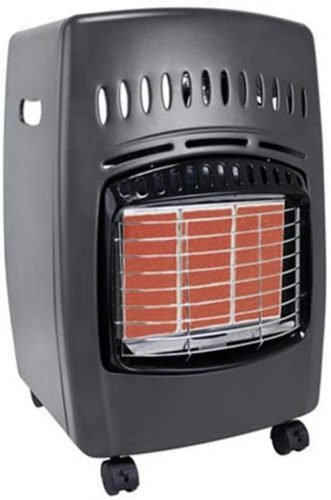 | | |
| --- | --- |
| Dimensions | 13.25 x 13.75 x 23 inches |
| Weight | 16.75 pounds |
| BTU | 18,000 |
| Color | Black |
This indoor propane heater from Comfort Glow uses infrared heating. This gives your room almost instant heat for those cold evenings. It has a maximum output of 18,000 BTU and will be effective in a room up to roughly 450 sq. ft.
It comes with rolling casters so easily be moved from space to space when you need to. It is relatively compact and light so easy to move and will not be in the way. The regulator and hose are included.
Safety features include ODS and tip-over protection as well as a front grill for protection. It will run for 16 to 64 hours depending on the heat setting (off a 20 lbs propane tank).
This is a budget option that works well for a fairly low price.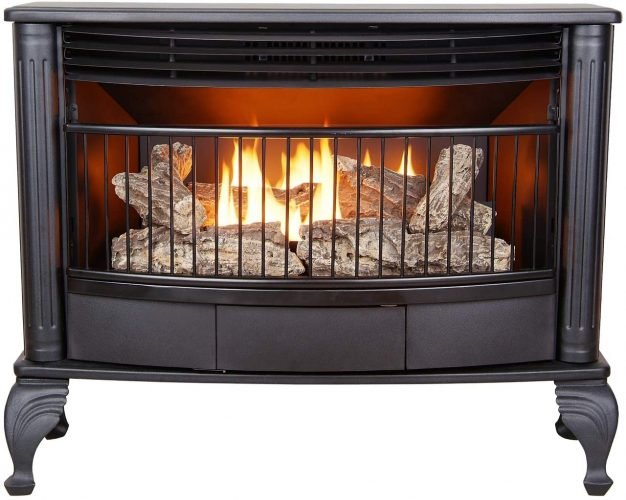 | | |
| --- | --- |
| Dimension | 13 x 33.5 x 25 inches |
| Weight | 50 pounds |
| BTU | 25,000 |
| Color | Black |
This indoor propane heater gives you the option of dual-fuel technology. This makes it more versatile as you can use it on standard liquid propane or natural gas if you choose to. It is a robust unit that pushes put a maximum of 25,000 BTU. This can heat a significant space up to 1, 100 sq. ft.
It has an integrated thermostat allowing you to select the precise temperature that suits the environment. This also helps to reduce gas consumption while maintaining a consistent temperature. This is one of the more economical indoor propane heaters to operate.
The Piezo ignition means that it is super easy to start. Safety has been ensured and it has an ODS (oxygen depletion sensor) and tip protection.
What makes this heater very appealing is the natural-looking fireplace design. It should fit well in any décor style and look good in your home. It has a large window and will be a cozy feature in any room.
It is made in America and one of the more robust and durable indoor propane heaters on the market.
There are many reasons to consider this option. It is built to last, inexpensive to run, and looks amazing. It is like have the beauty of a fireplace with the convenience of propane. There is no mess and no fuss. There is nothing to clean and no unpleasant odors.
Despite all the features and the quality build this stylish indoor propane heater is reasonably priced. It offers great value for money.
What to look for when buying an indoor heater
Before investing your hard-earned money in an indoor propane heater there are several things you should give some thought to. Here they are.
Heat output
The primary consideration is the heat output of the heater. This needs to be in relation to the size of the room that you wish to heat. Larger rooms will require a higher output. With propane heaters, this is measured in BTU or British Thermal Units.
The logical point is that an indoor propane heater with a higher BTU output will be able to heat a larger area. Take some time to consider the size of the space you wish to heat and purchase one that is capable of heating the area.
You also want one that is adjustable so that you can dial in the perfect heat for ideal comfort.
Thermostat 
Following on from the above, you do not want to need to constantly turn the heater up or down. An integrated thermostat will make your indoor propane heater more user-friendly as it will adapt according to the temperature of the room or area.
The heater should have a range of settings. On colder evenings you might want a lot of heat and on other occasions, you might simply need a bit of warmth.
Size
This is another important factor to consider. You are limited by the space available in your room. You do not want the heater to be in the way. A compact heater is often essential if you have limited space. Sometimes, the best propane wall heater is the best solution (link to wall heater article).
If you want to be able to move the heater from room to room, size and weight become even more important. A portable (link to portable propane heater article) propane heater is light and easy to move around. Some have handles or castors to make them easy to move and position.
Design
The style of the heater is important when looking at the best indoor propane heaters. You do not want to have something that looks unpleasant in your home. Some have a sleek modern design while others are more traditional. You get heaters that look like a natural fire which works in some spaces.
The style of your home will determine the best look for your needs.
Efficiency 
The more efficient the propane heater, the less you will spend on running costs. The design, heating technology, and build will determine the efficiency of the heater. Some are a lot more efficient than others. The cost of the unit is only one factor. Give some thought to the long-term running costs of the model.
Naturally, the unit will use more propane on full heat than it would on a lower setting. It also uses more if the ambient temperature is low as it will have to work harder and burn more propane to get to the desired heat.
Safety 
Many people have safety concerns when it comes to indoor propane heaters. Fortunately, this need not be a concern. All quality heaters have multiple safety features that make them perfectly safe to use indoors.
Features such as an ODS ( oxygen depletion sensor) and tip-over protection ensure that they are safe. Remember that the room still needs to have some form of ventilation.
If you still have concerns you can always invest in a carbon monoxide sensor. They are inexpensive and will give you an extra layer of protection.
Follow all the instructions and use the propane heater correctly. Make sure all hoses and connections are correct and in good repair. Have some form of ventilation. If you do this the propane heater is safe to use indoors.
Durability and reliability
These two go together as both are based on the build quality and the quality of the workmanship. When investing in an indoor propane heater you want to know that it will work when you need it to and not fall apart after a year or two.
Check out the quality of the heaters as well as the reputation of the company that makes them. A warranty will give you extra assurance that the unit is built to last.
Budget
One always has to consider the budget, particularly if you need to invest in several indoor propane heaters. Prices range from affordable to somewhat expensive. The more costly units will probably have a better design, greater heat, and perhaps more features.
There are many quality options that do not cost a fortune. Avoid the bargain basement models as they will not perform well and will probably not last very long. Rather invest in one that will last for a while and deliver the heat necessary, otherwise, you will be disappointed.
FAQs
Are there are different types of indoor propane heaters? 
Yes, there are a few. The main types are infrared or radiant heaters, blue flame heaters, and vent-free heaters. Radiant heaters will radiate heat and warm objects which warm the room and those in it. Blue flame heaters make the air warm so that the area is more comfortable.  Vent-free heaters burn efficiently to warm the area. 
Another type of propane heater is a forced air heater although these are not popular for indoor use apart from a garage or workshop.
Are propane heaters safe to use indoors? 
Yes, modern propane heaters are perfectly safe to use indoors. They have safety standards and features that make them perfectly safe when used correctly. Remember that you always need some ventilation. Do not run a propane heater in a room with no ventilation. 
The basics that you need are overheating protection, tip-over shutoff, and an oxygen depletion sensor.
Are propane heaters less expensive to run? 
All other factors being equal it is less expensive to warm a room with a propane heater than an electric heater.  This does depend on the design and style of the heater as well as the nature of the space to be heated but in general, it will cost less to run propane than electricity for heating a room. 
How long will an indoor propane heater run for?
This will depend on several factors. Below is an approximate guide.  
BTU Sq feet Operational Duration
6,000 BTUs 200 1 Hour
12,000 BTUs 400 1 Hour
18,000 BTUs 600 1 Hour
24,000 BTUs 800 1 Hour
30,000 BTUs 100 1 Hour
The usage depends on the insulation of the room. Curtains, carpets, insulated windows all help to retain warmth in increase the operational time. Tiles, skylights, and multiple open windows will reduce performance times. Remember that you must have some ventilation.
The ambient temperature is another big factor as the heater will have to work harder when it is very cold. A good thermostat will help to regulate usage and keep costs down. Some design and heating technologies also make the unit more efficient and this will help to reduce the running costs over time.
Final thoughts
It is not comfortable or pleasant to be in a cold room. Even if you bundle up with clothes and blankets you can never get fully warm. An indoor propane heater is a perfect solution. It will warm the room for yourself, friends and family.
They are affordable, safe, and easy to use. We have reviewed some of the best options available and there is something to suits all size rooms, all styles, and all budgets. We have also given you all the information you need to make an informed decision. Find the best one for your needs, you won't regret it.
This article was last updated on June 9, 2021 .