FeastHome Reviews – Besides stoves, a microwave is a must-have item in your kitchen since it can reheat and cook some food conveniently. If you are looking for the best cheap microwave products, do not miss these ones!
House and Tech is reader-supported. When you buy through links on our site we may earn an affiliate commission. Learn More.
AmazonBasics Microwave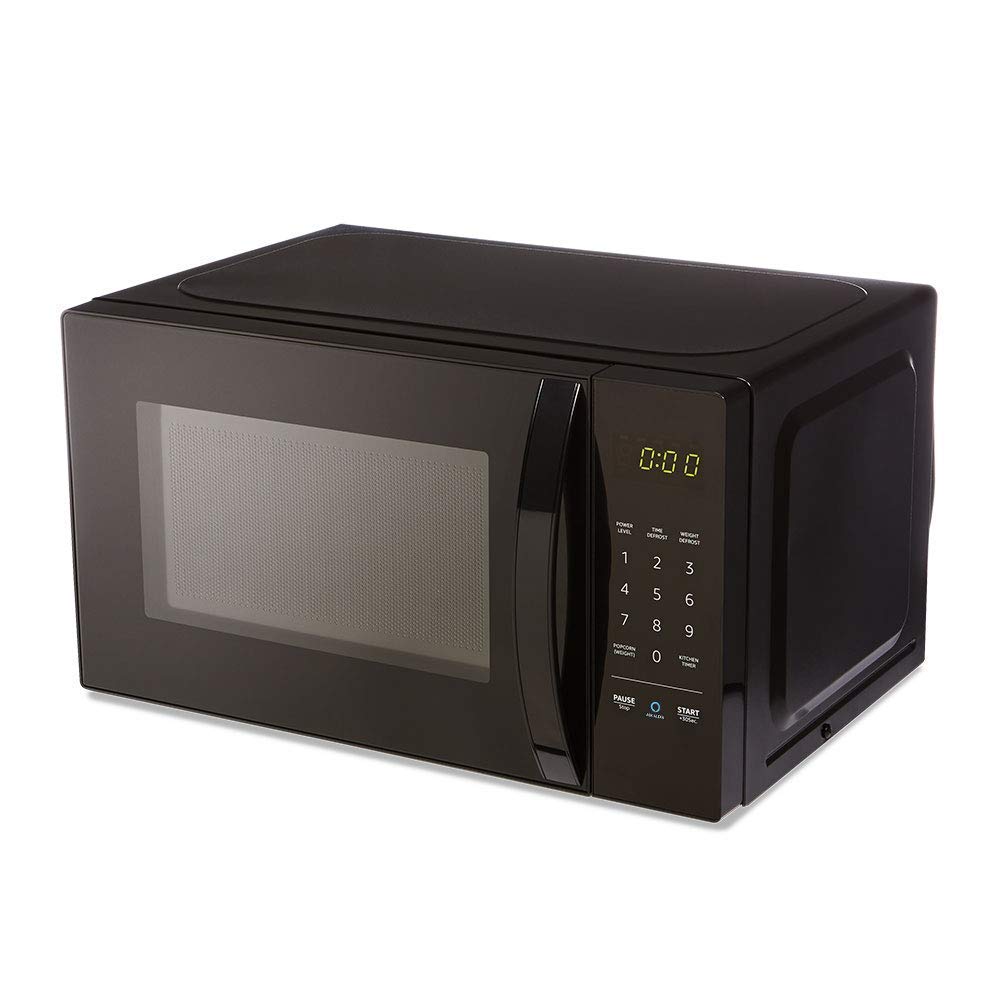 Amazon Basics Microwave, Small, 0.7 Cu. Ft, 700W, Works with Alexa
Now it's easier to defrost vegetables, make popcorn, cook potatoes, and reheat rice. With an Echo...
Compact size saves counter space, plus 10 power levels, a kitchen timer, a child lock, and a...
Alexa is always getting smarter and adding new presets.
External dimensions (Width x Height x Depth): 17.3 in. x 10.1 in. x 14.1 in. ; internal dimensions...
Have you ever dreamed to have a personal smart assistant that you can ask to reheat the dinner for your husband or simply make popcorn for you? Some microwaves have this smart feature, but they usually cost sky high.
Now, you can have a smart microwave that allows you to make popcorn without leaving your couch. You'll only have to shout a little bit, "Alexa, microwave for 5 minutes!"
The good thing about this microwave is it can perform as well as other "smart" microwaves that are controlled using phones or tablets although it is much cheaper than them.
However, to get this smart feature, you need to install an Echo device, which is not included here.
Besides the smart feature, this microwave comes in a compact size that will fit in with any kitchen, including the small one. But, do not expect the fancy design that you might find in other smart microwaves. You will only get a plain black box.
Convenient, thanks to the Alexa voice controls.
A lot of automated options are available.
Quite affordable for a smart microwave.
The size is too small for a family, especially a big one.
The Alexa voice command is stiff and not powerful.
There is no microphone.
You still need to install another device.
Daewoo KOR-7LREW Retro Countertop Microwave Oven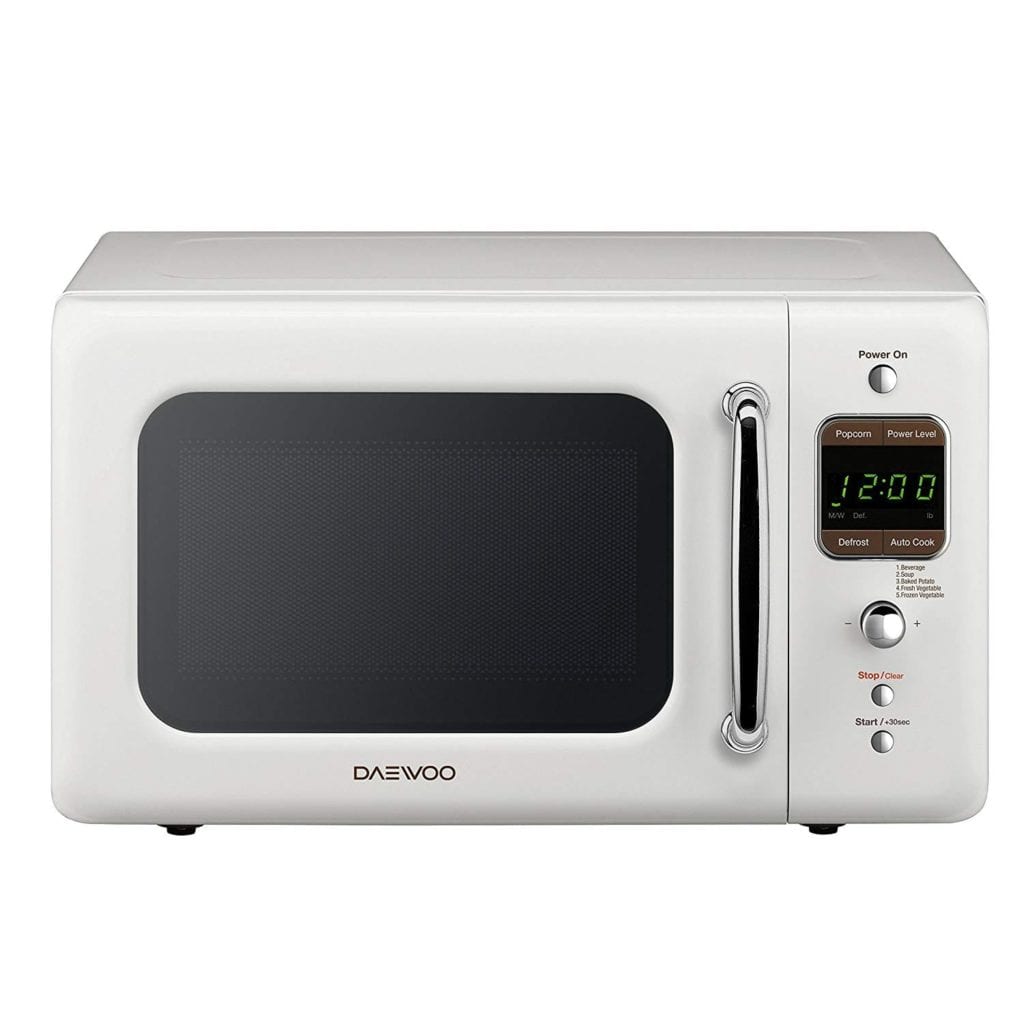 If you are looking for a powerful, yet stylish microwave, this one is for you. This microwave features a striking design that can enhance the look of your kitchen, especially if your kitchen emulates the retro style.
Besides the stylish design and retro-inspired colors, it also has four auto-cook menus that allow you to make popcorn or defrost vegetables easily. Instead of a button, a small knob is used to set the cooking time, enhancing the retro style very well.
It is small, which makes it a great choice for any kitchen.
It heats things conveniently.
You can defrost things without pre-cooking them.
It is easy to use even if you do not read the manual.
It has a stylish design.
The door hangs over 1/8″ low at the handle end. You will have to take it apart if you want to adjust it.
When you press the buttons and switches, you will find it wiggle.
You need to hold the power button for a few seconds to turn it on.
Toshiba EM925A5A-SS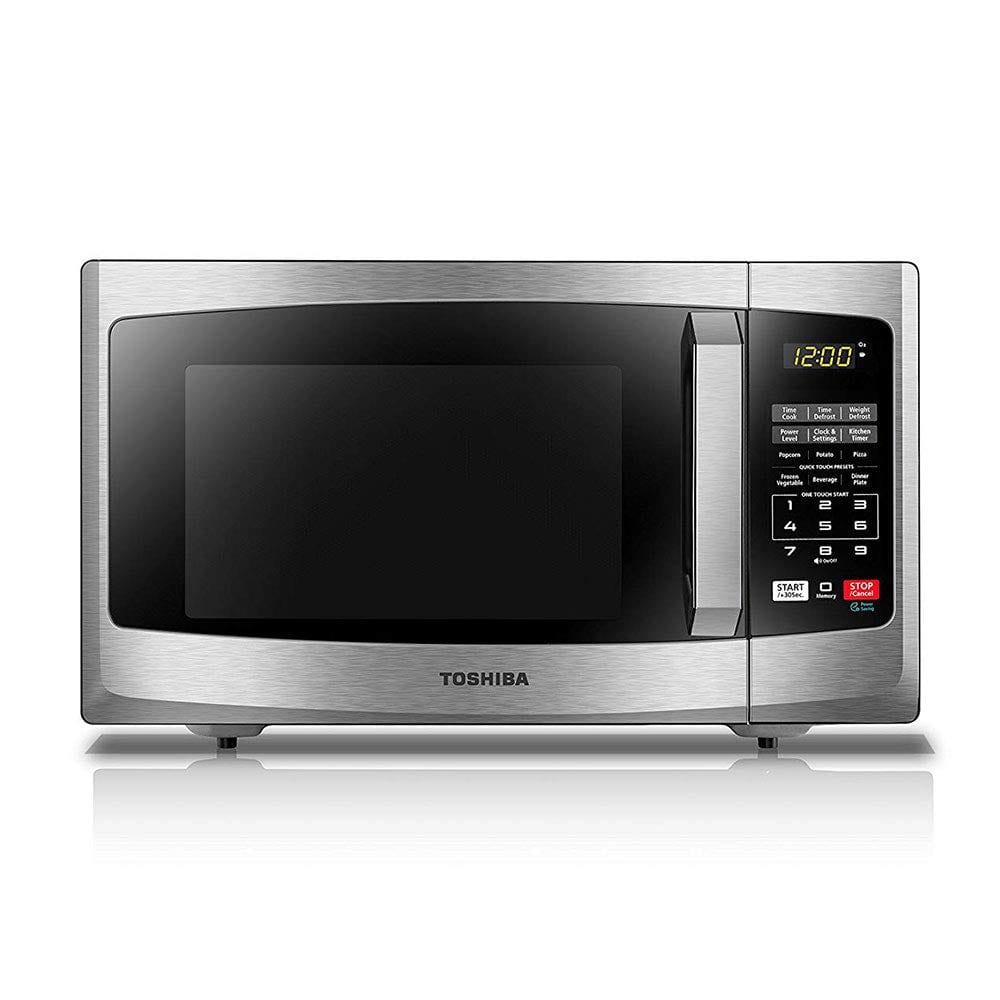 TOSHIBA EM925A5A-SS Countertop Microwave Oven, 0.9 Cu Ft With 10.6 Inch Removable Turntable, 900W, 6...
Stylish stainless steel with timeless design (color of door frame is stainless steel, enclosure is...
Kitchen essential with pre-programmed menu for 6 popular foods like popcorn, pizza, potato and more,...
One touch start: quick access to start the microwave from 1 to 6 minutes cooking at full power
Equipped with power-saving eco mode, sound on/off option and child safety lock. If you wish to mute...
Microwave size-compact footprint but large capacity: 0.9 Cu. Ft., 10.6 inch removable turntable fits...
This compact microwave will fit in with your small kitchen as well as a limited budget. The 10.6-inch glass turntable rotates well, making sure the food is cooked evenly. Made of stainless steel, this microwave is exceptionally durable.
You might find the beeping sounds of the ubiquitous microwaves are irritating. Congratulations!
You will not find it in this microwave as you can choose to turn on or off the sound, which makes it a perfect microwave for your busy morning when your baby is still sleeping.
Another amazing thing about this microwave is it features pre-programmed buttons that enable you to make popcorn, cook potato, pizza, defrost vegetables, and reheat beverage and dinner plate in a jiffy with foolproof results.
No beeping sound if you turn it off.
It features 6 pre-set recipes.
It is durable.
Larger cooking dishes will not fit in it.
Hamilton Beach 1.1 cu ft Microwave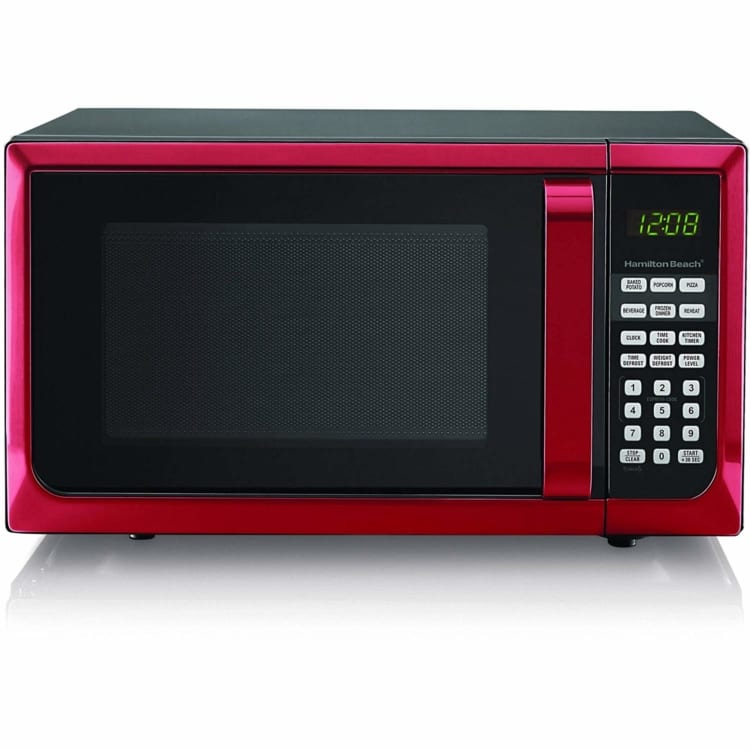 Add pops of colors in your kitchen with this red microwave. The stylish design will not only help you prepare and reheat the meal better but also make your kitchen look chic. If red is not your thing, don't worry! You can opt for the black or silver one, instead.
This small microwave understands the inquisitiveness of kids. Therefore, it has the feature of child safety lock for the peace of mind.
You can ditch the beeping sound.
It can heat things fast.
The beeping sound is awful.
GE 1.7 Cu. Ft. White Over-The-Range Microwave Oven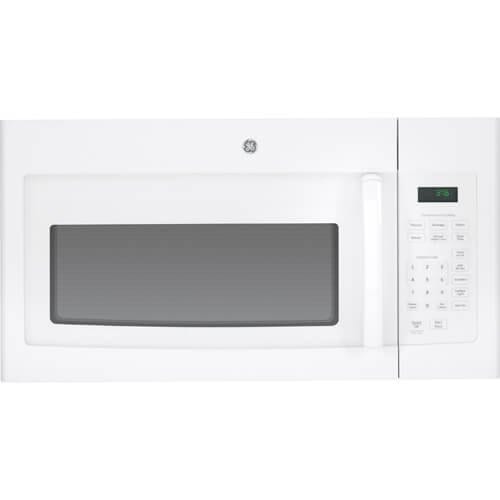 GE 1.7 Cu. Ft. White Over-The-Range Microwave Oven
Convenience cooking controls operating made quick and easy
Electronic controls with graphic display make this microwave easy to use
Includes recirculating charcoal filter kit for non-vented applications
This is another compact microwave that will not gobble up the valuable counter space. It is eminently easy to install and use even if you do not read the manual thoroughly since it only features the most commonly-used buttons.
The automatic exhaust fan is the special feature of this microwave. Although it is automatic, you can still run it manually. But, be careful! It is sensitive to heat.
If it detects the heat produced by your stove, it will stay on until everything has cooled down already.
Durable.
You can reheat food or beverages, or make popcorn more easily, thanks to the pre-set recipe buttons.
You can choose to turn on or off the turntable.
It features a 2-speed ventilation system and an automatic exhaust fan.
The noise is horrible.
Farberware Black FMO12AHTBSG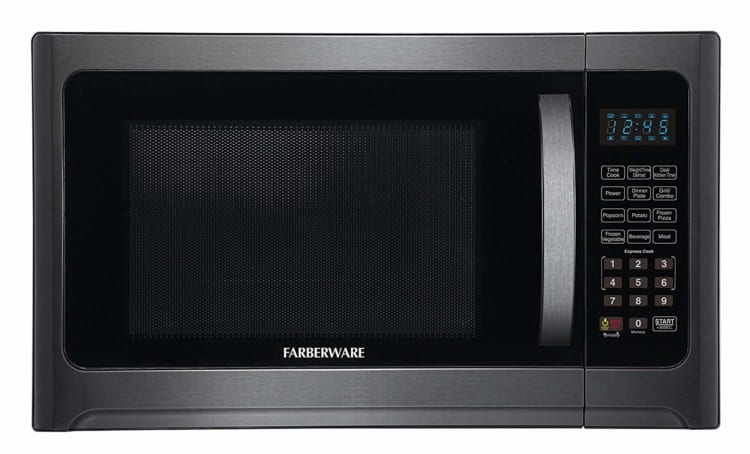 Farberware Cu. Ft. 1100-Watt Microwave Oven with Grill ECO Mode and Green LED Lighting, 1.2 Cubic...
1.2-cubic-foot cooking capacity, sized to fit on your kitchen counter
1100 watts of cooking power and 10 power levels allow you to adjust the power from 10% to 100%
Premium Black Stainless Steel design finish helps reduce fingerprints and smudges. Width (in):17.3,...
Unique dual cooking functionality--Grill and Microwave-- allows for endless cooking options
9 One-Touch cooking programs allow you to heat up everyday items in seconds and Multi-Stage cooking...
Whether you live with your family or dwell in an apartment by yourself, this microwave will be a huge help. The black stainless-steel design incorporates a futuristic look in your kitchen.
It features unique Grill Function that makes you get a perfect finish all the time. You can also choose to defrost either by weight or time setting to get some semblance of finish. More importantly, it has a child safety lock for ultimate safety.
Stylish design
Special lock for the ultimate safety
Easy to use
The light inside the microwave is dim and flickering sometimes.
Nostalgia RMO400RED Retro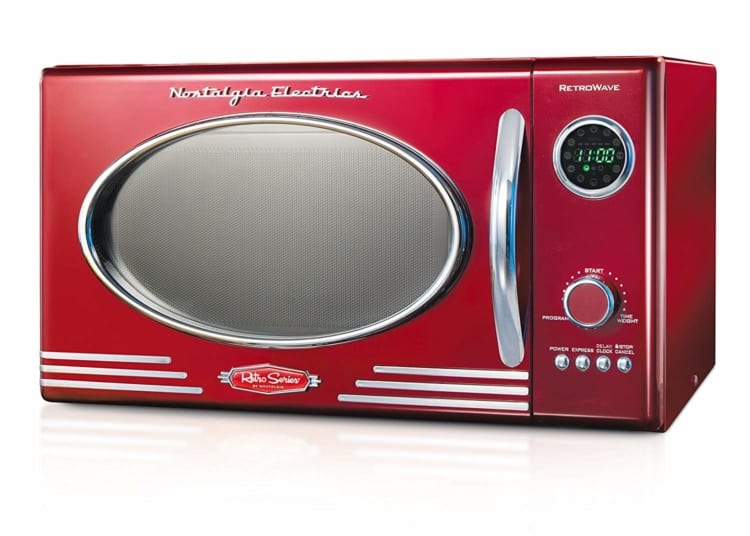 For some people, picking a microwave is not only about its function, but also design. And this microwave will perfect the look of your retro-inspired kitchen.
Besides the unique design that looks like a radio which recalls the past trend, it also provides a splendid performance. The rotating glass carousel enables you to cook food evenly. The control panel and accents bring the charm of retro flair.
Unique retro-inspired design
The rotating glass makes sure you cook food better.
It is not quite durable.
---
If you are looking for the best cheap microwave, we recommend you to purchase AmazonBasics Microwave
. It is not only durable but also does cooking stuff well. The best thing is the voice control.
More importantly, it costs as much as the regular microwave although it is considered to be a smart microwave.