Are you hoping to recreate the beer drinking experience at your favorite pub at home for yourself, your friends, and/or guests? You might want to consider purchasing a beer keg refrigerator, or a kegerator. This specialized fridge allows you to keep kegs of draft beer cool, fresh and carbonated for several months by using carbon dioxide to pressurize the keg.
The 5 Best Selling Kegerators:
Bestseller No. 1
EdgeStar KC2000 Full Size Kegerator and Keg Beer Cooler
Holds US Standard 1/4 and 1/2 Kegs. Does NOT support use of Coors, Miller, rubberized or other oversized kegs
Temp Range: Low 30's to Mid 40's; Easy conversion to a refrigerator; 5 lbs CO2 cylinder included (supplied empty)
Dimensions: 50-7/16" H (includes tap & casters) x 20-3/16" W x 20-1/16" D (Depth w/ external tank mounted: 30-1/2") (Height w/out tap and casters: 33-1/8"), Warranty: 90 days labor, 1 year parts
Bestseller No. 2
EdgeStar KC2000TWIN Full Size Dual Tap Kegerator & Draft Beer Dispenser - Black
Stores up to a full sized half shell Sankey standard keg or two sixth kegs; does NOT support use of Coors, Miller rubberized or other oversized kegs
Temperatures: Low 30s to mid 40s degrees; rolling casters included for easy mobility; Protective floor plate
For freestanding use only; 5 lb. CO2 cylinder (supplied empty) included with external or internal mounting capabilities
Sale
Bestseller No. 3
EdgeStar Craft Brew Kegerator
Includes: One (1) 2.5" stainless steel beer tower with stainless steel faucet; One (1) 2.5 lb CO2 tank (empty); One (1) single gauge regulator; One (1) stainless steel D coupler; One (1) 5 ft. 3/16 in...
PLEASE NOTE: This kegerator is designed to fit one sixth barrel or one Cornelius keg
If planning to use a ball lock keg a homebrew conversion kit will need to be purchased separately
Bestseller No. 4
Bestseller No. 5
Kegco Kegerator Digital Beer Keg Cooler Refrigerator - Dual Faucet - D System
INCLUDES COMPLETE KEG TAPPING KIT: This Kegco beer refrigerator includes all of the draft beer dispense equipment you'll need to pour a cold, tasty glass of beer. The dispense kit comes complete with...
LARGE INTERIOR: This beer refrigerator features a spacious interior that is large enough to easily hold any full size keg, including Miller kegs, Coors kegs, and rubber kegs. It can also hold up to...
CONVENIENT DESIGN FEATURES: This keg refrigerator has all of the same great features that you've come to appreciate in other Kegco models, like attractive styling, an easy-to-clean removable built-in...
While kegerators can be used for personal or business purposes, they are generally the preferred storage option for business operators for their cost-efficiency. Large kegerators can house 5-gallon kegs, thus sidestepping all the packaging costs involved when purchasing all the bottles and cans needed to store equivalent volumes of beer. Kegerators can also be used to store and dispense wine, coffee, kombucha and soda (different liquids require different modifications to the system, however).
The 5 Best Kegerators:
Kegerators come in various sizes, prices and specifications (they typically come with a stainless steel keg, a CO2 cylinder, a CO2 pressure regulator, a keg coupler (also known as a keg tap), a beer and airline, a tower, a drip tray, a shank, a faucet, a faucet handle), which be confusing for even seasoned keg users. We've helped narrow down your selection process by listing the top 5 kegerators that are currently available on the market: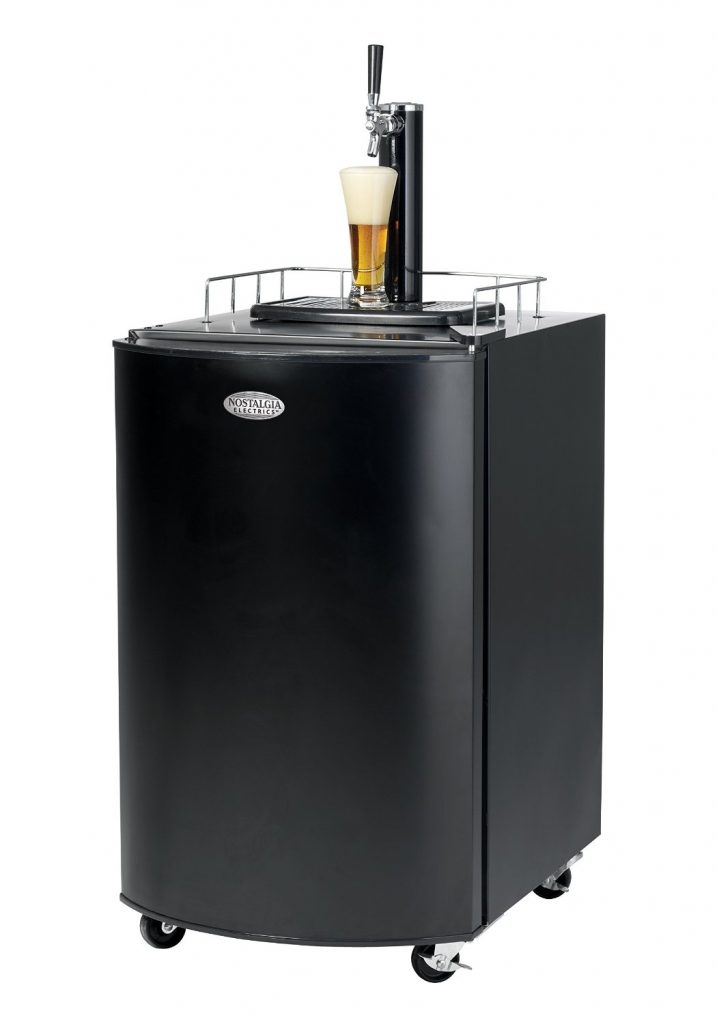 The Nostalgia KRS2100 is available in an elegant black or stainless steel finish and can house full-size kegs (15.5 gallons), 1/2-barrel kegs and pony kegs – any keg that is less than 26 inches in height. Its four swivel casters make it highly mobile; you can transport it to the clubhouse, pool or office (or wherever the party needs to be) without much hassle or effort.
This keg comes with a semi-gloss black tap tower and a chrome guard rail to prevent glasses from falling off the countertop. You can use the thermostat to adjust the temperature and the single-gauge, medical equipment-grade CO2 regulator to adjust the pressure to produce the perfect pint – with the simple pull of the spring loaded, top-mounted tap.
Avg. Retail Price: $379.99
Available at: Amazon.com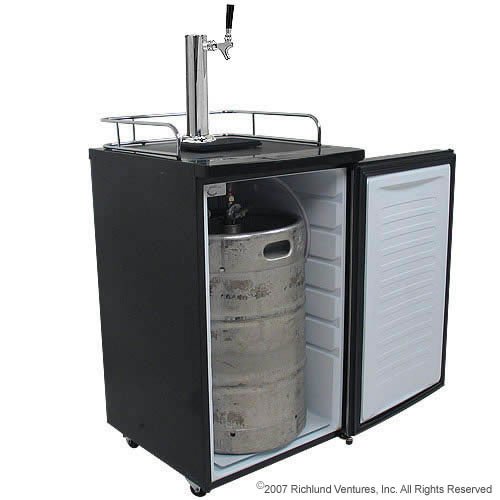 Like the Nostalgia KRS2100, the EdgeStar comes with a column draft tower, a drip tray, a chrome guard rail to prevent glasses from falling off the countertop, a modern black finish, and casters for easy, hassle-free mobility. It also features a protective metal floor plate for added durability.
The EdgeStar is often the preferred choice of experienced beer enthusiasts since its low-temperature thermostat allows it to keep a full standard size keg full of beer chilled in the low 30s (and up to the mid-40s).
It also manages to house a standard full-size keg while being 4 inches less wide than the average standard full-size kegerator. This space-saving measure is accomplished by having an external tank mount at the back of the EdgeStar, thus freeing up interior space. This compactness can come in handy if space is an issue for you.
Avg. Retail Price:  $459.00
Available at: Amazon.com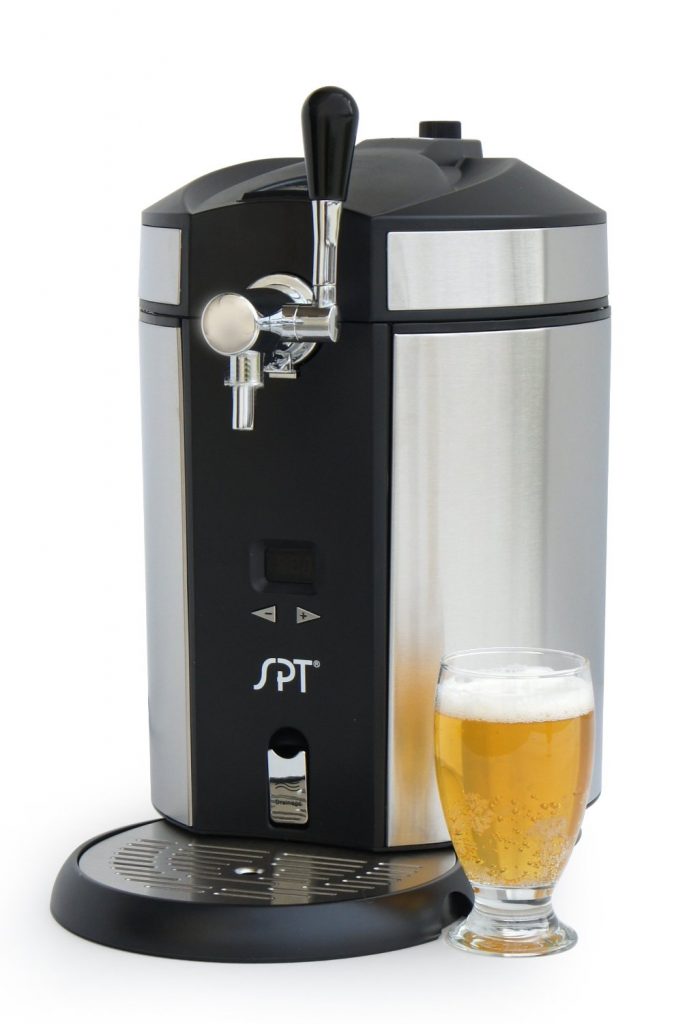 Housed in a sleek silver and black design, this stainless steel mini kegerator (which weighs 13.89 pounds) produces perfect pints with a simple handle pull. It is compatible with standard 5-litre kegs and 5L Heineken mini kegs and comes equipped with an adjustable thermostat, thermoelectric cooling technology, and a LED temperature display. The SPT BD-0538 Mini Kegerator works best with a temperature range of 32-39 degrees Fahrenheit.
Its CO2 cartridge pressure control system includes three CO2 cartridges, keeping your beer at optimal chilliness for up to 30 days. The removable water drip tray makes the cleaning process so much easier.
Avg. Retail Price: $159.99
Available at: Amazon.com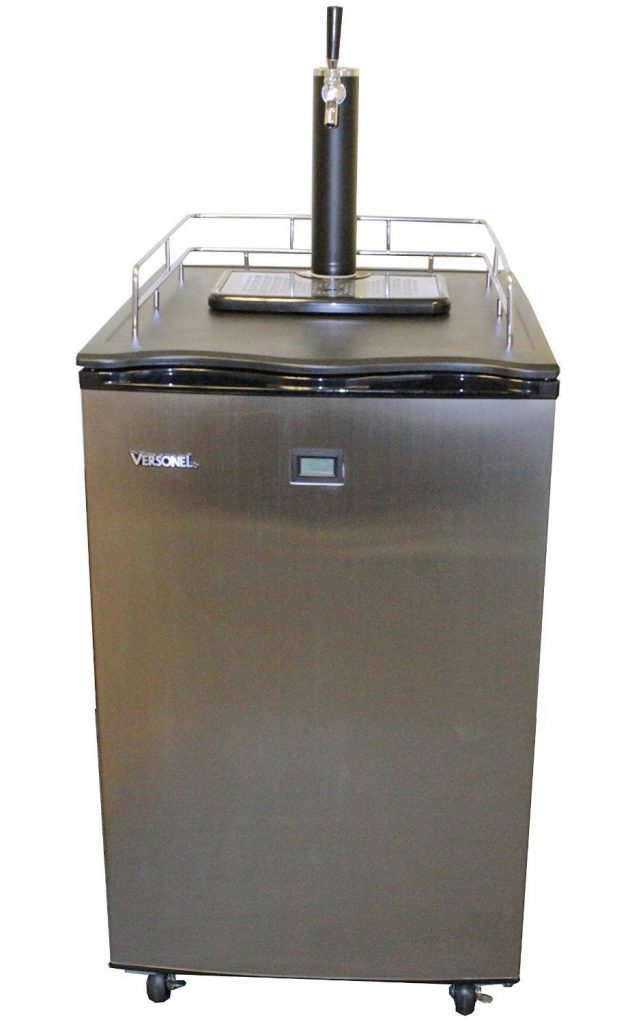 The Versonel VSL155TDSS has a similar build to the Nostalgia KRS2100 and the EdgeStar. It features casters for convenient, hassle-free mobility, a chrome guard rail, a stainless steel top drip tray unit, and a single black tap tower and chrome tap font.
With a capacity of 6 cubic feet, the Versonel VSL155TDSS can easily store kegs of all sizes, and can also be converted to a standard bar fridge by simply taking out its two removable wire racks.
It also features an LCD digital temperature display up front, allowing you to ensure that your beer is being chilled at your preferred temperature (34 degrees to mid-40s). The sleek, minimalist stainless steel finishing allows you to inject some stylish sophistication to your living room bar or kitchen.
Avg Retail Price:  $595.99
Available at: Amazon.com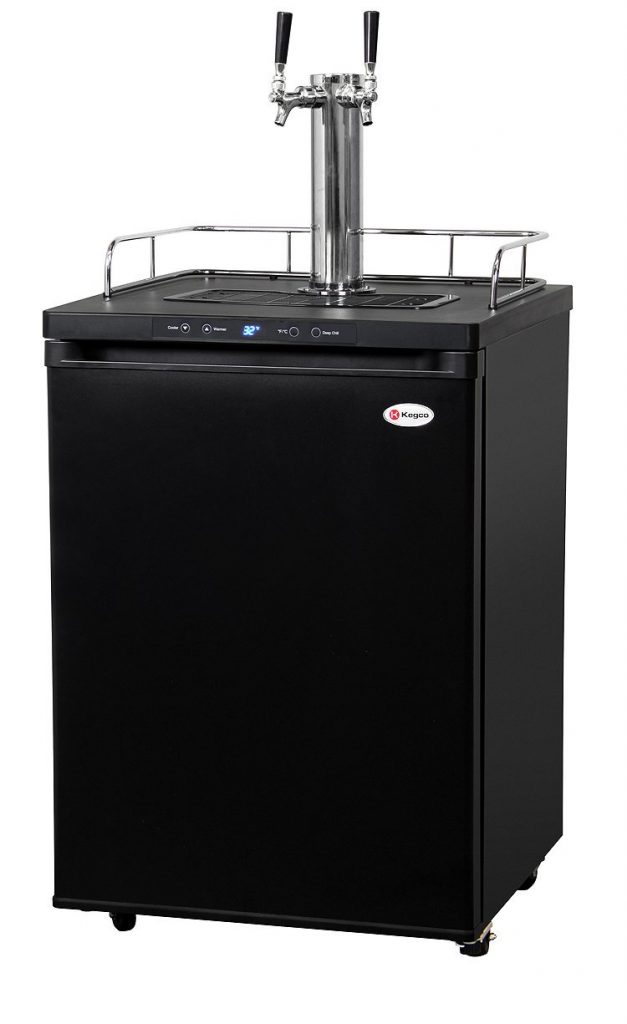 This Kegco dispenser is the most expensive kegerator on this list, but the price tag is justified by its ability to dispense beer from multiple kegs at once, via its dual tap feature. The Kegco Dual Tap Freestanding Kegerator beer dispenser can house one full-size keg (15.5 gallons), one-half size or quarter size barrel, two 1/6 barrels, or three home brew kegs.
Like the Versonel VSL155TDSS, the Nostalgia KRS2100 and the EdgeStar, it comes equipped with removable drip tray, a chrome guard rail to prevent mugs and glasses from falling off, and a (textured) serving countertop.
With its suave black cabinet, polished stainless steel door, sleek digital temperature display, and forged brass faucets that gleam with a resplendent chrome finish, this Kegco dispenser's aesthetic refinement is also a sight for sore eyes. It also comes with enhanced functionality: its deep chill function activates the compressor for 24 hours to swiftly chill a warm keg. You can also remove its two adjustable shelves to convert it into a refrigerator.
Avg Retail Price: Price: $619.99
Available at: Amazon.com
Summary
While kegerators are probably the ultimate beer-at-home status symbol, there are various things to consider before making your purchase. How much space does your kitchen, living room, garage or basement have? How many kegs do you plan to hold within your kegerator? If you also plan to use your kegerator as a fridge, the additional financial investment needed to purchase the Kegco Dual Tap Freestanding Kegerator might be worth considering. And if you have a keen sense for style and design, you'll also want to make sure that your kegerator visually complements the other appliances in your kitchen, home bar, living room, or choice of entertainment venue.