Do you love to cook? Do you love whipping up delicious dishes right in the comforts of your own kitchen? Do you take pride in cooking for your family? If you have answered yes to all of these questions, then you surely dream of having a big and well-organized kitchen, right? But sadly, that is not always the case.
Today, most of the kitchens that we have are quite small and lack space. If this is the kind of kitchen that you have, you might be having a few problems organizing your kitchen and finding storage solutions for your kitchen tools, foods and equipment.
Fortunately that doesn't have to be the case. You can keep your kitchen well organized, no matter how tiny it is. How, do you ask? Take a look at the hacks that we have below:
1.) What you lack in cabinets, make up for with shelves.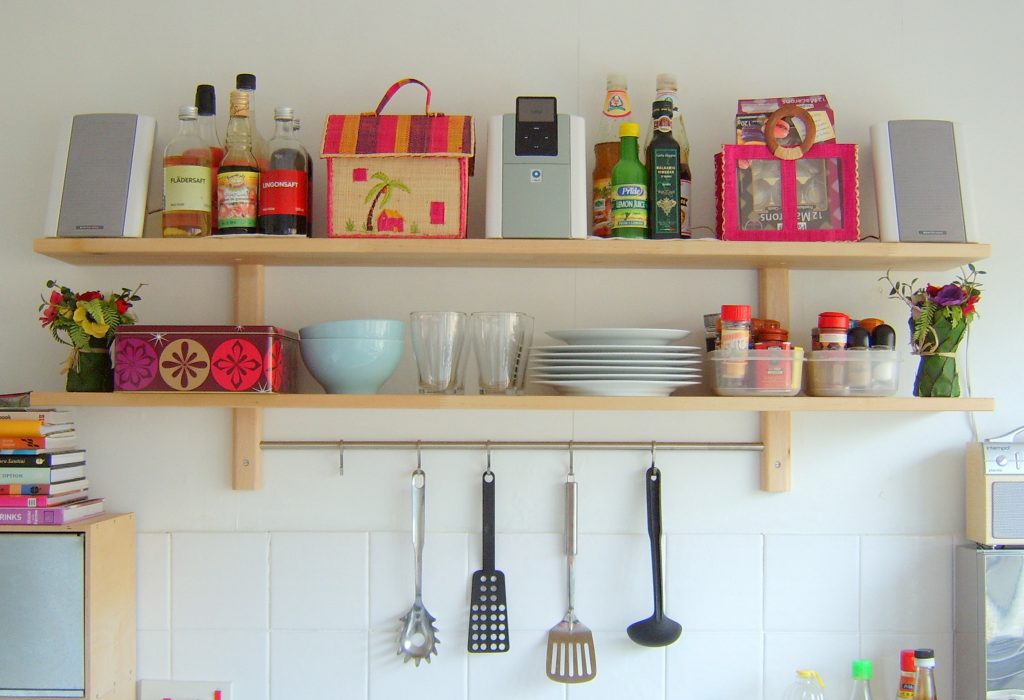 If you are having some kitchen storage problems, chances are, you do not have enough number of cabinets. If you still have an empty wall in your kitchen, just simply hang a few rows of shelves there. It is much more cost effective plus the items that you will place on the shelves can also be a great décor in your kitchen.
2.) Use your cabinets doors as storage for your spices.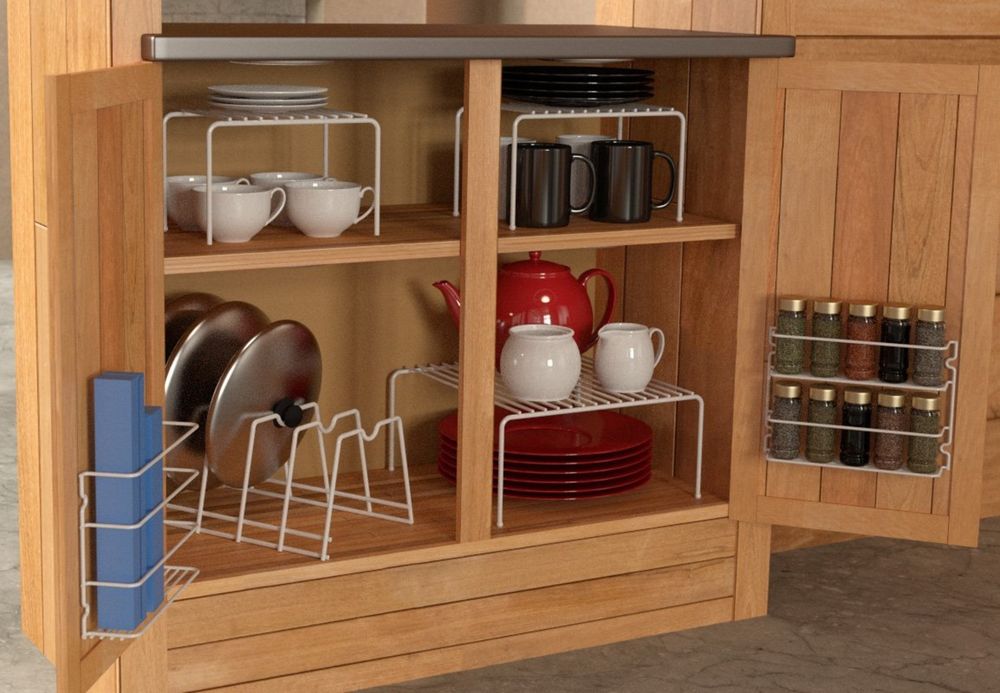 While you are already well aware of how to cook with spices, the biggest problem that you will have is how to store it. One thing that we want you to do is to take advantage of the available space in your cabinet doors. Install a sheet of steel in your cabinet door using a drill. Place your spices in small bottles then glue magnets in the lid. Attach the bottles with magnets on the steel sheet and voila, instant spice storage solution for you!
3.) Establish a cute and useful labeling system.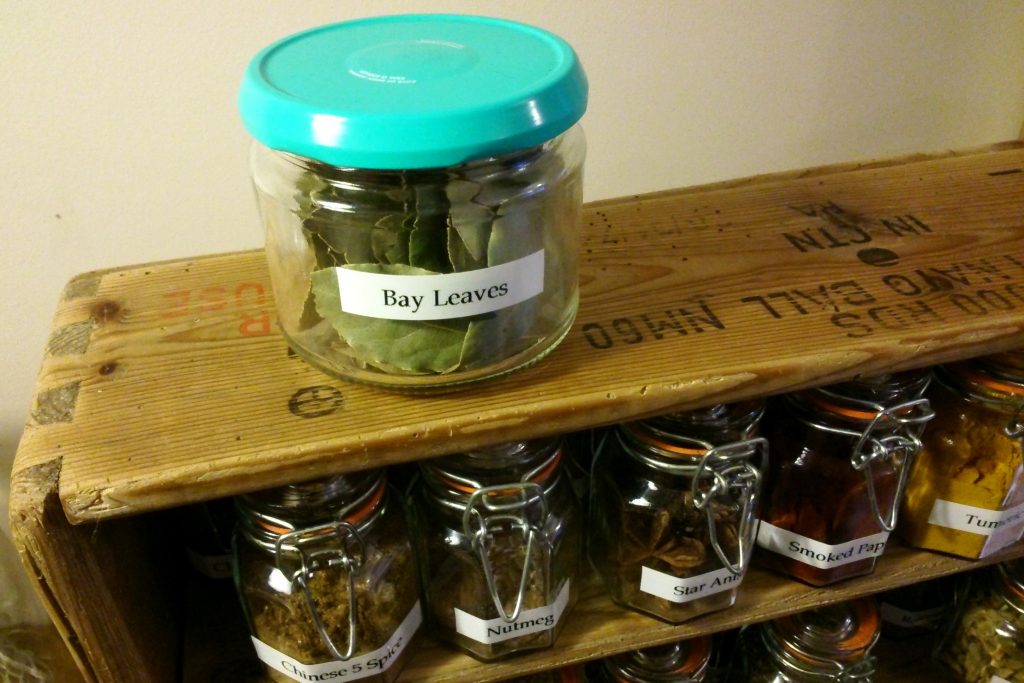 Want to make your kitchen look cute and organized at the same time? Put your spices, food items and condiments in jars then label them. You can do this by printing out labels on a sticker paper. You can find lots of cute templates online. If you will be placing the jars in the cabinets, place the label in front of the bottle. If you will be putting them in the drawer, place the labels at the top of the jars. In this way, you can easily identify what are the items stored in the jar.
4.) Hang baskets in your backsplash.
Backsplashes are not just for decorative purposes. If you wish to add more storage solutions to your kitchen, drill some holes in the backsplash area and attach rods into it. Afterward, hang some baskets and place a few of your most used item there for easy access.
5.) Keep drawers organized with drawer inserts.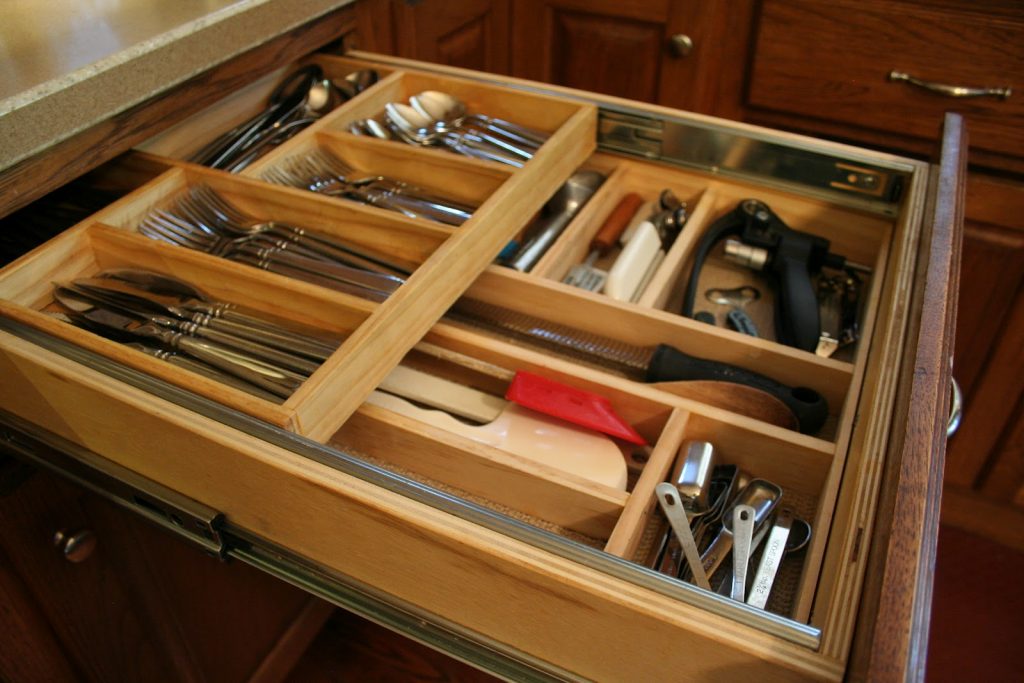 If you have this bad habit of throwing all your kitchen tools haphazardly in your drawer, then you will surely find it hard to keep kitchen drawers organized. To easily sort out tools and utensils in your drawer, use drawer inserts.
6.) Keep your sponge free from moisture and mildew using a paper clip.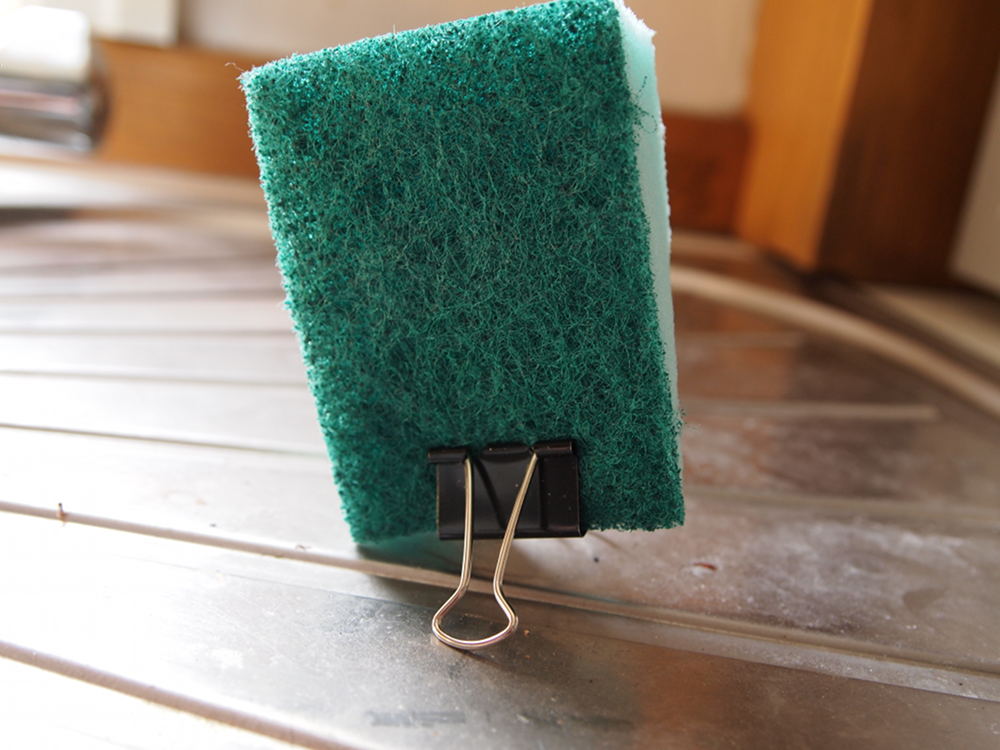 For sure, you have this habit of leaving your sponge at the edge of the sink. If you do, there is a big chance that your sponge will be a conducive area for mildew and mold growth. Lucky you, there is a way to protect your sponge from these elements. How? Just simply place a paper clip at the bottom of the sponge to keep it upright, making it inaccessible to water.
7.) Post or write your to-do list in a cork or a blackboard.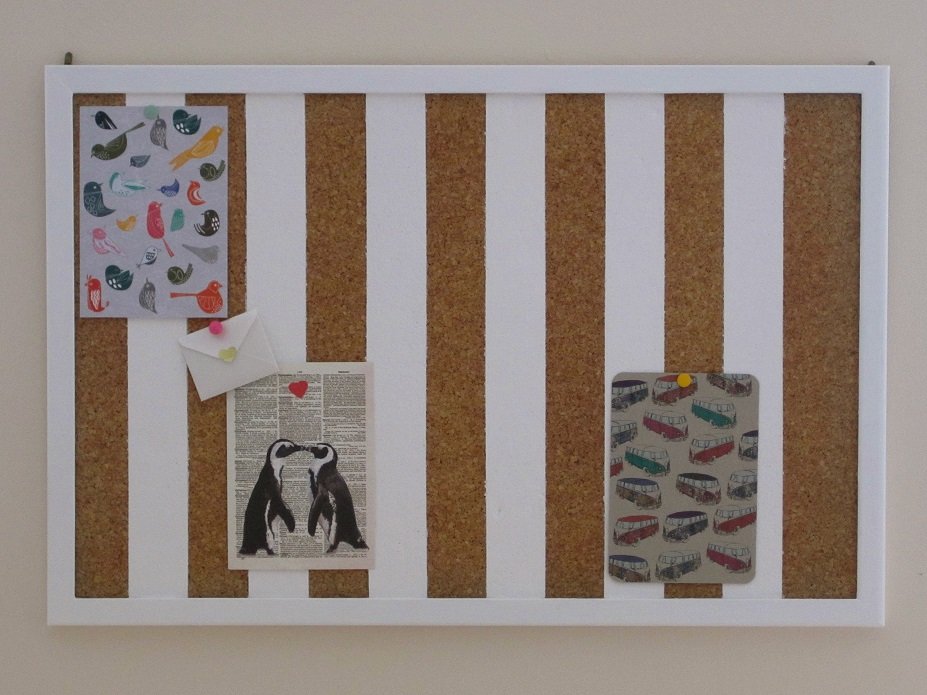 If you are one forgetful Susie, then you should remind yourself about all your cooking and kitchen errands by hanging either a cork board or a black board in your kitchen cabinets. You can post your grocery list, to dos' and even a few motivational quotes there.
8.) Use magazine holders as freezer shelves.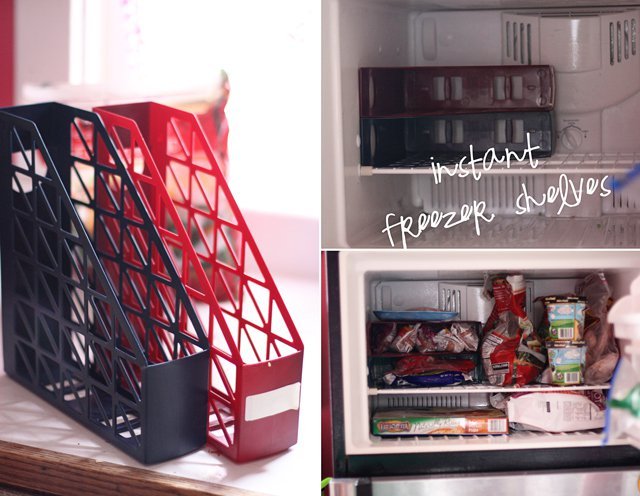 Do you have no idea how to keep your freezer as organized as possible? If you have some magazine holders that you no longer use, just simply place them in a horizontal position in your freezer. It will be perfect for storing bags of frozen veggies and fruits.
9.) Store your snacks and other food items in a hanging shoe organizer.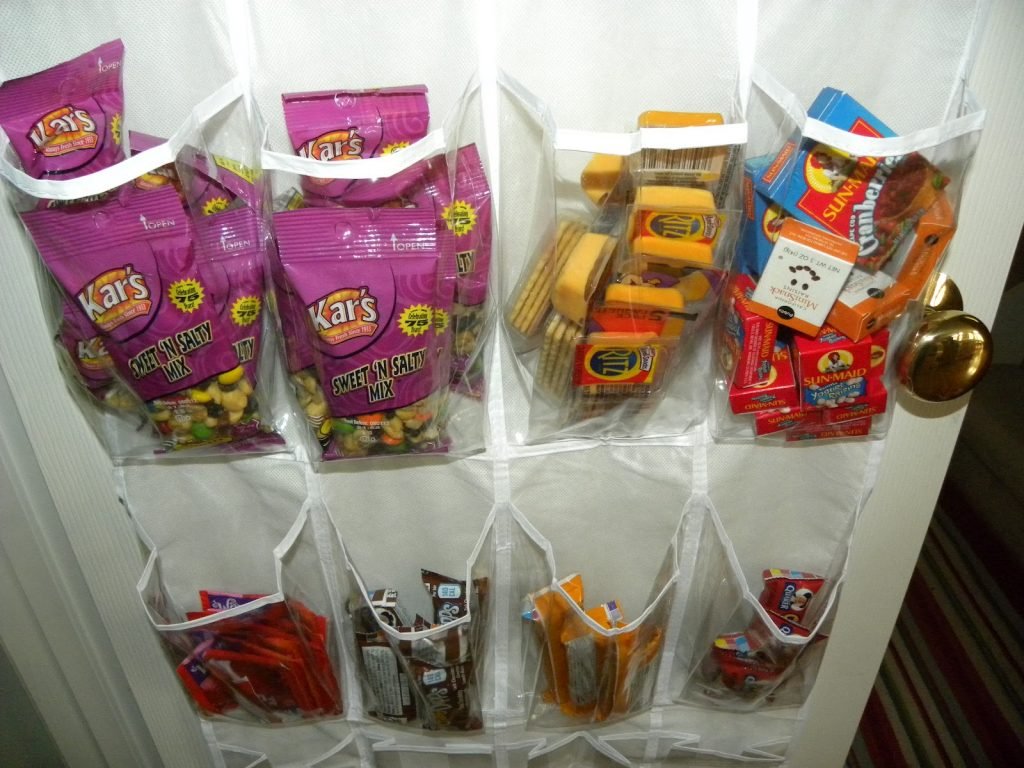 Looking for a fuss-free and cost effective storage solutions for your snacks, food items, and cutlery? Just simply hang a plastic shoe holder at the back of your pantry door and place the food items in the pockets. Just make sure that the shoe organizer is brand new!
10.) Create a DIY Pegboard organizer.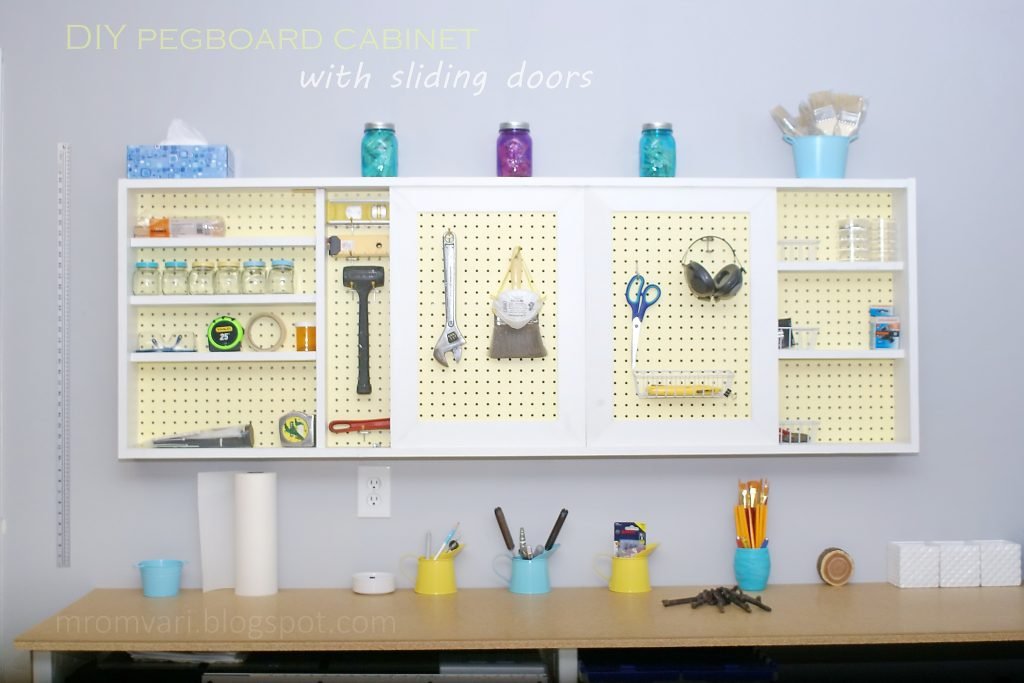 Where do you hang your pots, colanders, and pans? We cannot think of a better way to organize this kitchen tools than with a pegboard. Attach a pegboard in your kitchen wall then attach a few S-hooks into it. Doing this will definitely keep your pots, pans, and colander handy in an Instagram-worthy way!
So maybe your kitchen is not big enough to have an island or a pantry, but that doesn't mean that it is impossible for you to keep it organized. With the hacks that we have mentioned above, you can surely keep your kitchen in tip-top shape every time, all the time!