We may all have a different favorite winter pastime activity, but we can probably agree that we would rather be doing other things (e.g. reading a book, spending time with family, or relaxing by the fireplace) than removing snow pile after snow pile from our decks and driveways during the winter months.
The 5 Best-Selling Gas-Powered Snow Blowers:
For your convenience, the below list shows the 5 best-selling gas-powered snow blowers on Amazon.com. The list is automatically updated once a day.
On Sale
Bestseller No. 1
PowerSmart DB7622H Gas Snow Thrower, red, Black
Manual start 2-stage gas snow blower
212cc PowerSmart engine offers powerful snow-clearing action
Blower allows a snow clearing width of 22 in. and a clearing depth of 16 in. making it a perfect...
Versatile drive system allows 4-forward and 2-backward speed variations for enhanced driving...
Bestseller No. 2
Bestseller No. 3
Bestseller No. 4
PowerSmart PSS1210M 21 inch Single Stage Gas Snow Blower
196cc engine offers powerful snow-clearing action.
Blower allows a snow clearing width of 21 in. and a maximum intake of 12.5 in.
180° chute rotation for better snow-blowing control.
Easy to assemble.Compact design makes for easy storage.Light weight design makes it easy to handle.
On Sale
Bestseller No. 5
Snow Joe SJ625E Electric Single Stage Snow Thrower | 21-Inch | 15 Amp Motor
VERSATILE: Ideal for quick snow pickups on mid-sized driveways and walkways
POWERFUL: 15-amp motor moves up to 800 lbs. of snow per minute
MAINTENANCE-FREE: No gas, oil or tune-ups make it effortless to start and maintain. Chute Rotation...
LED LIGHT: 3 W LED light for safe nighttime clearing.Tires: 8 inch (2.5 inch width)
If you live in an area that expects 6 or more inches of snowfall each year, investing in a gas snow blower might be one of the most cost and time-effective decisions you can make.
Most gas-powered snow throwers rely on a combination of an electric starter and gasoline power to effectively deal with heavy snowfall over rough terrain and large areas. While gas snow blowers demand more maintenance than their electric counterparts, they are tougher and provide more power.
The 5 Best Gas-Powered Snow Blowers:
To help you choose the best gas snow blower for your snow removal needs, we have compiled information on and reviewed the best gas snow blowers currently available on the market.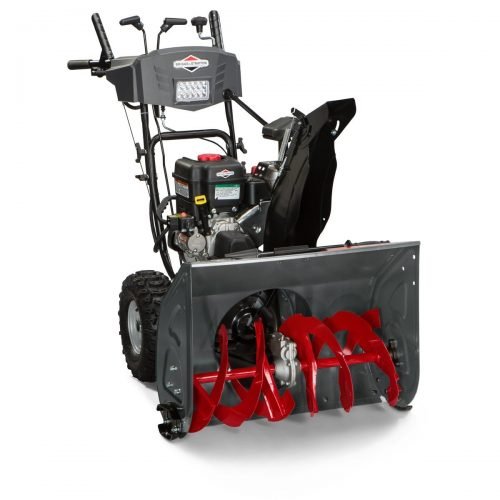 Briggs and Stratton 1696619 Gas Snow Blower Specs
| | |
| --- | --- |
| Clearing Width | 27 inches |
| Engine | 250 CC |
| Weight | 189 pounds |
The Briggs & Stratton 1696619 Medium-Duty Dual-Stage Snow Thrower, with a 250cc snow series engine, was designed to clear a 27-inch wide clearing path and a 20-inch depth with ease and efficiency.
With a push of the electric start button, you can begin making quick work of heavy snowfalls with the aid of the friction disc transmission. The freehand control allows you to drive the snow thrower with one hand while using the controls with your other hand, eliminating some of the usual hassles of operating a snow thrower.
Meanwhile, the dash-mounted chute rotation and the on panel chute deflector makes the job even easier. Other features include the single LED headlights (which allow you to work at night) and the steel reversible skid shoes (which require less effort to manoeuver it through various types of snow conditions). It comes with a 3-year limited warranty and a durable steel frame.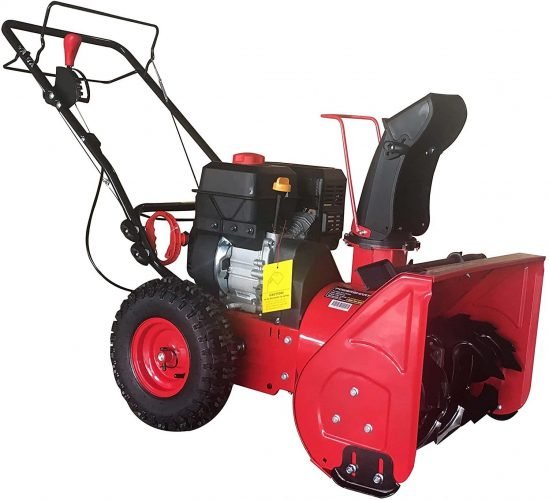 PowerSmart DB7622H Gas Snow Blower Specs
| | |
| --- | --- |
| Clearing Width | 22 inches |
| Engine | 212 CC |
| Weight | 154 pounds |
If you are looking for a compact gas snow blower, which packs a lot of punch, then look no further than the Powersmart DB7622H. Electric start 212 cc engine allows you to put this machine to work with the press of a button.
For even easier maneuvering and more control, it also gives you the option to choose between a variety of speeds with 4 forward and 2 backward gears. No matter how deep the snow is or how slippery it is outside, a simple adjustment of the skid shoes to have more clearance when you need it.
The snow blower is also equipped with 10" steel augers who make short work of any snow, which comes their way. The aggressive 13" tires, alongside the 180-degree adjustable chute, will allow you to handle the blower with confidence and ease even in the deep snow. Last but not least, this machine has the capability of clearing 22-inch width and 16-inch height.
For a fraction of the price of other name brands, the Powersmart DB7622 makes you the smartest guy in the room for purchasing this product.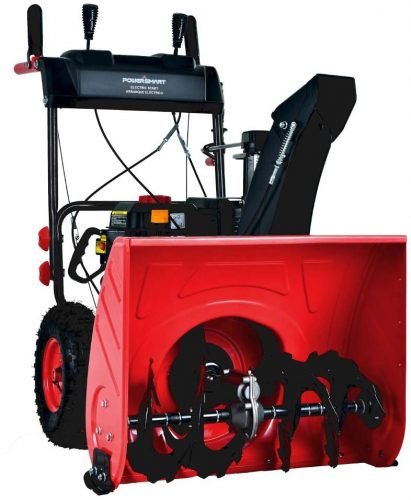 Husqvarna ST224 Gas Snow Blower Specs
| | |
| --- | --- |
| Clearing Width | 24 inches |
| Engine | 212 CC |
| Weight | 160 pounds |
The Husqvarna ST224 is a two-stage snow thrower that comes in a dark orange design. It is well equipped for dealing with up to 12 inches of snow and has a 24-inch clearing path.
It features a 208cc Husqvarna engine, an electric start, a LED headlight that allows you to work at night, 180-degree remote chute rotation with a remote deflector, heated grip handles, 12-inch improved performance ribbon augers, friction disc transmission, an aluminum gearbox, 15-inch tires, and a 2.7-liter fuel tank.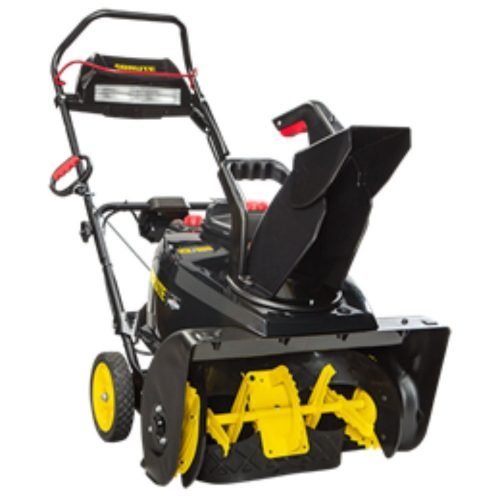 Brute 1696666 Gas Snow Blower Specs
| | |
| --- | --- |
| Clearing Width | 22 inches |
| Engine | 205 CC |
| Weight | 170 pounds |
With its 205cc Brute engine, the Brute 169666 single-stage snow blowers are well equipped to deal with light to medium snowfall and features the innovative patented SnowShredder™ serrated auger.
Its fourteen high-performance serrated surfaces will make quick work of all the snow on your driveway or sidewalk with its advanced ice chopping and snow removal power. You can easily rotate the chute from left to right (up to 200 degrees) and adjust the distance snow is thrown from the snowblower handle.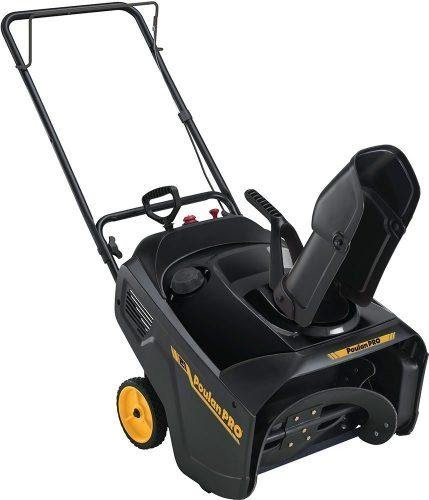 Poulan Pro PR100 Gas Snow Blower Specs
| | |
| --- | --- |
| Clearing Width | 21 inches |
| Engine | 136 CC |
| Weight | 33.57 pounds |
The Poulan Pro single-stage snow thrower promises to make quick work out of any snow clearing job with its powerful 136cc Poulan engine, which provides 7.11 foot-pounds of torque.
It relies on durable rubber augers to propel itself forward, gathering snow and throwing it through the cute. It is best suited for clearing moderate snowfall (up to 6 inches) from smaller areas, paved areas, 2-4 car driveways, and sidewalks.
The controls are large and easy to operate while wearing gloves, while the ergonomic handle and rubber over-mold bail arm ensure your comfort. The quick-release folding functionality also ensures your convenience when storing and transporting the unit.
Popular Snow Blowers FAQs:
How Much Gas Does a Snow Blower Use?
Just like with cars and lawnmowers, results may vary here, based mainly on how much horsepower your snow blower has. The general rule advises that the consumption should be about 0.5 lbs of gas per 1 horsepower.
What is a Single Stage Snow Blower?
A single-stage snow blower simply means that all the action happens in one stage. The auger catches the snow from the ground and propels it out of the chute to the side you navigated the chute towards. A single-stage snow blower is not usually recommended for regions with heavy snowfall as it usually has less capacity to clear more than 6-8 inches of snow.
What is a Two Stage Snow Blower?
As the name implies, a two stage snow blower divides the work between the auger and the chute. In this case, all the auger does is collect the snow from the ground, puts it through another part of the blower, called an impeller, which in turn is responsible for driving the snow out the shoot.
Gas Snow Blowers Buying Guide
When choosing which gas snowblower to purchase, there are several things to consider: the annual snowfall in your area, the terrain you will be dealing with, and the size of your yard or lawn. If you plan to clear snow when there is little or no sunlight, be sure to purchase a gas blower with an LED headlight.
Another detail to consider is whether you want your snow blower with wheels or with tracks. The vast majority of snow blowers have wheels, but most importantly, an engine powers the two-stage ones' wheels so most of the time you do not have to constantly push or pull on the machine. The great advantage of the tracks in snow blowers is that you will have an even easier time navigating it on a hill or a steep driveway because these grab the snow just like the tank's ones.
When it comes down to price it is not only essential you know what your budget is but calculate very carefully how much work you will be doing with the snow blower and for how long. Sometimes the costs may vary by a $100 and sometimes it could be a $1000 difference. Make sure you do not buy a machine you do not really need as much and overpay needlessly.
Do also note that gas snow blowers typically require more maintenance work than electric models. Be sure to add stabilizer to the gasoline to stretch fuel use and avoid engine corrosion, empty the tank before storing it away after the snowfall ceases, and inspect the spark plugs and tires carefully each year before the snow starts piling up
Conclusion
Gas snow blowers can be divided into single-stage blowers (which only feature one auger, the corkscrew-shaped paddle that pushes snow into the blower) and dual-stage blowers (which feature an auger and an impeller that breaks down large chunks of ice and snow, so that the blower can push snow of out the chute more smoothly).
While single-stage blowers are perfectly capable of handling less than 4 inches of snowfall; you will probably need a dual-stage blower for more demanding tasks.
.With the right gas snow blower and proper maintenance, you can look forward to owning a worthwhile investment that will allow you to spend most of your winter doing the things you cherish most.