We all like a nice curb appeal and want to keep our yards fresh cut and well maintained. When it comes to weed whacking, trimming and keeping it fresh and clean in the front and backyard, it is always a smart choice to have a string trimmer which can reach places a big mower cannot go. In addition, it is awesome to not have to invest too much when you can get away with less and still get high-quality products.
Ryobi is one of the brands, which specializes in making handy tools for the semi-pro user, and yet they give you the professional feel for less than half the price. This being said, the Ryobi 40V weed eater is a fantastic cordless tool for having fun and doing work at the same time, so in the following article, we are going to have a deeper look into what makes this product a great purchase.
Key Features of the Ryobi 40V Weed Eater
Ryobi 40V Weed Eater Specs

| | |
| --- | --- |
| Weight | 9 lb. |
| Power Source | 40v battery |
| Trigger | Variable Speed Trigger |
| Line Advancement | Auto |
| Cutting Swath | 11-13 in. |
Lightweight – unlike gas and cord tools, this one doesn't tire you out by the end of the task at hand
40V battery – the 40V li-ion battery lets you clean sweep a ¾ acre yard in one go without recharging and feel good about the end result
Auto-advancing line – you don't have to adjust the line for cutting as it feeds automatically as you go
11-13in. cutting swath – you would only want to pull the swath to 11 inches if you look to conserve battery but it is a great option to have
Neighbor – friendly – compared to other products on the market, this is one of the quietest trimmers you will find
Great price/value point – with Ryobi this is almost always sure, but the value you get for what you pay is definitely a feature, which cannot be ignored
Review of the Ryobi Weed Eater
Design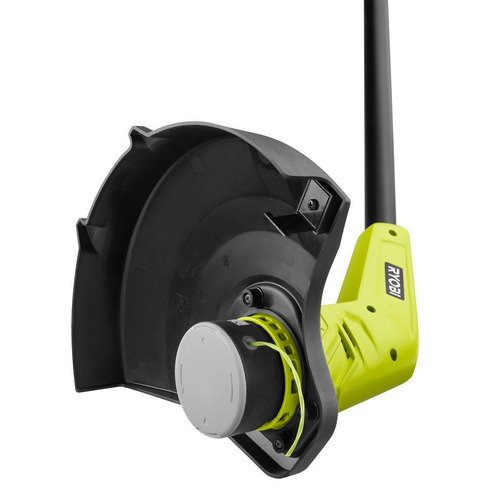 Let us start with the most obvious. The power source. The 40V battery is already a huge improvement compared to the 24V battery model of this weed eater. The larger battery helps in more ways than one.
With the placement at the opposite side of the strings and right behind your backhand it creates such a counterbalance that the tool doesn't feel as heavy as any other cord or gas-driven ones and you are not going to be feeling sore after you are done with the maintenance of your yard.
The Ryobi electric weed eater is lightweight at only 9 pounds and it has great support with adjustable handle length and support handle position and a hook in place to support a shoulder strap. Adding cordless to the design just makes it a whole lot more desirable.
Capabilities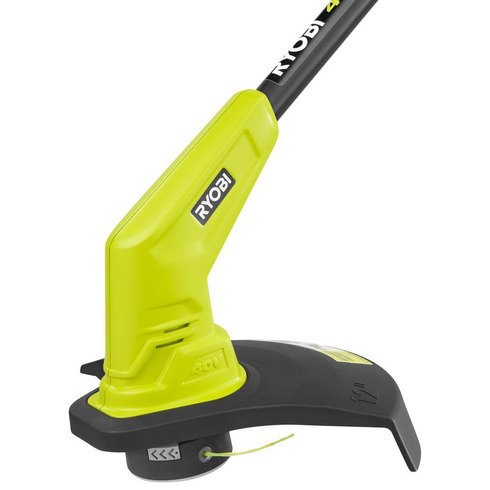 What Ryobi's 40V weed eater lacks compared to other most powerful competitors, it compensates in price, ease of use and longevity of battery life. The speed trigger helps you intuitively adjust the speed while going through your yard and the auto line advancement makes it even easier to get the precise angles you want and get to places you need without stopping.
The ability to adjust the cutting swath between 11 and 13 inches is there to give you the option of conserving battery if you don't have this much yard work to do and it is great to have just in case. With the battery being able to last a good hour of constant use, you can utilize it to a great extent if you are handy with this tool.
Even if you need to replace it with another, spare parts are always available and Ryobi's great battery system allows you to always be able to check the battery level, so you know how to handle your chores around the yard.
Additional Features
There are plenty of spare and additional parts you can acquire alongside the Ryobi 40V Weed Eater and none of them will feel out of place for your daily needs if you have more products of the brand. A charger, replacement spools, an additional battery or even a shoulder strap to reduce the weight, are all available for purchase.
Another great feature in comparison to the 24 V model is the double safety trigger, which you need to press the top and bottom of to start the whacker. This prevents any incidents especially when you have a cordless tool on hand.
Pros and Cons of the Ryobi 40V Weed Eater
Pros
Lightweight – always better to have a lightweight tool when you will be spending quite some time around the yard doing work
Long-lasting battery – ¾ of an acre is made easy work with this long-lasting 40V Li-Ion battery
Quiet – this tool is incredibly quiet compared to others you can find in our top lists for yardwork
Cordless – battery also means you will not be looking out for any cords to accidentally get cut or trip over
Safety – the double safety trigger makes sure you don't accidentally turn the weed eater on
Great Price – great value for what you get and additional accessories available to package purchase which will improve the purchase even more
Cons
No Strap – the only real con is that Ryobi put a hook for a shoulder strap on the trimmer but didn't include it
Not as professional – just to have another con on the list and not be too biased, this isn't the best weed trimmer for big yards and obviously you would need bigger tools around the garden like the best mowers out there. The torque and power are not as much as the higher-priced cutters so choose wisely based on your needs.
Would I Buy a Ryobi Weed Eater
Yes. If I have a relatively small yard, which does not require lots of mowing and curb work, I would definitely go ahead and opt-in a Ryobi weed trimmer. There are plenty of attachments for the models, parts are readily available on demand and they are easy to restring. The battery-powered cordless ones are lighter than the Ryobi gas weed whacker options and make for a pleasant experience if you have little to do in terms of yard maintenance. Combine it with a Ryobi tiller and lawnmower for the full Ryobi garden maintenance kit.
Final Thoughts
The 40V version of the Ryobi cordless weed eater is a fantastic choice for anyone looking to invest not too much into gardening tools but still wants a solid product to serve them through thick and thin bushes and weeds, while still being light on the body of the user and provide a good experience.
We hope that this guide gave you a better idea of one of the many options out there, so you can make the most educated choice next time you go to the store to buy a weed cutter.