Let's talk celery juice. Celery juicers come with all sorts of promises and come in all shapes and sizes, but when on the prowl for good celery juicers, there is little that holds importance like the ability to produce as much juice as possible.
Not only that but with any type of masticating juicer, you want to maintain as high nutrient content as naturally possible.
That's where masticating juicers come in, they give more juice yields when compared to the other centrifugal counterparts and they do this with less noise and less waste. They are especially useful if you intend to juice things like wheatgrass and leafy vegetables, which tend to be harder to extract juice from.
The 5 Best Selling Masticating Juicers for Celery:
For your convenience, the below list shows the 5 best selling masticating juicers for celery on Amazon.com, as well as any available discounts. The list is automatically updated once a day.
Our Selection of The 6 Best Masticating Juicers for Celery:
If you're not sure which is the best masticating juicer for celery is best for you, have a look at our list of the 6 best value for money masticating juicers for celery below.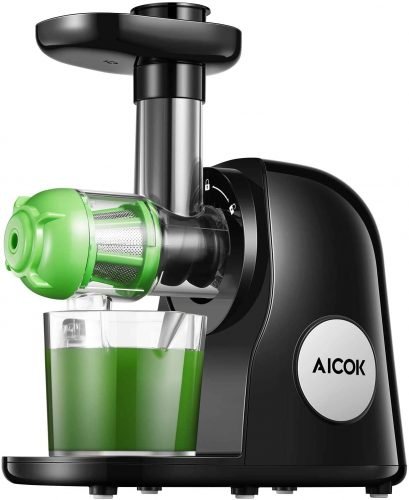 The Aicok slow masticating juicer is currently the most popular masticating juicer on the market. It's really easy to use, very efficient, easy to clean and affordable. As the juicer has a relatively wide chute you don't have to spend too much time cutting celery into small pieces.
At 80 RPMs the juicer rotation is faster than several other juicer, but slow and powerful enough to extract the maximum amount of celery juice. The juicer comes with a cleaning brush, to make cleaning easier.
Pros
Wide chute
Easy to clean
Affordable
3 Year warranty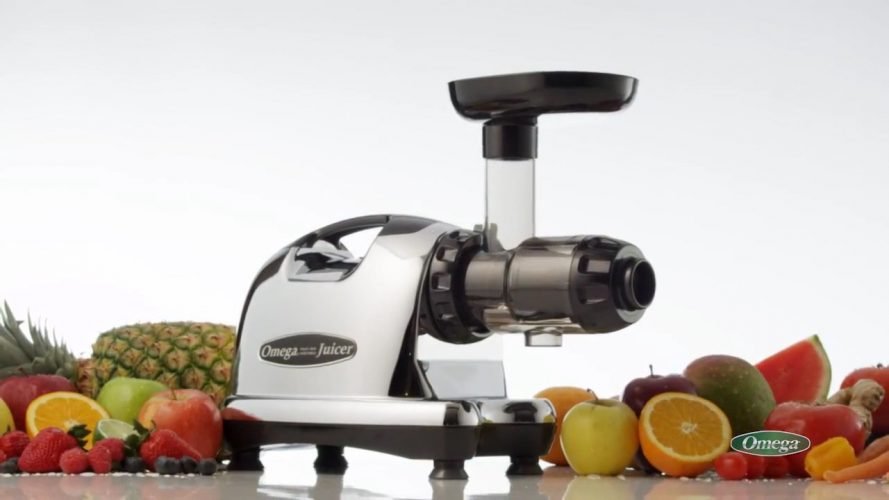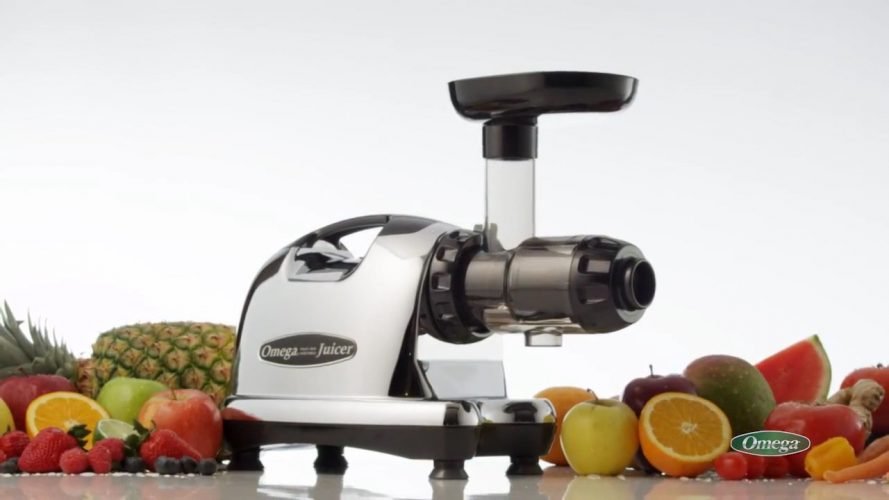 This masticating juicer is commonly referred to as the 8006. It works by chewing plant fiber to extract maximum nutrients from fruit. It doesn't just work with fruit, this beast gives you the most out of vegetables and gets this GRINDS COFFEE BEANS!!!
Coming in at only 20lbs, it features an 80RPM rotation speed that makes sure your juice has as little foam as possible. It also features an automatic pulp-ejection function for continuous juicing.
Pros
Natural food enzyme retention
High juice yield with little or no oxidation
Built-in reverse to prevent clogging on food bits
15-year warranty on the motor.
Build to last
Fast clean up on any spills.
Cons
The size takes up quite a bit of space on the kitchen counter.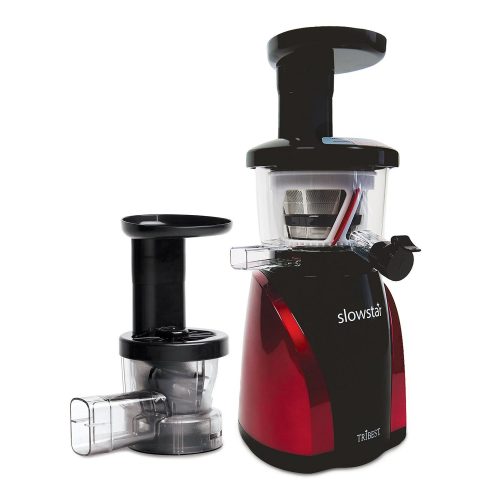 This low-speed juicer and mincer has an efficient 200 Watt motor and 3 stage speed reduction gear. Its low speed 48 RPM motor ensures that you juice without noise, also reducing heat, therefore, preserving the freshness and taste of your fruit.
Of course, the low level of oxidation means you can store your juice for a while longer as compared to fast RPM juicers, typically 24 hours. It also features a double blade auger, meaning you get more juice compared to a single blade. Its stand out feature, however, is the mincing attachment that is super efficient at making nut butter and sauces.
Pros
Minimal oxidation.
One of the quietest juicers at 48RPM
It has a fine strainer
Less jamming because of the 90hp torque
Cons
More preparation time as it is not self-feeding.
You need to pre-cut most vegetables or it will clog
Larger juice cup makes it harder to clean up.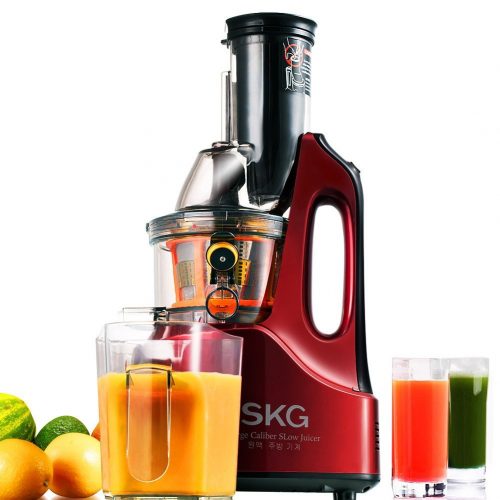 The SKG wide chute juicer is a 240W marvel that comes with a sleek design and piano varnish that gives your kitchen a stylish edge and at 23 lbs, it takes its place as one of the sturdiest juicers in the market.
Its stand out feature is the SKG's 3-inch wide chute feed. It has a 60RPM rotation rate that gives you up to 90% if juice with some fruits. The slow speed retains juice flavor on account of the minimized oxidation. Handling has also been made easier as it packs a sturdy handle.
The SKG comes with a 5-year warranty on all parts and a 10-year warranty on the motor and main body.
Pros
Resistance to clogging
Less prep time on account of the large chute
Less clean up time
Its large size makes it ideal for making family servings once.
It produces a substantially higher juice yield as compared to other juicers.
Minimal oxidation
The overload protection system that shuts off the juicer in the event of motor overheating, unstable power supply, idle run
Cons
The SKG is rather heavy.
Initial use comes with quite a bit of noise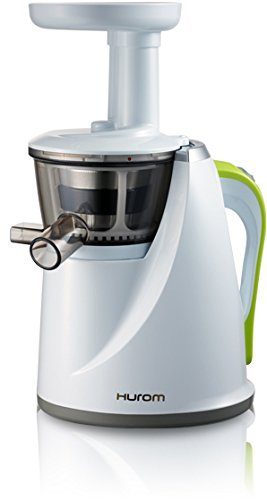 At a glance, the Hurom HU-100 looks like a centrifugal juicer. However, upon closer inspection, it is clear that the mostly plastic 150W silent juicer is a vertical masticating juicer.
The plastic makes it look cheap but make no mistake, the material doesn't take anything away from its efficiency. The juicing screen and auger are made from Ultem, which is 8 times harder than plastic.
It uses Hurom's patented SST(slow squeezing technology) that first squeezes ingredients, retaining natural flavor. At 20lbs, the motor of the HU-100 has an RPM of 80. This RPM coupled with the low electricity usage comes in handy in how the HU-100 operates.
On feeding the ingredients, the blunt blade of the auger first squeezes them. Then it keeps squeezing into a thinner channel, giving out a dry pulp and according to the makers, this gives you 35% more juice, thanks to the cold press technology.
Pros
Crack-resistant Ultem juicing screen
Very quiet
Self-feeding
Silicone wiper blades that minimize clogging
Minimal frothing and foaming but there is some
Brushes that help to self-clean
Retains juice color
Easy assembly
Cons
If overloaded, it will clog up easily
No anti-drip technology so things might get a little messy.
Harder ingredients like peanuts didn't juice as well
The price tag could get you better.
The 1-year warranty on all parts period is too short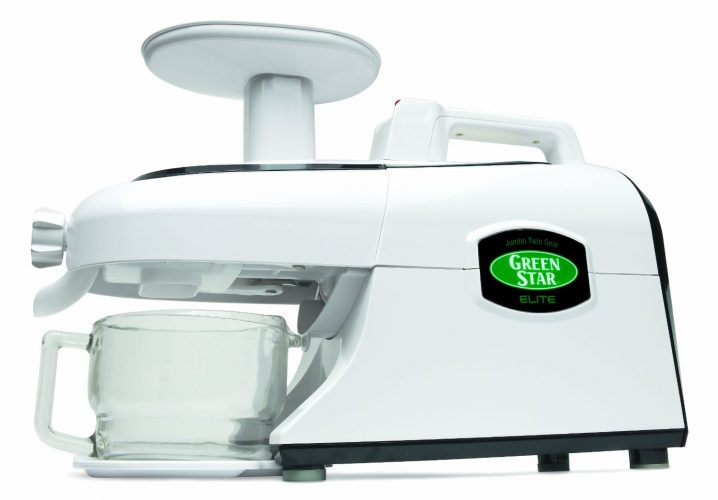 The most expensive (and cool sounding) juicer on this list, the GSE-5000 pulls out all the stops to give you a super juicer. At 26lbs, the sleek GSE packs the all-new design Jumbo Gears with three stages, twin gear processing that guarantees you are getting the most out of all your juicing ingredients by crushing, mixing and squeezing your ingredient for a high juice yield.
The GSE-5000 stays true to Green Star's famous Bio Magnetic technology that optimizes juice quality and stability. This incorporates more minerals into the juice while increasing the bioavailability of nutrients in the juice.
Its 2 conical gears rotate at 110RPM, drastically reducing heat production. Combine this with bio-ceramic technology and you can't possibly get better quality juice anywhere else.
With Max Gerson's juicing theory extra minerals are squeezed from the mixed-up pulp and juice when the juice is subjected to a hydraulic press. The GSE-5000 only uses 200W.
If you are committed to juicing and are on the lookout for the best, based on nutrient content and frequency of usage, I highly recommend the GSE-5000. Put side by side with the other 5 juicers, the only downside to it is the price, but with a price tag like that, the benefits make up for that quite well. If I cannot convince you, the most important factors to look out for are :
All of which the GSE-5000 performs exceptionally well.
Pros
Superfast assembly
It's also a pasta maker
Handles both soft and hard produce fairly easy
Dishwasher safe
Built for frequent use
72-hour juice shelf life
Nutrient retention
Safety switch system that prevents use unless all the parts are in place
Plug compatibility due to its detachable power cord
Heat resistant parts
12-year warranty.
Cons
The GSE-5000 price is on the higher end.
Narrow feeding chute
It takes time to juice
Juice Yield
Safety
Warranty
Durability and functionality
How to Buy The Best Masticating Celery Juicer
When buying a masticating celery juicer it's important to look out for a few things. First and for most is the voltage; most should be 110v, then comes the RPMs the faster they go the more waste and foam they tend to generate due to oxidation, how easy they are to clean, how big they are, and of course, how much they cost.
Juicing Efficiency
Probably to most important feature of any juicer is how efficient it is at getting the maximum amount of juice possible out of fruit or vegetables. This is especially important when juicing celery, as this is a hard food to juice.
The best way to determine the efficiency of a juicer, before purchasing it, is to read the comments of previous buyers. Look for comments where they mention how dry the celery pulp is that come out of the juicer. The dryer the pulp the more efficient the juicer.
Ease of Cleaning
If you plan on using your juicer on a regular basis it's important that you purchase one that is easy to clean. Look for a juicer with easy to remove parts, which are preferably dishwasher safe. If you don't clean the juicer after each use the left over residue will spoil and become sticky.
A masticating juicer was traditionally harder to clean than a conventional centrifugal juicer, but the newest masticating juicer models come with easy to clean, easy to remove parts.
Price
Masticating juicers can range it price from $100 all the way up to $1000, but the majority of modern consumer friendly masticating juicers, like the ones we list in this article, cost somewhere between $100 and $200.
What Is The Best Masticating Juicr for Celery?
In our professional opinion, the Slow Masticating Juicer Extractor, from Aicok, is the best masticating juicer for celery currently on the market.
Final Thoughts
A masticating juicer is your best bet when you're looking to get the maximum amount of juice out of celery. When purchasing a masticating juicer for celery keep in mind the juicing efficiency, ease of cleaning, and price of said juicer. You'll be able to find a great juicer for under $200.