Ice cream is one of those desserts that appeal to all ages. There is something inherently wonderful about the frozen treat. As we age, we also find other tasty frozen treats such as gelato, frozen yogurt, sorbet, and even frozen drinks.
The 5 Best Selling Ice Cream Makers:
For convenience, the below list shows the 5 best selling ice cream makers available for sale on Amazon.com. The list is automatically updated once a day.
On Sale
Bestseller No. 1
Cuisinart 1.5 Quart Frozen Yogurt Ice cream maker, Qt, White
New mixing paddle makes frozen desserts in 20 minutes or less
Large capacity makes up to 1-1/2-quarts
Double insulated freezer bowl eliminates the need for ice
Easy lock Transparent lid with Large spout makes adding ingredients simple and mess free.
Bestseller No. 2
On Sale
Bestseller No. 3
AmazonBasics 1.5 Quart Automatic Homemade Ice Cream Maker
1.5 quart-capacity ice cream maker for creating your own custom frozen desserts
Make ice cream, frozen yogurt, gelato, custard, sorbet, and sherbet
Fully-automatic operation that produces frozen desserts in less than 30 minutes; freezer bowl...
Mess-free design with easy-lock lid and large spout allows you to effortlessly add ingredients
Bestseller No. 4
Cuisinart ICE-45P1 Mix Serve 1.5-Quart Soft Service Ice Cream Maker, White
Easy-lock Lid with Window – Lid is designed to remove and lock easily. An ingredient window allows...
Mixing Arm (not shown) – Mixes and aerates ingredients in freezer bowl to create smooth soft ice...
1 1⁄2-Quart Freezer Bowl (not shown) – Contains cooling liquid within a double-insulated wall to...
Three Condiment Containers – Dispense the mix-ins of your choice. The front condiment container...
Bestseller No. 5
DASH DPIC100GBWH04 My Pint Electric Machine for Gelato, Sorbet + Frozen Yogurt Ice Cream Maker,...
Healthier: DASH ice cream maker lets you make healthier, homemade ice cream right from your kitchen....
Quick, easy + customizable: turns on and ready to go with just the push of a button. 1.6 cups of...
Compact + lightweight: weighing less than 1 lb, This is a must-have for that first apartment,...
Perfect gift: the perfect wedding gift, new home gift, or gift for kids. Its small size takes up...
Often, when we run out of ice cream (or any other frozen dessert) we say a little curse and run to the store to grab another carton. However, with a little time and investment in a machine, you could make your own ice cream flavors at home.
Due to their dual functionality home, ice cream makers are also known as automatic ice cream makers, frozen yogurt makers, and sorbet makers.
The 5 Best Ice Cream Makers:
With all the options out there, it can be hard to decide on which machine is the right option for you, so to help you out we've listed and reviewed the five best home ice cream makers below.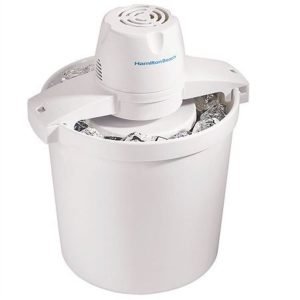 Hamilton Beach is a company known for its kitchen appliances. They often feature an affordable price tag and a simplistic design. Their ice cream maker is no different. The Hamilton Beach ice cream maker features a large 4 quart capacity with an automatic motor for easy churning. It has a plastic finish that could deter those that prefer a more stylish finish.
However, it features a very simplistic "touch and go" design which can allow anyone to make delicious ice cream, sorbet, gelato and any other number of frozen treats. It also comes with an easy lock lid for effortless storage.
Just add ice and salt to the outside ring and the ingredients to the inside ring and push start. It has an automatic stop function that will stop the motor at the perfect moment. As an added bonus, it comes with a simple recipe guide.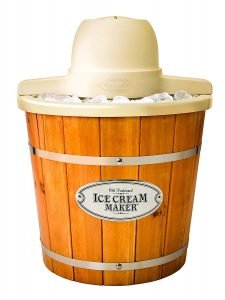 For those wishing to recapture the wistful days of old, the Nostalgia Ice Cream Maker may be the perfect fit. This maker, which is also capable of making frozen yogurt, gelato and other such treats, features a lovely wooden exterior with an easy to clean plastic liner bucket.
It also comes with a transparent lid for easy storage and viewing. It also comes with a locking motor mount for electric churning which preserves the retro feel of the ice cream maker without the work of hand churning.
Another positive aspect of this maker is the large four-quart capacity which can easily feed an entire family or picnic group! As with other simplistic designs, ice and salt must be added to the outside ring while the ingredients go into the inner bucket. This is a perfect machine for those that love the whimsy of an older era.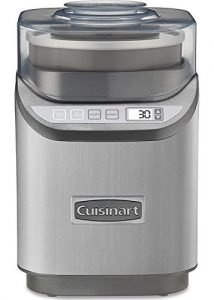 Some people like the most technological gadgets they can find. This ice cream maker is for them! The Cuisinart ICE-70 is a high tech wonder. It features 3 different settings with multiple speeds for the perfect consistency whether the user is making frozen yogurt, sorbet, gelato, frozen drinks, or ice cream.
It also features a countdown timer with an automatic shut off so you never have to wonder how long you have to wait for your frozen treat to be done. It also features a mess-free spout with a built-in measuring cup.
It has a smaller two-quart size which is perfect for those that like to switch up their ice cream flavors often. Another major feature of this maker is the freezer bowl. The freezer bowl gets pre-frozen in the freezer for around a day and no ice or salt is needed!
The freezer bowl makes it much easier to upkeep, create, and clean. In fact, it has a speedy 20 minute make time. The main drawback of this maker is the price tag. It's well above any of the others on this list, but if features are important, this is the maker for you.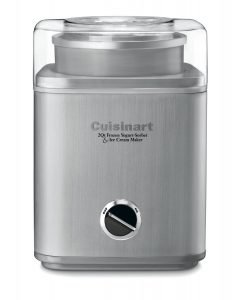 This maker is the less technologically fancy version of the ICE-70. It doesn't feature the multiple speed settings but is fully automatic. It also features the easy pour spout with a measuring cup for easy and clean making. It has the same type of freezer bowl as the ICE-70. This freezer bowl allows for quick and easy ice cream creation but you must make sure the freezer bowl is completely frozen or the ice cream will not come out correctly.
Additionally, you must make sure your freezer is at 0F or the freezer bowl will not get cold enough. It has the same heavy-duty motor as featured in many Cuisinart makers and non-slip rubber feet for secure counter placement. It has a two-quart capacity which is great for those that like to change their flavors up.
It also has an easy locking transparent lid and has storage for the cord in its base. It has a price tag below the ICE-70 but it still might be out of the range of average consumers.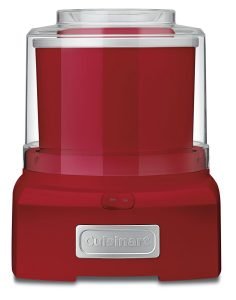 This maker is the basic model compared to the ICE-70 and the ICE-30BC. It comes in an attractive red color and has a capacity of 1.5 quarts which is perfect for an individual or those that like to experiment with flavors. It has a similar freezer bowl which means no ice or salt needed. It also features a large spout and a transparent locking lid for storage.
Just as with the other two models, it features non-slip rubber feet, cord storage in the base, and a heavy-duty motor. The best feature of this model compared to the other two is the price tag. It runs in a much more reasonable range for the average consumer.
Conclusion
There are many options for consumers who want a great ice cream making machine. Many of them have a variety of features and deciding on a type of maker can be a difficult prospect. Depending on what makes your priority list, different features will definitely point you in different directions.
This list is a comprehensive representation of what is available in the market. Hopefully, by laying out the features available, you can make a decisive and informed choice on the best ice cream maker for your needs.
What Is The Best Home Ice Cream Maker?
In our professional opinion the 683330N 4 Quart Ice Cream Maker, from Hamilton Beach, is the best ice cream maker currently on the market.