Summer is a great time for renovation, innovation, and DIY projects. With all the tv shows about home improvement, countless "how-to" tutorials on YouTube available for anyone interested, the self-made handyman is growing more and more in skill and keeps proving that anyone with the right knowledge and some spare time on their hands can achieve great results.
The 5 Best Selling Hammer Drills:
For your convenience, the below list shows the 5 best selling hammer drills on Amazon.com. The list is automatically updated once a day.
Moreover, no matter whether a professional or an enthusiast, every handyman needs his tools to be reliable, consistent and perfect for the job at hand in order to achieve the desired result.
One of the essentials in terms of tools is definitely the hammer drill. Available in different sets and sizes, these tools are great for heavy-duty tasks like a home renovation or drilling into some masonry or thick concrete.
Many professionals use rotary hammer drills because they provide extra power, control, and shock-absorption to the user, making it far more comfortable than the conventional power drill.
The 5 Best Hammer Drills:
We have compiled a list of the 5 best hammer drills on the market today while taking into consideration key specs like motor power, battery power, and changeability, drill speed as well as performance against the asking price.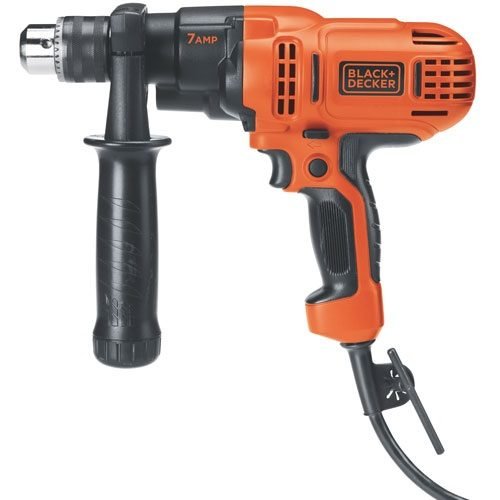 Our first entry on the list is the DR560 by Black & Decker and at the price it comes, it is a great steal for anyone who needs a drill every now and then. This is a corded hammer drill made for low to medium capacity workloads, which means it is not the ideal candidate if you are looking to pierce the pavement or some tiles in the back yard. In the wood department, however, it is better than average because of its capacity to punch 1/5' holes.
Compact in size and fairly light, this model comes equipped with a 360-degree side handle for added comfort and control while operating. The speed can go up to 900rpm and it can be adjusted to ensure controlled drilling and good performance.
Efficient, compact and reliable, the BLACK & DECKER DR560 is an overall great product if you are into woodworking and looking to have a drill handy in case of any DIY project around the house.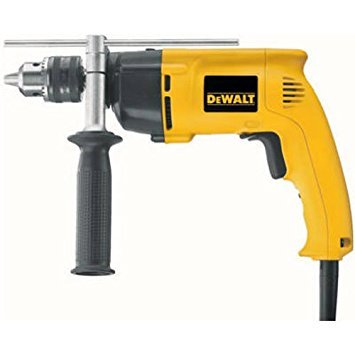 Switching gears from a more casual solution to a great value mid-range hammer drill, the DeWalt DW511 is our next entry on the list. This corded drill provides great control even for beginners, compliments of the 360-degree side handle and the 7.8 AMP motor that makes it one of the most powerful drills available on the market.
If there is a feature which this tool is lacking, that it is mixing. Although it is fast and powerful, the drill staggers when mixing Thinset, mainly due to its low torque. Another disadvantage some may find is that the drill does not come with a case.
Aside from that, the tool offers variable speed, suitable for drilling into any material – whether it is wood, steel or masonry. Yet another pleasing feature is the drill's lightweight, allowing for extended usage without excessive fatigue. Ultimately, if you are looking to invest a bit more into an instrument, which you will be using frequently and for different purposes, the DeWalt DW511 hammer drill offers great value for the price tag.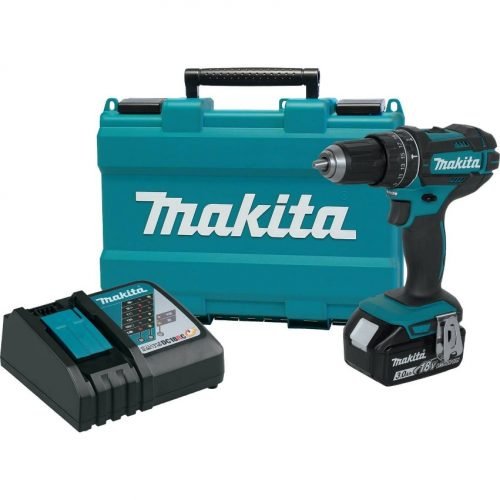 The XPH102 by Makita is an all-in-one tool offering three different work modes – from drilling to screw-driving – making it one of the handiest gizmos to have around in your toolbox. Offering 480 in.
LBs of max torque, this might not be the most powerful drill, but it can certainly hold its own when tackling concrete, steel and wood projects on a daily basis. The variable 2-speed design offers a range of numerous drilling driving and hammer applications with a momentum of up to 1900 RPM.
Taking a closer look at the power behind the tool reveals a powerful 18volt LXT battery with a speed charger included in the package. You should also note that fully charging the battery takes only 30 minutes – a great selling point of the product, especially if you would use the product on a daily basis.
With a durable all-metal gear construction, while also rocking a light and compact design, the XPH102 is a heavy-duty drill anyone would be happy to have, especially if they are in the market for a tool to use regularly.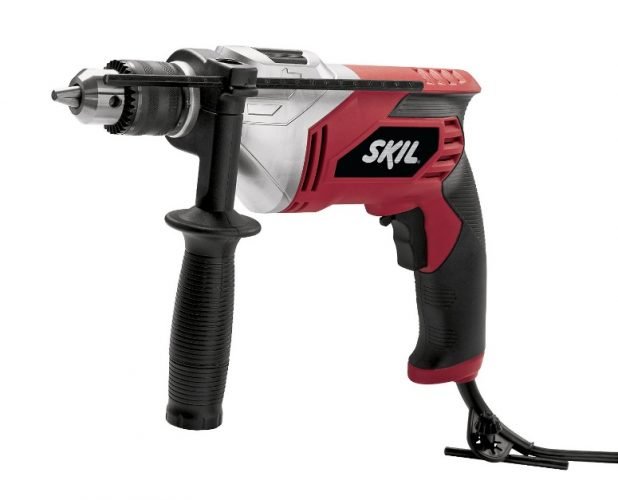 Taking a step down on the price ladder, the SKIL 6455 is an excellent value hammer drill to have around if you need a quick DIY fix. While not the best for professional use in construction, this tool works wonders for the homeowner on the lookout for a well-made drill that gets the job done and is not too pricey.
Regardless that it does not come with a keyless chuck, a key holder is built in the cord, which makes it easier to keep the key handy and less likely to lose. The 7 Amp motor can rev up to 3000 RPM and when you pair that with the variable speed trigger, you get smooth and easy drilling of a pilot.
Another feature that comes handy is the 360-degree rotating handle with an attached gauge rod for presetting the drilling depth, resulting in more controlled and precise drilling.
A few of the downsides to this tool is the lack of a case and the fact that the drill itself is relatively heavy, at 7 lb, which should be taken into consideration when using it for longer periods. Surely, there are better options on the market at this price, if you are looking for a casual drill to keep in case of an emergency or to use every now and then, the SKIL 6455 will meet all your expectations.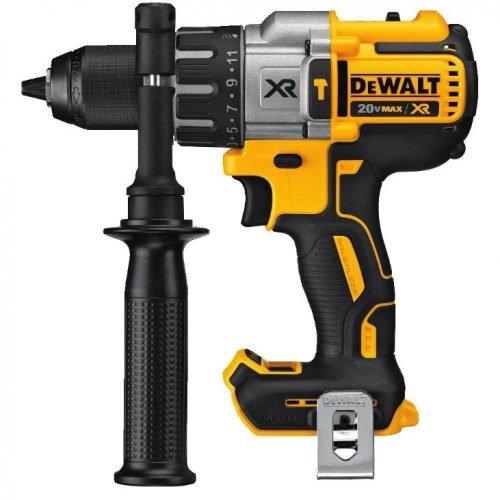 Lastly, we have the Dewalt DCD996B. This brushless motor, heavy-duty, cordless drill is a true contractor's tool. It comes with a hefty price tag if you want it with all the bells and whistles, but it is well worth it. Equipped with a brushless motor, this drill's working capacity is increased by up to 57%, compared to units with brushed motors. A 3-mode LED light setting allows for easy access in dark and gloomy environments.
Heavy loads, however, is where this drill shines. Concrete, steel, and masonry – they all are defeated, thanks to a whopping 38,250 beats per minute speed. Another addition is the nitro-carburized clutch, which protects against corrosion, thus making it effortless to work in the rain. Although even the battery(rocking 20 volts)is sold separately, the DCD996B would be a fantastic addition to anyone's toolbox, consisting of top-of-the-line tools.
Conclusion
DIY enthusiasts, professional contractors, everyone could use a hammer drill for a project or two. Whether it is for building a new deck in the backyard, constructing a home or just punching a few holes in the driveway to install an in-ground hoop, having this tool handy can make it easier for everyone.
Whether you are a handyman or a serious contractor who wants the best money can buy, then, by all means, direct yourselves to the Dewalt and Makita options, which would make you a happy camper any day of the week. On the other hand, if you look for a hammer drill to fill your garage toolbox and have it around if ever required, the Black&Decker and Skil options from the list would certainly satisfy your needs.
Share your thoughts about your favorite tools, home projects, and brands in the comments section below.