Most air compressors use electricity, gas, or diesel to convert power into compressed air (i.e. air stored at pressures above atmospheric pressure, i.e. 101,325 pascals).
House and Tech is reader-supported. When you buy through links on our site we may earn an affiliate commission. Learn More.
Compressed air contains potential energy, which can then be used for various domestic and industrial operations: filling up gas cylinders and tires; powering pneumatic tools such as jackhammers, blowguns and air hammers; supplying large volumes of pressured air for industrial processes; energy storage; air brakes; scuba diving; refrigeration.
What Is The Best Air Compressor Under $200?
In our professional opinion the C2002-WK Oil-Free UMC Pancake Compressor, by Porter-Cable, is the best air compressor under $200 on the market.
The 5 Best Selling Air Compressors Under $200
For your convenience, the below list shows the 5 best selling air compressors under $200 on Amazon.com. The list is automatically updated daily.
Portable vs Stationary Air Compressors
Air compressors are vital to the industry and come in a variety of shapes for an array of applications. We will compare stationary vs portable compressors at this juncture and their most often used application.
Stationary Air Compressors
Stationary compressors are installed in a fixed spot and will only be utilized in this location. They are not suitable to be relocated between sites. Due to its size, stationary compressors generate more power than portable compressors.
These compressors are designed to store huge volumes of air in sizeable tanks thus storing more cubic feet of air. The more cubic feet of air stored in a compressor, the easier it is for the compressor to deliver the necessary cubic feet of air per minute (CFM) and maintain the pressure at the desired pounds per square inch (PSI).
Pros
The stationary compressor can run for a long time supplying continuous air and the necessary pressure
Cons
Stationary compressors have to be attached to a static electrical connection and cannot be moved around
Portable Air Compressors
Portable compressors are also known as mobile compressors. They are much smaller than the large stationary compressors thus they provide a very flexible solution that can be repositioned anywhere you need compressed air. You will find portable compressors on nearly every construction site whether it be roadworks, building, or as a backup for factories.
Where companies do not need the volume of air and pressure generated by stationary compressors, they frequently connect portable compressors.
Portable air compressors are not constrained by an electrical connection as you can find a wide range of diesel-powered portable compressors on the market ranging from 100 to 1600 cfm.
To boost portability and stability, portable air compressors come in single-axle, tandem axle, three-axle, or four-wheel configurations.
The Portable air compressors are available in a large range of sizes to fit the space available and the output requirements of the job at hand.
Pros
Variety of sizes
Not dependent on electricity
Can serve as a backup for stationary units
Cons
Cannot produce the same pressure and air storage as stationary compressors
Portable vs On-Board Air Compressors
Portable Air Compressors
Portable compressors are used for industrial and construction applications where you want to move the unit between construction sites and produce industrial volumes of air to create significant pressure.
On-Board Air Compressors
On-board compressors are even more mobile than the portable compressors and are likely to be stored in your vehicle for regulating tire pressure when off-roading, inflating an air mattress or tube for outdoor fun, or to restore tire pressure when you have a slow puncture.
The on-board compressor should not take up- enormous space in your storage area. Since the onboard compressors are small, they do not require much power and can be operated by clipping on to a car battery and some even connect via the cigarette lighter socket in a car.
Key factors to consider when selecting an on-board compressor:
They do not have stored air and cannot operate air tools.
The duty cycle measure determines how long your air pump can run before it overheats.
Pressure output – the pounds per square inch (PSI) rating. A higher PSI rating will reduce the time required to pump up your tires or sporting equipment. An onboard compressor with a PSI rating between 120 and 200 PSI will be able to manage most situations.
The 5 Best Air Compressors Under $200:
Compressors vary according to the power source (electricity or gas/diesel), power (measured in horsepower (HP) and cubic feet of air per minute (CFM)), shape (pancake, twin tank, horizontal, vertical) and mobility (stationary or portable).
Below we list and review the 5 best air compressors under $200 that will come in handy for all your workshop, garage and factory operations: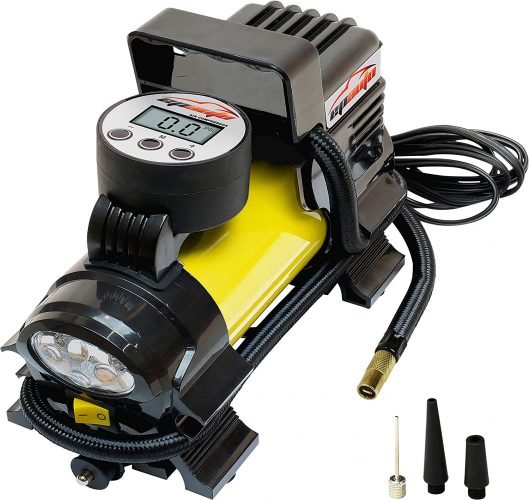 The EPAUTO 12v DC portable Air compressor pump is cylinder-shaped for easy storage in your vehicle and is available in the following colors:
This device is aimed for exclusive use in vehicles and is equipped standard with a 12V-DC cigarette lighter socket plug and there is no AC plug connection available.
The display is easy to read and will display pressure in PSI, KPA, BAR, and KG/CM.
To prevent over-inflation, you can set the required pressure, and the unit will shut off automatically when it reaches the pressure or if it overheats before reaching the desired pressure.
The LED flashlight on the front will come in handy when you encounter a flat tire at night.
Connecting the APAUTO to the valve is simple and there is a Schrader valve connection ready for use. There are needle adapters for inflating balls, and cones adapters for inflating swimming pool accessories and other equipment.
It generates sufficient pressure to inflate bike tires, car tires, sedan, and medium-sized SUVs. However, the pressure is not strong enough to inflate any truck tire.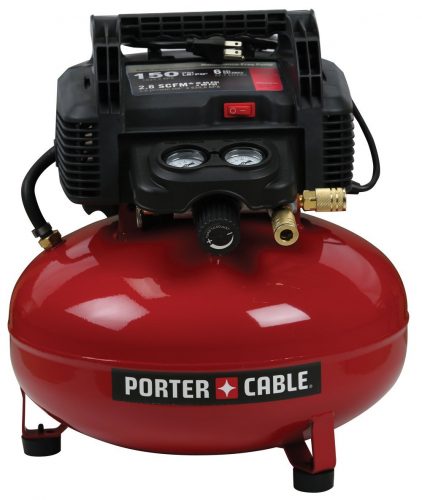 This Porter-Cable portable air compressor comes with a steel pancake design for optimum stability and is slightly larger and heavier (34 pounds) than the Kensun YS-205. Its 6-gallon capacity – coupled with a maximum tank pressure of 150 PSI – allows it power air tools for a longer period of time.
It also features 2.6 SCFM at 90 PSI, which allows for quick compressor recovery time – and 120 PSO cut-in pressure, which provides 30 PSI of 'bonus air'. The oil-free pump removes the need for regular maintenance, while the low-amp, 120V motor allows it to start easily in cold temperatures.
The C2002-WK also includes a one-year limited warranty on compressor components and a 13 piece accessory kit with the following accessories: a 25-foot nylon hose, blow gun and attachments, tire chuck, tire gauge, quick coupler, plugs, and Teflon tape.
Equipped with an integrated carry handle, the Porter-Cable C2002-WK is readily portable and suitable for use with framing and roofing jobs, multiple trims finishing nailers, and most inflation, blowing and small size SCFM air tools.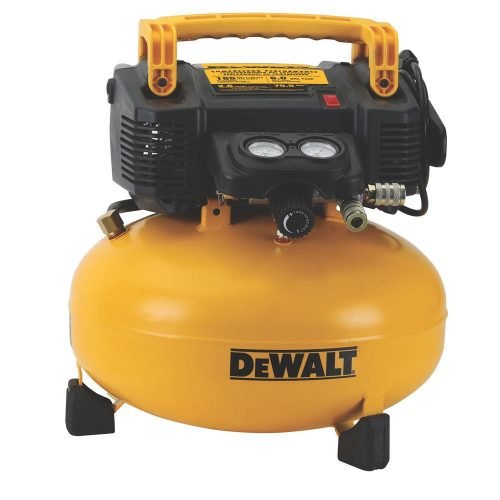 The DEWALT DWFP55126's pancake design is similar to the Porter-Cable C2002-WK, and it also has a similar size (17.2 x 16.6 x 20.1 inches) and weight (30 pounds). It also has the same capacity (a 6-gallon tank) but comes with a greater maximum tank pressure of 165 PSI.
It also features 2.6 SCFM at 90 PSI, which allows for quick compressor recovery time. Like the C2002-WK, it uses an oil-free pump that removes the need for regular maintenance, has a high-efficiency motor that allows it to start easily in cold temperatures, and comes with a one-year limited manufacturers' warranty.
The DEWALT DWFP55126's operates at a 75.5 dBA noise level, allowing it to be used in relatively quiet work settings. With its easy portability and pragmatic design (which allows for easy repairs, protection from damage, and easy storage), it is readily compatible with nail guns, tire inflators, and DIY projects around the home (but is unsuitable for more powerful tools or heavy industrial applications).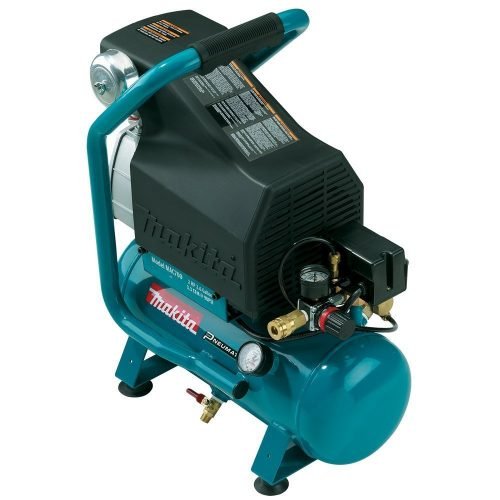 As its name indicates, the Makita MAC700 is relatively large, weighing in at 59.6 pounds and having larger dimensions than the other portable compressors: 18 x 22 x 10 inches. While it comes with a large carrying handle, it weighs almost twice as much as the other portable compressors.
The additional bulk – a 2 HP motor, Makita's Big Bore engineered pump cylinder and piston, a 2.6-gallon tank – allow it to provide high levels of power while providing enhanced durability for tough job-site environments.
The Makita MAC700 operates at comparative noise levels to a dishwasher or garbage disposal (below 90 dB). It is also relatively more efficient, delivering 40PSI (3.8 SCFM) and 90 PSI (3.3 SCFM). It also includes features that allow for easier maintenance, protection against everyday wear and tear, and efficient heat dissipation.
It comes with a 1-year warranty, and is designed for home DIY, automotive, and non-intensive professional use, e.g. nailing, stapling, moderate airbrush work and low airflow operations.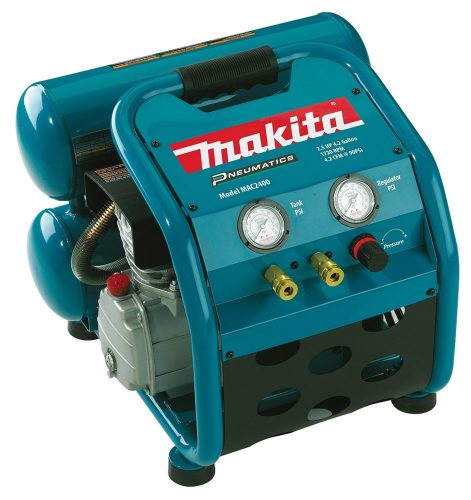 As befitting its relatively hefty price tag, the Makita MAC2400 is the largest portable air compressor in this list, weighing in at 81 pounds and having the largest dimensions: 20 x 18 x 18.8 inches. As such, combining it with a dolly may be necessary for it to actually be 'portable' and easily transported around your job site.
It comes equipped with a 2.5 HP motor, Makita's Big Bore engineered pump (with a cast-iron cylinder), and a 4.2-gallon twin-stacked tank. Like the Makita MAC700, it was designed to provide high levels of power while ensuring high durability in tough job-site environments.
Like other oil-lubricated air compressors, the Makita MAC2400 operates silently (79 dB, at a relatively low 1730 RPM). It is also relatively more efficient, operating at half the RPM of other units while delivering 40PSI (4.8 CFM) and 90 PSI (4.2 CFM).
While the Makita MAC2400 does not provide industrial output power levels, it is capable of handling the most demanding home tools: riveting guns, grease guns, plasma cutters, tire inflation tools, airbrush tools for painting, impact wrenches, and most pneumatic hammers and chisels (according to their CFM requirements).
Conclusion
The variety of air compressors available under $200 we cover here can guide you in selecting the model and type that will suit your requirements the best.
All these air compressors combine high functionality and quality – your choice of air compressor ultimately depends on what home projects you intend to use them for. Do note that additional accessories and appliances can help bring out the fullest functionality of each air compressor.
Most of the air compressors provide accessories for more flexibility but if they do not come as standard there are accessories available for your benefit. Our review will guide you towards the selection best for your needs.