There are some cleaning tasks that no amount of elbow grease and scrubbing will do the trick. When it comes to those tough cleaning jobs of ingrained dirt and grime, there is a simple answer; use a pressure washer. Using a pressure washer is a far more efficient way to clean your vehicle. It uses less water at around 2-Gallons Per Minute gym), as opposed to the 20-GPM with an average hosepipe. Plus, it is far more effective at cleaning away the dirt.
This Product Featured in Our Best Electric Pressure Washers Article.
Heavy Duty Cleaning for a Pressure Washer
Cleaning up after having friends around for dinner couldn't be easier. Your pressure washer will soon have those spills cleared away and the outdoor grill grease free. Or clean every outer wall of your home to make your building gleam like new. Here are a few reasons why having a pressure washer will make your life easier:
Wooden decking.
House, shed or garage walls.
Garage door and outside house doors.
Guttering.
Fences and garden walls.
Patio.
Driveway.
Vehicle.
Outdoor grill or barbecue.
Outdoor furniture and gazebos.
Garden machinery such as the lawn mower.
Trash can.
Even rubber items can be tackled with your pressure washer.
Basically, all stubborn stains including red wine, oil, grease, and rust.
This list is by no means complete, but it gives you an idea of what your investment is worth to you.
Features of the Sun Joe SPX3000
We have chosen to look at the Sun Joe SPX3000 Electric Pressure Washer machine. Our review gives you an idea of what you can expect for your hard-earned cash.
Jet Streaming:
With the various jet-streaming nozzles, this machine can cope with light, medium or heavy duty cleaning. It is a model with a powerful motor, running at 14-amp, 1800-Watts. Water pressure is measured in Pounds per Square Inch (PSI). The Sun Joe SPX3000 is a powerful machine providing 2030 PSI, at 1.76 GPM. That's enough blasting power behind you for a successful and satisfying deep clean.
Take your finger off the trigger and it automatically switches off. This feature is the Total Stop System (TSS), not only saving energy but also prolonging the life of the pump.
Tanks: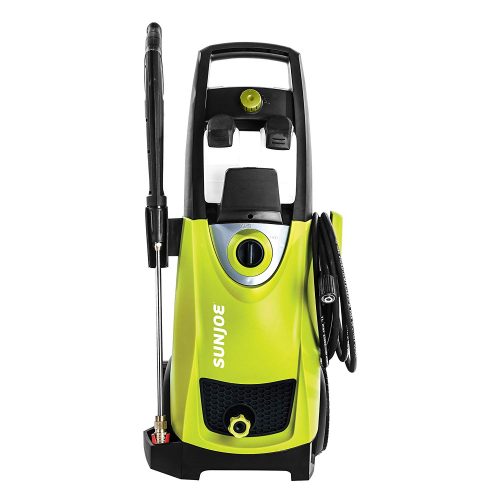 Comes with 2 removable 0.9-liter tanks. This means you can use two detergents for those difficult cleaning tasks, in your single machine. Or use one detergent and have the other water tank for rinsing.
Blasting Power:
You might not need that ultimate blasting pressure for every job. That's why Sun Joe SPX3000 allows you to take control of the spraying output. There are 5 easy connecting nozzles ranging from a pencil-point blast of 0° to a gentler spanning spray of 40°. Plus, there's even a nozzle for applying the detergents. The different features of the pressure nozzles can aid in making heavy duty cleaning tasks easier. Wash Wisely have written an interesting guide on pressure nozzles.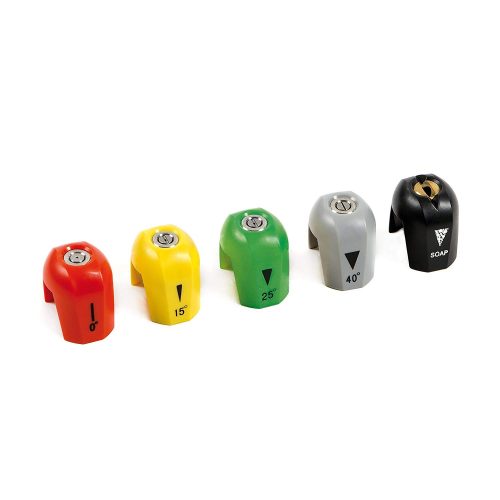 Mobility:
No problem if your vehicle or driveway doesn't have a power outlet nearby. The Sun Joe SPX3000 has a 35-ft power cable and a 20-ft hose that withstands high pressure. You should have no problems stretching out to reach the cleaning point. It also comes with a 34-inch extension wand, giving you ample mobility.
With added accessories, such as a needle clean-out tool, you have all that you need in the full kit. Here's a comprehensive demonstration of how effective and versatile the Sun Joe Pressure Washer is at cleaning.
Advantages of the Sun Joe SPX3000
Tanks:
Dual tanks are a great idea. Having two water holders enables you to put two different detergents in for anyone cleaning job. It's easy to switch over with a simple dial. For instance, use one detergent for the deeply ingrained grease on the outside barbecue grill. Then use the dial to switch to the other for cleaning off those charcoal stains. Alternatively, you can keep one tank with detergent free for rinsing off after the deep clean.
Pressure:
It's easy to change adapters for the various pressures of water you might need. From using the trigger gun for that pencil-point power, to removing it for the spray wand. Or, you can attach an adapter to take on your average garden hose, if you want a gentler jet stream of water. All pressures are safe to use indoors and outdoors.
Pump: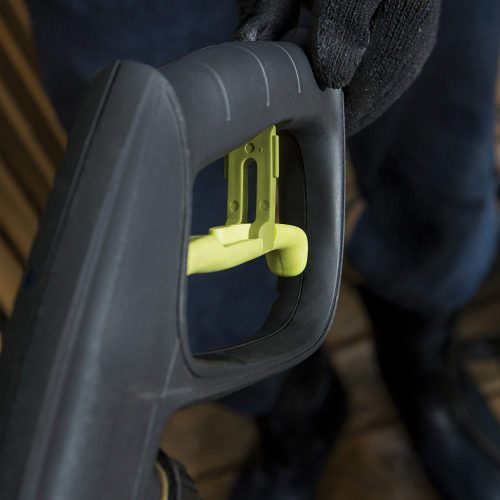 This model packs a powerful punch. When you've finished with the blasting power, the pump switches off as you take your finger off the trigger. This avoids having a powerful pipe snaking uncontrollably all over the place causing havoc.
Noise:
The motor is barely discernible and that's another reason it's a great machine to use indoors. All you will hear is the impact of the water pressure on the surface you are cleaning.
Possible Problems of the Sun Joe SPX3000
Attachments:
There have been occasions when the supplied garden hose connector has leaked. It has also been a similar situation with the provided brass adapters. Do note though that this is not always the case.
Customer Services:
Some are disappointed with Sun Joe's lack of assistance when contacting them for help. Their preferred method is to suggest trouble-shooting suggestions. This is not always effective and can leave customers frustrated and dissatisfied.
Environmentally Friendly
When it comes to restoration and maintaining your home, a pressure washer will make all those heavy-duty cleaning jobs so much easier. Real Estate agents suggest that you spruce up the entire house if you are selling your property. Tackling this with a pressure washer could make all the difference. Potential buyers will see everything looking spick and span.
A thorough clean can give anything a new lease of life, making it almost like new. Instead of buying new to replace that grimy grill or deep stained carpet you can use the pressure washer on it. This is so much better for the environment. You no longer need to replace those old doors and window frames unless they are unsafe. Same goes for the wooden decking and the concrete slabs on the patio. Now you can power wash them. You will be amazed at the changes this tool can bring about.
No more buckets, sponges and rubber gloves, just hose those surfaces with a powerful jet-stream of water. You can still use mild detergents for a thorough cleansing but there is no need for harsh chemicals. The sheer power of the blasting water will lift those stains. Pressure washers help keep the environment free of chemical pollutions.
Don't forget also that pressure washers use less water than your average garden hose. The sheer blasting power removes dirt much quicker than the average garden hose can, so you don't run the water for as long.
Conclusion
Pressure washer machines can be powered with either gas or electric. Some believe gas to be more powerful, but electric models can have far more benefits. See our blog on the success of various electric pressure washers.
They also come as Cold or Hot water fill. To better understand the differences of this what this means, have a look at Hotsy's article.
One thing for sure, there's nothing like a pressure washer to boost the curb appeal of your vehicle or even your home.