Doing small things around the house or perhaps even remodeling can require many tools. However, a nail gun is one of the best things you can choose to have when you need to build or upgrade virtually anything. The Ryobi ZRP320 cordless battery-powered nail gun is one of the leading options that can compete with popular nail guns from Dewalt.
The Ryobi ZRP320 cordless battery-powered nail gun is not a simple everyday nail gun. It is one of the best nail guns you will find used by many of the top framing artists and home remodeling contractors. In this article, we will look at some of the features and give you our review of how it stacks up to some of the others on the market today.
Key Features Of The Ryobi ZRP320 Battery-Powered Nail Gun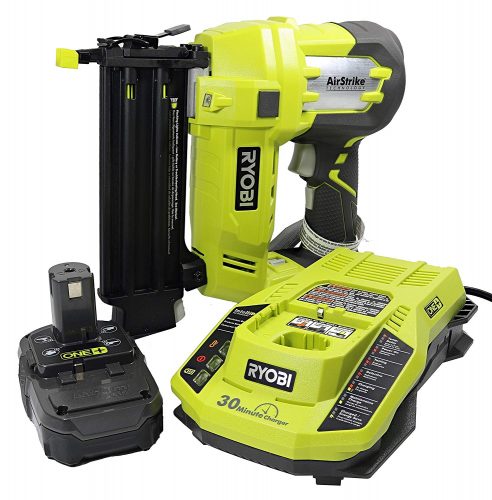 The sizing is a little large with the dimensions being around 14 x 11.7 x 7.5-inches.
According to Ryobi, the nail gun has the ability to fire around 60-nails per minute with a fully loaded magazine.
A low-nail indicator has been installed, allowing you to know exactly when the nails are low and need to be replaced.
A depth adjustment meter allows the user to adjust how deep the nails should be going. It fires the standard 1 and ¼ of an inch Brad Nail.
The air pressure dial is really functional and it helps you if you need more or less force depending on the work you are doing. (Check out the best portable air compressors).
You have two modes that you can toggle between (Sequential and Contact Actuation). These can help when it comes to specific jobs.
An 18V motor will power the unit, giving you more than enough power and limiting the maintenance on nail gun.
Since the unit is battery-powered, you have more versatility and functionality when using it.
Review of the Ryobi ZRP320 Cordless Nail Gun
Some of these features are definitely excellent and once you need a nail gun, the Ryobi Nail Gun can be one of your best friends. After a few tests and doing some in-depth research, this is what we find. We recommend reading this small review to give you more of an idea of how the unit works and the functionality.
Ease Of Use
While many nail guns have a lot of dials and indicators you need to worry about, the Ryobi ZRP320 Cordless Nail Gun only has a limited few. This allows you to easily get started once you have it. You simply need to get the battery charged and you will be ready to start using the unit. The minimal dials are really simple to understand and navigate.
Additionally, it includes an LED light at the front of the unit. This LED light helps a lot when you are working in darker and mo0re confined spaces. If you are used to working with brighter lights, you can now turn them off. However, the LED light does drain out the battery quite rapidly and you might need to have a backup charging.
Versatility And Speed
The versatility is another important aspect that many people need to be looking at. When you have a nail gun, you don't always need to do all the basics. Occasionally, the wood does not need a massive nail to penetrate all the way, or you might have smaller nails. The Ryobi ZRP320 Cordless Nail Gun has a dial to adjust the depth as needed.
Additionally, you will receive a couple of nails and we have mentioned that it can fire around 60 nails per minute. It might not compare to some of the top brands like Dewalt, but you still have a decent amount of nails to fire. An indicator will clearly show you when you need to start refilling those nails before continuing.
Weight And Size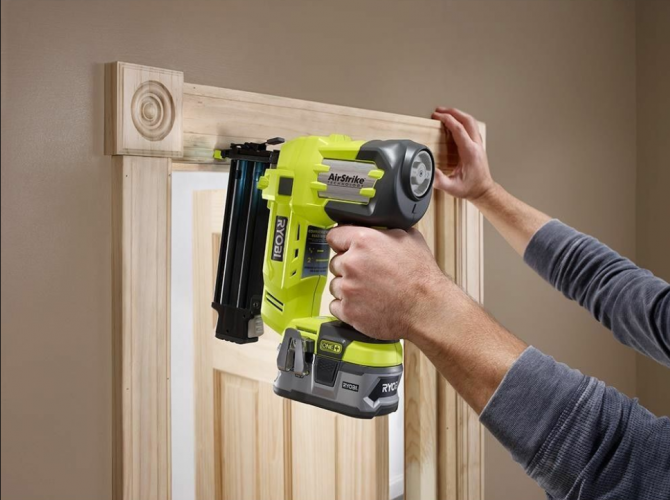 The weight and size of opinion do vary from person to person. Right out of the box, the nail gun is only around 5-pounds, light enough for most people to use it comfortably. However, a battery-powered nail gun rarely stays lightweight once you start adding the battery. Unfortunately, for this Ryobi nail gun, it has the same issue.
The size in your hand will feel comfortable when you have it, which is a blessing. It could take some getting used to if you were used to some of the other top nail guns, but it is really functional. The size is quite ergonomic. One tip that we could give you is to pace yourself a little. It might take a while to fully adjust to the weight.
Durability
I will keep this one short, but the durability of the motor is definitely one benefit for anyone who does not like a lot of maintenance. The unit is made from great materials and Ryobi has tried to design it for the heavy-duty user. It might fall a couple of times, but this Ryobi Cordless Nail Gun will not easily break or give up on you. If you buy it refurbished, it comes with a 90-day warranty.
Pros of The Ryobi ZRP320 Battery-Powered Nail Gun
The size is ergonomic and proportional to the hands of most people.
It fires up to 60 nails per minute.
You have dials that will help indicate depth and force.
It is portable and battery operated.
A maintenance-free motor will reduce your costs in the end.
It includes an LED light to work in the dark.
Cons of The Ryobi ZRP320 Battery-Powered Nail Gun
Buying it refurbished does not include the battery or charger.
It still remains a little heavy for many beginners.
Some of the dials will eventually have a few issues.
Would I Buy Ryobi Nail Gun?
The question to whether I would buy it is actually tough. With so many great nail guns on the market today, you might not really want to settle for something refurbished. It is a little less expensive and will still work wonders, but the battery pack and the charger can be a little daunting to buy additionally if you are strapped to a budget.
If we are talking about the Ryobi Nail Gun itself, I would definitely give it a shot. It stacks up really well as part of my collection of tools and since it has some great features that make life easier, it is a good investment. Additionally, the motor is maintenance-free, which reduces all the other costs you were worried about when you are using it for heavy-duty purposes.
Conclusion
The Ryobi ZRP320 Ryobi ZRP320 Battery-Powered Nail Gun is a joy to use and users generally get some excellent value for their money. It is commonly used for tough tasks and can penetrate most types of wood. Most of the features will be ideal for beginners as well. It is a highly effective option to choose from. Let us know what you think in the comment section and if we have missed anything important.
Important Notice: Since some of these units will be certified refurbished, so the unit might not include everything and you will need, so make sure that you check all the details from the seller. This will vary from seller to seller.
Our Rating
This article was last updated on March 18, 2021 .