Plenty of homeowners have their workshops in their garages and to more than a few DIY enthusiasts, having every tool available is an essential part of every handyman's career.
Many heavy-duty tools can cost a pretty penny if you are just using them for your home projects and not at a construction site, so it is crucial to find the perfect price to performance balance for your needs.
Table saws are fantastic tools, however not always on the cheap side and not easily movable when you have them stationed somewhere. We feel the Ryobi portable table saw is just the tool to solve all the hustle and bustle, while serving every need you might have when you crave some DIY.
Key Features of the Ryobi Portable Saw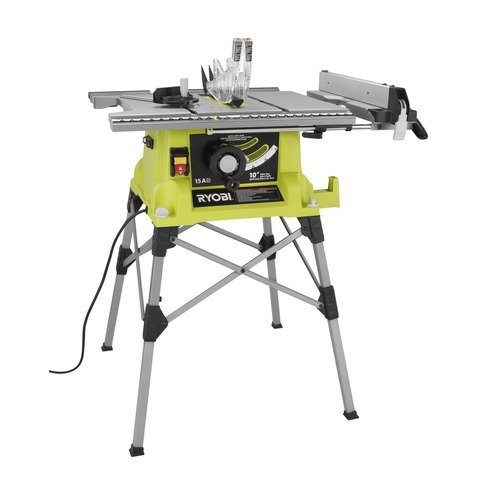 Ryobi 10 Inch Portable Table Saw Specs
| | |
| --- | --- |
| Motor | 120V, 60Hz, 15 Amps |
| Blade Diameter | 10" |
| Arbor Size | 5/8" |
| Depth of Cut at 900 | 3.1/4" |
| Rip Capacity | 27" Right of Blade, 12" Left of Blade |
| Rpm | 5000 (no-load speed) |
Powerful Motor – The 15 amp motor is there to cut through any solid material you throw at it.
Lightweight – Solid aluminum top but the otherwise plastic body makes it easy to move around and set up anywhere you need it.
Multi-purpose – whether you are doing a home renovation, a DIY project over the weekend or construction work, which is not too heavy, this tool will push you through it.
Tool-free assembly, the outfeed extension makes it easy to support material on the rear and helps to disassemble and store away the table saw with little to no effort.
Review of the Ryobi 10 in Portable Saw
Considering all the features of the product, we have compiled a review of everything you need to know about this table saw and what makes it a great purchase for your next tool haul.
Design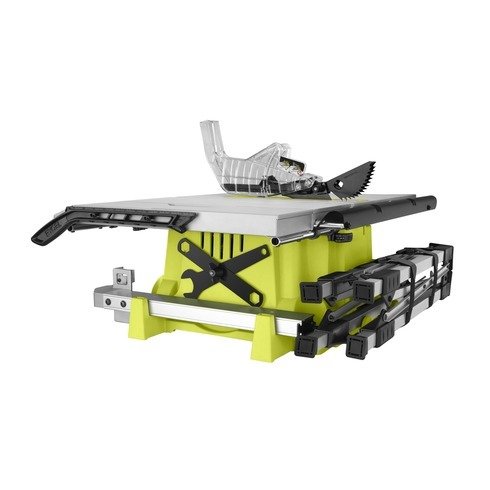 Ryobi is a great example of how to make something long-lasting and appealing and well within the price range of everyone looking for high quality, while also not killing their wallet. Compared to most table saws the design shines through in more than a few areas.
While it is lightweight, it is by no means not sturdy to support the materials you need to cut and, at the same time, make it easy to move around the work area you are occupying. Once you are done, it is just as easy to disassemble and store away or pack it up in your vehicle and go.
Capabilities
The Ryobi Portable saw is good for any kind of home repair, renovation project or any woodworking you get inspired to do. The 24 tooth blade is easy to set up and let loose on the powerful 15 amp motor makes it easy to work with heavy-duty woods as well as two-by-fours.
You can easily do precise cuts at 90 and 45-degree angles and the push stick makes sure every cut is up to par. Setting it up, changing blades inserts, etc. is super easy and smooth. And speaking of smooth, the 5000 RPM speed makes the cutting even smoother than expected as any wood material glazes through the blade.
Additional Features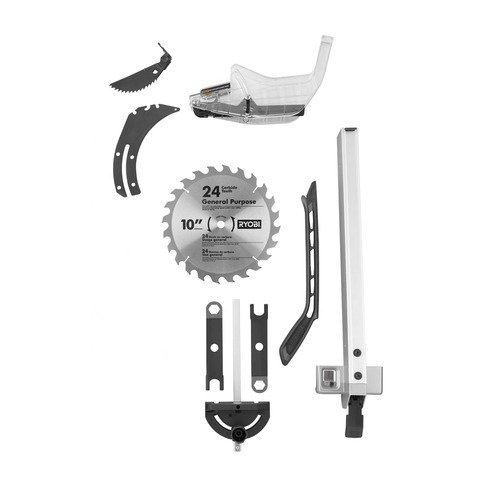 One of the key features, which impressed us, was that every accessory has its place of storage right on the saw. Not only is this a compact tool but also it lets you easily switch things up as you go.
Push sticks, wrenches, rip fence, everything goes directly on the easy to set up the table and more importantly makes it hard for you to lose any of the accessories along the way. Another fantastic feature, safety-wise, is the riving knife, which prevents the pieces of wood to come apart as soon as the cut is done and result in awful kickbacks.
Pros and Cons of the Ryobi 10 Inch Portable Table Saw
Pros
At 50 pounds this 10-inch saw is easy to move around as you please
Saves storage space and easy to assemble and disassemble
Great safety features to prevent kickbacks and injuries
Great quality at a fantastic price
Ideal for DIY projects, home renovation, and smaller projects
Heavy-duty precision cuts are easy to do even on harder materials
Cons
You get what you pay for. Not as good as other high-priced tools can deliver
Some precision cuts might feel hard to do
Not too sturdy if you want the feel of heavy-duty equipment
No power outage reset safety
Would We Buy a Ryobi Saw
If you are a homeowner who loves doing handy work around the house, renovation or you love doing some woodwork projects on your own, this is definitely a great pick for you.
This tool might not make it through daily heavy-duty use, but if you use it when the need occurs, it will serve you just as good as any professional equipment which would cost you more than a few hundred dollars over.
At the same time, it is easy to store and put away in your garage or storage unit, and just as quick to assemble back in ready to go condition. And if this wasn't enough, a table saw might sound industrial and heavy-duty, but the Ryobi portable saw is exactly that – portable.
Some use the word portable when movable is hardly viable for their product but this saw can be easily transported wherever needed to make quick work on some home projects.
Final Thoughts
The Ryobi 10 inch portable table saw is by no means an industrial heavy-duty saw like the ones Bosch or Grizzly offer, but you have to ask yourself if you really need this grade of equipment before buying, and what is the purpose of your purchase.
If you are looking to do small repairs around the house or builds, renovation and repair, and you are not a contractor whose construction site is constantly flogged by workers taking their turn on the saw then there is no need for the extra spending.
The Ryobi portable table saw will do just as good of a job as any high-grade equipment but for a fraction of the price and will provide you with the storage and space options, some more expensive products wouldn't. As long as you know what you are looking for you will make the right choice on your next table saw purchase.