Tending to your garden maybe your favorite pastime, but without the right tools, it can become tedious and frustrating. The hedge trimmer is a perfect tool to keep those shrubs and hedges from becoming an unmanageable mess.
Tip: Pair your hedge trimmer with a quality string trimmer for the complete garden trimming and edging kit.
With the battery-powered hedge trimmers available now, your job is easier and a bit more fun, provided you have a trimmer that spouts quality in every aspect, from its battery power, blade sharpness and durability to its performance.
You can find many such models available in the market now and with additional features like ergonomic design or attachments that make your trimming job easier, quicker and stress-free.
Of the various popular hedge trimmers, you can find in the stores at present, the Ryobi hedge trimmer of 40-volt capacity is a good choice to consider if you are looking for a budget trimmer with quality features and performing power. Let us take a deeper look at the product.
Features of Ryobi Hedge Trimmer
Here are the features of Ryobi 40V hedge trimmer at a glance:
The trimmer operates at a speed of 3200 strokes in a minute
Hedge sweep blade helps clear the clippings
Handle with soft grip minimizes vibration and helps to use it comfortably
Lithium-ion battery with charger is provided for powering the trimmer
Is Ryobi hedge trimmer convenient to use?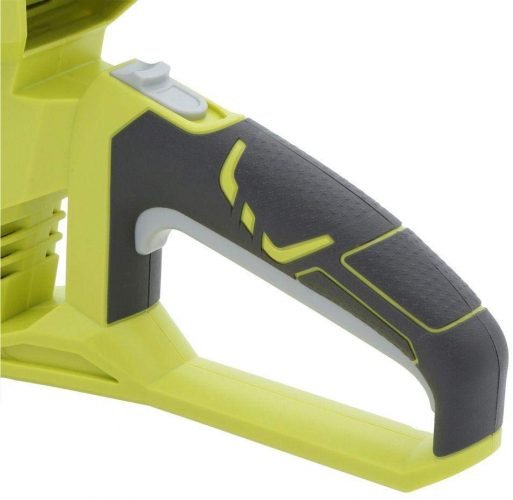 The Ryobi hedge trimmer is designed for easy handling. While it lacks a handle that rotates, the handle is provided with a well-padded comfort providing grip irrespective of the angle at which you cut. For better stability and balance, the trimmer has an additional handle present in the rear part. This design really helps when you are trimming thick overgrowth and need to control the trimmer.
The trimmer is similar to gas-powered hedge trimmers in weight at 9.1 pounds and the dimensions of the trimmer are 40.2 x 5.8 x 13 inches. The weight makes it a bit heavy while you use it for a longer time, especially when you lift the trimmer above your shoulder level.  But for shorter levels and for lighter tasks, it is convenient enough and does not give much trouble.
The hedge sweeper is a very useful attachment you are certain to appreciate as it helps clear away all debris you cut down, thus saving you the effort and time of cleaning up after you complete trimming.
Although the device does not have any special inbuilt shock absorbers the handle which is of wrap-around type and has a soft grip helps to reduce the vibrations you feel while operating the trimmer.
Is the Ryobi Hedge Trimmer Safe to Use?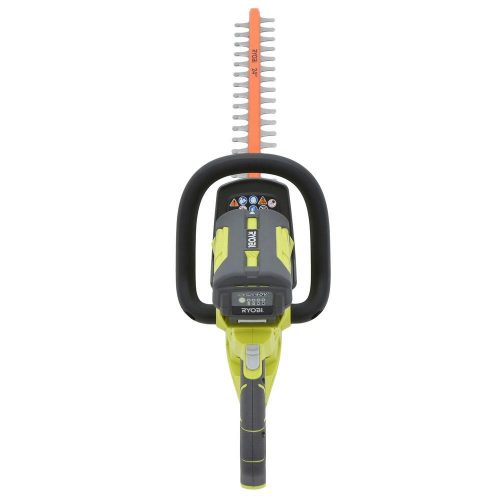 The Ryobi hedge trimmer has some excellent safety features for when you are using it and when you store it away. Since the blades are sharp and can cause harm if you are not careful, the trimmer comes with good safety features.
The handle is designed for a better grip, so you do not let the blade out of control as you trim. It is ergonomically made to ensure you find it comfortable to hold while using it and also have good control.
Although the vibrations are not felt due to the soft grip type of handle, the vibration the trimmer makes while doing a bit heavy-duty cutting may affect balance and maneuverability.
But the cutting efficiency of the blade and the fact that it is best for light and medium level tasks makes up for the lack of anti-vibration feature as found in other competitor models like Black and Decker LHT220 trimmer or the Makita XHU02Z trimmer.
The debris shield present under the blade helps avoid the branches you cut from hurting you as it limits the fly-offs. Although the trimmer weighs 9 pounds, it is designed for better stability and safety so you are not harmed in any way as you work with it.
The trimmer has safety precautions printed on it, near the wrap-around handle to ensure you know how to handle it best in different situations.
Is Ryobi hedge trimmer powerful?
The Ryobi hedge trimmer is powered by a single battery of lithium-ion type and capacity of 40V. The lithium battery helps provide more power to the trimmer. It also holds charge quite well and provides more duration of running time when compared to the conventional battery types.
While the trimmer does not seem to have similar power as that of an electric or gas-powered trimmer, it is very useful if you are looking for a trimmer to complete medium to light-duty gardening jobs. Due to its weight and design, the trimmer is not powerful enough for taking care of heavy-duty gardening tasks.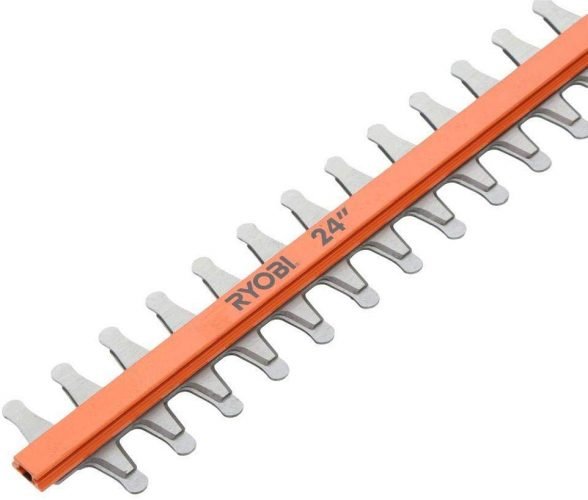 The performance is enhanced by the sharp and powerful blades that possess dual-action features. The blades are 24 inches and capable of delivering about 3200 strokes in a minute.
The hedge trimmer is capable of handling branches that have a diameter of about 0.75 maximum, but the material density may stop you from getting a clean and precise cut. Further when the power of the battery reduces it can minimize the cutting power.
Battery life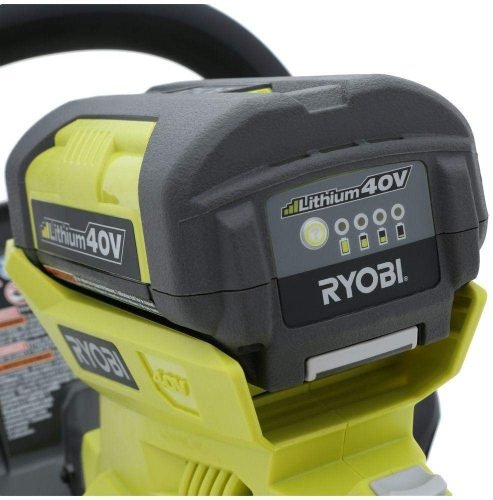 Since the battery is of lithium-ion, it holds a charge for a longer duration and takes just under 90 minutes for reaching full power. The package includes a battery charger that is compatible with other Ryobi products. The 40V lithium battery has an LED charge gauge to help identify the level of charge in the battery.
The battery pack is removable, which is very convenient as you can remove the battery and charge it when it runs out of charge and replace it with another battery. The removable battery pack has a diagnostic readout, which helps you know the progress of the charging process.
As the battery supports all Ryobi trimmer models it can be used to switch batteries between the devices and avoid buying a second one for uninterrupted power.
Have a look at this YouTube video to know how the Ryobi hedge trimmer peforms:
Pros Ryobi Hedge Trimmer
The weight is just right for light and medium-duty cutting tasks
Handles help maintain proper control over the trimmer while trimming
Cost is cheap
Blades are made of durable material
Cutting efficiency is very good
Hedge sweep attachment helps clear away loose debris easily
The protective cover for the blade when it is not in use is a good attachment
Cons of Ryobi Hedge Trimmer
The trimmer lacks the proper build quality
Does not produce the top-quality efficiency like its competitor brands
Is not serviceable
Conclusion
Although gas or electric-powered hedge trimmers are more powerful, Ryobi Hedge Trimmer with 40V battery power gives a decent performance particularly when you look at the cheap price it is available at.
Weighing around 9 pounds it is best suited for medium and light-duty trimming tasks. The rechargeable battery makes the cordless trimmer a very convenient model to own.  It helps you to take care of a major part of your garden trimming work without having to worry about trailing wires or refilling the gas as when you use an electric or gas-powered trimmer.
While it is not something that a professional would prefer to own, it serves best if you are looking for a cheap DIY brand for tending to the greenery in your garden. The high cutting efficiency, ergonomic design, cordless feature, and weight makes it a highly desirable trimmer that is worth more in terms of power and value than what you pay for it.