Slow cookers have become more and more popular in the past few years. With plenty of available affordable models to choose from, it could be confusing to make the right decision. Hamilton Beach is one of the well-known brands and their product line consists of a variety of slow cookers, which can serve anyone's needs, from a single person to a full family to enjoy fantastic meals.
This Slow Cooker Was Featured On Our Best Programmable Slow Cookers Article.
Whether you are looking for precision and overlooking the process or want to set a meal to cook and go out so it can be ready for when you come back home, the Hamilton Beach 6-Quart programmable slow cooker will serve the task and in this article, we will discuss in-depth what it brings to the table.
Key Features of the Hamilton Beach 6-Quart Slow Cooker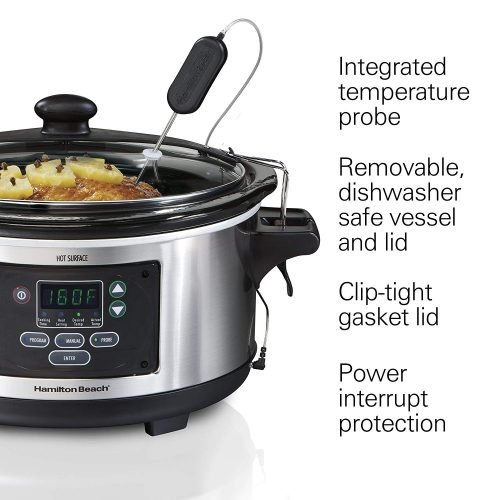 Hamilton Beach 6-Quart Programmable Slow Cooker Specs

| | |
| --- | --- |
| Dimensions | 11.2 x 17.5 x 11.8 inches |
| Weight | 14.55 pounds |
| Material | Stainless Steel |
| Size | 6-Quart |
Stainless steel – always as stylish as any other stainless steel appliance.
Clip-Tight Gasket lid – the clips hold the lid nice and tight so there are no unwanted spills.
Power Interrupt Protection – this feature allows for the slow cooker to get back to the desired temperature, time setting and program setting in case of a power outage.
Temperature probe – the temperature probe allows for precise temperature settings.
Perfect family size – 6Quart size is ideal for a 6-pound chicken or a 4-pound roast, stews and so much more.
Dishwasher safe – the lid and the ceramic crock are dishwasher safe and easy to clean after every meal.
3 modes for food preparation – program settings for when you aren't home, probe for when you want the perfect temperature for your meat cuts, and manual for when you want to have full control over your slow cooking process.
Review of the Hamilton Beach Slow Cooker
With all the features listed, we really need to go deeper into the review to see what each feature brings to the table and how the Hamilton Slow Cooker makes for a great sidekick in the kitchen and help you make an educated decision if you are looking for a slow cooker to add to your kitchen appliances.
Design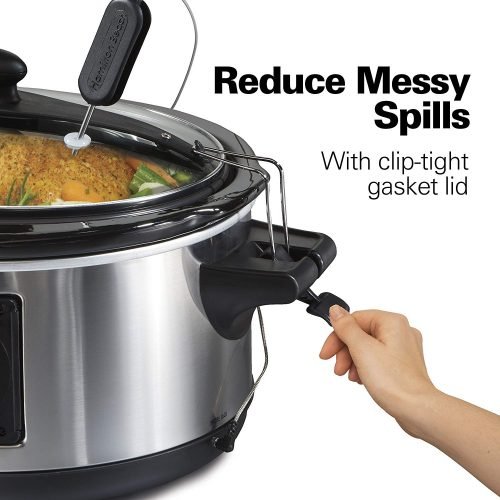 The Hamilton Set'n Forget slow cooker rocks a similar design to most slow cookers, however, you should consider the bulkier design. It should be mentioned it is a bit bigger than the original Crock-Pot and other competitor products for a good reason, though. The clamps for the lid and the temperature probe take more space and the handles around the clamps make for better control when you pick up to carry this already not so light pot.
Capabilities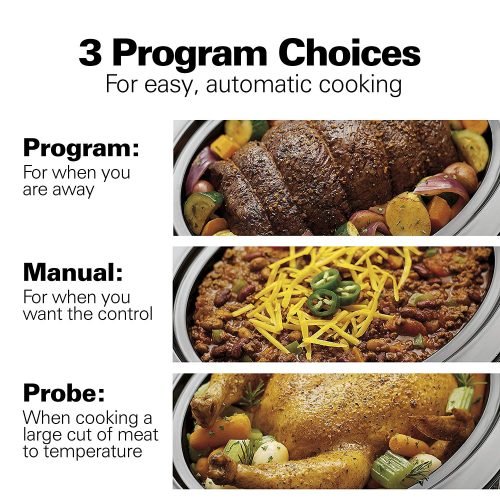 As we mentioned, the Hamilton Beach slow cooker has three cooking options to choose from and get the perfect meal ready. The temperature probe is a great tool to use when you are looking to cook perfect cuts of meat and you know the temperature certain cuts are best served at. As soon as you set the temperature setting and put the probe in the meat, it will register it during the cooking process and when the meat reaches the desired degrees the pot will switch from cooking it to just keeping it warm and ready to serve.
This way you can be sure a medium-rare steak will always be that or a chicken will be at its most tender with the perfect crusty skin. The program option, on the other hand, is great for stews and other slow-cooked meals which you want to leave over a long period at a certain temperature. Just put in the desired heat and time of cooking and leave the slow cooker do the rest. When the program is done, it will switch to warm and keep the meal ready to serve until you are ready to eat. Manual is not too different but lets you have even more control over the cooking process and the ability to switch between the old high, low and medium settings, which are found in older slow cooker models.
Additional Features
Aside from the temperature probe, this Hamilton Beach model is equipped with strong clamps that hold the lid, so if you decide to take the pot to another location, it is safe to say there will not be any spills over the lid which is especially important when you are making chili and stews. Plenty of other accessories are available to purchase, such as spoons, long handles, food warmers for longer drives so the food stays as close to the WARM setting as possible by the time you get to enjoy it. And if this wasn't enough, the Hamilton Beach website has plenty of available recipes for delicious meals you can try at home from roasts, through chili and stews to squash.
Pros and Cons of the Hamilton Beach Set'n Forget Slow Cooker
The Good
Ease of use with many programmable options
Temperature probe – a fantastic feature to have if you are looking to always have perfectly cooked cuts of meat on the table
Lid clamps – the lid clamps provide additional safety to prevent spilling not only when moving the slow cooker around, but also while cooking
Great size – from a whole chicken to a 4-pound roast with all the sides you wish to prepare a complete meal for your family, this pot is there to deliver
Easy cleaning – dishwasher safe lid and ceramic pot makes it effortless to clean up and ready the appliance for its next use
The Bad
Bulky – compared to other slow cookers this model is on the heavier side and would occupy a bigger space in your kitchen.
Large handles – on the same note, the handles are bulkier and quite wide so moving the pot may be a bit harder for the ladies.
Snappy clamps – as good as the clamps are to prevent spilling, pay attention when snapping them to avoid unwanted finger bruises from startling snaps of the metal clamps.
Would I Buy a Hamilton Beach Slow Cooker
There is no question about it. At the price, it is offered and with all the features it rocks, the Hamilton beach Set'n Forget slow cooker is one of the best choices out of the many on the market. Whether I want to set up a meal and go do a workout and come back to a warm meal or have friends over and want to prepare a nice full meal for them while running other errands and get ready for a nice evening, this home appliance is fantastic for the job. Furthermore, the safety features, which ensure you do not have to worry about leaving and not making it home in time like with an oven, make for even more comfort when you want to make a slow-cooked meal but do not have the time to sit and wait for it through the whole process.
Final Thoughts
The slow cooker is one of the best kitchen appliances you can have at home in this fast-paced environment where we are always on the run or in the middle of something. The Hamilton Beach Set'n Forget slow cooker will make a great sidekick, have you worried about one less thing and save you time for more important tasks throughout your day while letting you enjoy a fantastic meal at the end of it. Consider all options available on the market as we hope this review will lead you to purchase the best one for your needs.