If you think of gardening equipment, one of the first things that come to mind is the hosepipe. However, the standard hose is not always strong enough to rid your homes of all the stains, especially on tough surfaces. Fortunately, the Greenworks 2000 PSI Electric Pressure Washer is an effective way to clean your home's surfaces.
This Pressure Washer Appeared on our Best Electric Pressure Washers article.
Pressure washers are delicate and they have a variety of features that one needs to consider if you want the best. We have done some research and checked out some of the features on the Greenworks 2000 PSI Electric Pressure Washer. In this article, we will be looking at a couple of features and you can decide if it worth it.
Technical Specifications:
It has a 13-amp universal motor
Generates 2000 PSI of pressure
The unit can expel around 1.2-gallons a minute
Features an onboard detergent tank
Multiple wands, including 20 and 40-degrees
Integrated wheels on the frame make it easy to move around
Durable metal frame for added durability
Review Of The Greenworks 2000 PSI Electric Pressure Washer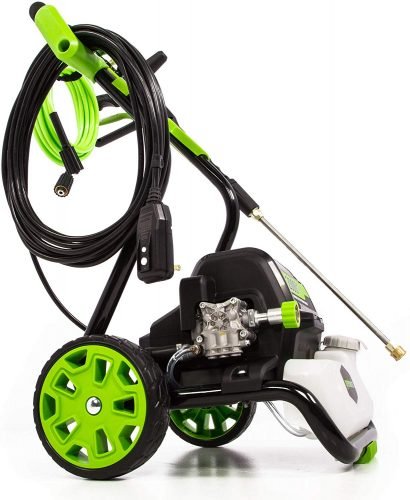 As mentioned, a pressure washer is a versatile unit that can help you clean multiple surfaces. However, it is also one of the hardest things to buy. The Greenworks 2000 PSI Electric Pressure Washer is one of our favorites, due to the 2000-PSI pressure that is generated with around 1.2 gallons of water that are expelled at any given time.
The unit is only 30-pounds in total weight. The total weight of the unit is mitigated by the fact that it has rugged wheels of 8-inches. These wheels work on virtually any surface and with a rubber coating on the wheelbase, you can expect it to track over almost any terrain. They also don't jam, when you hit a ditch or thick grass.
Since most pressure washers are used for cleaning, you will be delighted to see the added detergent compartment. With this compartment, one can add the detergent and the unit will automatically connect it with the water. This will make it much simpler if you have a couple of stubborn stains to clean up.
Since we generally use these washers for multiple surfaces, the numerous connections will give you a different sprout that comes out of the unit. It could make it effective for cleaning windows and some of the floors. The turbo nozzle is the best when it comes to cleaning some of the stubborn stains of your cement floors.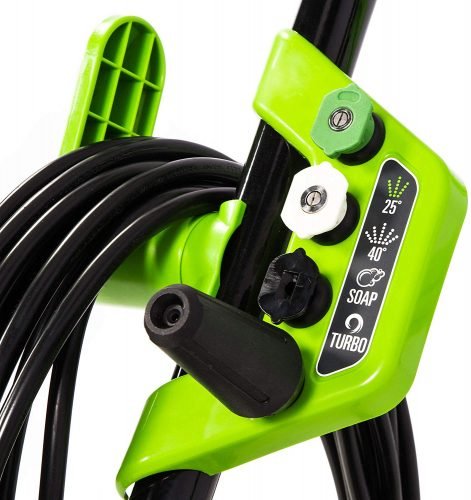 The only downside that we could find is that the nozzles do not clean as deep as the standard nozzle. The turbo nozzle might save you a fair bit on water consumption, but we have found that it does not clean as deeply. If you are willing to spend a little bit of time using it and playing around, you might get deeper cleaning results.
The 13-amp motor is powerful and it runs effectively without maintenance needed. However, we recommend that you complete the maintenance on the unit at least once every couple of months to ensure optimal performance. The 3-year warranty should ensure that you have some peace of mind when using it.
Why We Like It
It generates 2000 PSI
Easy to move with wheels
Includes a detergent container
Multiple nozzle attachments
Reasonably priced
3-year limited warranty
Why We Don't Like It
The attachment doesn't make as much of a difference
Not ideal for freezing temperatures
Without maintenance, it leaks
Greenworks Pressure Washer Frequently Asked Questions:
While we tried to include all of the information in the review, there are still a couple of different questions that many might have. We have done some of the research and this should make it easier for you if any of them cross your mind. Here are some answers to the common Greenworks electric pressure washer questions.
How To Use Greenworks Pressure Washer
The Greenworks 2000 PSI Electric Pressure Washer is one of the easier models to operate. With a simple plug-and-play design, the unit should not be too complicated.

If you want to add the detergent, you can easily add it to the specified container. Once you have activated it, the unit will mix the detergent that is easy to use.
What Kind Of Soap Can You Use In Greenworks Pressure Washer?
Most detergents that are available on the market today can be used for this pressure washer. However, the Sun Joe SPX-HDC1G House and Deck All-Purpose Pressure Washer Cleaner comes with a massive reputation and it does not clog the unit. 
Where To Buy A Greenworks Pressure Washer?
The pressure washer can be bought virtually anywhere on the market. However, one of the best online stores is Amazon, with some great specials and deals.
How To Take Apart A Greenworks Pressure Washer?
The Greenworks Pressure washer is tricky to take apart. However, we would not recommend that you take it apart. Unfortunately, you will be voiding the warranty when you do and having a professional service expert help you is the best way.
In the instruction manual, it does set apart all of the components. If you follow the troubleshooting manual, you should also get it done.
Remove the outer cover
Remove the detergent connection
Troubleshoot the detergent connection
Once the motor is revealed, refer it to an expert to avoid voiding the warranty
Wrap-Up
The Greenworks 2000 PSI Electric Pressure Washer is a very controversial unit with people going both ways in terms of the quality. However, the unit will work as expected if you keep the maintenance upon it. For the price, it is a great investment for people that will use it in practice.
Let us know in the comment section if you like the Greenworks 2000 PSI Electric Pressure Washer and if we might have missed any of the features that you would like to see reviewed.