When winter sets in, you will have to contend with the additional chore of clearing snow from your driveway and vehicle surface. There are different types of snow blowers or throwers on the market including gas and electric-powered models. If you are frustrated with the tedious job of refilling the gas-powered equipment, the Greenworks 80v 20-Inch snow blower, which is cordless, is a good choice to consider.
Greenworks Pro is a reputed name in garden equipment. The Greenworks Pro tools help eliminate the costs of gas and fuel with their battery-powered cordless designs. The Greenworks Pro electric snow blower is one such cordless battery-powered tool that makes your job easier manifold. Let us see more about the various features of Greenworks Pro 80V 20-Inch snowblower.
This Product Was Featured on Our Best Electric Snow Blowers Article.
Features of Greenworks 80v 20-Inch Snow Blower
Here are the important features of this Greenworks snow blower:
A lithium-ion battery of 80V capacity with a run time of 45 minutes and 2.5Ah battery.
Brushless motor technology.
Clears sidewalks, patios, driveway, and others with clearing path of 20 inches.
Has a clearing depth of 10 inches.
Rotating chute with 180 degrees is present for the displacement of snow.
Compact design is easy to fold for storage or transport.
Dimensions include 31 x 21.6 x 37 inches.
Weight of item: 33 pounds.
2Ah battery.
Is The Greenworks 80v 20-Inch Snow Blower Convenient and Comfortable to Use?
The Greenworks snow blower is a cordless model that provides a convenient way to get rid of the snow piled up in your driveway and other places. The absence of a power cord eliminates any hassle you have in managing long and frequently tangling cords, which affect your functionality and mobility.
Further, the battery power ensures you need not have to fill the gas regularly prior to starting work. You have to just make sure the battery is fully charged before you start with the snowblower. The push-button power start helps you to clear snow quickly without any delay.
The snowblower produces minimal vibration ensuring you clear away the snow at any time of the day without having to worry about disturbing your neighbors with the vibration. The LED headlights present near the front handlebars provide the required lighting, so you can clear up even when there is no sunlight to guide you.
Have a look at this video to know about its ease of use:
How is The Performance of The Greenworks 80v 20-Inch Snow Blower?
The Greenworks 80v 20-Inch Snow Blower is powered by a lithium-ion battery of 2Ah that has an operating time of 45 minutes. This is sufficient enough to clear off moderate-sized driveways and other similar sized areas. The blower also has the facility to upgrade to a higher-powered battery of 4 Ah, so you can get double the duration of time as with the 2Ah battery.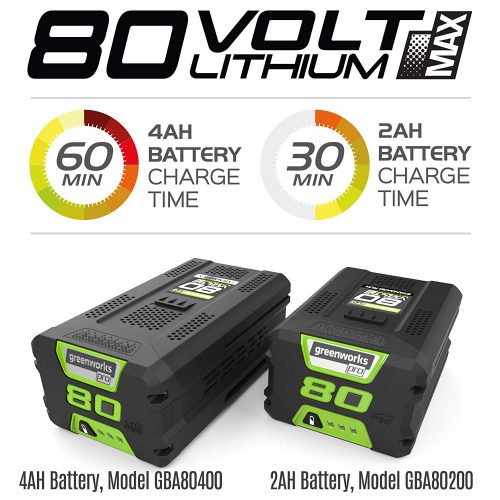 You can also recharge the battery to use it for a longer time. The battery takes about 30 minutes to reach full charge. You can also use a spare battery if you have a larger area to clear.
The DigiPro motor of brushless type uses a chute with 180 degrees rotation that has vertical movements too. This enables you to use different angles to shoot the snow and clear it effectively. The snowblower is capable of cutting snow up to 10 inches and blows off the snow to about 25 feet. It can clear snow of 500 pounds in a minute.
Construction of The Greenworks 80v 20-Inch Snow Blower
The Greenworks snow blower has an impeller made of top quality polyethylene. The sturdy plastic is very durable and does not cause any harm to your driveway when you use the tool.
The extensive warranty of 4 years on the parts and 2 years on charger and battery provided by the manufacturer ensure you can have the tool in good shape always. Any minor damages to the casing due to contact with ice are well covered by the warranty.
The blower is designed to operate quietly and has rear wheels of a 7-inch diameter that makes it easy to maneuver the unit. The design is also very compact and can be folded to store when not in use. The handles can be folded making the unit smaller and condensed in size and shape.
Is The Greenworks 80v 20-Inch Snow Blower Safe to Use?
The bail switch present can be used to shut down the blower automatically. You have to release the switch to close the blower. The blower is also designed to shut down automatically if any particle hits the impeller hard when it is rotating. This design feature helps prevent injury from any big object being kicked at you when it falls on the impeller.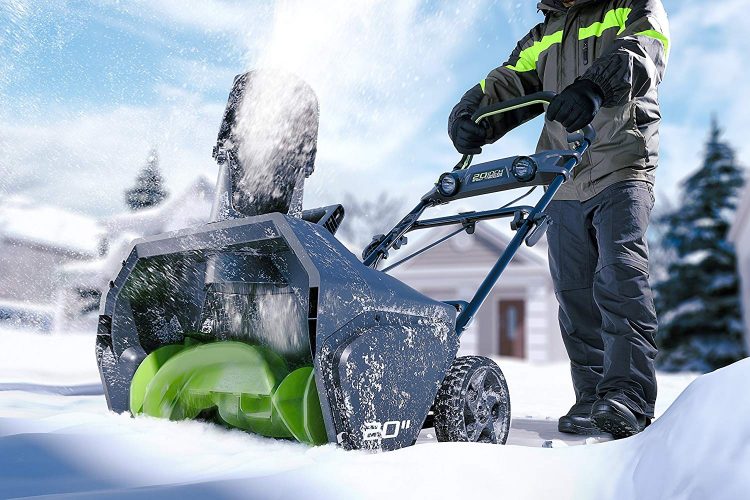 Pros of Greenworks 80v 20-Inch Snow Blower
Light in weight hence easy to use.
Battery operated hence is eco-friendly without any carbon emission or fumes.
Quiet to operate therefore can be used at any time of the day.
Vibrations are minimal.
Push-button start.
Battery charging time is very fast.
Cost-effective.
Cordless operation.
Cons of Greenworks 80v 20-Inch Snow Blower
Supports only one battery of 80V capacity.
Does not have an additional spare battery to use when the battery is charging.
Needs pushing as it does not have a self-propelling feature.
Plastic casing can deteriorate when it comes in contact with ice of thick consistency.
Battery replacement is costly.
The clearance height cannot be adjusted.
Battery drains in less than 60 minutes making it necessary to have another replacement battery for extending the operating time.
Conclusion
The Greenworks Pro snow blower has the definite advantage of being powered by Lithium-ion battery, which is one of the preferred batteries among the various types available now in the market. The battery gives you the ease of use making the snow blower cordless and easy to maneuver wherever you want it.
However, when it comes to power, the battery-operated units fall behind. If you have a moderate winter and airy snow, the Greenworks 80v 20-Inch Snow Blower is ideal enough. The fast-charging battery, easy and swift removal of moderate snow, and quiet operation are big advantages you cannot ignore.
But for blizzards and heavy snow situations, you have to consider going for the gas-powered beasts as you need a much longer time and more power, which is not possible with the 2.0Ah battery.
Our Rating
This article was last updated on March 18, 2021 .