The Edgestar countertop dishwasher adds a chic modern piece of electrical equipment to your kitchen. It is also a great space saving marvel. The most important function is to save you time, and stop those dirty dishes from stacking up.
This Product Featured in Our Best Countertop Dishwashers Article.
So, you think you don't need or want a dishwasher?
10 Reasons Why You Do Need a Dishwasher:
Germ Buster
Did you know that to kill the germs on your dirty dishes, the water should reach at least 145F? Not practical if you wash and rinse by hand, as you would scald your skin.
You may not know it, but your washing up brush and dishcloth harbor lots of bad bacteria. A study at the University in Arizona found that 89% of kitchen cloths tested, contained various forms of bad bacteria. To get rid of those germs, you would need to boil wash and use various chemicals, such as bleach, to clean them. Not only is that not good for the environment, but it's bad for your post and bad for your skin too!
Then, there's the sink itself. A typical kitchen sink can be a breeding ground. It can accommodate up to 10-million types of bacteria. That's one very busy place for the ever-pervasive germ!
Environmentally Friendly
Modern machines, such as the Edgestar Countertop Dishwasher, are made to be energy efficient.
They do not need as many suds as hand washing, because they clean the dishes with the intensity of the water movement.
When you consider all the water you use each day with hand washing. That is because you will wash the pots after each of your three meals. Plus, there is a lot of extra rinsing with hand washing. A machine uses much less water because it can do it all more efficiently. The chances are you may only run your dishwasher once a day, for a full day's dishes.
No need to use harsh chemical soap suds for those stains. Automatic dishwashing soap does not need as many chemicals as hand washing soap. Again, this is because of the movement of the water, so not as many suds are required.
Stress Buster
Coming home from a hard day's work, or getting up in the morning to a sink full of dirty pots in the kitchen, is not a pleasant experience. Did you know that there is a link between clutter in your own home and your stress levels? Put those dirty pots into the dishwasher and they are out of sight and waiting for you to push a button to clean them.
When you have guests, you want to be clearing dirty dishes out of sight as soon as you can. Don't spend time in the kitchen hand washing them. Instead, stack them in the dishwasher, set the program, push the button and get back to your guests for socializing.
No need to use harsh scrubbers on the pans anymore. Set the special program on your dishwasher and walk away to do something more pleasurable than dishwashing.
Features of the Edgestar Countertop Dishwasher
One amazing feature about the EdgeStar Countertop Dishwasher is that it uses approximately 60% less energy per year, and less water, than similar models.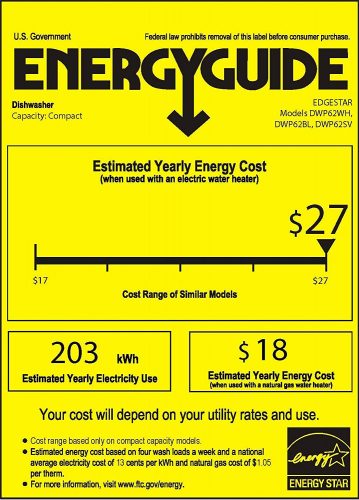 Specs:
Size: W21.7 x D19.7 x H17.2-inches
Weight: 45-pounds
7 Wash Cycles
Voltage: 120V, 1160W
Normal Cycle Water Consumption 2.85-gal
Energy Consumption: 203kw per year (estimated)
Noise: 52.3-dB
The power supply line is 5-ft long
Warranty: 1-year parts / 90-days labor.
Cleaning Functions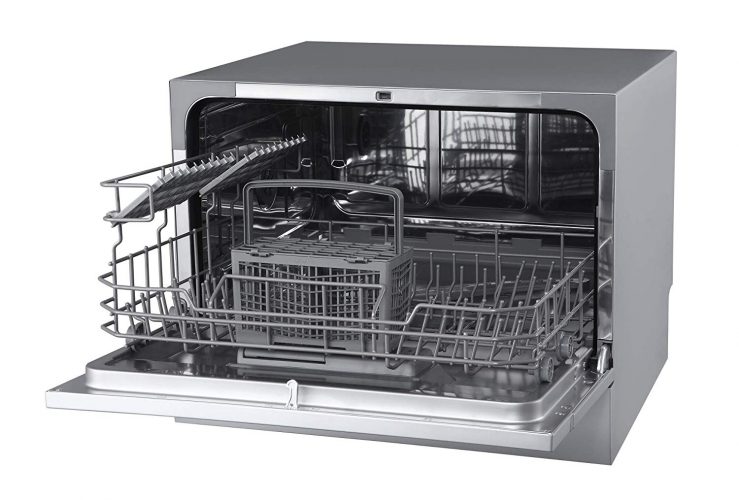 The EdgeStar Countertop Dishwasher is a sleek looking portable machine that comes in silver. The spacious stainless steel interior holds up to six place settings, allowing for up to 10.5-inch diameter plates. To optimize the stacking features, a removable cutlery basket is provided. Plus, there are additional shelves to organize cups and glasses.
An interior heater reaches temperatures of 146F, eliminating harmful bacteria from dirty pots. The powerful spray situated at the bottom powerfully cleans away any excess debris. With the built-in detergent and rinse dispenser, you can be sure your pots are left sparkling clean with no smears or stains.
Make sure to buy specialist detergents for automatic dishwashers. They are tailored for the needs of machine dishwashing, using less suds than hand washing detergents. Your Edgestar will take powder, tablets, and liquid detergents. For those who don't like to use a rinse agent, or wish to miss out the pre-wash process, then use automatic premium dishwasher Pacs. This brand has been recommended by Consumer Reports.
Programs
The 7 programs are easy to use. They show up in number order on the digital Program Selector. From heavy pans to baby bottles, there is a program for all types of cleaning.
Heavy (pans) – Includes: pre-wash at 122F; 2 washes at 122-130F; rinsing is at 155F, with a timed drying session. Uses 12.5-L of water and 0.49Kwhof energy, with a running time of 100-minutes.
Normal – Includes: 1 wash at 125F; rinsing at 149F and a timed drying session. Uses 10.8-L of water and 0.36Kwhof energy, with a running time of 110-minutes.
Eco or Light -Includes pre-wash at 122F; 1 wash at 122F; rinsing at 140F and a timed drying session. Uses 10L of water and 0.27Kwhof energy, with a running time of 75-minutes.
Light (glasses) – Includes: pre-wash at 122F; rinsing is at 140F and a timed drying session. Uses 8.5L of water and 0.28Kwhof energy, with a running time of 70-minutes.
Ultra-Light (baby bottles, China) – Includes: pre-wash at 122F; 1 wash at 131F; rinsing is at 158F and a timed drying session. Uses 12.5L of water and 0.51Kwhof energy, with a running time of 90-minutes.
Short with no drying session – Includes: pre-wash at 122F; 1 wash at 122F; rinsing is at 131F. Uses 10.5L of water and 0.31Kwhof energy, with a running time of 45-minutes.
Rinse only – Uses 4.3L of water and 0.03Kwhof energy, with a running time of 24-minutes.
Control Panel with Digital Display

On/Off power button.
Pause button also doubles as the Start button.
Warning light when the rinse aid needs topping up.
Indicator light to let you know the wash cycle has finished.
Program Selector button, giving you choices in number order.
Delay Buttons, allows you to delay the start time of the program. You can still set everything up and delay in increments of 1-hour. If you press too many times, don't worry, you also decrease.
Display Screen shows the current status of the program in use.
Fitting the EdgeStar Countertop Dishwasher
Like most countertop dishwashers, the EdgeStar fits directly onto the faucet. In most cases, you will need to remove the aerator from your faucet should you have any drips. It is an easy process, as you can see in this YouTube video that shows you how to fit a countertop dishwasher:
Conclusion
As the title says, this is a dishwasher made specifically for sitting on a countertop. You could also set it on a moveable table to store it elsewhere. The provided pipes are a good length, allowing you to situate your dishwasher in an available space that's convenient. Fitting is a breeze and literally takes a few minutes, and then you're ready to go. Once the wash program ends, the dishwasher will empty out any remaining water. You can then remove the faucet connector as easily as you fit it on. Don't forget to turn off the tap before removing the pipe. Put your sparkling clean dishes away and put the dishwasher wherever you want to store it.
It is possible to plumb a countertop dishwasher in permanently if you prefer. If you have a little plumbing experience then do call in the professionals. They will make sure it is at the right level for the water pressure.
If you want to avoid putting oils and fats into your dishwasher, try out this self-draining fry pan. It allows you to strain away unwanted oil and fat and it's even dishwasher safe.
With three filters in the EdgeStar Countertop Dishwasher, you can be confident that excess food debris will not filter through. The dishwasher filters only need to cleaning out occasionally. It is an easy dishwasher to clean out, as the dish-rack pulls all the way out. This allows easy access to the inside of the stainless-steel body.
The machine is a silent runner. The only prominent noises will be from bleep notifications of the programs, and the water as it drains. No need to worry about leaving your faucet switched on if you forget or go out. The EdgeStar Countertop Dishwasher automatically stops any water from entering the machine when the program ends.