If you are in search of an industrial grade tool for taking care of jobs in and around your house or need a reliable tool professionally, the Bosch 120V might be a perfect fit for your needs.
The Bosch name spells excellence with all the products in the brand name guaranteeing great performance. Established in the year 2003, Bosch is a leading producer of power tools and accessories. All Bosch products are renowned for their innovation, strength and durability.
The Bosch 120V jigsaw with top handle and 7 amp power is another durable product from the company that assures dependable performances irrespective of the type of task you want it for. Let us have a closer look at the various features of Bosch 120v jigsaw.
Features of Bosch jigsaw
Here are the significant features of Bosch Jigsaw:
Ability to change blade easily with the tool less feature that enables faster insertion with the use of a lever for blade ejection.
4 tool settings with orbital action for different types of strokes.
Speed dial with variable settings for maximum speed
Accelerator trigger for controlling speed of operation
Ambidextrous button of lock on type for comfort and stability
Sturdy and large foot of die cast material with steel insert
Bevel wrench present on board
Blade clamp with multidirectional feature for strong grip of the T shank type of blades
Plunging system with internal precision and minimal vibration for accuracy and smooth operation of the jigsaw
Is the Bosch Jigsaw Comfortable and Convenient to Use?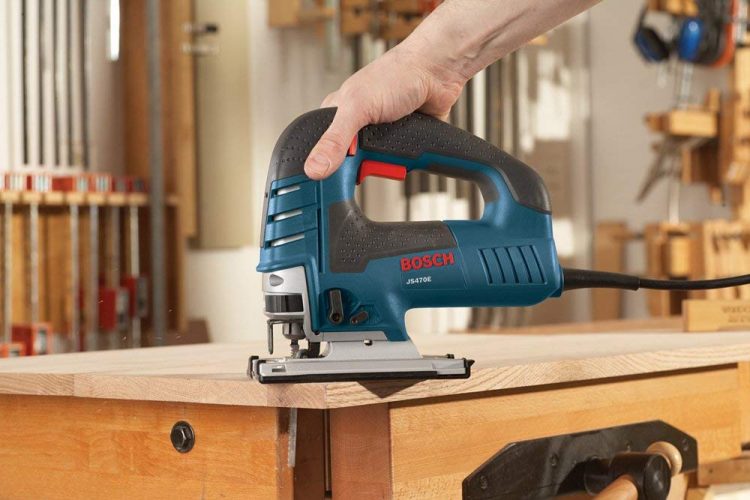 Bosch jigsaw is designed with several user comfort oriented features. The blade ejection lever has tool less action enabling you to change blades without having to touch the blade when it is hot. The design also enables minimal vibration as the plunging system uses precision control resulting in accuracy and uninterrupted operation.
Using the jigsaw for long time is also not a hardship, as the lock on button is ambidextrous providing steady cuts and better comfort. The dust blower is easy to adjust so you always have a clear and big cutting area.
The handle present at the top is designed ergonomically providing you with a comfortable and solid grip. Have a look at this YouTube video to know how easy this jigsaw is to use: https://www.youtube.com/watch?v=PnqCnvUPfck
How Good is The Quality of The Bosch Jigsaw?
Bosch jigsaw is made of high quality plastic outer covering and has rubber piping all around to ensure proper seal and cushioning of the parts. The cord is also of sturdy build so you need not worry about it fraying.
The foot plate is made of strong cast aluminum of industrial grade hence it can withstand any type of rough jobsite conditions. And it has steel insert ensuring steady control over the jigsaw as you make plunging cuts.
The quality and design is such that when dropped the tool lands on its foot plate arm and remains unharmed.  The jigsaw weighs 10.1 pounds and its dimensions include 15.8 x 14.4 x 4.6 inches. The Bosch Jigsaw is backed by a warranty of one year period.
How Does The Bosch Jigsaw Fare at Performance?
Bosch JS470E is provided with a motor of 7 amps, which is considerably higher when compared to other competitor models in the market. The jigsaw has a frequency level of up to 60Hz frequency.
The variable speed of the Bosch allows you to work it effectively on any type of job. The jigsaw can accelerate from zero to about 3.100 SPM in a few seconds. The powerful motor and fast speed helps you to cut wood that is up to 5 7/8 inches thick easily.
The Bosch jigsaw is also great for cutting metal. It can easily slice up an aluminum sheet of 7/8 inches thick and a steel sheet of 3/8 inches thick. The jigsaw is capable of making a bevel cut of maximum 45 degrees.
You need not worry about inconsistency or speed disturbance, while using the Bosch jigsaw as it has Constant Response Circuitry feature that enables you to maintain the required speed constantly.
The blades are specifically designed with orbital action and they work in four settings each of which produce different types of strokes. Thus you can make smooth and low power cuts to aggressive cuts by adjusting the settings. The precision control enables accurate cutting hence you can use it for any DIY as well as professional jobs effectively.
What does the package include?
Bosch Jigsaw pack includes a jigsaw, an anti-splinter insert, bevel wrench, blade, no mar overshoe and a carrying case.
Pros of The Bosch Jigsaw
Good and convenient accessories
Adjustable blower is very handy
Blades cut powerfully
Extension cord is lengthy and sufficient for easy handling
Orbital action of blades helps in making smooth and aggressive cuts
Cons of The Bosch Jigsaw
The jigsaw is too heavy to carry
Does not have LED work light so is difficult to cut while holding flashlight
Material is not of good quality
Warranty is very minimal
When cutting thick oak, the blade bends resulting in slanted cuts
Power and Precision
Conclusion
Bosch Jigsaw is a durable and powerful tool with good precision. The jigsaw tool has several advantageous features such as high quality aluminum foot, precision blades with multiple settings, dust blower, low vibration plunging system and user comfort oriented handle, lock on button etc. While it does have minor setbacks like lack of LED for lighting up the working area and just one year warranty from the manufacturer, its efficient features compensate for the lack and further it comes at a cost effective price when compared to its competitors.
If you are particular about presence of LED lighting, the Makita 4350FCT Jig Saw with LED light might be a good choice to consider. However when you consider the performance, Bosch gives the best value for money. If you are looking for a long lasting, reliable and affordable jigsaw with good power, precision and control, the Bosch Jigsaw will meet with your requirements admirably.