Hedge trimmers are great tools for trimming a hedge or garden. And, if you have a cordless hedge trimmer, then it's even easier. Cordless hedge trimmers let you work in your garden or on your lawn without any limitations and hassles since they don't have any extension cords that can get tangled up or injure someone. Moreover, cordless hedge trimmers are great since they get the work done within no time and in a simple, clean, and efficient manner without making you feel tired.
One of the best hedge trimmers available in the market is the Black and Decker Hedge Trimmer. Black and Decker is a popular brand that offers a wide range of tools, including gardening tools, which make our lives easier.
The Black and Decker cordless hedge trimmer is easy to operate since it works on battery without any requirement of oil or fuel, unlike the alternative gas hedge trimmers. This means no fuel cost, no mess, and no maintenance. Plus, it's also lightweight as compared to other hedge trimmers, which lets you work for longer time periods without exhausting you.
Features of Black and Decker Hedge Trimmer
Some of the features of the Black and Decker cordless trimmer are:
Robust 20V MAX lithium ion battery that delivers run-time and power for many trimming applications
Lightweight with 5.9 lbs.
Offered with and without battery
Comes with a 2-year warranty
Dual-action 22-inch blades cut branches of up to ¾ inch thickness easily and quickly with 40% fewer vibrations
Soft grip handle and full-length trigger for comfortable use
Ergonomic design
Is Black and Decker Hedge Trimmer convenient to use?
As the name suggests, the Black and Decker Hedge Trimmer is cordless. This means you don't need a power socket nearby and you can use it anywhere in your garden, no matter the size. It is extremely lightweight at 5.9 pounds, which means it can easily be moved along and used for a long time period without proving to be taxing for the user.
The lightweight of this trimmer is mainly due to the new battery installed in it, which nearly reduces the weight by half while maintaining the same power. Still, the hedge trimmer is large enough to cut 3,000 sq. ft. of shrubs and hedges in a single charge.
The Black and Decker 20-volt trimmer is very easy to use. You just have to install the batteries, pull the start trigger, and chop all overgrown bushes and shrubs in your front or backyard lawn. This is how simple it is. You can see this video to check out how you can use this hedge trimmer:
In order to make the trimmer easier to use, its button comes equipped with a locking position. This illustrates that when you use the trimmer, you don't have to push the button persistently and make your thumb sore.
To activate the locking option of the start button, you have to press the top button and the hand grip together. It will stay in this position until you deliberately release it by pushing down the button again. This feature of the Black and Decker Hedge Trimmer makes it simple as well as safe to use.
Additionally, the Black and Decker cordless trimmer is outfitted with an ergonomic handle, curled at the front of the machine. This handle offers a comfortable grip to the user in various positions, thus resulting in its easy maneuvering.
Is Black and Decker Hedge Trimmer powerful?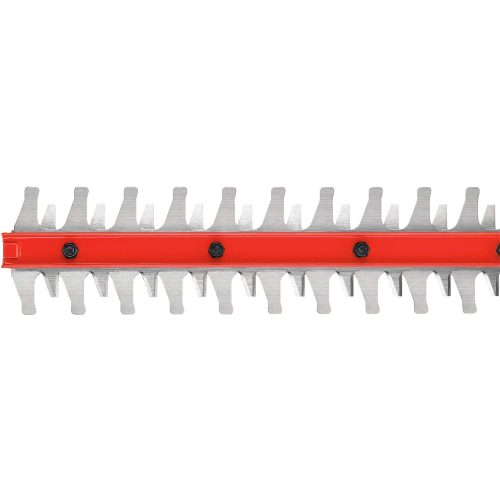 The hedge trimmer is fitted with dual blades, which are 22 inches long. They give a precise and perfect finishing with 40% less vibration. This means when you finish off shaping up your lawn, you'll be 40% less fatigued.
Moreover, its sharp blades can snip away branches of up to ¾ inches thick or even more flawlessly and easily. This means that you can cut off all types of bushes from this cordless trimmer, including dense, tall, and excessively overgrown ones, thus achieving the type of look you want.
Battery life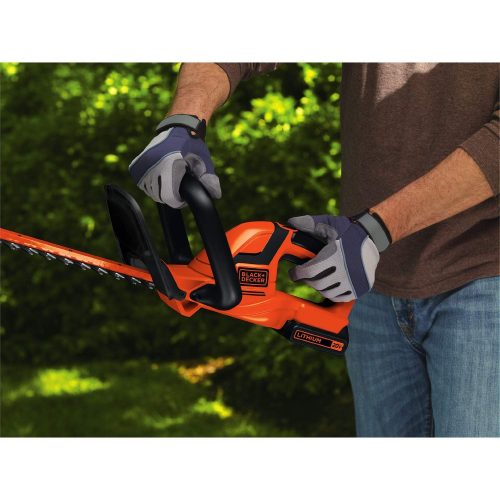 The Black and Decker Hedge Trimmer is equipped with a robust 20V lithium ion battery, which adds to its portability without influencing its runtime. What's more? The tool is available in both options of with or without a battery set in the market.
The long battery life of this trimmer enables vertical cut, edge trim, or any other type of snipping with just one charge. This means the Black and Decker Cordless Hedge Trimmer lets you work without any worries till you're happy the way your garden looks.
The trimmer claims that it has been tested to snip away 3,000 sq. ft. in a single charge. According to the instruction manual of the Black and Decker Hedge Trimmer, one full charge will last you for nearly 4 hours.
For charging it, you just need to switch on the charger with battery inside it and make sure that the green LED light blinks, which means the battery is charging. When the LED light stops blinking and stays on, then you know that it is fully charged.
Who is Black and Decker Hedge Trimmer Best for?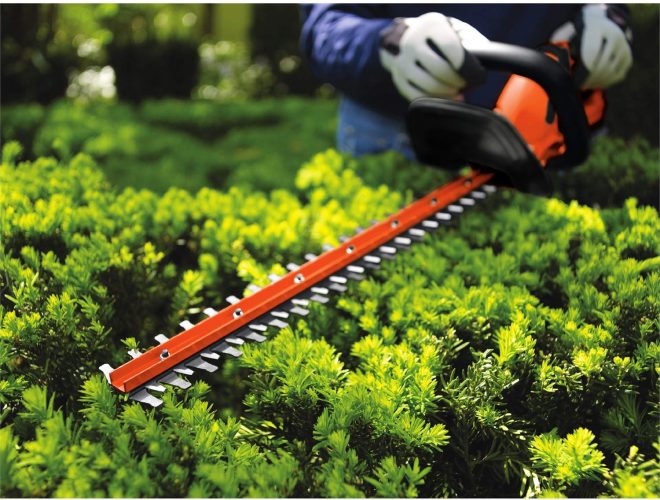 Maintaining and specifically edging a lawn is not as easy as it seems. Even though a lawn mower is a necessity in landscaping, there are some other vital accessories that can aid you in achieving perfection. One of these handy tools is the Black and Decker Hedge Trimmer.
Even though the Black and Decker Hedge LHT2220B Trimmer specializes in pruning shrubs and small trees, it can do much more than that, such as you can create different trimming designs with it according to your preferences. Plus, it can cut all types of branches, including both small and long.
Both novices as well as expert gardeners can use the Black and Decker cordless hedge trimmer for trimming their lawns. No matter if you love gardening or just have to do it as a daily chore when you use the hedge trimmer offered by Black and Decker, you'll find that chopping off bushes and shrubs is far easier than doing it with an electric one. Plus, it works with precision and perfection.
Pros of Black and Decker Hedge Trimmer
22-inch long dual action blades
Powerful and quiet operation with 40% fewer vibrations
Easily snips away branches of up to ¾ inches thickness
Lightweight
Long lasting battery life since it can trim nearly 3,000 sq. ft. of hedges per charge
Cordless and battery operated, which means you can use it anywhere without wasting time in setting up power cords
Wrap-around front handle with strong grip for maximum control and comfort, useful for both horizontal and vertical trimming jobs
Affordable
Cons of Black and Decker Hedge Trimmer
If you buy this trimmer with battery, you'll get only 1 battery set; so if you use it more, you have to buy additional battery sets
Takes 4 hours to fully charge the battery
The blade is covered with a cheap plastic shield, which is hard to remove
You Might Also Be Interested in Electric String Trimmers.
Conclusion
The best thing about the Black and Decker LHT2220B Hedge Trimmer is its cordless feature. It runs on a battery of 20-volt lithium ion. The trimmer is quite convenient to use and comes in a comfortable to hold and ergonomic design. With this tool, you can easily trim all types of branches, snip the hedge top, and shape your lawn as you want.
This highly performance oriented trimmer is loaded with superb features, including long battery life, strong grip front handle, and sharp dual blades of 22 inches. It offers great value for money and is a versatile favorite of homeowners.
The dual-action blades of Black and Decker Hedge Trimmer cut the bushes and shrubs in a smooth manner with fewer vibrations as compared to other hedge trimmer models out there. Plus, it weighs less than 6 pounds. Any keen gardener can buy this cordless hedge trimmer.
This article was last updated on January 8, 2021 .