So you want a convenient tablet and laptop hybrid with good performances and at an affordable price? Look no further, as we have already done the homework for you, and listed and reviewed the 5 best 2-in-1 convertible laptop hybrids with most impressive features and prices.
The 5 Best Selling 2-in-1 Laptops:
For your convenience, the below list shows the 5 best selling 2-in-1 laptops on Amazon.com. The list is automatically updated once a day.
The 5 Best 2-in-1 Laptops:
Take a look at our 5 best 2-in-1 laptop picks below, sorted in no particular order, but chosen based on performance and value for money.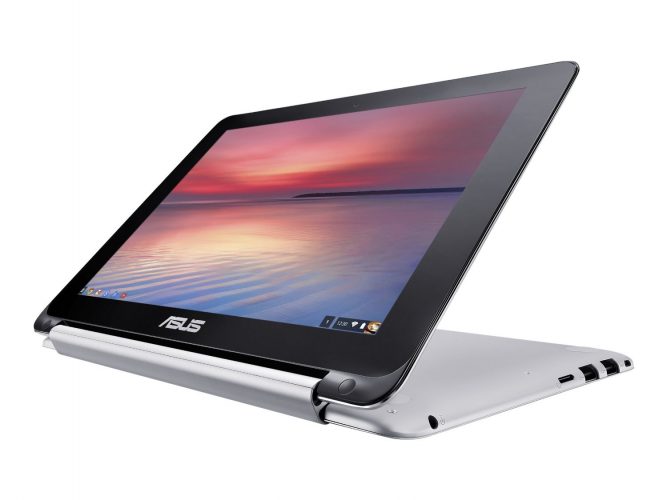 Our last item for today is Asus C100PA. This is a solid working machine, similar to Pavilion when it comes to overall performance. The laptop is 360 degrees foldable and doubles up perfectly as a computer and tablet, but you can also use it in "tent mode" and as a notebook.

The laptop comes with 4GB DDR3L RAM, making it excellent for multitasking. C100's processor is an excellent Rockchip 3288-C 1.8 GHz quad-core, ensuring that the computer performs tasks at lightning speed.
Asus C100PA is the smallest laptop on our list, and its touchscreen measures only 10.1 inches across. Combined with a very thin design, the laptop is the most portable we have here. That being said, screen resolution is also less, compared to other laptops on our list.
However, C100 has one drawback that might bother some of you. It comes with only 16 GB HDD, so you are almost compelled to use Cloud services.
Pros:
• Solid parameters, the computer is quick and efficient.
• Very small and thin; extremely portable.
• A very affordable machine.
Cons:
• Small HDD.
• Smaller screen resolution.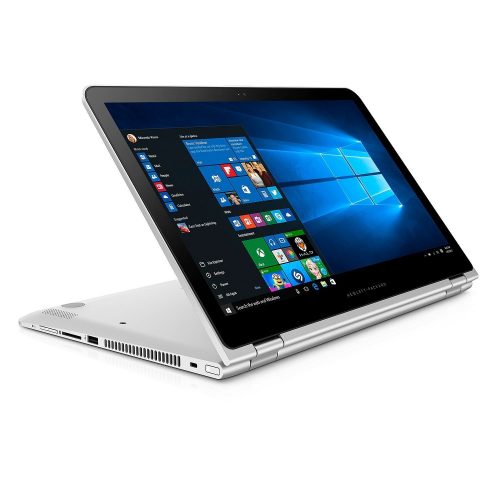 Our first product is HP's x360, an outstanding laptop-notebook-tablet hybrid. With amazing performances, this convertible laptop really stands out among the competition, but it also comes bearing a hefty price.
So, what has x360 got for you? The laptop features 8GB DDR3L RAM, and a, Intel Core I7-6500u 2.5 GHz (3.1 with turbo boost) processor making this machine lightning-fast and extremely efficient. It also has a 1 TB 5400 RPM hard drive for system and document storage.
The laptop has a 15.6'' touchscreen and boasts a rather slim design. The screen is very bright, offering a full HD viewing pleasure. It folds completely, and, due to its design and lightweight, is very portable. The laptop comes with Windows 10 preinstalled.
Pros:
• Slim and light
• 360 degree foldable.
• 15.6'' full HD touchscreen.
• Fast and efficient.
• Come with Windows 10 preinstalled.
Cons:
• Pricy.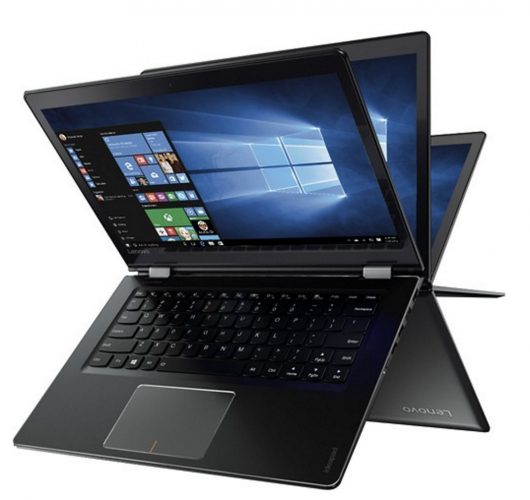 Next up, we have Lenovo Flex 4. We're already used to Lenovo laptops being very high quality, and Flex 4 is no exception. The laptop is just as flexible and light as the aforementioned HP laptops, so you can expect the same amount of convertibility from Flex 4.
However, this laptop is not as powerful as the HPs. It boasts 4 GB RAM, but it is DDR4 as compared to HPs' DDR3L RAM, so you can expect high performance from this laptop. It sports a 2.1 GHz Intel Pentium 4405U dual-core processor, and we feel that this spec could be a bit upgraded. The laptop may not be a wild gaming machine, but for work purposes, Flex 4 is more than fast enough.
Flex 4 is slightly larger than Pavilion, standing at 14 inches across. The same lightweight and slender design have been applied here as well, making it very portable. Flex also has a touchscreen, thus facilitating tablet-like use, along with the Windows 10 operating system.
Pros:
• The same lightweight design as with HP laptops.
• Nice, 14 inches wide touchscreen.
• It comes with Windows 10.
• Cheaper than HPs.
Cons:
• Not as powerful as HPs.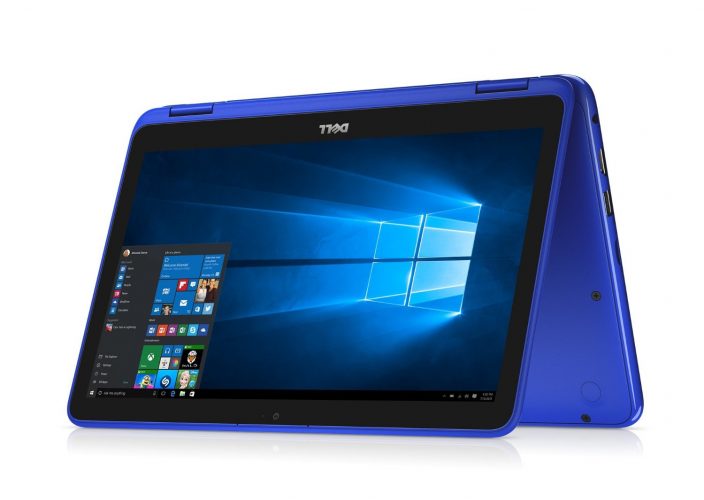 Our penultimate products are Dell's i3168. For those looking for a budget computer that you can carry everywhere with you, i3168 is a perfect choice.
The laptop is very light and very sturdy. The 360 degree-rotatable hinges have been tested and rated to 20.000 openings and closings, ensuring they do not break. The keys on the keyboard have also been tested and are able to withstand 10 million pushes without breaking.
However, i3168 has the lowest performances of all the laptops on this list. It boasts 2GB of RAM and (DDR3L) and an Intel Celeron N3060 1.6GHz processor. The laptop has only 32 GB of hard drive memory, so you will need to use Cloud if you want to keep an abundance of data.
That being said, i3168 is one of the smaller of the bunch. Its touchscreen is only 11.6 inches, and the slender design of the laptop allows you to carry it with you anywhere. This laptop also comes with Windows 10 installed, which works great in conjunction with the touchscreen.
Pros:
• Very small and portable.
• Very sturdy design.
• It comes with Windows 10.
• Very affordable.
Cons:
• Underwhelming performances.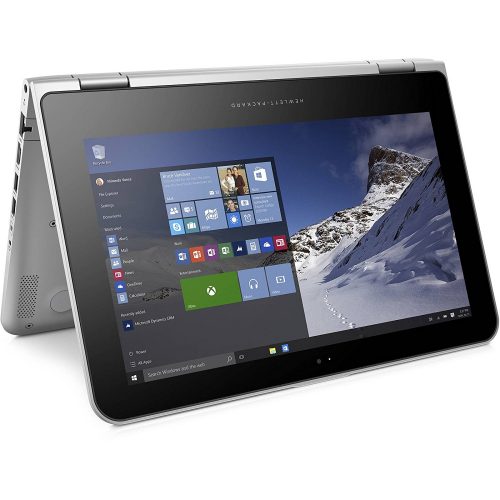 Next up, we have the Pavilion x360. Consider this machine like a slightly downgraded, but also less expensive Envy. The laptop is 360 foldable, and it also comes with Windows 10 preinstalled.
In contrast to Envy, Pavilion boasts 6GB DDR3L RAM and a 2.3 GHz dual-core I3-6100u processor. Even though it may not be as powerful as Envy, Pavilion is more than enough for somebody looking for a quick and reliable working machine.
The computer features a 13.3'' touchscreen. The screen is perfectly compatible with all Windows 10 functions, making the laptop even more effective. Pavilion retains the lightweight and slim design of its more powerful cousin, making it perfect for people who are constantly on the run but in need of a machine to work on, or just have some fun.
Pros:
• Slim and lightweight design.
• 360 degree foldable.
• Good performances.
• Comes with Windows 10 preinstalled.
• Slightly less expensive than Envy.
Cons:
• The laptop gets a bit heated after prolonged use.
Conclusion
And that's it for our list of 2-in-1 laptops. We threw in some very high-end machines, but some budget ones as well. The high-end ones are HP laptops, and they are very fast and very efficient at multitasking and processing data but will cost you quite a bit more than the rest. Our cheapest item is Dell's i3168, which costs just north of $200.
Either way, you have some great choice before you. Ultimately, your own needs will determine which laptop you'll choose, but we sure hope it will be one of these beauties.
What Is The Best 2-in-1 Laptop?
In our professional opinion the Flip C100PA DB02 2-in-1 Touch Chromebook, from Asus, is the best 2-in-1 laptop currently on the market.